CONWAY — Arts in Motion Theater Co.'s production of "Shrek: The Musical" — being performed Thursday-Sunday over the next two weeks, except for June 18, at the Loynd Auditorium at Kennett High School in Conway — provides a funny and joyous experience.
Based on the 2001 Dreamworks animated film, which itself was based on a children's book by William Steig, the musical adapts all the best scenes from the film while further expanding the material. 
The musical's book and lyrics are by David Lindsay-Abaire with music by Jeanine Tesori. Lindsay-Abaire, who won a Pulitzer Prize for Drama in 2007 for his play "Rabbit Hole," adds nuance to the relationships between the ogre Shrek (Andrew Fournier), his travel companion Donkey (Will McCarthy) and Princess Fiona (Abbie Vaughan), whom Shrek is tasked to rescue for the diminutive Lord Farquaad (Grayson Smith).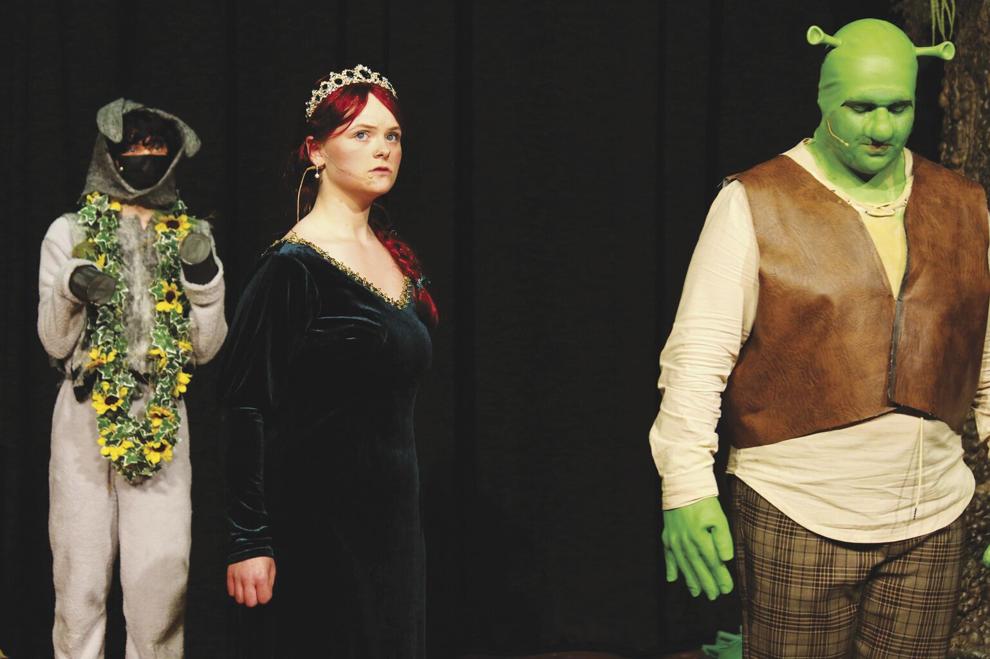 When Shrek and Fiona fall in love, it is handled in the film in a montage, but the stage musical takes its time establishing a real connection between the two characters.
It is revealed in the opening scene that Shrek and Fiona were both abandoned by their parents at age 7 — Shrek to a swamp and Fiona to a tower guarded by a dragon. The opening number, "Big Bright Beautiful World," establishes the pain Shrek and Fiona share.
This is further explored in the song "I Think I Got You Beat," in which Shrek and Fiona argue over who had the worst childhood. Fournier and Vaughan beautifully portray the growing connection between Shrek and Fiona.
Shrek and Donkey's relationship also get extra shading. On the songs "Don't Let Me Go" and "The Travel Song," we see how Shrek reluctantly embraces his new best friend.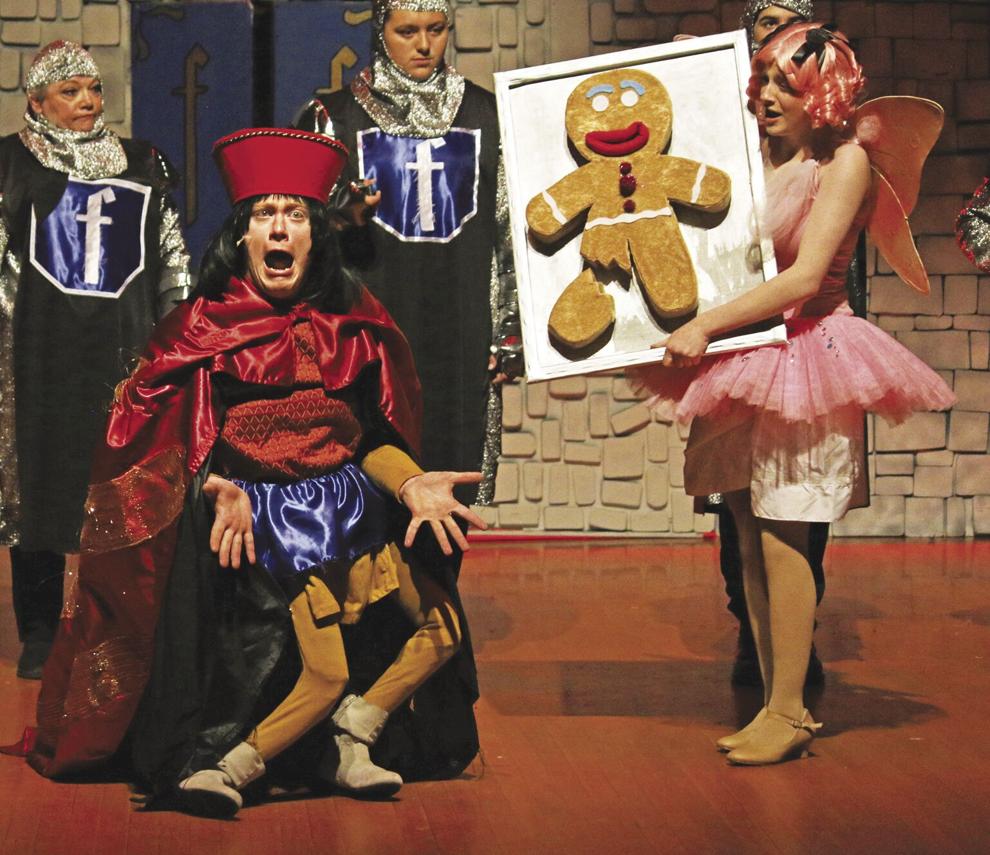 Even Farquaad is given more background with the song "The Ballad of Farquaad," revealing his parentage in amusing fashion. Smith offers impish exuberance as Farquaad, especially in "What's Up, Duloc?" and "The Ballad of Farquaad."
Fournier, despite having an inconsistent Scottish accent, makes Shrek likable and easy to empathize with. While the script is full of big laughs, Fournier also captures the emotion of the character. Shrek hides from society and puts up a gruff front because he is rejected upon sight. Fournier shows that hurt on songs like "Who I'd Be," "When Words Fail," "Build a Wall" and "Beautiful Ain't Always Pretty." This is all the more impressive since he's acting through makeup and prosthetics.
Arts in Motion have double cast the roles of Fiona and Donkey. Vaughan and McCarthy play the two characters, respectively for the first four performances, and Ava Frechette plays Fiona and Quinn Hagarty Donkey for the final four. In the performance I saw, Ava Frechette played Gingy the Gingerbread Man, the Sugarplum Fairy and other parts, and Hagarty played Pinocchio and other roles. Vaughan and McCarthy will take on these roles when the casts switch.
Vaughan is tremendous as Fiona. She has a strong voice and brings a huge amount of personality to the role. Her Fiona is an energetic, effervescent goofball shaded by hints of underlying sorrow.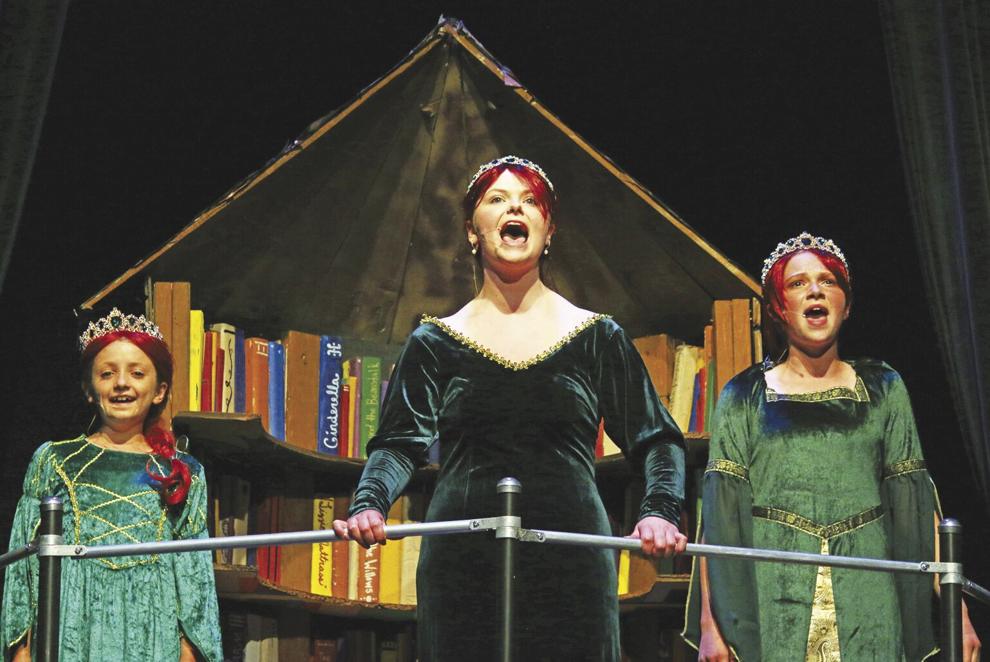 A highlight of the production is "I Know It's Today," which has adult Fiona joined by two younger versions of herself (Chloe Laine and Isabelle Frechette) as they sing about the wait for their fairy tale ending with decreasing optimism. It is well-staged by director Aimee Frechette, and the three versions of Fiona work together perfectly.
McCarthy wisely doesn't attempt to do an Eddie Murphy impression and manages to make Donkey his own. He gives Donkey a flamboyant flair and attitude and has impeccable comedic timing.
Hagarty's Pinocchio is a scene stealer who leads two ensemble numbers ("The Goodbye Song" and "Freak Flag"). Ava Frechette similarly shines in her small roles — Gingy has one of the musical's most iconic scenes and Ava Frechette sells it for all its worth.
Other standouts include Nola Bradeen as Mama Bear, Cadence Pomerleau as the Mad Hatter, Seretta Spaulding as Peter Pan and David Spaulding as the Big Bad Wolf.
Memorable set pieces include "Forever," a musical number featuring Dragon (Zoe Daigle) and the skeletons of slain knights as her backup singers and dancers.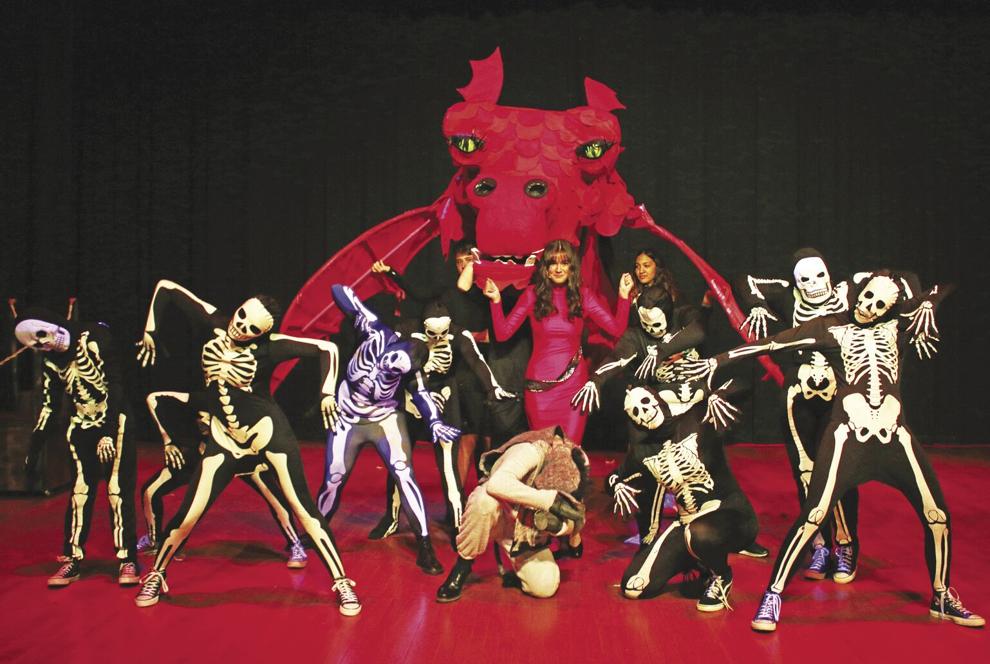 Music director Jennifer Bradeen has done a good job with her large cast. The ensemble numbers sound tight and the principal actors give quality vocal performances.
The set designed by Glenn Noble and Aimee Frechette includes several different elements that are moved in as necessary and effectively create the fairy-tale land.
Ashley Gore, Aimee Frechette and Ella Fecteau have put together some great-looking costumes, and there's also a strong lighting design from Kodi Barrows.
"Shrek" is a dynamic production that is sure to be a crowd pleaser. Tickets ($22) are available at artsinmotiontheater.com.