"Birds of Prey and the Fantabulous Emancipation of One Harley Quinn" may be a mouthful of a title, but it is befitting of its titular character: a basketcase with a Ph.D. in psychology and a lot of baggage.
The title should actually be inverted, because the Birds of Prey are secondary to Harley Quinn (Margot Robbie), Joker's endearingly psychotic girlfriend who has to find her own identity now that she has been dumped by her beloved "Mista J."
Birds of Prey, a team of female heroes traditionally led by a wheelchair-bound Barbara Gordon, typically is not allied with Harley Quinn. Regardless, director Cathy Yan and writer Christina Hodson (who wrote a legitimately good "Transformers" film with "Bumblebee") manage to pull together this oddball collection of heroes and anti-heroes.
The birds include butt-kicking lounge singer Dinah Lance/Black Canary (Jurnee Smollett-Bell); Helena Bertinelli/The Huntress (Mary Elizabeth Winstead), a crossbow-wielding, revenge-seeking orphan who saw her family murdered in front of her; under-appreciated detective Renee Montoya (Rosie Perez); and a teen pickpocket Cassandra Cain (Ella Jay Basco). They are united by their connections to the sadistic crime boss Roman Sionis/Black Mask (Ewan McGregor) and his equally twisted second-in-command Victor Zsasz (Chris Messina).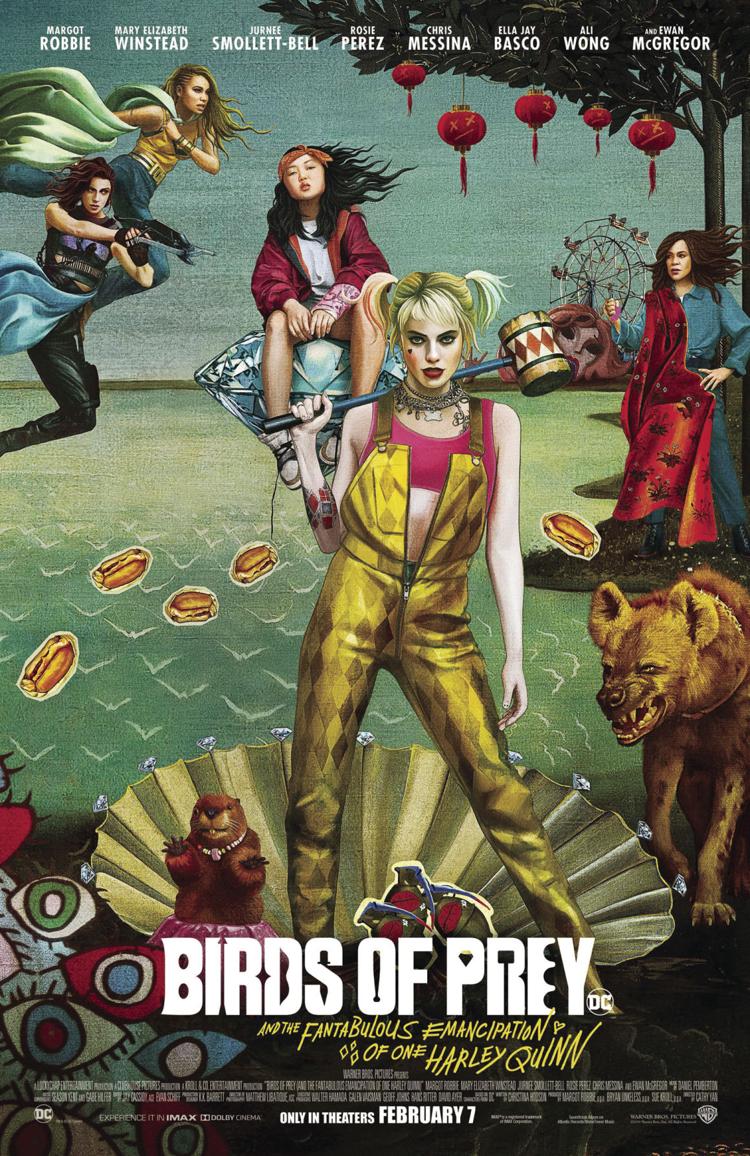 "Birds of Prey" exists in a nebulously connected comic-book universe. Coming late to the game, DC Comics and Warner Bros., attempted to follow the shared universe template established by Marvel Studios to mixed results. Following the under-performance of 2017's superhero team-up "Justice League," DC have begun to move away from the Marvel formula.
While 2018's "Aquaman," last year's "Shazam" and the forthcoming "Woman Woman 1984" exist in the same universe, there is far less emphasis on crossing these characters over than in previous endeavors like "Batman V. Superman" and "Suicide Squad." Last year's "Joker" was a stand-alone film completely unrelated to this current batch of films.
"Birds of Prey" is ostensibly a sequel to "Suicide Squad" with Robbie returning to the role that made her a household name, but there's no sign of Jared Leto's Joker. Robbie, seeing the popularity of her interpretation of the character, was far more interested in exploring Quinn outside of her abusive relationship with Joker. Taking on the role of a producer, Robbie wanted to make an R-rated girl-gang movie.
Notably, this is the first comic book film directed and written by women. Patty Jenkies' "Wonder Woman" was scripted by a man. It is the first of four comic book adaptations to be directed by a woman this year with the others being "Wonder Woman 1984," "Black Widow" and "The Eternals."
In a Hollywood dominated by male directors and writers, this is a significant development. How this female perspective will impact these other films is yet to be seen, but it leaves a distinct impression on the story being told in "Birds of Prey."
The women in "Birds of Prey'' are all victims of, at best, a patriarchal system stacked against them (in the case of Montoya) or, at worst, misogynistic men who degrade and exploit them (in the case of Quinn and Black Canary). In this regard, "Birds of Prey" is similar to Robbie's last film, "Bombshell," which addresses the sexual harassment allegations against Fox News' Roger Ailes.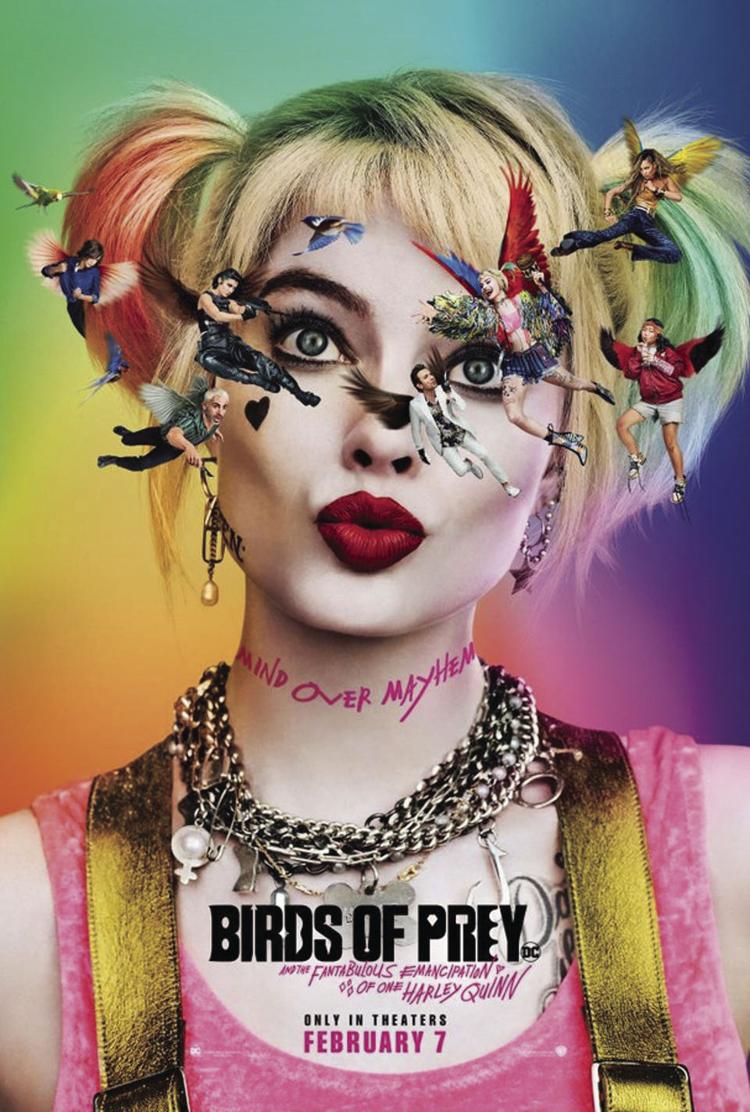 These are women who feel trapped in their circumstances, so it isn't just Quinn who is seeking emancipation. For all its violent action scenes, this is a film about sisterhood and women banding together to help each other break out of abusive or destructive patterns and relationships.
This may make the film sound as oppressively grim as Todd Phillips' "Joker," but this an energized, fun and funny film. A lot of this is thanks to the bright and colorful costume and production design, including the funhouse that the climax takes place in.
While there are dark, disturbing elements, particularly Sionis' preferred form of torture and execution, there's an irreverent attitude to the material that keeps it from becoming overly bleak.
Similar to "Suicide Squad," another team-up film, "Birds of Prey" is driven by the personalities of its characters. But "Suicide Squad" was marred by a needlessly complicated plot and hackneyed villains. "Birds of Prey" corrects this by having a simple plot centered around the accusation of a MacGuffin — a diamond with a bank account number engraved on it.
Robbie is once again terrific as Quinn. She makes Quinn smart, off-kilter, violent, hilarious and oddly lovable. Hodson's screenplay has fun incorporating Quinn's psychology degree by having her inject jargon-y evaluations of her friends and foes amidst the mayhem. This allows the character to be more than just a lovelorn ditz with a penchant for violence.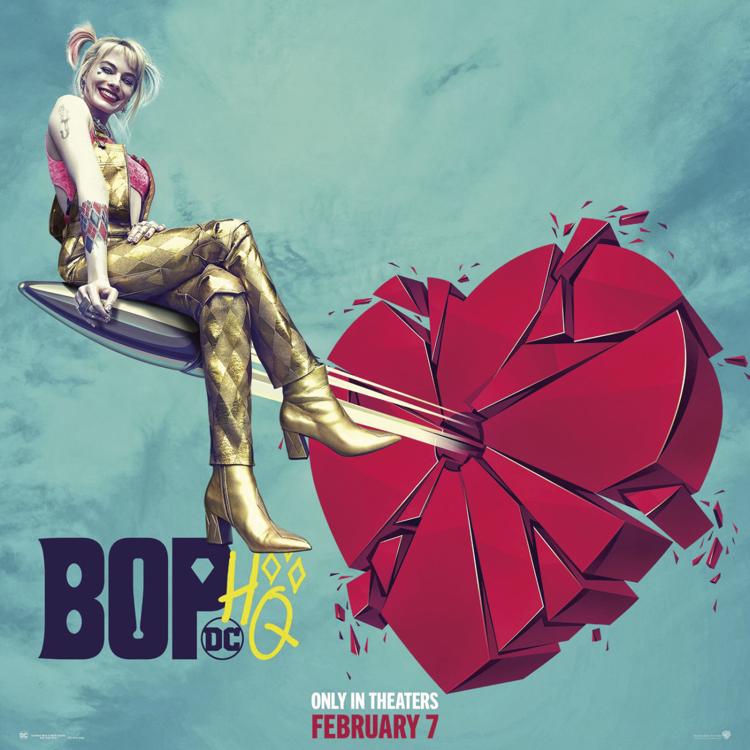 The other characters have less screen time but are all clearly defined, if not always fully developed. Winstead's socially awkward assassin makes a strong impression as does Smollett-Bell who brings a tough, blaxploitation-vibe to Black Canary. It is also nice to see Rosie Perez get a meaty film role. Robbie and Basco develop an unexpected big sister-little sister dynamic.
McGregor is a scene-stealer as the flamboyant villain who is alternatively charismatic and disturbing. There's a deeply unsettling scene in which he forces a woman to strip for him, but in another scene he's genuinely funny, even likable, as he shows off his art collection.
The film would have benefited from getting the girl gang together sooner and having them work together longer, but Yang keeps the film moving and shoots the well-choreographed action in a clean, easy-to-follow manner.
Sadly, "Birds of Prey" is struggling at the box office and is already being dismissed as a dud. Hopefully, the film finds an audience, because these are characters worthy of another adventure.