CONWAY — Take a trip back to the magic year of 1980 — not to be confused with 1780 — in the mythic town of Venice Beach, Calif. — not to be confused with Venice, Italy — a place where Greek muses can make your dreams come true in "Xanadu," a musical based on the cult movie.
"Xanadu," which opened at M&D at the historic Eastern Slope Inn Playhouse in North Conway on Thursday, July 1, and will be performed Thursday through Saturday for the next three weeks, brings together the music of Jeff Lynn of Electric Light Orchestra and John Farrar.
Director Mark Sickler believes this is the perfect show for M&D's return to live theater, and it is easy to see why.
"Xanadu" not only has singing and dancing, but roller skating, and M&D has done a remarkable job of performing the singing (under the music direction of Mary Bastoni) and the dancing (with lively choreography by Chelsea Hupalowsky and Jennifer Butler).
There's a tongue-in-cheek book by Douglas Carter Beane, who also wrote the film "To Wong Foo, Thanks for Everything! Julie Newmar," and the cast delivers the dialogue with an ideal balance of silly and sincere. The roller skating is just a bonus.
Several songs were written specifically for the 1980 film, including the hit title song performed by star Olivia Newton-John and written by Lynn, "Magic" by Farrar (a No. 1 hit for star Newton-John), "All Over the World" and "I'm Alive," both of which became hits for ELO.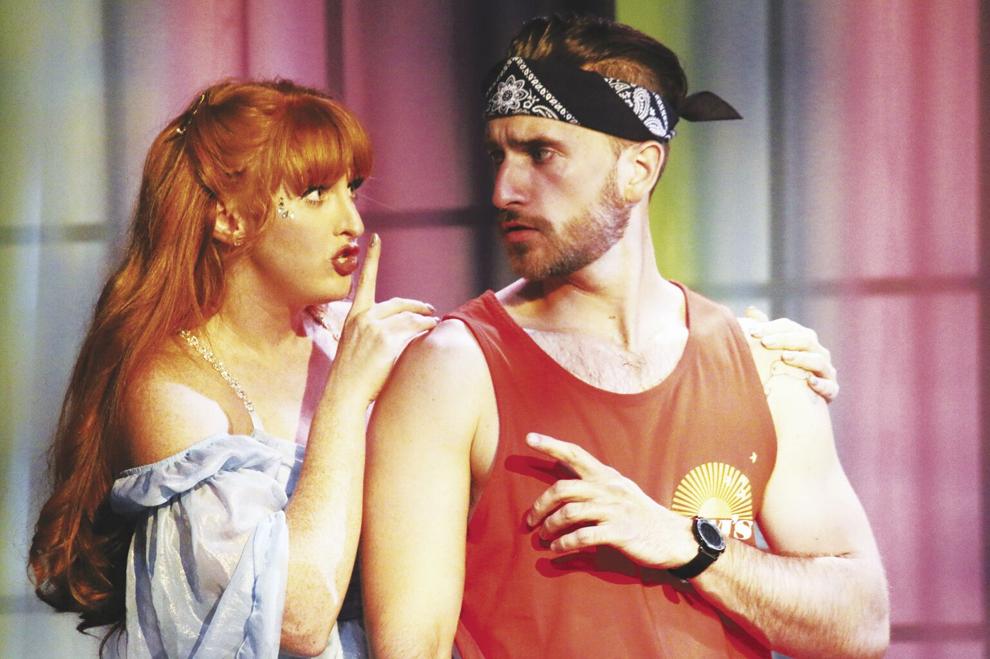 While the songs from "Xanadu" connected with audiences, the movie was savaged by critics and was a box office dud. "Xanadu" eventually found a following thanks to its music, the presence of screen legend Gene Kelly and the cheesiness of the film. It is an undeniably flawed and, at times, confusing film.
The stage version openly acknowledges this with dialogue that calls attention to the plot holes. Additions, including a villain (Sam Kilbride), also streamline the story.
"Xanadu" centers on Cilo (Hannah-Jo Weisberg), leader of nine muses, daughters of Zeus (Darin Brown). She descends to Earth as Kira, an Australian roller girl, to inspire Sonny Malone (Dylan Henry), an aspiring artist in Venice Beach who is about to give up on his dreams and life itself.
But there are strict rules for Cilo. She can't create art herself, she can't reveal she is a muse and she most certainly can't fall in love. If she does any of these, she will be banished to hell. Cilo's jealous older sister Melpomene (Kilbride), who believes she should rule the muses, sets out to assure her banishment with the help of her dimmer sister, Calliope (Bastoni).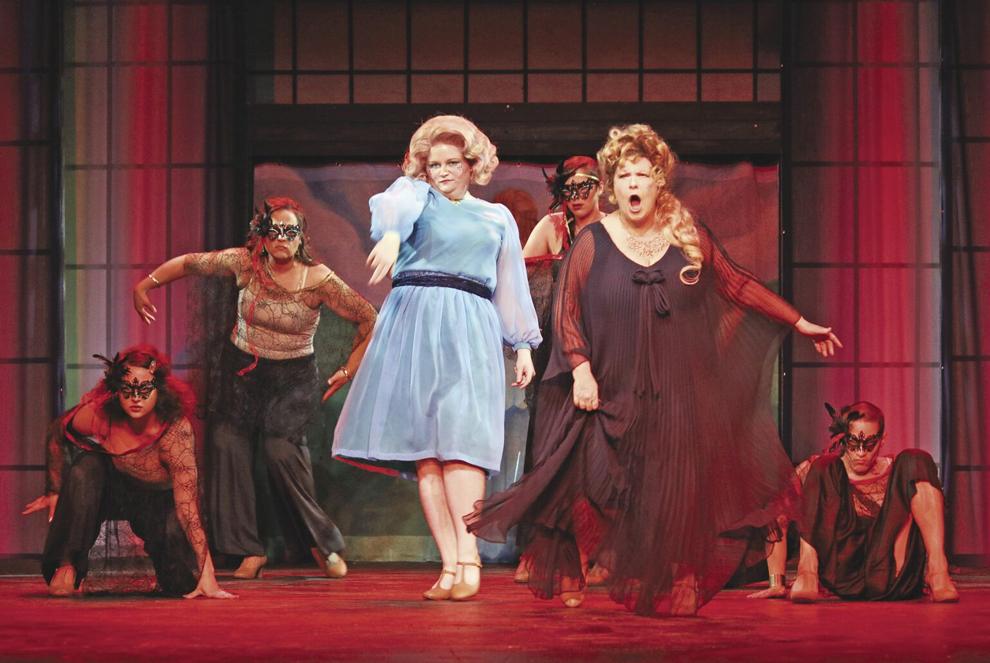 Kira/Cilo inspires Sonny to create a roller discotheque/art center in an old, abandoned theater owned by cold real estate mogul Danny Maguire (Brown in a dual role). Years earlier, Cilo in the guise of a Southern belle named Kitty had been a muse to Danny, but when he chose money over art, she left him behind. With the influence of Cilo, Sonny and Danny become a team.
The rest of the cast is filled out with the other muses, including John Pina as Thalia, Hupalowsky as Terpsichore, Kristen Bolduc as Erato, Alicia Tirey as Urania and Taylor Gunther as Eurterpe. Sammy Groves also appears as Bob, who zooms across the stage on skates with a wind chime every time there is a magical sound cue. It never fails to get a laugh.
The muses act as an ensemble for many of the musical numbers and enthusiastically showcase Hupalowsky's choreography. Music director Bastoni also uses them to create some lovely harmonies. Hupalowsky has a show-stopping tap dance number choreographed by Butler that is a highlight of the production. "Dancin,'" a fun mash up of 1940s-style big band and 1980s rock, is another memorable ensemble number.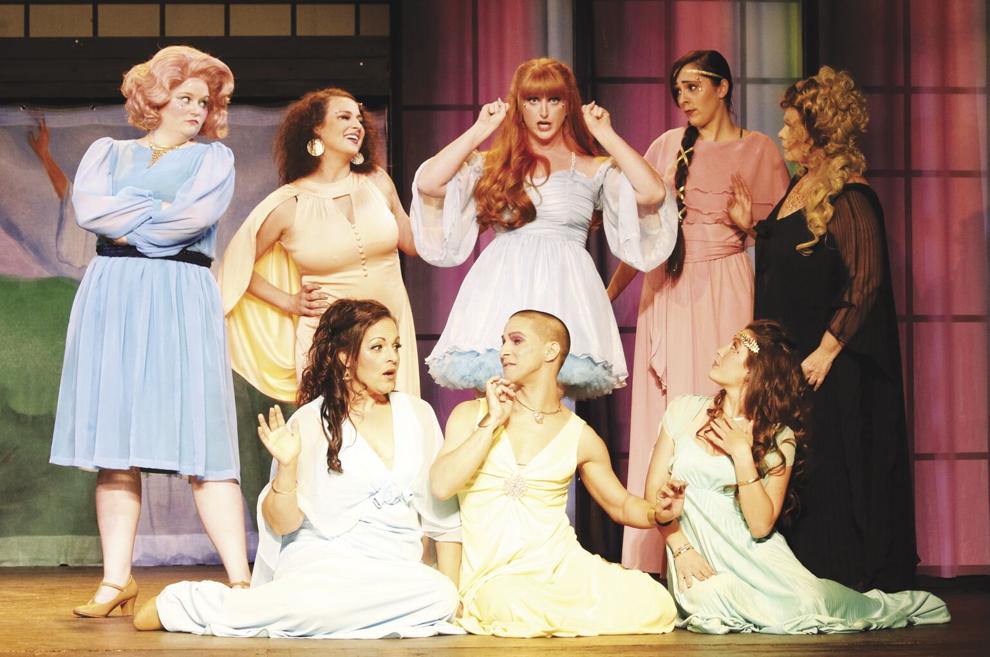 In addition to the songs written for the film, the musical adds a couple of ELO's more popular songs, "Evil Woman" and "Strange Magic," which are both fittingly given to Melpomene and Calliope. "Evil Woman" is a particular standout with Kilbride and Bastoni belting the song out while relishing in their evilness.
Weisberg and Henry are terrific as the leads. Henry employs an amusing surfer-dude California accent and gives Sonny an aloof quality that is funny. He also has a genuine romantic chemistry with Weisberg, who makes Cilo/Kira effervescent and joyful. Both have great voices and carry their songs beautifully, especially "Suddenly," "Whenever You're Away From Me" and "Xanadu."
Brown is good as Danny/Zeus but at times struggles with his lead vocals on songs like "All Over the World" and "Don't Walk Away." He blends in nicely with the harmonies and has a likable stage presence.
Kilbride, who seems to be stylized after Tipper Gore, who famously went after profane music in the 1980s, is a fantastic villain. It is just the right level of campiness and goes right to the edge of going too far over-the-top. Bastoni, as her comedic sidekick, at times, is pushing too hard for the laugh. It is fitting that she's given a joke about literally chewing the scenery.
On a technical level, the production gets high marks across the board with an excellent colorful lighting design by Michael Wonson, a simple, but fun set by Deb Jasien and truly stellar costumes by Tracy Cosker.
"Xanadu" is light, breezy, funny entertainment and an excellent escape for the summer heat.
For more information or tickets go to mdplayhouse.com or call (603) 733-5275.