CONWAY — M&D at the Eastern Slope Inn Playhouse in North Conway would like to invite you to Boddy Manor for an evening of whodunit with "Clue: On Stage," a comedic riff on the murder mystery formula.
"Clue: On Stage," which opened Thursday, Sept. 9, and will be performed Thursday through Sunday for the next three weeks, is a play based on a movie, based on a board game.
The script by Sandy Rustin, with additional material by Hunter Foster and Eric Price, is a faithful adaptation of Jonathan Lynn's 1985 film that adds some extra slapstick. The film famously had three different endings. The play pulls elements from each, but only presents one conclusion.
All the familiar characters from the board game are present: Col. Mustard (Joe Borsody), Mrs. White (Ashley Kerr), Mrs. Peacock (Stacy Sand), Mr. Green (Frank Thompson), Professor Plum (Ryan Orlando) and Miss Scarlet (Tracy Marcotte Orlando).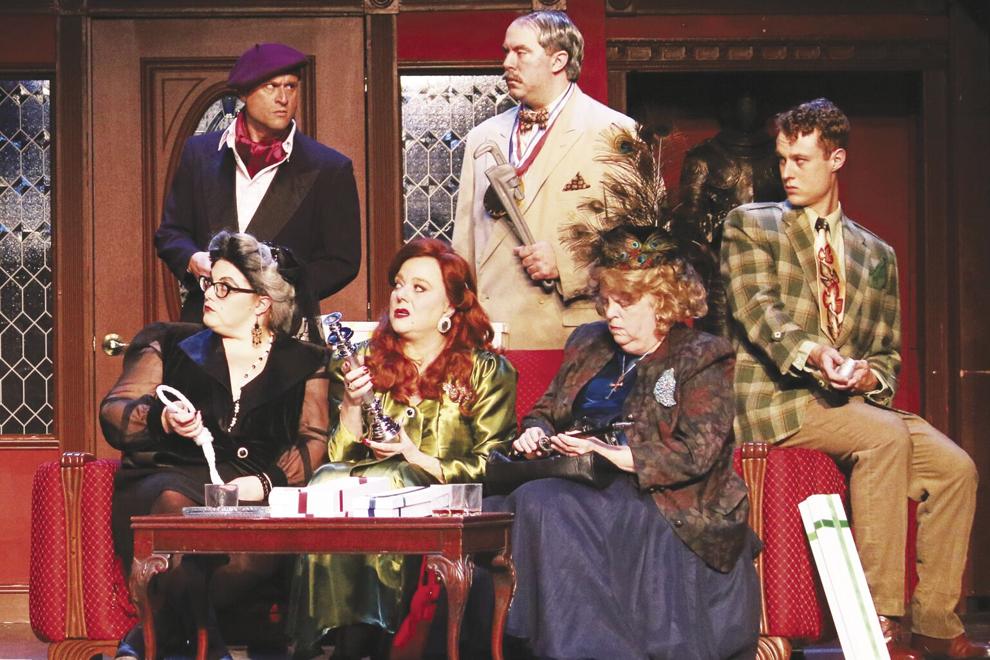 The group is invited to a New England manor to meet Mr. Boddy (Zach Poster) who has been blackmailing them. Their guide for the evening is the butler Wadsworth (Grayson Smith). Also in the mix are the maid Yvette (Alicia Tirey) and the cook (Rebekah Bushey). When Boddy winds up dead, the guests must find the murderer among them.
Characterization in the film is pretty thin. After all, these are just characters from a board game. The play does attempt to correct this by beefing up some of the characters. Mrs. Peacock, the weakest of the characters in the film, is made devoutly Christian. Professor Plum, despite being played by Christopher Lloyd, didn't have much of a personality in the film, but in the play is transformed into a cocky ladies' man.
The rest of the characters fall in line with their portrayals in the film. Col. Mustard is a dimwit — even more so than in the film; Mrs. White is a cold and mysterious widow who may have killed her five ex-husbands; Miss Scarlett is a sardonic Washington, D.C., madam; and Mr. Green is a timid rule-follower with a cat allergy.
The play, directed by Eddie Bennett, is exceptionally well-cast with each actor ideally suited to their roles. Everyone gets their moment to stand out, but the cast works together well as an ensemble. That being said, without getting into spoilers, one actor's extended death scene is a hilarious highlight of the show.
Thanks to costuming and wigs provided by Patty Hibbert, many of these actors are nearly unrecognizable, and it is clear the costumes have helped the actors to clearly define their characters.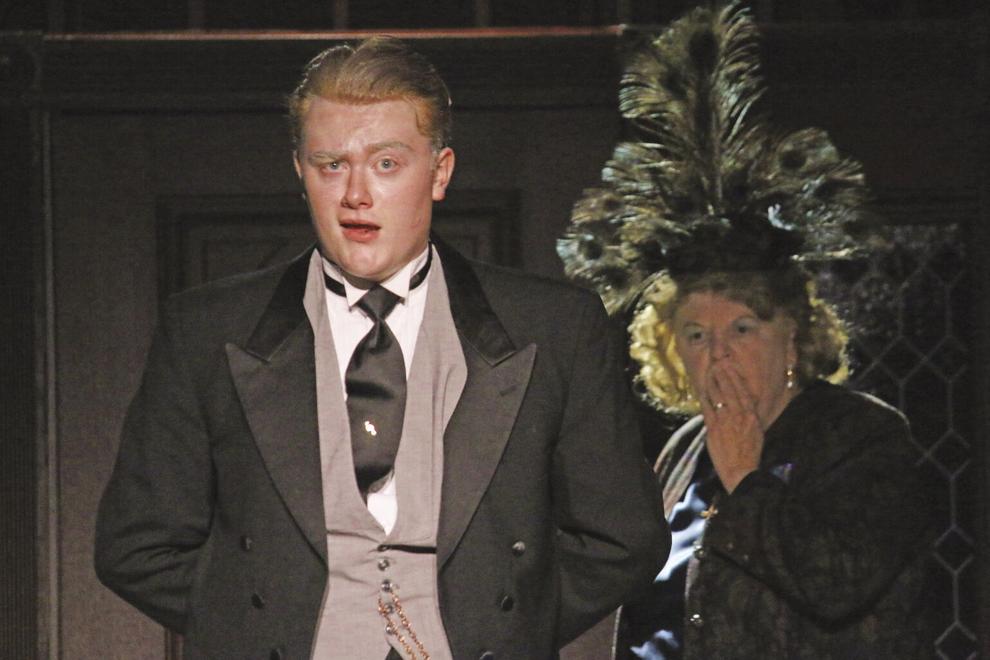 Smith does former-Wadsworth Tim Curry proud with a performance that is both funny and energized. This is most evident in the climax, in which Wadsworth runs us through everything that just happened before making the big reveal.
Orlando nails the arrogant charm of Plum and gives a perfectly smug spin to his dialogue. Thompson is a wonderful physical comedian who has a choking scene and several full body sneezes throughout.
Sand makes Peacock a mix of high strung, haughty and holier than thou. Her disgusted reactions to the sinful behavior around her are amusing. Marcotte Orlando has a sarcastic air that helps sell her lines. Kerr (full disclosure: my wife) has an effectively dry, deadpan delivery that recalls Madeline Kahn while also having its own flavor. Borsody plays dumb impeccably, especially when feebly attempting to outwit Smith.
Tirey looks and sounds the part of a French maid and has a great bit involving shooting down a door. Bushey has limited stage time as the cook, but makes the most of it. Poster gives Boddy an over-the-top gangster-style accent that works for the character. Charles Scott also makes a fun appearance as a motorist.
The set designed by Deb Jasien does a good job of capturing the feel of a drafty manor and includes two levels for the actors to perform on. The lighting and sound design by Mark Sickler, which includes thunder and lightning — because what is a murder mystery without thunder and lighting? — helps to bring the manor to life. However, some of the music cues throughout feel out of place and unnecessary.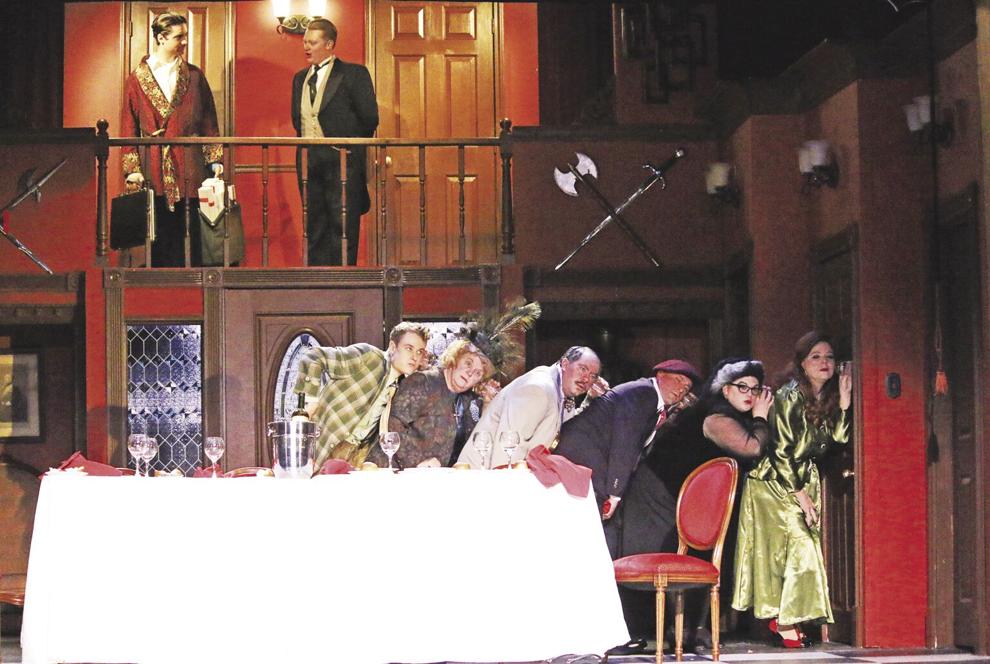 Similar to the board game, there are several doors that lead to different rooms. And, if it is a play with doors, you can be assured there will be running in and out of and slamming of said doors.
Each room is denoted by different stage furniture that is brought in during scene transitions. In some cases these transitions are cleverly disguised by having the cast step forward for a role call.
Other times, the stage goes black for the scene change. In the second half, there's a section with several of these scene changes in a row and it slows the pacing down. This could have perhaps been changed with different staging.
Similarly, there is a dinner scene that has a lot of dead air (pun absolutely intended). There's physical business with pouring of drinks, passing of food and mumbled conversation that is awkward without being particularly funny and slows the show down. The scene picks up once the cast starts bantering again.
"Clue" is an easygoing slice of entertainment. For fans of either the board game or the movie, it is a must see. In other words, it is a game cast, with a sense of humor in the playhouse.
For more information or tickets, go to mdplayhouse.com or call (603) 733-5275.