TAMWORTH — Locals are being given the rare opportunity to be among the first to see "Far From Canterbury," a new musical with book, music and lyrics by Danny K. Bernstein, which made its professional world premiere on Wednesday, Aug. 11, at The Barnstormers Theatre in Tamworth and will be performed through Aug. 21.
Traditionally, by the time a show makes it to a stage in rural New Hampshire, it has been on Broadway, has toured the country and then, finally, is made available for smaller regional producing companies to put up. This is an inversion of that template.
As interim artistic director Joe Longthorne noted in a promotional video, there is no Broadway blueprint for this musical, so the creative team, including director Katherine Carter, scenic designer Reiko Huffman, costume designer Saawan Tiwari, lighting designer Kelley Shih, sound designer Jackson Alexander, music director Anessa Marie, music supervisor Jeff Cox and choreographer Charlie Johnson, have been able to design something that doesn't come with previous expectations.
"Far From Canterbury," which won Outstanding Overall Musical at the New York International Fringe Festival in 2015, is based on "The Wife of Bath's Tale" from Geoffrey Chaucer's "Canterbury Tales." Bernstein retains the medieval setting, but uses more contemporary language and attitudes to transform the tale into an exploration of the very act of storytelling. This mixture of medieval and modern includes period costumes paired with flashy colorful lighting meant to emulate a nightclub.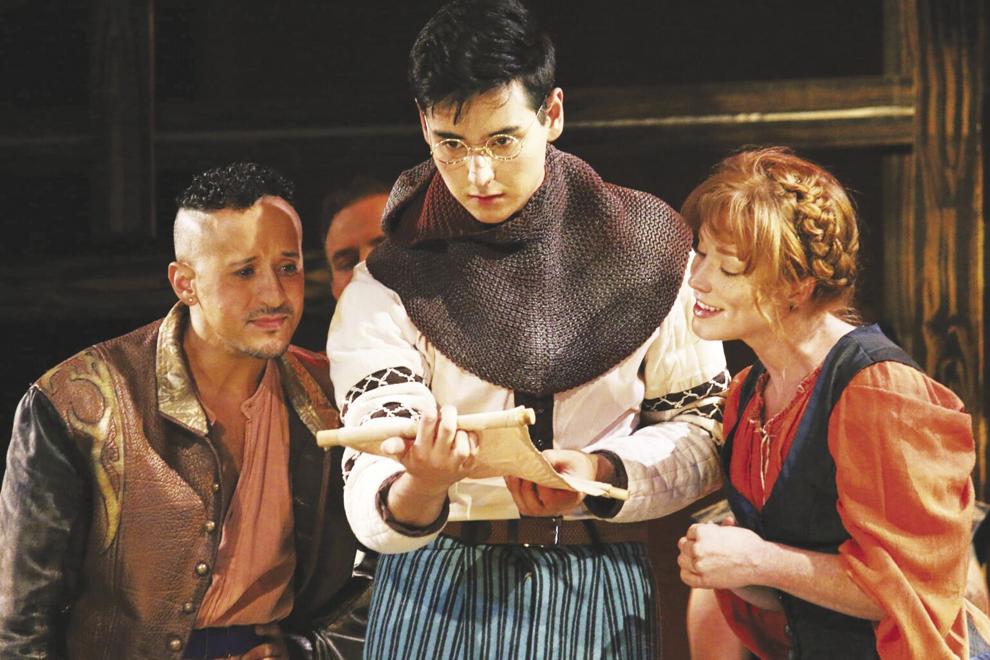 Bernstein's approach is similar to that of the film "A Knight's Tale," which filtered the world of jousting through the modern lens of sports fandom, complete with a soundtrack of rock songs. "A Knight's Tale" also featured Paul Bettany as Chaucer. The way Bernstein dissects fairy tales with humor and warmth, at times, also recalls "A Princess Bride."
"The Wife of Bath's Tale" centers around a knight who rapes a maiden and, instead of being put to death, is given one year by the queen to discover what it is that women most desire. Having a protagonist that is a rapist is tough sell to modern audiences, so Bernstein changes the young knight's transgression into a misunderstanding.
John, the knight (Ellis Gage), comes upon a tower with a sleeping princess (Alyssa Giannetti) he believes to be in peril. He rescues her and awakens her with a kiss only to discover that she wanted to stay in the tower. John, left speechless when confronted by the princess, flees. While this is allegorically still about a lack of consent, it softens the edges of the original tale while also flipping our expectations of fairy tale tropes.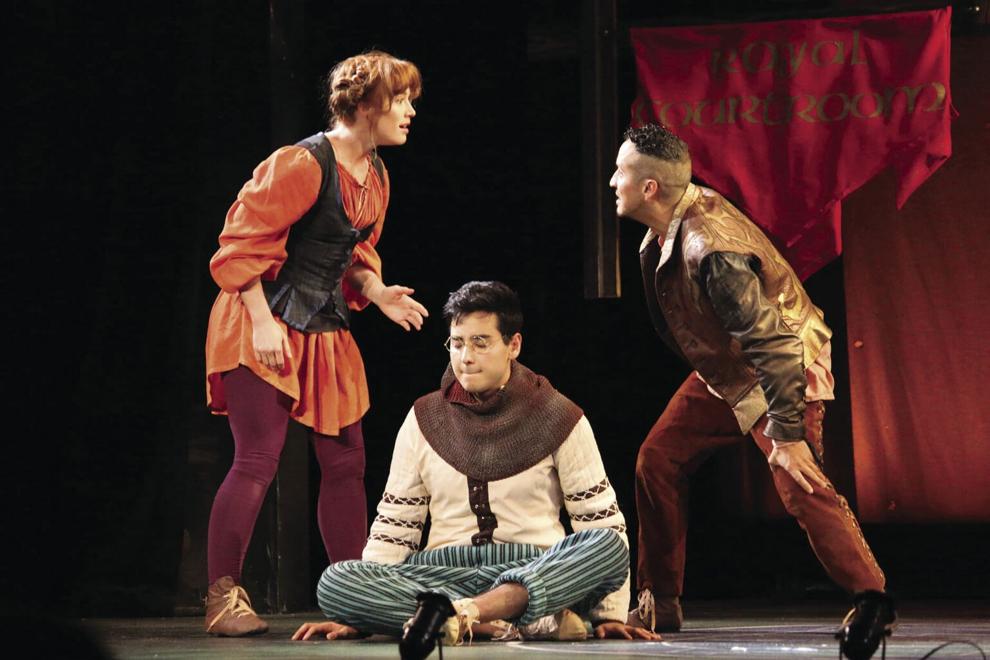 John is joined on his quest by his two friends Marcus (Seth Tucker), a self-proclaimed ladies' man who isn't above prostituting himself, and Agnes (Kennedy Caughell), a strong-willed woman that doesn't want to be forced into an arrangement marriage by her father (Rodrigio Ignacio Cruz).
With the exception of the three leads, the rest of the cast all double as characters within the tale and as storytellers relaying the story.
A lot of Bernstein's book and lyrics for "Far From Canterbury" are about playing with familiar storytelling conventions. John is on a hero's journey but his assumption of what that means is what gets him in trouble.
"Far From Canterbury" is about the stories we tell ourselves and the narratives we set out in front of us. We all believe we are the heroes or our stories, but what if we are the villains? If the world sees you as a monster, what happens when you begin to see yourself that way, too?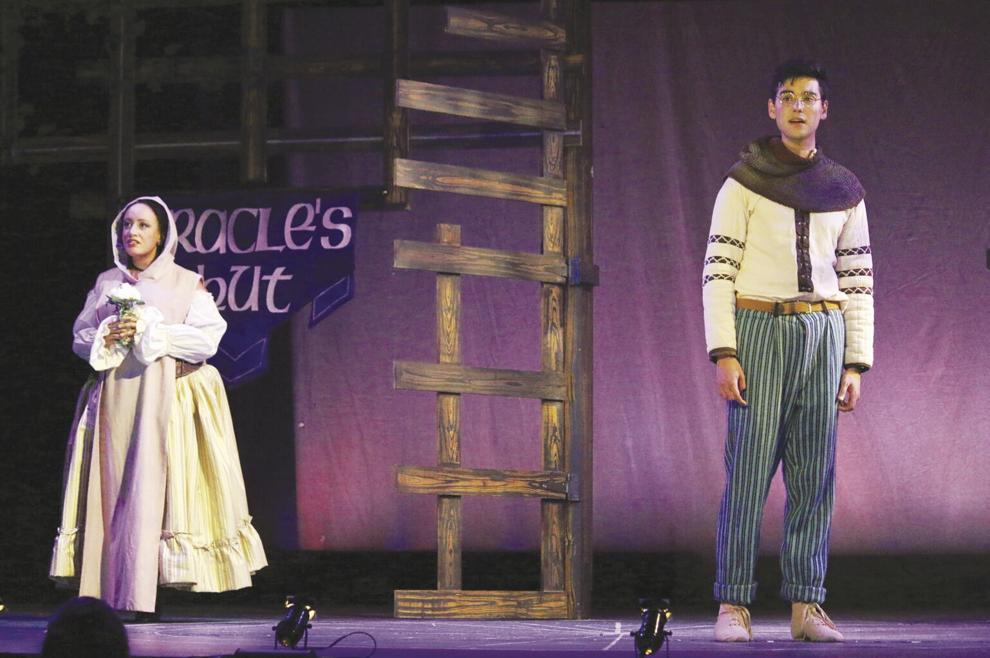 This is explored in the ballad "Crooked or Pure" which is sung by Dolores (Amber Hurst Martin), an old woman who promises the answer to John's riddle but only if he does all she asks of him. The lyrics examine the grayness of the world and posit that what is good or bad depends on context and intent. A good person can do a bad thing, and a bad person can do a good thing. No one is 100 percent crooked or pure. The song is beautifully sung by Martin, who fills it with regret and woeful wisdom.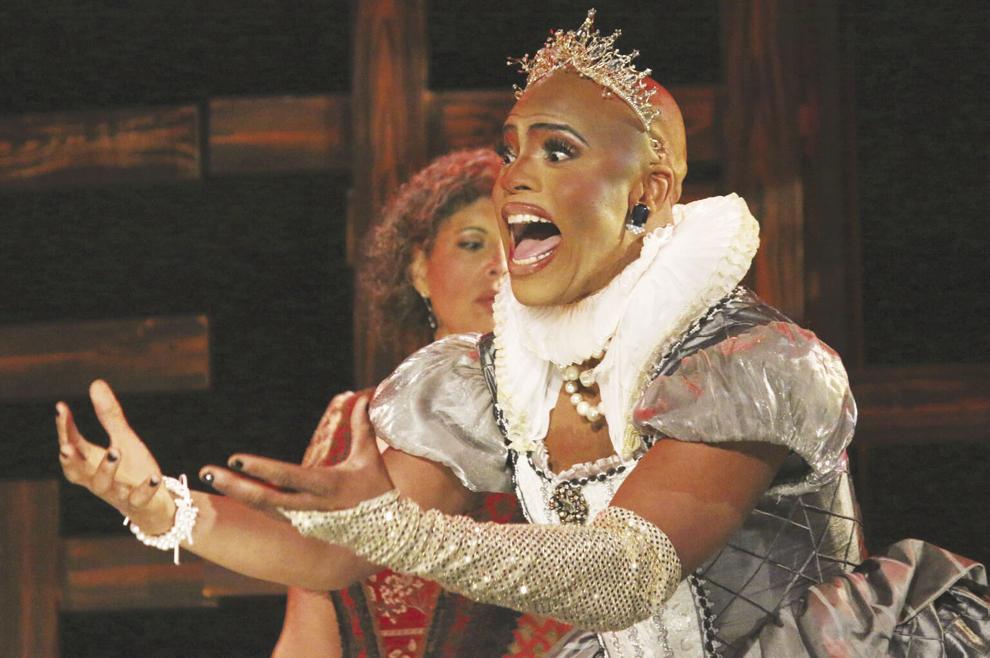 While Bernstein addresses heavy themes, the show is also light, funny and, often, gleefully subversive. Darius Harper plays the queen as an oh-so-fabulous drag queen and steals every scene he is in. Harper is tremendous taking lead on the song "Monster in the Courtroom" which has a bit of an Electric Light Orchestra vibe.
Hennessy Winkler also gives a cheeky performance as Nicholas, the arrogant lead singer of Nights of the Roundtable. In another bit of fun punnery, John, Marcus and Agnes are in a band called The Sword and the Tones.
Winkler brings a hilarious swagger to his part that stands out during "What'ja Got" a laugh-out-loud funny rap battle between Winkler and Gage.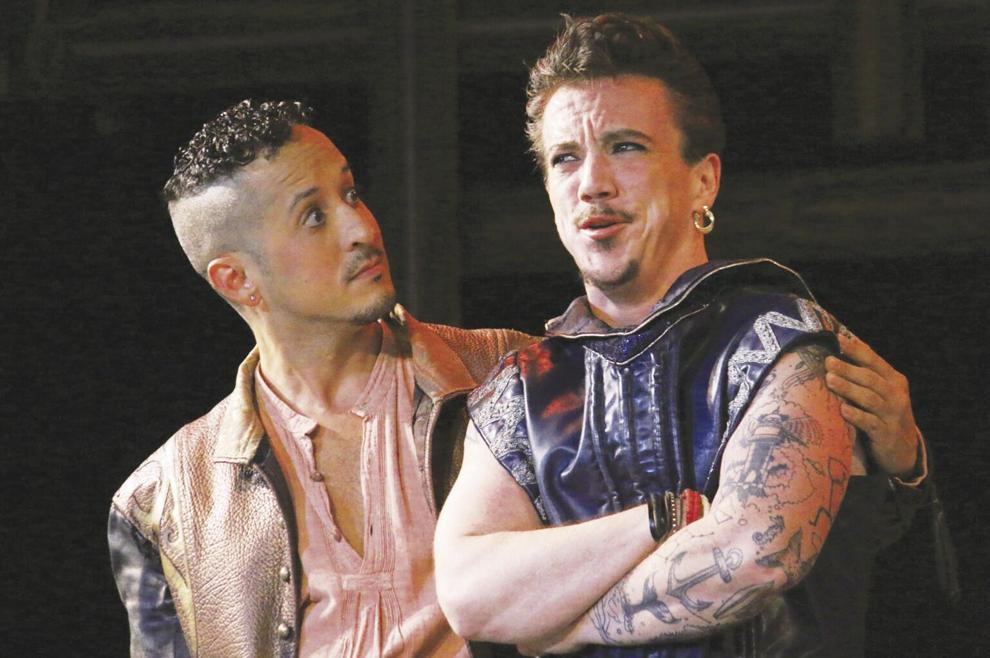 Tauren Hagans also gets a stand-out comedic number with "Hut of The Oracle," a lounge singer-type number that offers some of the biggest laughs of the production.
But there's also great dramatic material with the three leads genuinely growing and learning over the course of the musical. Tucker and Caughell address the obvious attraction of their characters with a real sense of affection on the sweet "We Could Be Strangers."
Gage is an engaging lead (no pun intended, honest) who makes John likable and sincere. There's a recurring bit in which John is unable to speak to women that yields solid laughs. Gage shines on numbers like "No More Running" and "Chapter One."
In an ideal world, this is only the beginning for "Far From Canterbury." Hopefully, it will make its way to Broadway because it is worthy of a big, glossy New York production.