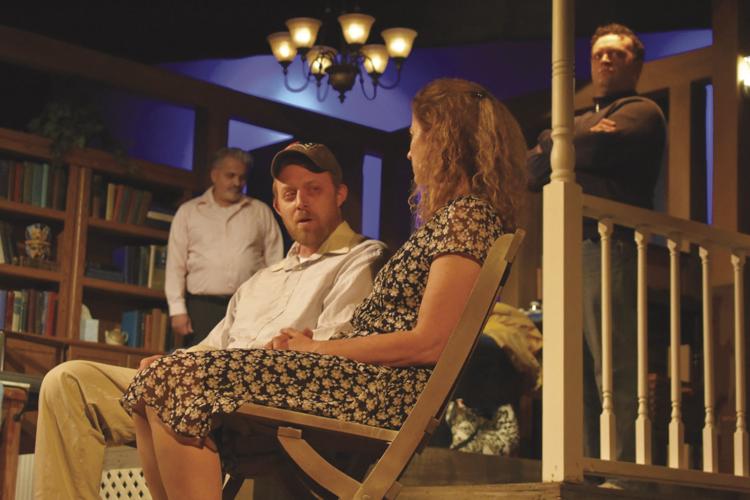 CONWAY — Pulitzer Prize and Tony Award-winning "The Shadow Box," the latest production from M&D at the Eastern Slope Playhouse Inn, is a rumination on life and death that is sad, but also joyful and uplifting.
A shadow box is an enclosed glass-front display containing objects presented in a thematic grouping with artistic or personal meaning. So, how does that relate to Michael Cristofer's "The Shadow Box," a play focusing on three terminally ill patients living out their final days in cottages at a large hospital?
The patients, Joe (Jason Stevens), who is trying to stay optimistic as his wife Maggie (Christine Thompson) and daughter Stephanie (Kaitlyn Marshall) arrive; Brian (Ken Martin), a long-winded writer who is attempting to live each day to the fullest; and Felicity (Jane Duggan), a bitter woman struggling with blindness and dementia, speak daily to an unseen interviewer (Bob Rowe).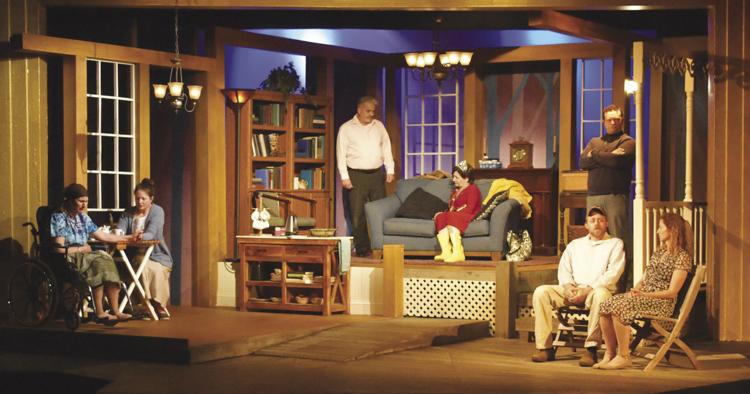 The interviewer can see them, but they can't see him. In essence, they are the objects in the shadow box being studied from the outside. The patients and the interviewer are both trying to glean some sort of understanding and meaning of what it is like dying in such a painful and debilitating fashion.
In addition to the patients, their families are being observed as well. This includes Joe's wife and daughter; Brian's partner Mark (Eric Jordan) who lives with him at the cottage; Brian's drunken former wife Beverly (Karen Gustafson), who makes an unexpected visit; and Felicity's put-upon daughter Agnes (Melissa O'Neil), who acts as her caregiver.
The set designed by Deb Jasien is the interior of one of the cottages, but it represents all three living quarters. Often all three groupings of characters are on stage, but with only one scene playing out at time. The lighting design by Lori Jean Rowe directs your attention to which characters to focus on.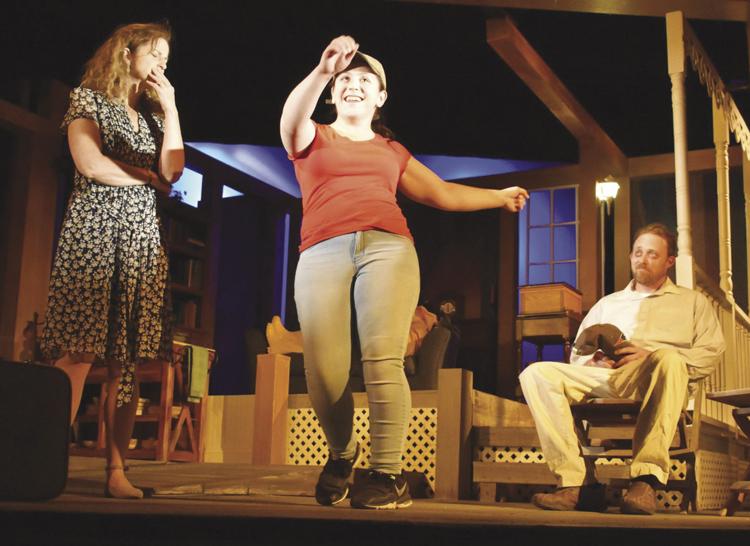 Even though the focus is almost always set on one pairing of characters at time, director Rich Russo will often have one of the other characters quietly doing something.
In one instance, we see Mark, who has been adamant that he's a non-drinker, drowning his sorrows with alcohol in the background of a scene. At another point, during an engrossing scene between O'Neil and Duggan, Stevens is openly weeping.
In both examples, these actions don't pull away from the scenes playing out. At first, you don't even necessarily notice the other actors, but when you do, it is powerful. It is this sort of attention to detail that enriches and deepens the overall story being told.
The acting throughout is stellar. O'Neil continues to be a chameleon who completely disappears into her characters. Those who saw her in M&D's last production, "The House of Yes," will be shocked by how completely different and entirely convincing she is in the role.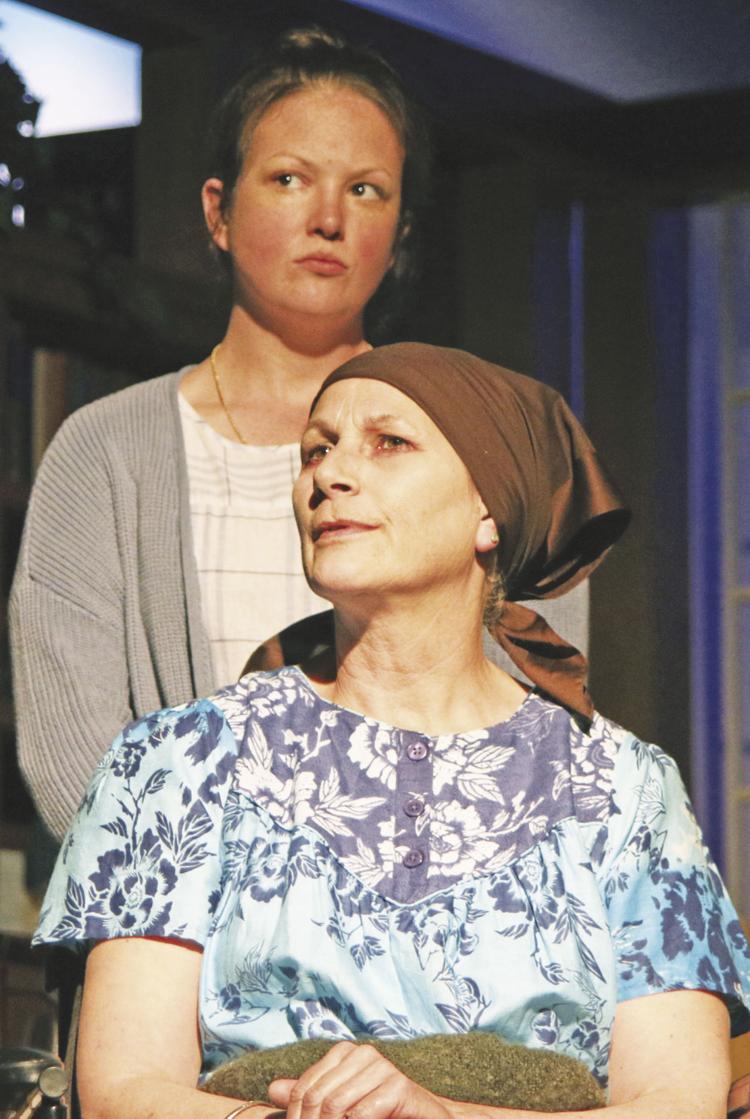 Agnes is mousy and skittish. The one time she yells at her mother, she actually scares herself. She is worn-down by her mother, who, when she is lucid is cruel, but perhaps even worse, when she lapses into senility as she longs for Agnes' favored deceased sister Claire. In a tragic bit of business, Agnes reads fake letters from Claire to appease her mother.
Of the three character groupings, this is the most harrowing as it offers no sense of hope or closure. O'Neil and Duggan perform these wrenching scenes unflinchingly even during the more optimistic final moments of the play.
Thompson's Maggie is in denial about her husband's impending death and refuses to tell their daughter. She won't even enter the cottage as it represents an admission of the truth. Maggie's manic behavior often makes her a frustrating and ugly character, and Thompson doesn't pull away from portraying that, but she also has nice moments with Stevens as the couple recall happier times.
Stevens and Martin are both the cheerful hearts of the play trying to see the best of a terrible situation. Their positivity feels sincere which makes the moment where they breakdown all the more painful to watch.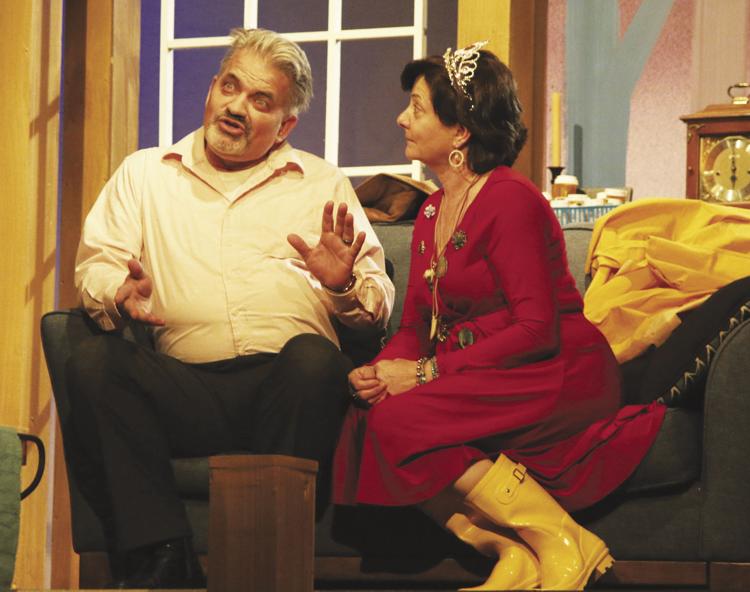 Gustafson and Jordan as Brian's past and present lovers have a combative dynamic that walks the line of drama and comedy. With her inebriated antics, Gustafson provides the play with some much-needed levity, but her character proves to be more than just comic relief, and there are hidden depths to Beverly.
"The Shadow Box," which opened Thursday, May 23, with performances Thursday through Sunday for the next three weeks, is an emotionally rewarding night of theater. Just make sure to bring the tissues. A whole box of 'em.
For more information or tickets, call (603) 733-5275 or go to mdplayhouse.com.