TAMWORTH — The Barnstormers Theatre ends its 91st season as it started: With a play that dissects the very form of theater by examining a small town.
As with its season opener "Our Town," James Hindman's "Popcorn Falls" is just as much about theater as it is about the small town at its center, but "Popcorn Falls" is far broader, with two actors (Doug Shapiro and Amanda Huxtable) playing all the characters in the eponymous town.
Popcorn Falls is on the verge of bankruptcy because the town's namesake and primary tourist attraction has run dry. A neighboring town threatens to absorb the town and replace it with a sewage plant. An arts grant could save the town, but to secure the funds, the town must produce a play within a week. The only problem is there's no play, let alone a playhouse to perform it at. The town is full of failed dreamers who just so happen to have all the skill sets to put on a show.
Huxtable and Shapiro each plays a primary role, with Huxtable as Mayor Trundle and Shapiro as Joe, the town's executive custodian.
Shapiro plays the lion's share of the other eccentric characters, including Floyd, the one-armed lumberyard owner; Becky the bartender; Mrs. Parker, the part-time librarian and full-time cat lady; the flirtatious school teacher Mrs. Stepp; and the villainous Mr. Doyle.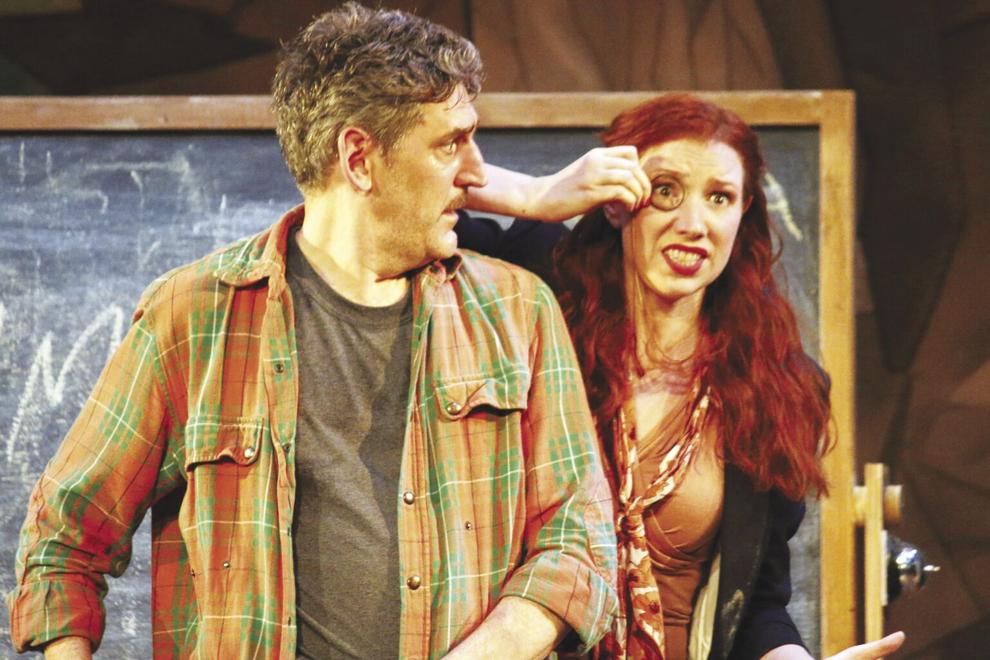 Huxtable gets to flex her range with characters like the terrifically funny German mortician Hans; a sassy receptionist; and an elderly man who humorously started walking to play auditions a day early and was still late.
Traditionally, the play is performed by two men with the mayor being male, but director Sarah Rozene took the opportunity to swap the gender.
"The show lends itself to anyone of any gender being cast in either role because, throughout the show, both characters play multiple genders," Rozene said. "But considering the pool of actors at The Barnstormers specifically — we have so many very, very talented female actors — it was super easy to be able to say, 'Oh, if we make this character a woman, then I have all of these people I can pull from, as well.'"
Huxtable ultimately got the part, and she brings an energy to all her characters that brings to mind Ellie Kemper of "Unbreakable Kimmy Schmidt." The gender swap shifts and elevates the characterization of the mayor, who is written to be a bit of a sad sack with some heavy baggage. Huxtable's brightness and warmth brings a vulnerability and underlying optimism to the mayor even when the character is at her lowest. It also allows "Popcorn Falls" to become a story of a woman in a position of power.
"It creates more layers when it comes to the conflict of this show, both with characters like Mr. Doyle, but also having a woman in a position of power that is just unquestionably respected by the people in the town," Rozene said. "Everything can be more layered, everything had to be more layered."
These underlying themes don't weigh the play down but merely help to anchor the silly in something substantial.
As ridiculous as some of the characterizations become, there are also moments of sincerity, particularly in the relationships between the mayor and Becky and the mayor and Joe. Huxtable and Shapiro bring an authentic tenderness in the scenes set in the bar. Shapiro plays the more quirky female character with a cartoonish, flamboyant flair, but as Becky he underplays and creates a character that feels real. Similarly, he brings a likable everyman quality to Joe.
Both Huxtable and Shapiro do a remarkable job of creating characters that are distinct. While there are some minor costume and prop elements to help denote the various characters, for the most part, each character is brought across through voice, body language and facial expressions. At no point is it unclear which characters are on stage.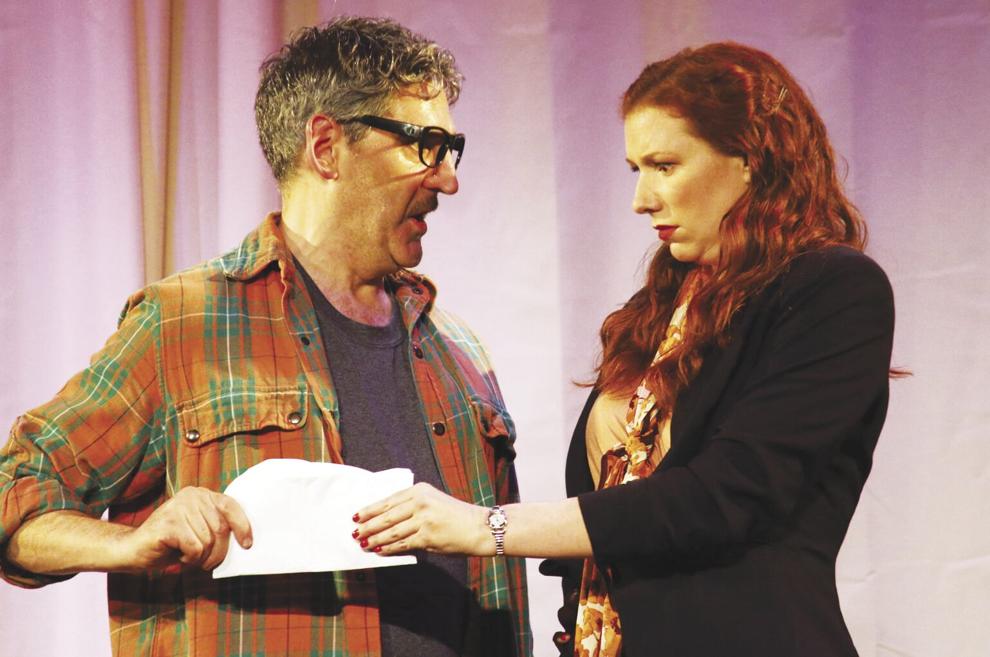 The subtle transformation between characters is impressive, especially when Shapiro is arguing with himself as Floyd and Mrs. Stepp. Shapiro also provides Mr. Doyle with a hilariously over-the-top maniacal laugh.
"Popcorn Falls" also represents a milestone for The Barnstormers. It is the theater's first production with an all-female creative team, including scenic designer Emily Nichols, lighting designer Karen Perlow, costume designer Alison Pugh, sound designer Kimberly S. Loughlin and stage manager Hollis Duggans. Everyone does solid work with a lighting and sound design that plays up the whimsy of the play.
At 90 minutes, it is a breezy laugh-out-loud funny show that is perfect late-summer entertainment.
There are three remaining performances of "Popcorn Falls," Friday at 7:30 p.m. and Saturday at 2 and 7 p.m. Tickets are available at barnstormerstheatre.org or by calling the box office at (603) 323-8500.