With local restaurants and bars closed or only doing take-out due to the COVID-19 crisis, musicians who regularly perform throughout the valley have taken to the Internet.
In the age of social distancing, streaming concerts have become a way for musicians across the country to stay connected with their audience.
"I personally need the creative outlet," said Candie Tremblay of Bartlett. "I get pretty down when I am unable to play music and share it with others. I went from playing anywhere between two to five shows a week and having this wonderful creative outlet, to everything being canceled all at once. That was really hard to deal with."
But for Tremblay, who typically performs locally at Attitash Grand Summit, Shovel Handle Pub, Black Mountain and Sea Dog Brewing Co., playing music wasn't simply self-serving, as she realized how important music was to others, as well, during these trying times.
"I wanted to be able to brighten someone's day whether it be playing a request of theirs or playing what I personally enjoy," said Tremblay who has been doing live streams on Facebook two or three times a week. "When we have fun as musicians, it is portrayed well to the audience. Being able to laugh and enjoy music together has been healing for me for sure, and I hope the same goes for my audience."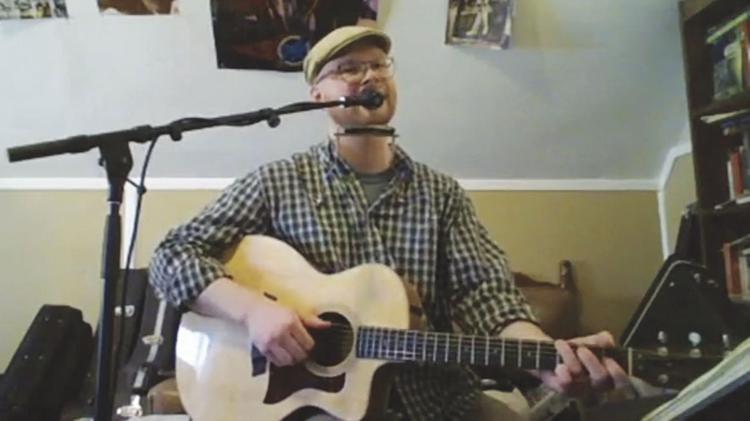 Jeremy Holden of Fryeburg, Maine, agrees that music is a powerful way to connect to people and, that, with the encouragement of friends and family, he wanted to help spread some happiness during these difficult times.
"It is so important that we all do our part to hopefully bring joy to others, and music has the ability to provide those positive feelings," said Holden, who normally performs at Shovel Handle Pub, Thompson House Eatery, Saco River Brewing, Tuckerman Brewing Co., The Back Burner Restaurant, Hobbs Tavern, and Knotty Pine Grill and Tavern. "Music has the potential to help ease the difficulties our world is going through at present, and can provide a sense of being together with friends and family even though we all need to be self-isolating at home."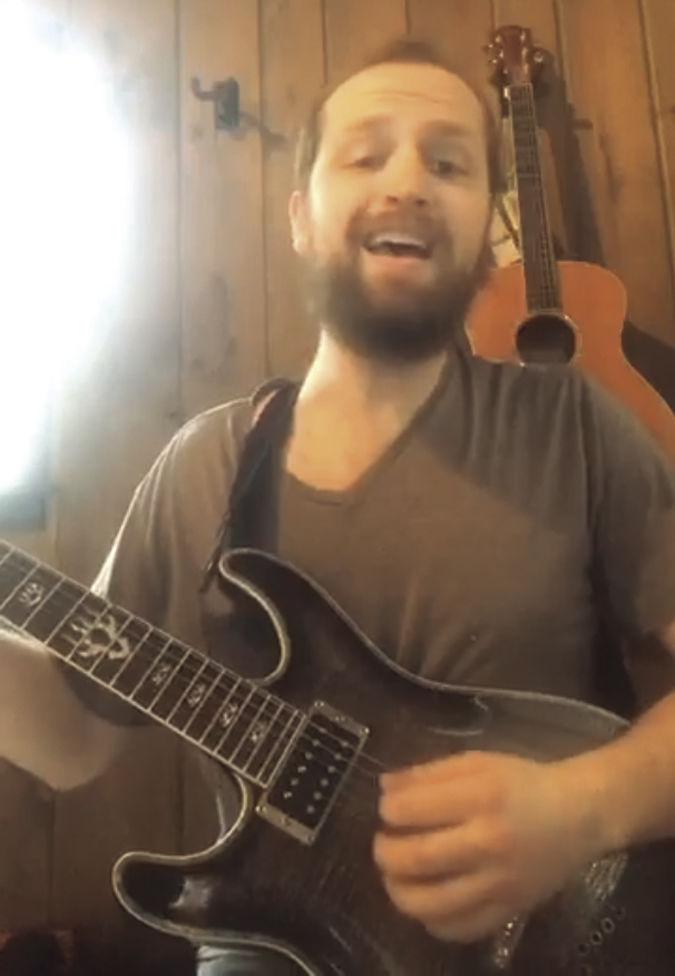 Rafe Matregrano of North Conway has taken a page from MTV, and named his Facebook Live streams "Total Request Live," after the popular viewer-generated video countdown show.
"I've been playing more solo gigs in the last two years than I ever have before, and I've found that I really enjoy taking requests in that setting," said Matregrano who was a staple at places like Red Parka, Top of the Ninth, Sea Dog, and Tuckerman Brewery, either solo or with Shark Martin, the Riley Parkhurst Project, or Chimera. "Not only is it a good challenge, but it also helps me add songs to my repertoire."
Naturally, one of the most requested songs is "Free Bird," but Matregrano has been having the most fun digging into the 1990s.
"My favorite thing is the positive reactions I get when I'm able to pull off people's requests," said Matregrano who has performed two sessions so far and will continue to do more on a weekly basis until he can get gigs again. "Playing music gives me so much joy, and it makes me so happy to see that I can give people joy by playing a song for them."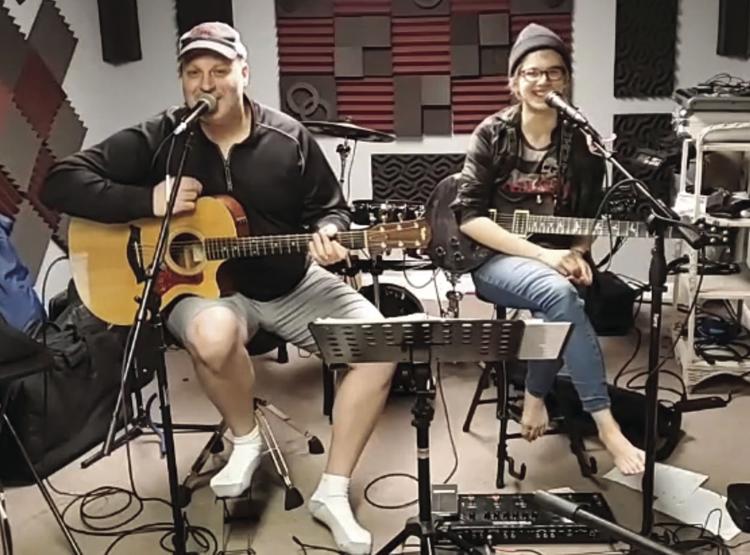 Father and daughter Dan and Riley Parkhurst have also been spreading the joy from 867 Studios in Conway.
"We wanted to give back to a community that has been so kind to us, and as a way to connect to the people who have been following us for so long," Riley Parkhurst said. "With all of our shows being canceled, it would have been a shame to just not play for anyone."
The father-daughter duo have been playing a mix of randomly chosen songs and requests during the shows, which they are performing on Facebook every Sunday at 7 p.m.
There are a lot of songs I don't know though," said the 20-year-old Riley, who is normally seen with the Riley Parkhurst Project at Red Parka Pub and McGraths, Top of The Ninth, Attitash, Wildcat, and Cranmore. "Songs that a lot of people really know and recognize, I just missed because I wasn't alive."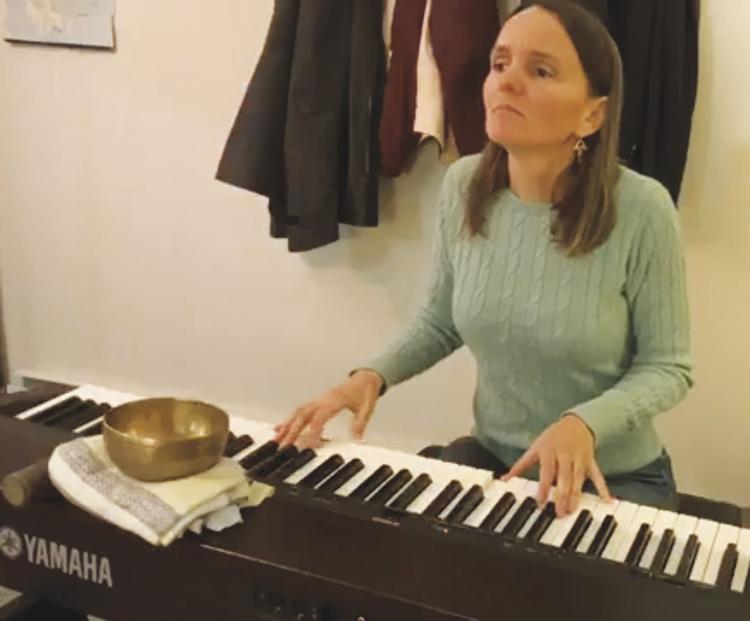 Heather Pierson of Conway, who gave the community a much needed laugh with "The Toilet Paper Song," has also gotten into live streaming. She has been offering two weekly shows: Musical Meditation Mondays (solo piano) at 7 p.m. and Saturday Afternoon Special with Shawn Nadeau at 4 p.m.
"I'm still new to live streaming, but I'm just as eager to connect with friends and fans as I have ever been, and the way to do that in the current moment is with live streaming," Pierson said.
Ryan St Onge, vocalist and guitarist for Shark Martin, felt that he needed to share his music, too, both for himself and others, through both Facebook Live streams and non-live video posts.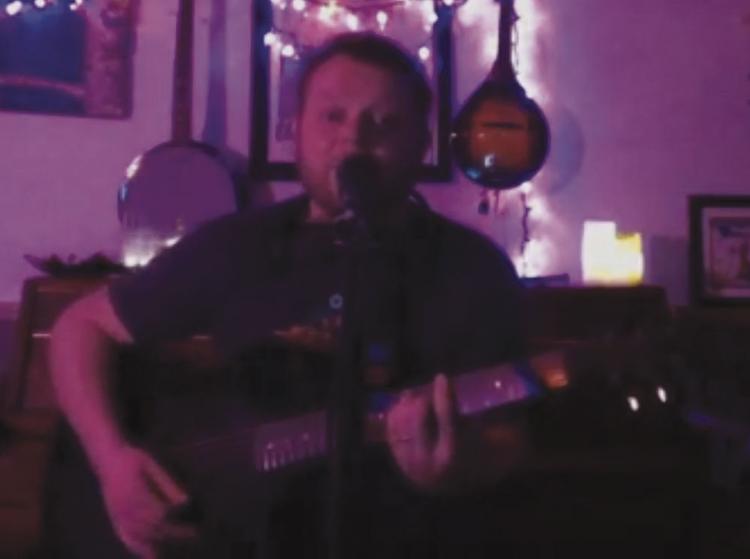 "I am a full-time musician normally and put a lot into my work," said St Onge who is normally seen at the Red Parka Pub, Mount Washington Hotel, Cranmore, Attitash, Wildcat and Bretton Woods. "Losing everyone so quickly was a shock to my system. I've performed live for 20 years and I wanted to address my friends, family and fans in this crazy time. People are social by nature and solitude and quarantine go against our normal behavior."
Wanting to help ease that feeling of solitude was what compelled Sarah Montalvo-Kopoulos, who owns Beef and Ski in North Conway with her husband Peter Kopoulos, to do her own Facebook Live stream with SPF3, her band with Kopoulos and Frank Maglio.
"If we can shine a light, we want to," Montalvo-Kopoulos said. "Kindness goes a long way. In the words of the great Master Yoda: 'Through this path, victory we may yet find.'"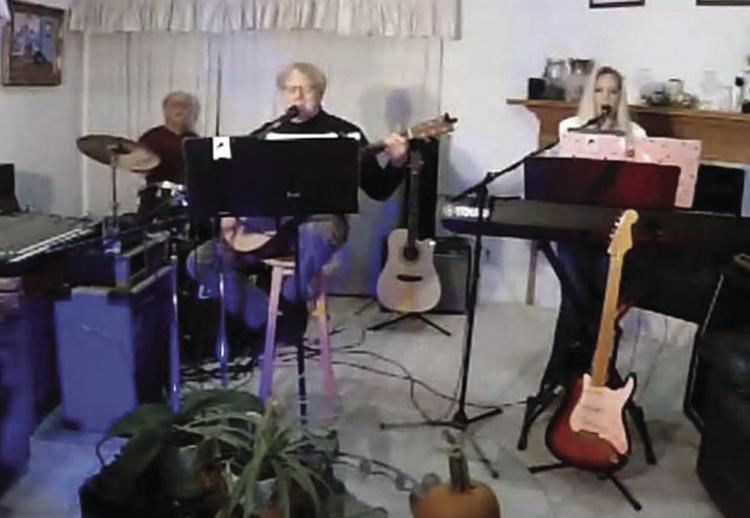 The SPF3 live stream was "a gift to the community." Similarly, the Parkhursts feel like they are in a position where they don't need to accept tips.
"We are financially stable as a family right now," Riley Parkhurst said. "We'd rather make sure that our fans aren't giving us money that they could be using to make their lives a little easier in this trying time."
But if you are in a position to help out, St Onge, Tremblay, Pierson and Matregrano are accepting tips via sites like PayPal and Venmo.
"I haven't determined whether I will ask for tips," Holden said. "If people who are listening feel compelled to offer something, I will consider how to respond in the moment."
But tips are not the only way to show an artist your support.
"Another great way to support artists is by streaming their music on platforms such as Spotify, YouTube, Pandora, iTunes, Apple, and wherever else they may get their music," Tremblay said. "Although it may be small, every stream helps in the long run."
Even if you can't help out financially, all musicians are just happy to share their music.
"Positivity is in short supply these days, especially on social media," Matregrano said. "Don't get me wrong, there's a lot to be angry about, and understandably so. Playing music gives me a break from all the craziness, and if my playing can give other people a break, too, that's easily the best part."