TAMWORTH — The Barnstormers Theatre opened its 91st season Tuesday with Thornton Wilder's perennial classic "Our Town." A show the Tamworth theater has staged many times before, but this time director Clayton Phillips is offering a twist.
"It's a lot more diverse," Phillips said. "We're trying to look at it more as 'Our World' than 'Our Town' so that the town represents what our world really is."
Full disclosure, in my 20 years of reviewing theater, I've never seen "Our Town." Furthermore, I've somehow managed to not hear anything about it beyond it being set in a small New Hampshire town and that it is a staple of community and school productions due to simple staging.
I'm glad The Barnstormers production, which is being performed through Saturday, was my introduction to "Our Town," as it is a rich presentation that vibrantly brings Wilder's words and themes to life.
Written in 1938, "Our Town" is set in the small fictional town of Grover's Corners between 1901 and 1913, and is staged in three acts, with a narrator credited as the stage manager guiding the audience through the town and story.
The script taps into timeless themes such as love and death. That universal quality is further sold in this production by the color-blind casting. There's even an actor (Matty Balkum) who is costumed to be a member of the LGBTQ community. While this casting is not accurate to rural New Hampshire in the early 20th century, it is more reflective of our world today without having to change a single word of dialogue.
The stage manager, warmly played by Blair Hundertmark, offers up folksy charm and wisdom. At first blush, it seems as if "Our Town" is showing how much better it was during simpler times, but then we begin to see familiar cracks and flaws in the surface. As many things have changed, others remain the same.
While there's a clear sense of community, there's also a coldness and a disconnect. Everyone is aware that choir director and church organist Simon Stimson (Chazmond J. Peacock) is the town drunk but no one helps him, as that is his business. Similarly, when a character seeks social justice (Dwan Hayes) this request is ignored. That this request is coming from a Black woman makes the moment all the more impactful.
As is tradition, the set is sparse with a ladder, a couple tables, a few chairs and a painted backdrop representing the town. There are no props and the actors mime all their actions. This is directly connected to the piece's main theme that humanity is too self-involved to appreciate the small details in life.
"I tried to restore significance to the small details of life by removing the scenery," Wilder said in a New York Times article in 1938.
Wilder was disillusioned with the state of theater in his time and so his approach deconstructed the form. The stage manager breaks the fourth wall throughout. This meta approach is familiar now but was groundbreaking at the time.
Far be it for me to criticize a Pulitzer Prize winning play, but I actually found the stage manager to be intrusive. Just when a scene was building some dramatic energy and I was becoming invested in the characters, the stage manager would come in and stop the scene, moving on to something else.
But the more I thought about it, it was clear that this feeds into the theme of humanity not being present enough in its own existence. The stage manager is both a guide and a distraction. He stops the audience from being in the moment just as the characters are missing out on the smallest details of their lives.
The whole cast beautifully explores the text. Everyone is so convincing with the miming of the actions that, as an audience, we forget there aren't any props or an elaborate set. This cast successfully brings Grover's Corner to life.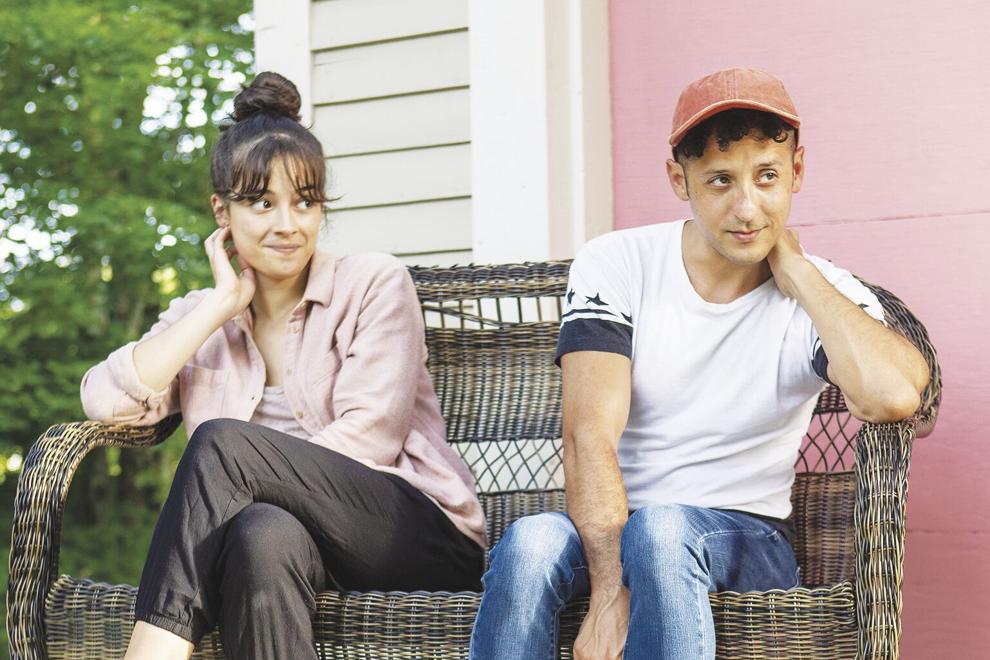 The highlights of the cast are Seth Tucker and Carmen Berkley as George Gibbs and Emily Webb, who, as the play progresses, move forward from the ensemble to become the leads. Their budding love story is the heart of the play, and Tucker and Berkley have a sweet and natural chemistry together. This is particularly true in the scene in which Emily confronts George about his flaws and he promises to become a better person. Tucker and Berkley bring a candidness to the scene that feels true.
Other standouts in the cast include Rebecca Gottlieb and Cheryl Mullings as George and Emily's mothers. There's a painfully relatable scene in which Emily asks if she's pretty and her mother keeps dodging the question. Berkley and Mullings find an honesty in the scene that makes the moment authentic.
There's also a wonderfully acted scene between Tucker and Harter Clingman as Emily's father on the morning of George and Emily's wedding day. It perfectly captures all the awkwardness in such encounters. Later though, when George has his doubts, Mr. Webb tenderly offers the right words of wisdom. Clingman performs it just right.
The Barnstormers' production of "Our Town" is sold out, but call the box office at (603) 323-8500 to see if there are any cancellations. If you can get a chance to see it, it is well worth the time.