With the production and release of new films largely on hold for the next few months — supposedly Christopher Nolan's "Tenet" is arriving in theaters in July, but I'm not holding my breath — I wanted to start a series exploring some of my favorite films that don't always get the attention they deserve.
"Night Shift" is a film I found in the bargain bin at Walmart about 15 years ago. With a cast including Henry Winkler late in "The Happy Days" cycle, a pre-"Cheers" Shelley Long, and Michael Keaton in his film debut, it seemed like a safe $5 bet. I wasn't wrong.
When I first purchased "Night Shift," the 1982 film was already largely forgotten. Now, it is barely a footnote in the careers of those involved. In fact, in the recent "Splash"-themed episode of Josh Gad's "Reunited Apart," "Night Shift" was simply referred to as the R-rated film director Ron Howard made before directing his breakout film "Splash."
Between 1982 and 1983, there were three films featuring clean-cut guys becoming pimps: "Night Shift," "Risky Business" and "Doctor Detroit." It is a plot that could only fly in the pre-AIDS awareness era.
"Risky Business," with its satire of capitalism in the 1980s and Tom Cruise dancing around in his undies, proved to have staying power. But "Night Shift" and "Doctor Detroit" both faded from the mainstream consciousness. "Doctor Detroit," starring Dan Aykroyd, was a box office dud with little to offer beyond a memorable Devo theme song and an appearance by James Brown.
But "Night Shift" was a moderate hit, so it is hard to say why it has fallen into obscurity. Maybe the plot of a couple of guys starting a call-girl service out of a morgue is too tough a sell. With a premise like that, people may be assuming it is a trashy relic of the early-'80s.
It is a reasonable assumption given the popularity of low-brow sex comedies like "Porky's" (it made $130 million) around that time. Despite its salacious premise, the film isn't exploitative. Unlike "Porky's," "Night Shift" likes and respects women and doesn't treat them like mere objects of male gaze.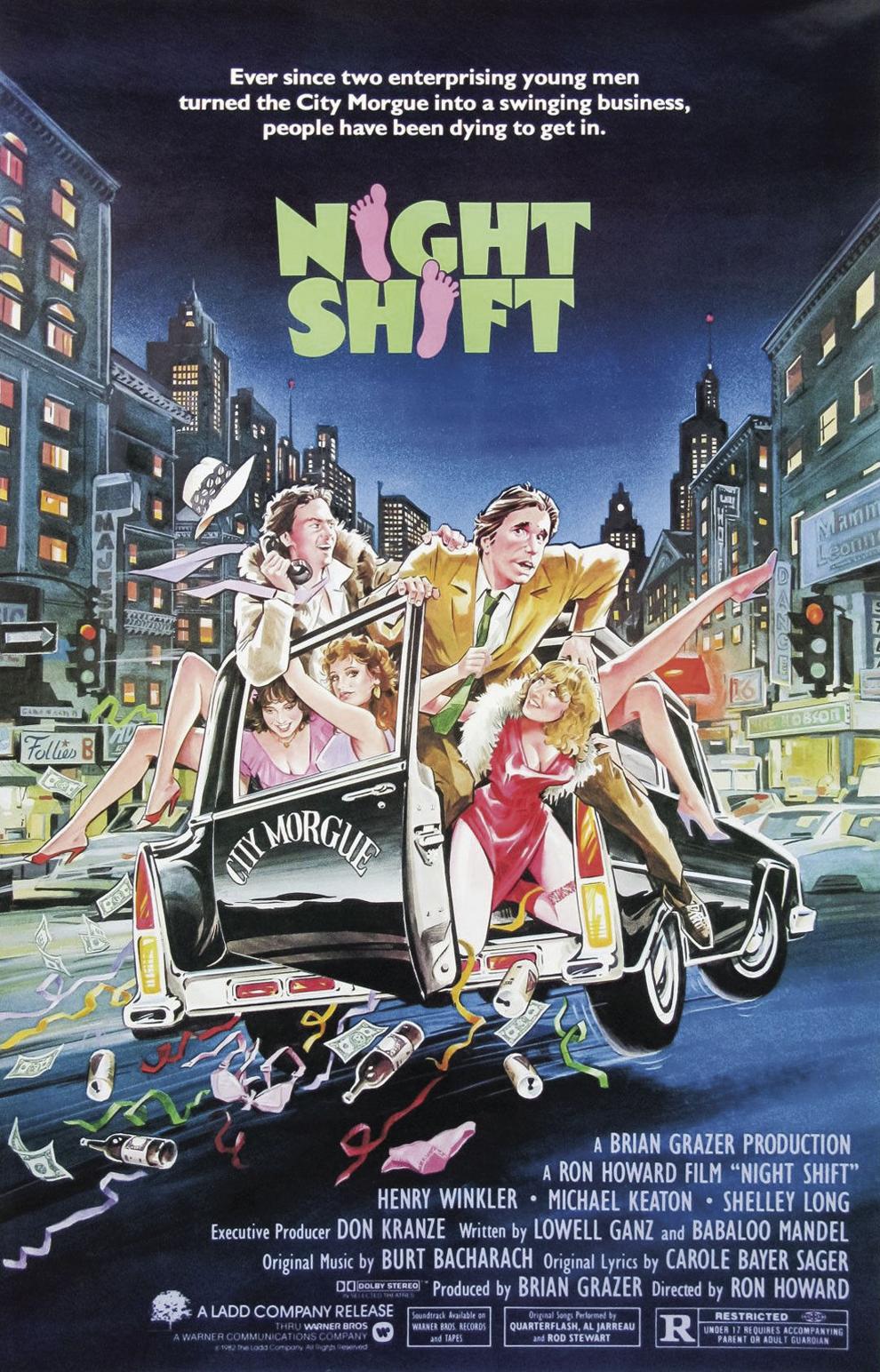 Even with an R-rating and sex-centric plot, "Night Shift," is surprisingly sweet. There is little nudity or foul language, no raunchy humor and all the prostitutes have hearts of gold under their tough exteriors. This became a bit of a cliche during the 1980s, culminating with 1990's "Pretty Woman."
Written by Lowell Ganz and Babaloo Mandel, who went on to write such films as "Splash," "Parenthood," "City Slickers," and "A League of Their Own," the movie relies on witty dialogue and slapstick scenarios rather than the gross-out humor that had become so popular post "Animal House."
Directed by Winkler's "Happy Days" co-star Howard, directing his first major Hollywood studio picture, "Night Shift" was positioned as a vehicle for Winkler. "Happy Days" was well past its prime and this was going to be the film to make or break Winkler as a movie star. While the film was a success upon its release, it was Keaton's manic energy that made an impression. A year later, Keaton would have a big hit with "Mr. Mom."
Keaton's performance as Billy Blaze, a motor mouth and self-proclaimed idea man ("Idea to eliminate garbage. Edible paper. You eat it, it's gone!") is one of the great screen debuts and the reason "Night Shift" should be remembered.
With a mile-a minute seemingly stream-of-consciousness line delivery, Keaton is tremendously funny. From his first scene, in which he appears as a silhouette humming The Rolling Stones' "Jumpin' Jack Flash," Keaton announces himself as a star.
Winkler, as Chuck Lumley, a former Wall Street broker who cracked under the pressure, is the perfect foil to Keaton's wildman antics. Chuck's peaceful existence working the night shift at the city morgue is destroyed when Keaton's Bill enters the picture and convinces Chuck to turn the morgue into a brothel, as a means to help out Chuck's prostitute neighbor Belinda (Long).
Chuck is the polar-opposite of the Fonz. He is a nebbish man, who lets everyone from his fiancee, future in-laws, boss and even the restaurant delivery man, walk all over him. Winkler was clearly trying to show he had range and he equates himself nicely. He's sweet, sincere and charmingly befuddled.
Naturally, Chuck and Belinda fall in love and Bill helps Chuck to find his backbone, but the characters don't feel like cliches. Howard, Ganz and Mandel take the time to create real connections. The relationship that develops between Chuck and Belinda is low key and, largely, chaste. There is a sex scene, but it happens off-camera. This choice, by Howard, makes it clear that he is putting the focus on the characters rather than cheap sex.
There's also a cracking and extremely 80s score by Burt Bacharach, a catchy theme song co-written by Bacharach and performed by Quarterflash, and an early version of "That's What Friends are For" performed by Rod Stewart.
With its strong cast, writing and direction, "Night Shift" deserves to be rediscovered. In Billy Blaze you can begin to see the roots of Keaton's career. It isn't much of a leap from Bill to "Beetlejuice."
"Night Shift" is available for rent or purchase on Apple, Amazon and Vudu. Amazon and Apple have the best deal where it can be purchased for $7.99. Given a rental is $3.99, it is worth the extra few bucks to own it.