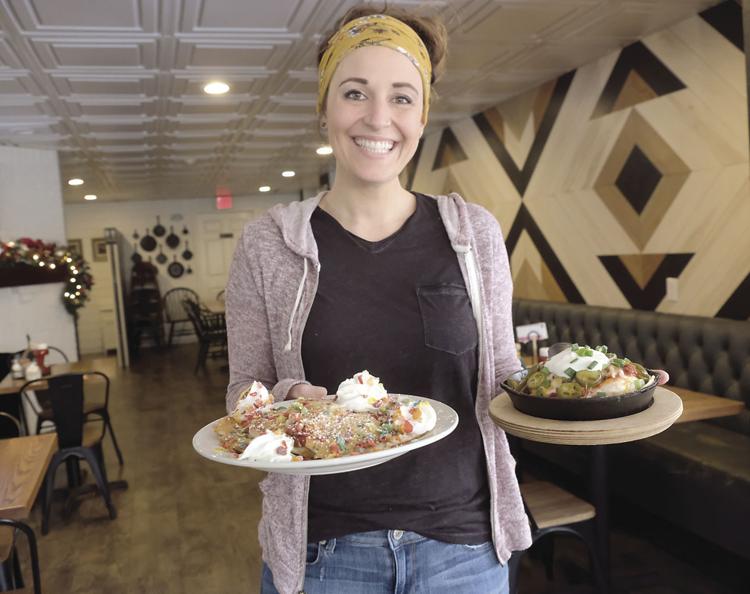 27 NORTH
Open for breakfast and lunch, 27 North offers a whimsical and creative dining approach, complete with "out-of-this-world" mimosa flights and Bloody Marys. Breakfast offerings include the Mac Muffin (two eggs, sausage, American cheese on toasted English muffin); the #letshashitout (homemade hash, scrambled eggs, sausage and cheddar cheese) and the Pedro (cornbread, salsa, jalapenos, jack cheese, garnished with sour cream and scallions) as well as omelets. The decor is bright and cheery, with expansive views of Cranmore. Kids menus available. Open daily 7 a.m.-2:45 p.m. 27 Seavey St., North Conway. (603) 730-5318; 27northnh.com.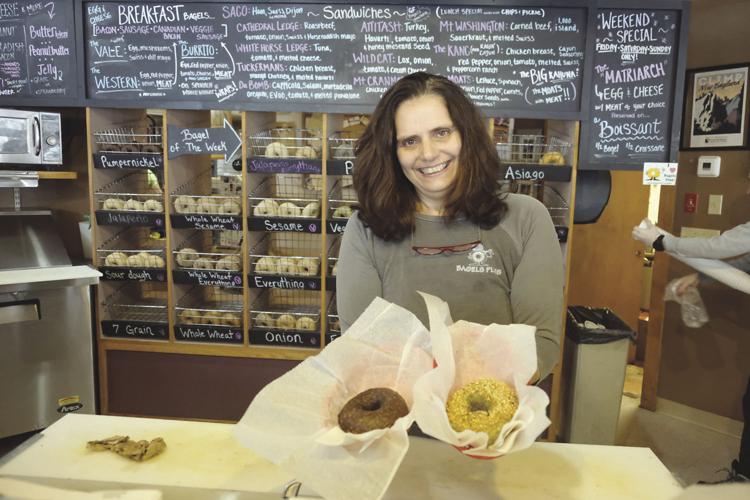 BAGELS PLUS
Owners Carol-Ann and Frank Dahlmeyer offer a great selection of breakfast sandwiches and over 25 varieties of homemade bagels, including vegan and gluten-free. All bagels are made on site along with their delicious cream cheese. Their famous "boissants" — a cross between a bagel and croissant — are available on select weekends. Bagels Plus is located just north of Delaney's in North Conway. Catering available, as is takeout while you're heading for the slopes. Open Mondays-Saturdays from 6:30 a.m.-2 p.m. and Sundays until 1 p.m. 2988 White Mountain Highway, North Conway. (603) 356-7400; bagelsplusnh.com.
BANNERS RESTAURANT
A favorite breakfast and lunch spot for locals and visitors alike since 1987, Banners is known for deliciously fresh home cooked food and generous portions. Breakfast is served all day- everyday featuring fluffy pancakes, pan omelets, benedicts, an award-winning Monte Cristo and their signature Italian hash omelet. Enjoy a Bloody Mary or Mimosa and of course their OJ is fresh squeezed. You'll be greeted and served by an amazing staff that will make Banners your "go-to" breakfast and lunch restaurant in the Valley. Conveniently located with ample parking. 621 White Mountain Highway, Conway. Kids' menus available. Open daily 7 a.m.-3:30 p.m. (603) 447-6993; bannersnh.com.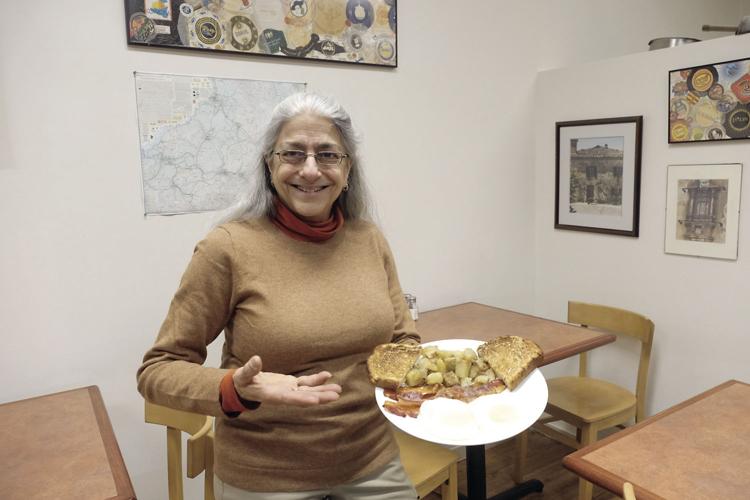 BART'S DELI & GENERAL STORE
"If you need it, we have it," is the slogan for this cheery establishment, located in the heart of Bartlett Village. Highlights include the Farm Special (fried egg, cheese and bacon, ham or sausage); sausage and gravy on homemade biscuits; and fresh baked muffins and turnovers. For a hearty treat, go for the steak, egg and cheese combo. Breakfast from 6:30-11 a.m. daily; available to go or for stay. 1279 U.S. Route 302, Bartlett; (603) 374-9100; bartsdeliandgeneralstore.com.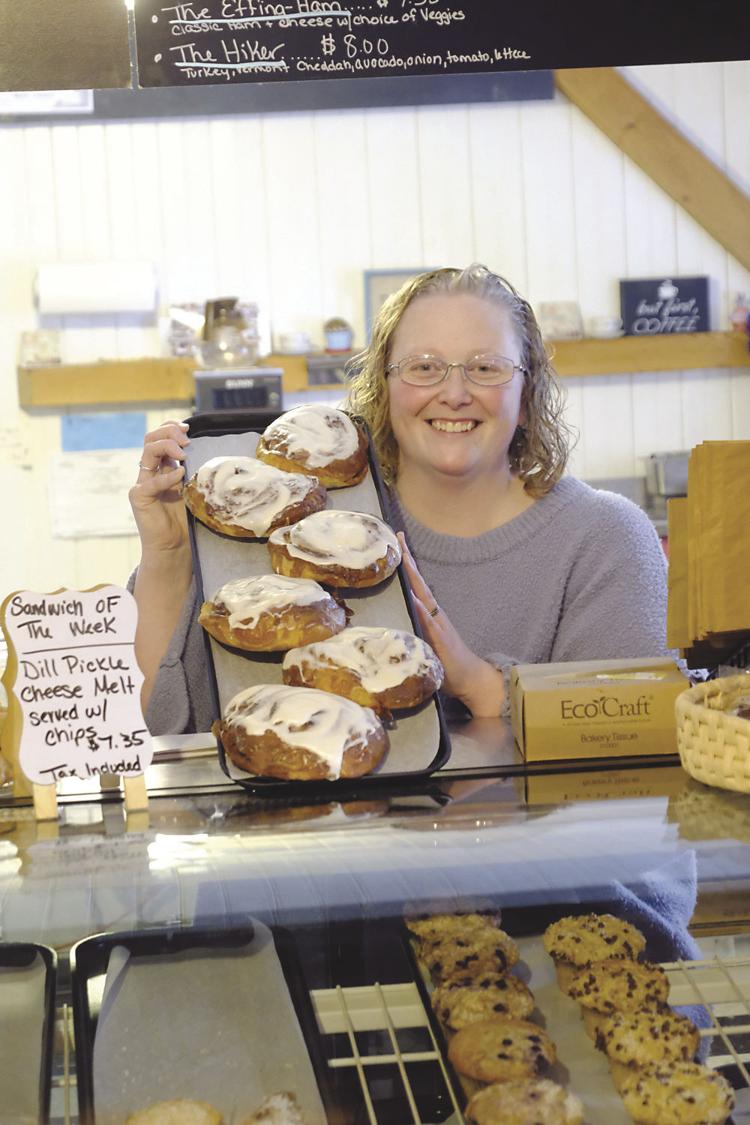 BATTER UP BAKERY
Batter Up, owned by Julie Tavares of Tamworth, shares a building with the New Hampshire Country Store (look for the entrance just off the parking lot). With two years under its belt, the business offers pies, cookies, pastries, custom cakes, breakfast sandwiches, lunch sandwiches, soups and more. The bakery also has a dining room that seats 27. To start your day off right, stop in for a cappuccino and a muffin, a breakfast sandwich or a flaky croissant. Hours are 7 a.m.-4 p.m. Wednesday-Sunday. 229 Chocorua Mountain Highway (Route 16), Chocorua Village. (603) 986-3326. (603) 986-3326; facebook.com/batterupnh.
FRONTSIDE COFFEE ROASTERS
Born out of a love for mountain life and quality coffee, Frontside Coffee Roasters focuses on providing quality coffee, food and service while creating a welcoming atmosphere that fosters community. All of Frontside's hand- selected coffees are custom-roasted just down the street. Featured in the cafe are breakfast sandwiches, fresh bagels from Bagels Plus, handmade doughnuts and apple fritters from Leavitt's Bakery, maple scones from Mckaellas Sweet Shop, and other baked goods made in house. Traditional espresso drinks are served as well as pour-overs, cold brew and nitro, while on the sweet side popular drinks include local maple syrups lattes, chai-fu and Bees Knees, a latte made with honey. Open daily from 6:30 a.m.-5 p.m. and until 6 p.m. Saturdays. 2697 White Mountain Highway, North Conway. (603) 356-3603; frontsidecoffee.com.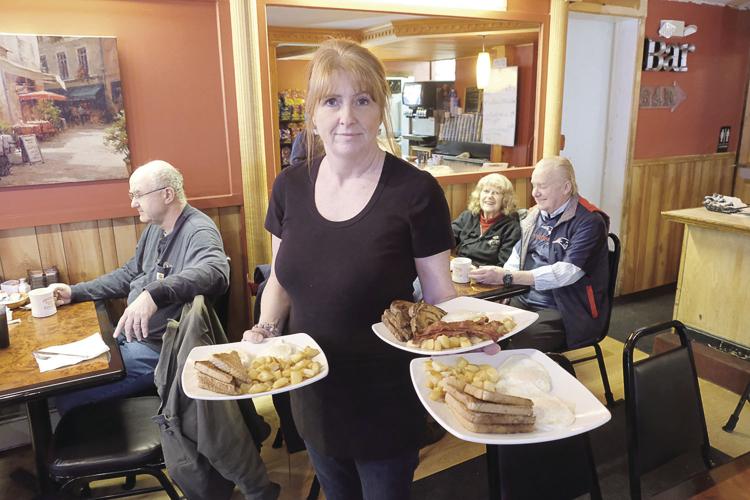 FRYEBURG HOUSE OF PIZZA
If you're passing through the Fryeburg, Maine, area at breakfast time, make it a point to pull over on Portland Street and go inside. With the homey tables, laminated menus, quickly filled coffee cups and affordable prices, FHOP takes you back to another, friendlier era. Server Debbie Smith will bring you whatever you're in the mood for, whether it's a (very affordable) breakfast sandwich or something heartier like the Hungry Man (three eggs, two pancakes or French toast, home fries and choice of bacon, sausage or ham) or a Western omelet. There's a reason the Andrews brothers (of Fryeburg Fair fame) stop in on an almost daily basis. Now you can, too. 1 Portland St, Fryeburg, Maine. (207) 935-4172.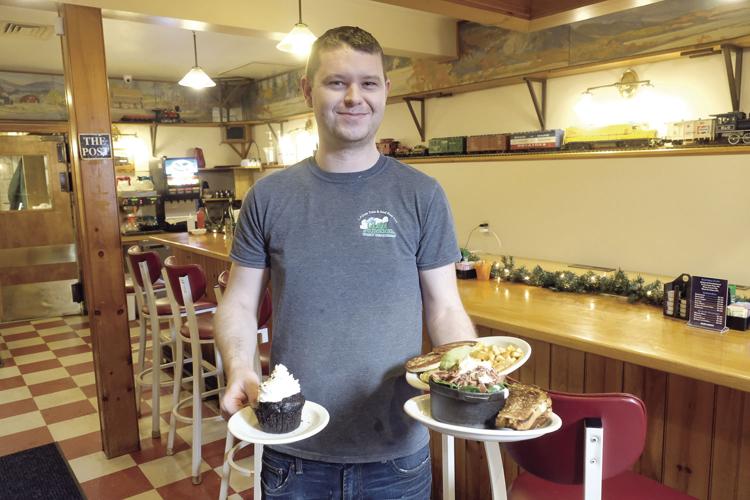 GLEN JUNCTION
A local mainstay for decades, Glen Junction literally offers all the bells and whistles (a model railroad layout runs overhead inside the family restaurant). Glen Junction offers breakfast all day, including specialty omelets, eggs Benedict, pancakes and French toast. "Sidecars" include corned beef hash, ham, bacon, sausage, trainfries, baked beans, fruit salad medley and muffin/pastry of the day. New this year: Alcoholic beverages available: Bloody Mary's, mimosas, Bailey's Irish Cream and a selection of beers. Open 7 a.m.-3 p.m. Lunch served from 11:30 a.m. 12 U.S. Route 302, Glen. (603) 383-9660.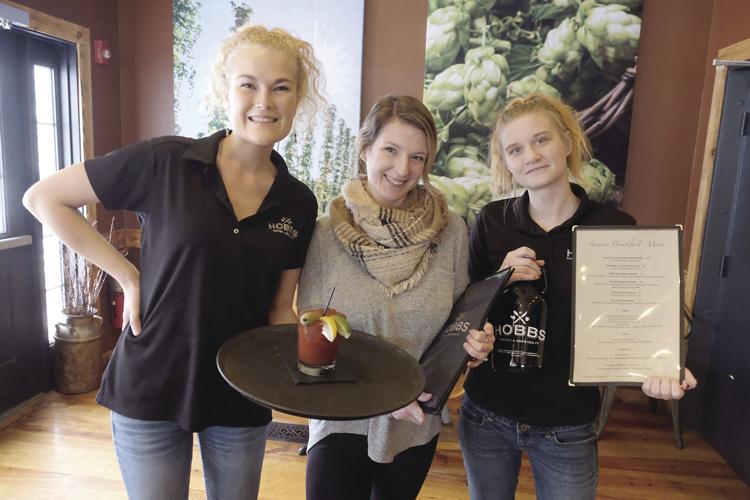 HOBBS TAVERN
Since opening in 2016, Hobbs Tavern has been a welcome addition to the West Ossipee intersection of Routes 16, 41 and 25. It's been handsomely redone, and the rustic. high-ceilinged rooms serve as a great background to their Sunday breakfast buffet. Served from 9 a.m.-noon, it checks all the boxes: made-to-order omelets, scrambled eggs, applewood smoked bacon, sausage links, country-style home fries, pancakes, French toast, plus assorted cereals and juices, mixed berries, yogurt and granola. For a perfect start, wash it down with a bloody Maria or a mimosa. 2415 White Mountain Hwy., West Ossipee. Open Mondays-Saturdays at 11:30 a.m and Sundays at 9 a.m.) (603) 539-2000; hobbstavern.com.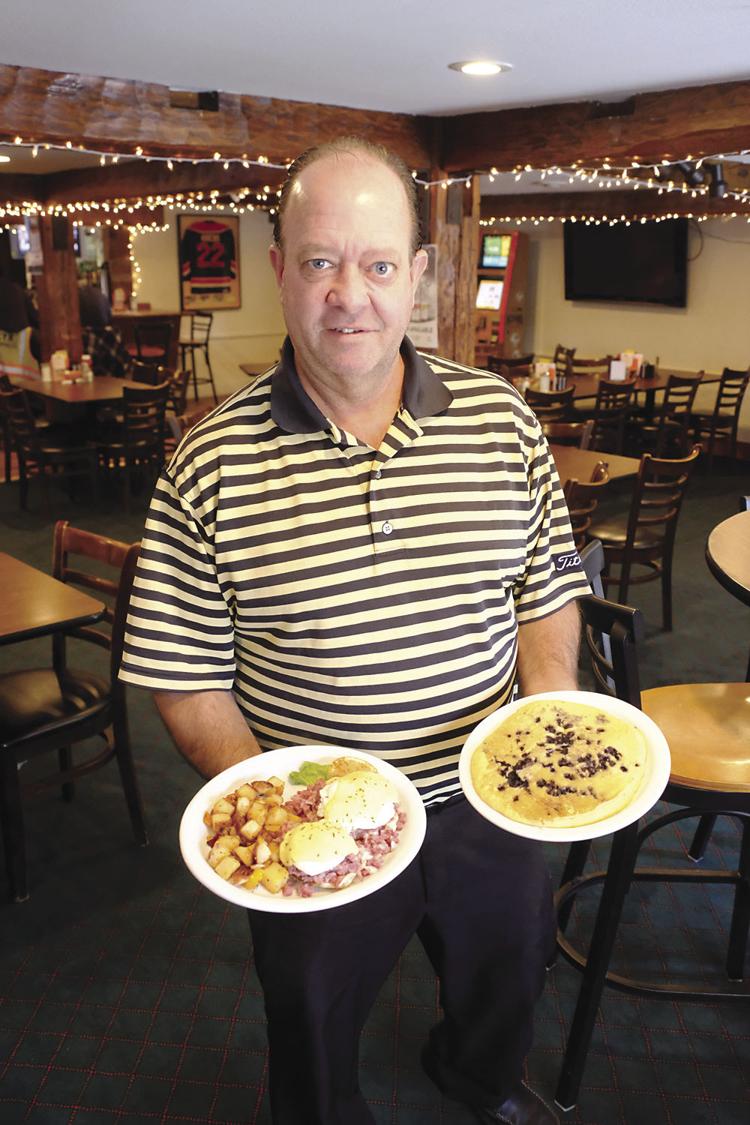 INDIAN MOUND/RIVER'S EDGE
Open year-round, River's Edge Grille and Tavern has built a year-round following among golfers and non-golfers alike. For breakfast, try the Masters (two eggs any style, two pancakes, choice of bacon, ham or sausage patties, home fries, toast and jelly) or the Irish Eggs Benedict (two poached eggs on an English muffin with corned beef hash and home fries). Other items include French toast, pancakes and omelets of every variety. Breakfast available 7 a.m.-11 a.m. River's Edge Grille and Tavern at Indian Mound Golf Course, Route 16-B, Ossipee. (603) 539-2901; indianmoundgc.com/tavern.
J TOWN DELI
Off to the slopes or cross-country trails? Pick up a made-to-order breakfast sandwich or burrito, or stay and enjoy this charming country store and eatery located on the Jackson Loop close to the Jackson Ski Touring Foundation. Ordering either breakfast or lunch and know your day will be delicious. Owner Genn Anzaldi advises: "Don't forget our baked goodies ... so yummy!" Breakfast served daily 7 a.m.-11 a.m. 174 Main St., Jackson. (603) 383-8064; jtowndeli.com.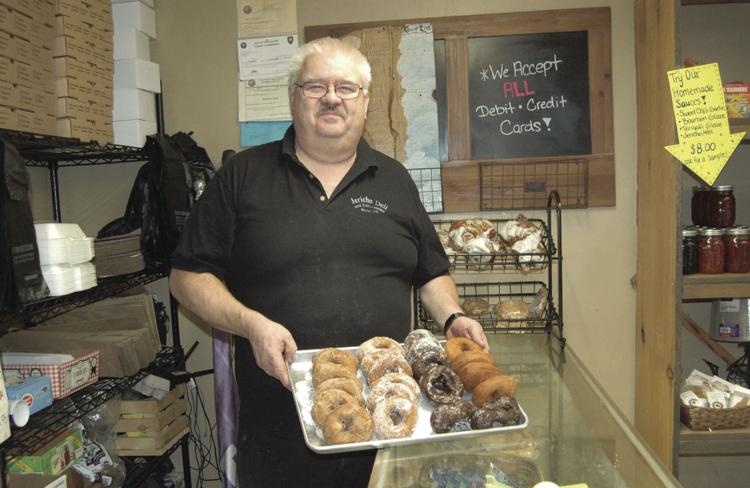 JERICHO DELI & CONVENIENCE
Jericho Deli & Convenience is your go-to for freshly made breakfast egg sandwiches and homemade pastries and doughnuts. Plus there's a breakfast special of two eggs any style, home fries, choice of bacon or sausage patties and toast, very reasonably priced. In addition, they offer ice-cold beverages, sandwiches, weekly specials, homemade sauces, soups, pies, chili and stews. They use many locally produced items including native cheeses and their own smoked meats. Open Tuesdays-Saturdays, 6:30 a.m.-8 p.m. and Sundays until 7 p.m. 174 Jericho Road, Berlin. (603) 752-5600.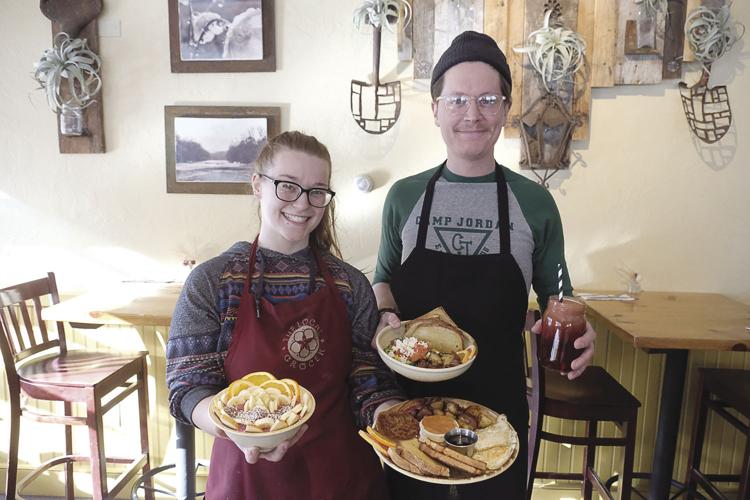 THE LOCAL GROCER
The well-known organic cafe/deli/bakery now serves breakast all day. They buy locally whenever available and use organic eggs, nuts, grains and produce, house-baked organic bread, humanely raised nitrate-free meat and hormone-free butter and cheese in all their dishes. Offerings include the Vegan Scramble; Avocado Toast; Salmon Bagel (served with whipped cream cheese, capers and pickled red onion); and the Peaceful Warrior Bowl (scrambled eggs, spinach, tomato, feta, sourdough toast and home fries). 3358 White Mountain Highway, North Conway. The cafe is open daily 8 a.m.-3 p.m. (603) 356-6068; nhlocalgrocer.com.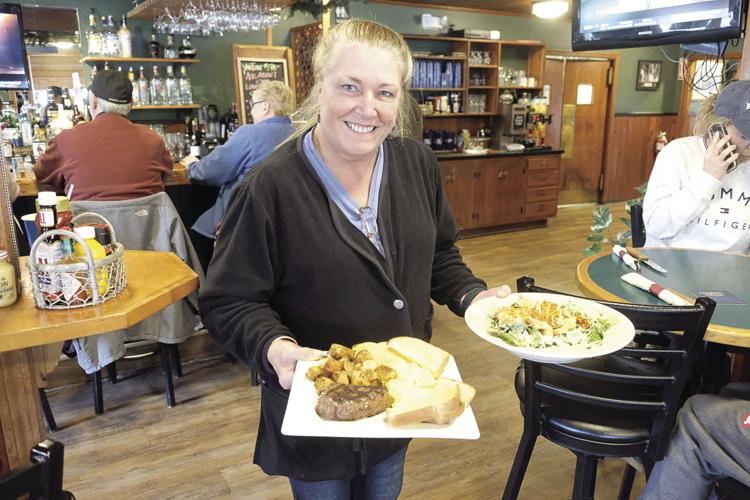 MERLINO'S
At the landmark "Sign of the Steer" on Route 16 (right in front of Settlers Streetside in North Conway), Merlino's Family Steakhouse has been a valley dining tradition since 1967. The Sunday brunch menu includes steak and eggs, prime rib and eggs, house omelet with homemade roast beef hash, French toast and eggs Benedict. You can also enjoy a Bloody Mary or mimosa from Merlino's full bar. 1717 White Mountain Highway, North Conway. Sunday brunch 10 a.m.-2 p.m. (603) 356-6006; merlinossteakhouse.com.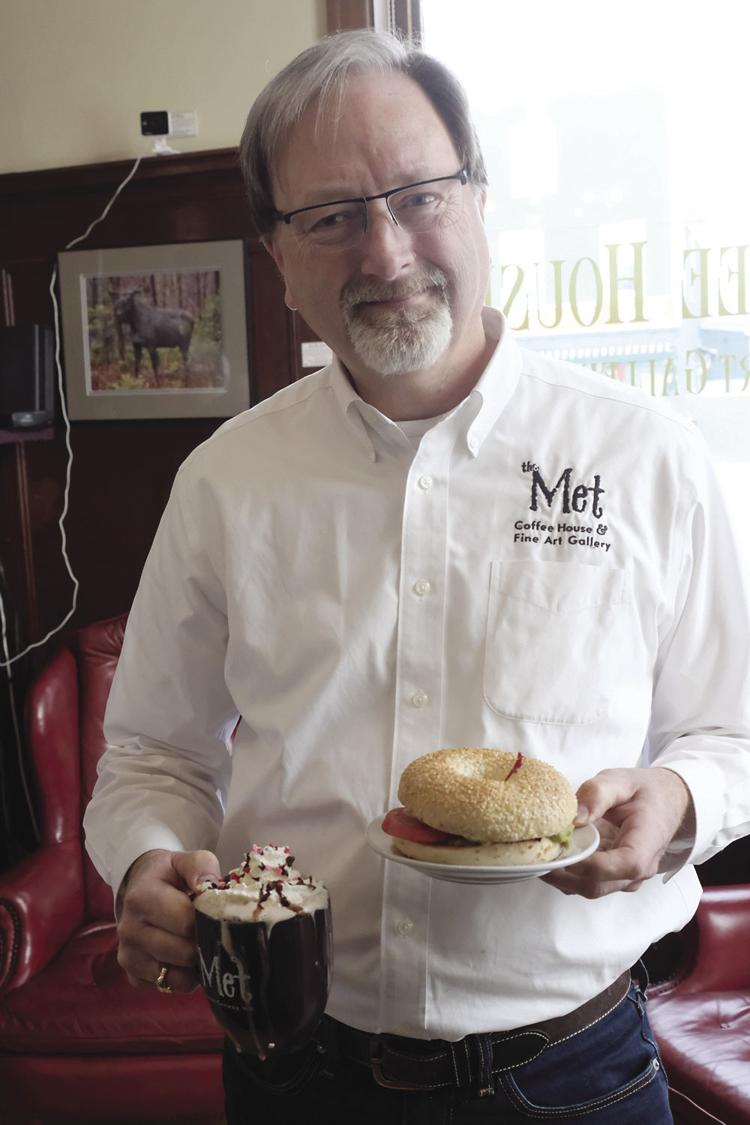 19. THE MET
The Met Coffee House and Art Gallery has been a destination in downtown North Conway for more than 15 years and is locally owned and operated by Larry and Diane Flaherty. In recent years, they've added a second location at Settlers Green. At either location, stop in for a refreshing hot or cold specialty latte or award-winning hot chocolate; a hearty breakfast sandwich, like The Saco (cheesy egg, avocado and bacon and tomato), plus muffins, croissants and bagels. Gluten free and vegan offerings also available. Local art on display for sale. 2680 White Mountain Highway, North Conway; (603) 356-2332; and at Settlers Green, 2 Common Court — Building H-50, North Conway; (603) 307-1169; metcoffeehouse.com.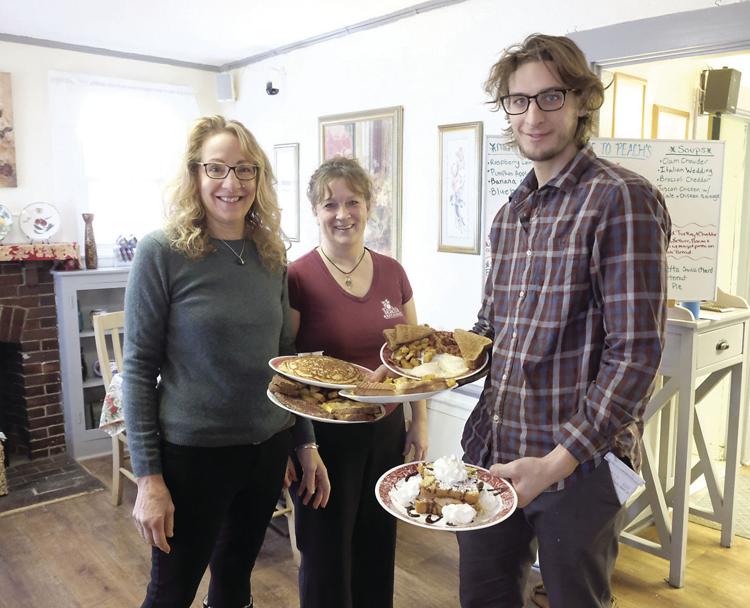 PEACH'S RESTAURANT
A family-owned restaurant that literally offers something for everyone. Served in a warm, quaint atmosphere, their lineup of omelets, include the California (avocado, bacon, tomato and choice of cheese) and the artichoke omelet(artichoke hearts, tomatoes, red onions, Kalamata olives and feta cheese). For pancake lovers, there are such sinful varieties as the banana cream (coconut and bananas inside and whipped cream to top it off). 506 White Mountain Highway, North Conway. Open 8 a.m.-2:30 p.m. (7 a.m.-2:30 p.m. weekends). Closed Tuesdays. (603) 356-5860; peachesnorthconway.com.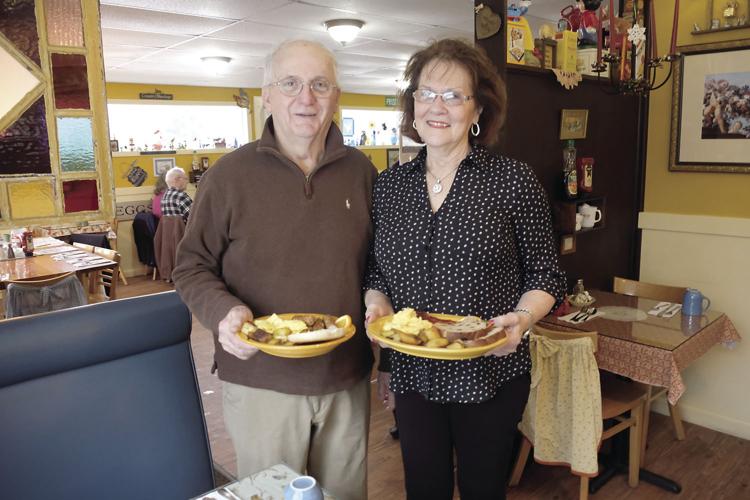 PRISCILLA'S COUNTRY KITCHEN
Proudly old-fashioned, Priscilla's is across from the train station, behind TD Bank. You'll be greeted with a smile, and by the end of the meal you'll feel like a local. In addition to pancakes, waffles, French toast, eggs and bacon, Priscilla's also has crepes, including ham and asparagus crepes, featuring two dropped eggs and asparagus with melted cheddar on English muffin halves. Veterans and active duty military personnel get a 50 percent discount on the 11th of every month. 2541 White Mountain Highway, North Conway. Open daily 6 a.m.-2 p.m. (603) 356-0401.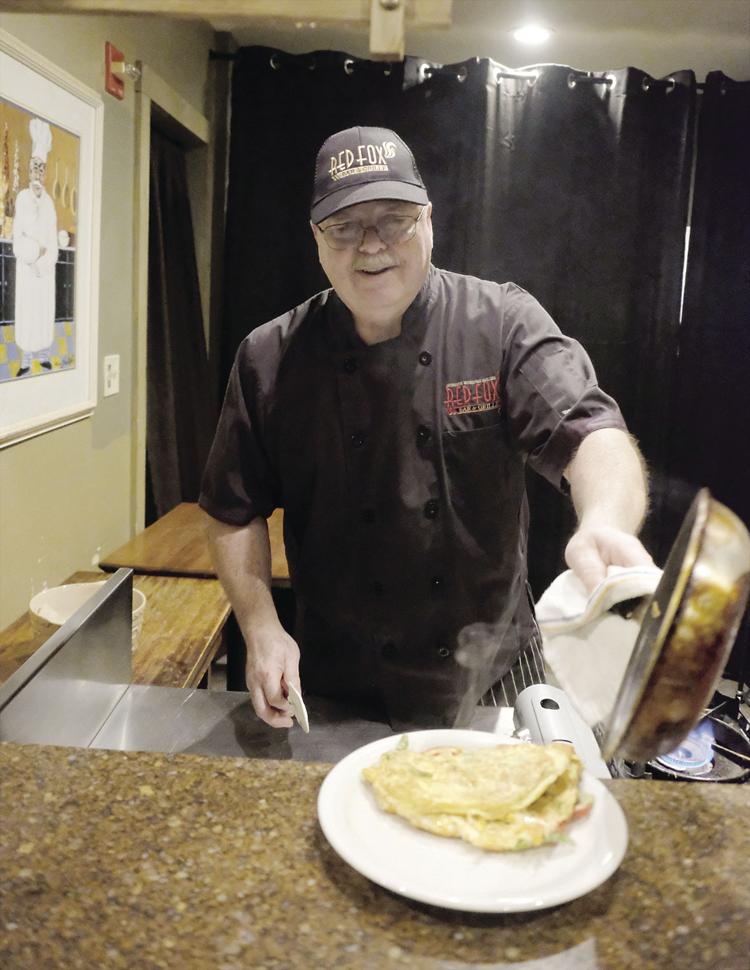 RED FOX
Set across from the Jackson Honeymoon Covered Bridge, the Red Fox is known far and wide for its voluminous Sunday brunch. The sprawling buffet has stations all over the restaurant, with chef-prepared omelets, French toast, homemade corned beef hash, bacon, sausage, biscuits and sausage gravy, muffins, scrambled eggs, baked ham, Belgian waffles and assorted pastries. Adding to the array of food, from the bar you can order mimosas, Bailey's coffees and, of course, Bloody Mary's. 49 Route 16, Jackson. (603) 383-4949; redfoxbarandgrille.com.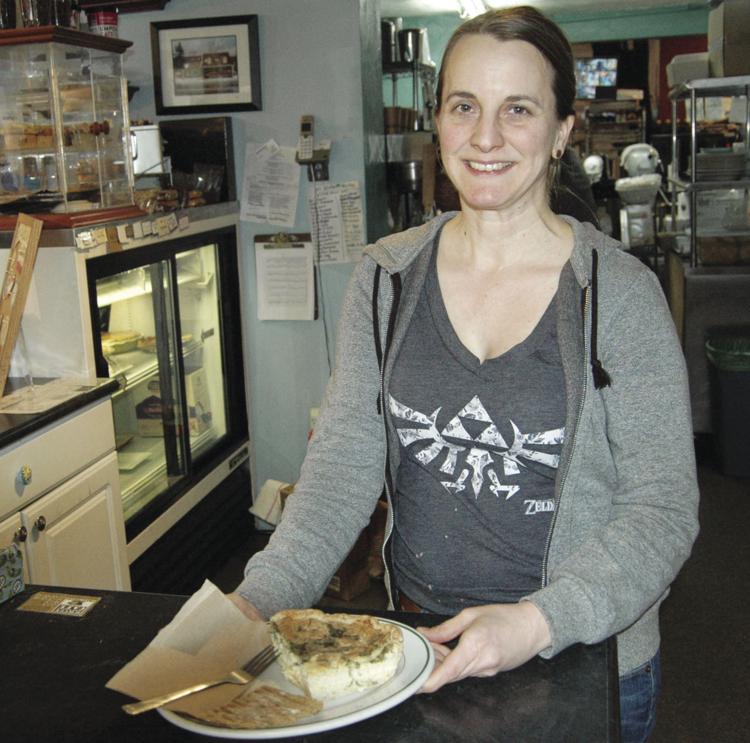 WHITE MOUNTAIN CAFE & BOOKSTORE
The cafe serves hearty breakfast sandwiches like the Wildcat (with bacon, eggs, cheese, red onion and hot sauce served on either a bagel or English muffin). Or try their paninis, quiches, croissants, scones and muffins. Small-batch roasted beans are used to brew their coffee, espresso, cappuccino, latte and iced coffee. If you really need a boost, there is the Wake-up special featuring six shots of espresso. Finally, there is the "Good Karma Board" allowing the customer to treat a friend to a cup of coffee or bakery item. 212 Main St., Gorham. Open daily 7 a.m.-4 p.m. (603) 466-2511; whitemountaincafe.com.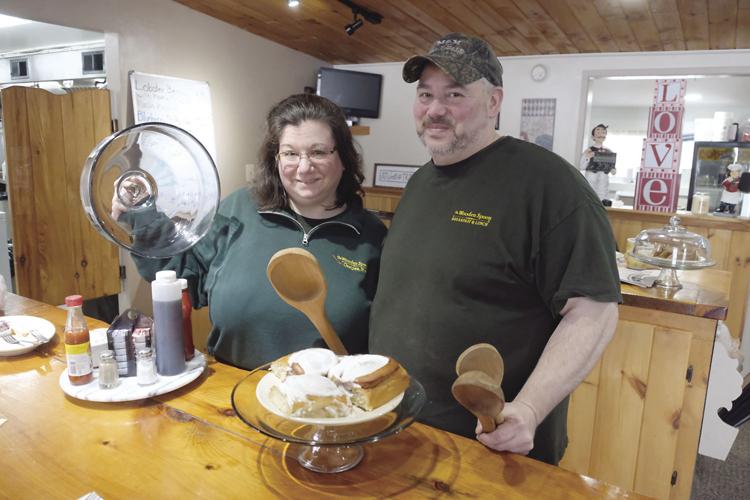 THE WOODEN SPOON
This cozy eatery is just west of the Abbott Staples Convenience Store on Route 25. Recent specials include The Country Platter: three eggs scrambled on top of hash browns, covered with country gravy, served with sausage patties and a biscuit; French toast topped with caramelized pineapple; and the Lobster Benny: poached eggs with fresh lobster meat on an English muffin topped with Hollandaise sauces. Pancakes, waffles and omelets are also on the menu. 530 NH-25, Center Ossipee (603) 301-0012. Open Thursdays-Saturdays, 7 a.m.-2 p.m., and Sundays, till 1 p.m.