"If you look upon ham and eggs and lust, you have already committed breakfast in your heart. — C.S. Lewis
OK, give us a show of hands: Who hasn't lusted after an ample sit-down breakfast at a cozy eatery, the scent of sizzling bacon, hot coffee and sweet maple syrup wafting through the air?
No one, right?
Luckily, whether you want small and homey or big and lavish, there is no shortage of great places to have breakfast in the Mount Washington Valley.
So pull up a chair, grab a cup of joe, and enjoy this delicious read with your eggs and waffles.
NORTH CONWAY
Peach's, 2506 White Mountain Highway, North Conway. Open 8 a.m.-2:30 p.m. Closed Tuesdays. (603) 356-5860; peachesnorthconway.com.
Crepes (including lobster with scrambled eggs and cheddar cheese) top the menu at this family-owned establishment. Also popular: Omelets, including the California (avocado, bacon, tomato and choice of cheese) and the artichoke omelet (artichoke hearts, tomatoes, red onions, Kalamata olives and feta cheese). For pancake lovers, there are such sinful varities as the banana cream (coconut and bananas inside and whipped cream to top it off).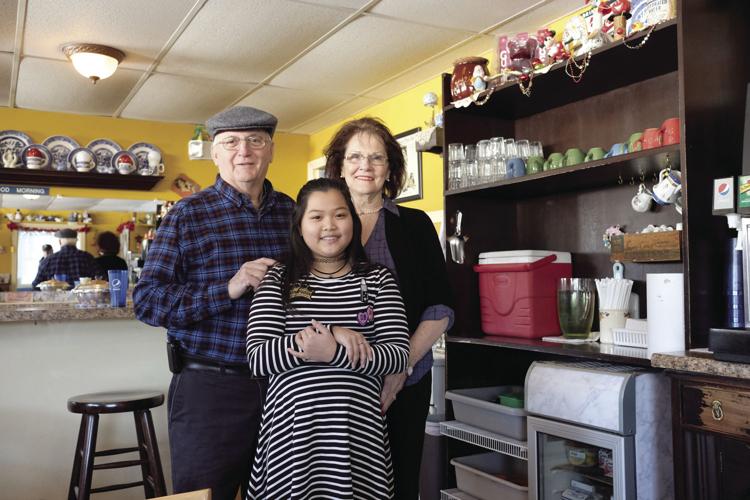 Priscilla's Country Kitchen 2541 White Mountain Highway, North Conway. Open daily 6 a.m.-2 p.m. (603) 356-0401; priscillasnh.com.
Proudly old-fashioned, Priscilla's is across from the train station, behind TD Bank. You'll be greeted with a smile, and by the end of the meal you'll feel like a local. In addition to pancakes, waffles, French toast, eggs and bacon, Priscilla's also has crepes, including ham and asparagus crepes, featuring two dropped eggs and asparagus with melted cheddar on English muffin halves. Veterans and active duty military personnel get a 50 percent discount on the 11th of every month.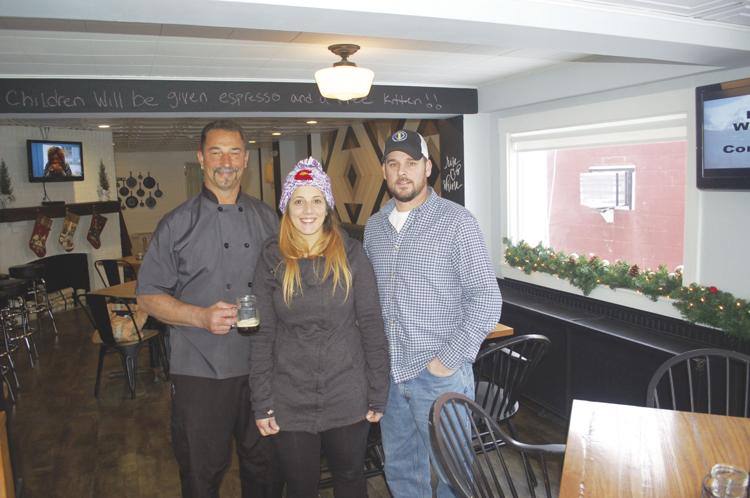 27 North, 27 Seavey St., North Conway. Open daily, 7 a.m.-3 p.m. (603) 730-5318; 27northnh.com.
The new kid on the block (they opened Dec. 27, 2018), owners Chef Doug Gibson and Andrea Carbone take the morning meal and kick it up a notch. Try the Breakfast Sandwich Wakey Wakey, with choice of home fries, hash browns or tots; Who am I to Disabrie (egg, Canadian bacon and brie on a homemade bagel); or The Maple Bacon omelet. Looking for creative Bloody Marys and mimosas? They got 'em. (Long-timers will recall this location was home to the legendary Big Pickle breakfast and lunch place back in the '80s.)
The Met Coffee House, 2680 White Mountain Highway, North Conway, (603-356-2332); and 2 Common Court, Building H-50, Settlers Green, North Conway (603-307-1169). Open daily, 6:30 a.m.-7 p.m.; metcoffeehouse.com.
The original Met (in the former bank building near the train station) has been such a hit, proprietors Larry and Diane Flaherty opened a second location at Settlers Green. There's plenty of pastries, along with breakfast sandwiches, like the the Saco (cheesy egg, avocado and bacon and tomato, topped with a dab of sriracha sauce). The Met offers local brews from Good Vibes Coffee Roasters, as well as warming hot chocolate and tea.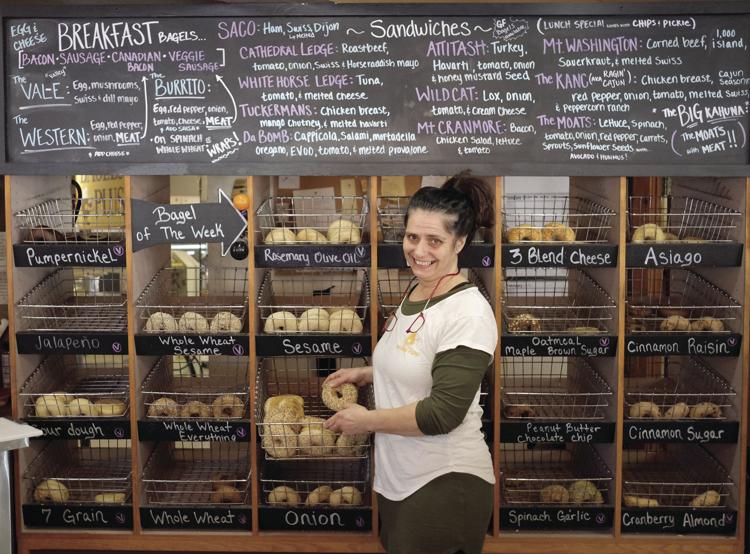 Bagels Plus, 2988 White Mountain Highway, North Conway. Open Monday-Saturday, 6:30 a.m.-2 p.m.; Sundays, 6:30 a.m.-1 p.m. (603) 356-7400; bagelsplusnh.com.
Owners Carol-Ann and Frank Dahlmeyer offer a great selection of breakfast sandwiches and, oh yeah, homemade bagels. Varieties include carrot cake, jalapeno cheddar and peanut butter chocolate chip, along with onion, sesame, sourdough and many more. They are made fresh each day and include gluten-free bagels and "boissants" — a cross between a bagel and croissant. Located just north of Delaney's. Catering and take-out available.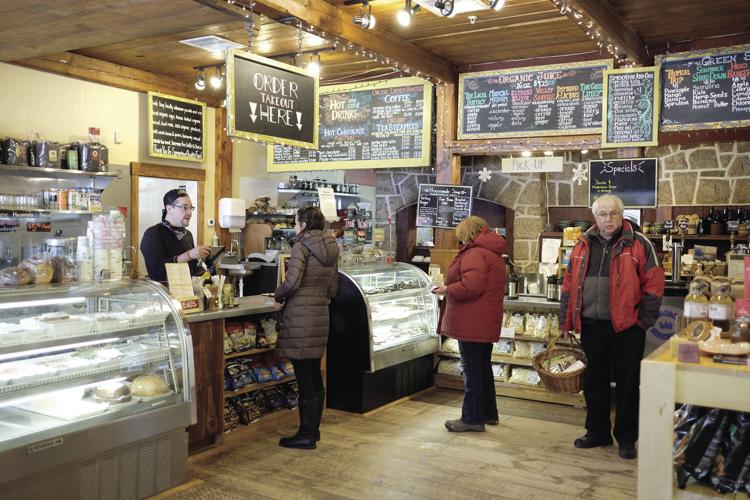 Local Grocer Café, 3358 White Mountain Highway, North Conway. Open daily 8 a.m.-3 p.m. (603) 356-6068; nhlocalgrocer.com.
Hip and healthy, the Local Grocer uses farm-fresh ingredients, including organic eggs and house-baked bread. Try a healthful fruit-and-granola or hearty scrambled egg breakfast bowl, tasty burrito or omelet. There are vegan dishes, smoothies and local organic coffee. Feeling a bit sinful? Try the crème brulee French toast.
White Mountain Hotel and Resort, 87 Fairway Drive, North Conway. Ledges Restaurant. Breakfast offered daily, plus Sunday brunch 9:30 a.m.-1 p.m. Reservations required: 603-356-7100; www.whitemountainhotel.com.
Located on a 254-acre estate in Hale's Location, the resort's lavish brunch offers a chef-attended omelet station, bacon, maple sausage, corned beef hash, home fries, Belgian waffles with fresh fruit toppings, whipped cream and homemade maple butter. Plus a chef-attended carving station with two roasts of the day, pancakes and eggs Benedict from the kitchen, dessert table and more.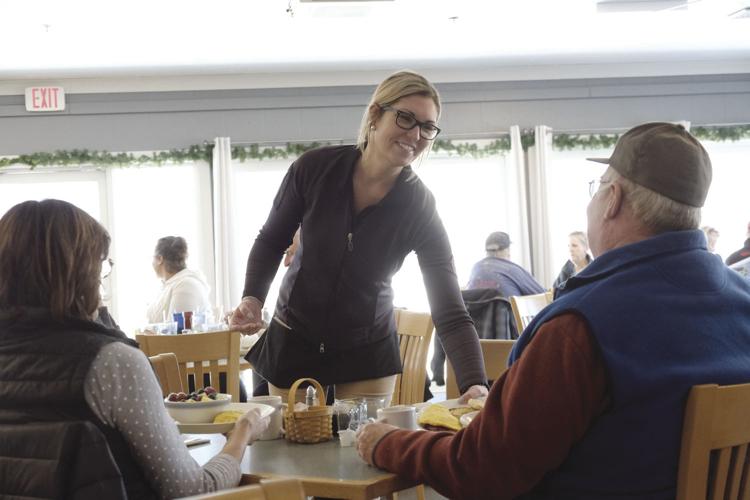 Ledgeview Grille, North Conway Country Club, Norcross Circle, North Conway. Breakfast available weekends, 6:30 a.m.-11 a.m. (603) 356-5244, Ext. 2 northconwaycountryclub.com/restaurant.
Along with sensational views, you'll be treated to specialties like homemade corned beef hash, which is available as a side or as Irish Benedict on a grilled biscuit with two poached eggs, smothered in hollandaise. They also have the Breakfast Sundae: fruit topped with granola and banana vanilla yogurt, plus breakfast sandwiches, omelets, buttermilk and blueberry pancakes, and sourdough whole-wheat French toast. Bar available.
Merlino's, 1717 White Mountain Highway, North Conway. Sunday brunch 10 a.m.-2 p.m. (603) 356-6006; merlinossteakhouse.com.
At the landmark "Sign of the Steer" on Route 16 next to Settlers Streetside, Merlino's Family Steakhouse has been a valley dining tradition since 1967. The Sunday brunch menu includes steak and eggs, prime rib and eggs, house omelet with homemade roast beef hash, French toast, eggs Benedict. Look for blackboard specials. Enjoy a Bloody Mary or mimosa.
CONWAY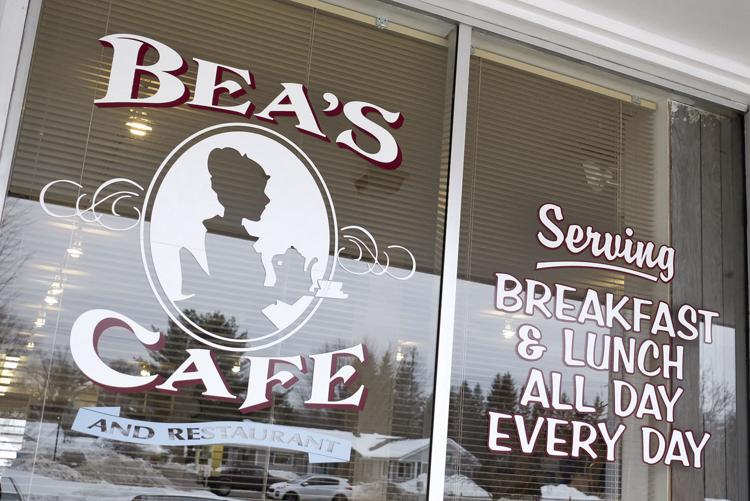 Bea's Cafe, 50 White Mountain Highway, Conway. Open daily, breakfast all day. (603) 447-4900.
Owned and operated by Steve Chase for almost 25 years, Bea's Café in Conway Marketplace offers a cozy, village atmosphere and fast, friendly service. Bea's is known for their Steak Bomb Omelet (shaved Philly steak, cheese, mushrooms, green peppers and onion with toast and home fries). Regulars also love their raspberry cream cheese-stuffed French toast with bacon, ham or sausage, and eggs, of course. The lobster Benedict is piled high on a Thomas' English muffin and comes with home fries.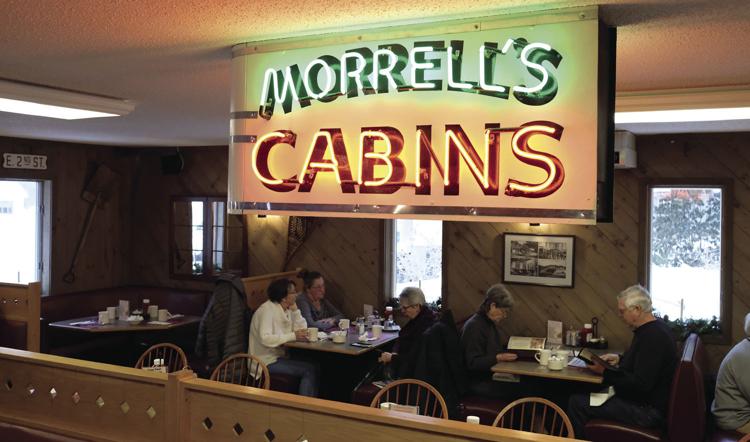 Banners Restaurant, 621 White Mountain Highway, Conway. Open 7 a.m.-3:30 p.m. (603) 447-6993; bannersnh.com.
Banners' motto is "home cookin' that's always fresh and always homemade" for a reason: They've been in business 31 years and have got breakfast down. They're renowned for their pan omelets, Bloody Mary's and mimosas, fresh squeezed OJ, ability to seat large parties and ample parking. Try the Italian hash omelet. "Morning melts" include a bagel breakfast sandwich and award-winning Monte Cristo. Plus there are pancakes, Belgian waffles and Texas-style French toast.
FRYEBURG, Maine
Fryeburg House of Pizza and Top of the Ninth, 11 Portland St., Fryeburg. Breakfast available daily, 7 a.m.-11 a.m. (207) 935-4172.
Fryeburg House of Pizza offers hearty fare and the down-home atmosphere of a quintessential New England diner. Looking to kick-start your day? Try the Hungry Man (three eggs, two pancakes or French toast, home fries and choice of bacon, ham or sausage). Omelets include cheese, Mexican, Florentine, Hawaiian and of course, chef/owner Leo Katsigiannis' Greek omelet. They offer breakfast burrito and biscuits and gravy. Pancakes, eggs and waffles are other highlights.
GLEN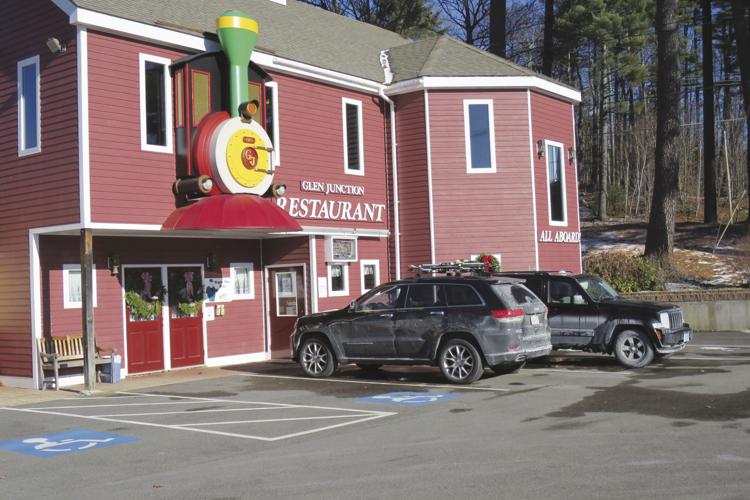 Glen Junction, 12 U.S. Route 302, Glen. Open 7 a.m.-3 p.m. Closed Wednesdays. (603) 383-9660.
A local mainstay for decades, Glen Junction literally offers all the bells and whistles (a model railroad layout runs overhead inside the family restaurant). Pancakes come in blueberry, raspberry or chocolate chip; house specials include Rib Eye Steak 'n Eggs or the Railroaders Benedict featuring two poached eggs with corned beef hash served on an English muffin, then topped with hollandaise sauce. All ABBOOARRD!
JACKSON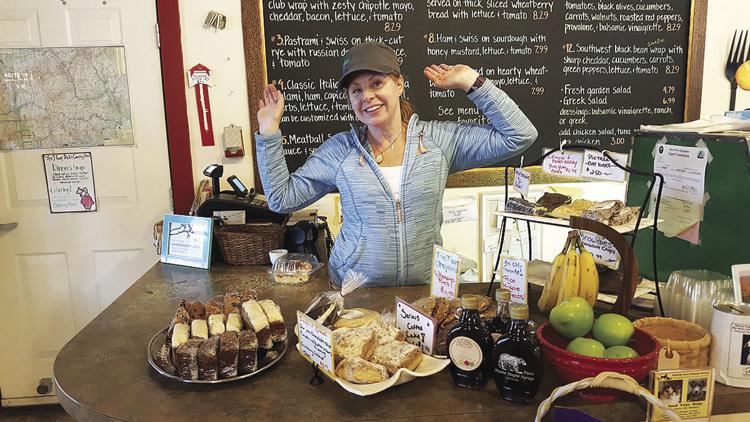 J-Town Deli and Country Store, 174 Main St.; Jackson. Breakfast served daily 7 a.m.-11 a.m. (603)383-8064; jtowndeli.com.
You can't get any closer to the Jackson Ski Touring Center than this charming country store and eatery. In addition to the traditional breakfast plate (two eggs, choice of toast and meat, home fries), this fun emporium serves up egg and cheese on an English muffin and a baby spinach burrito. There is also a full case of delectable baked goods. Plus quiche!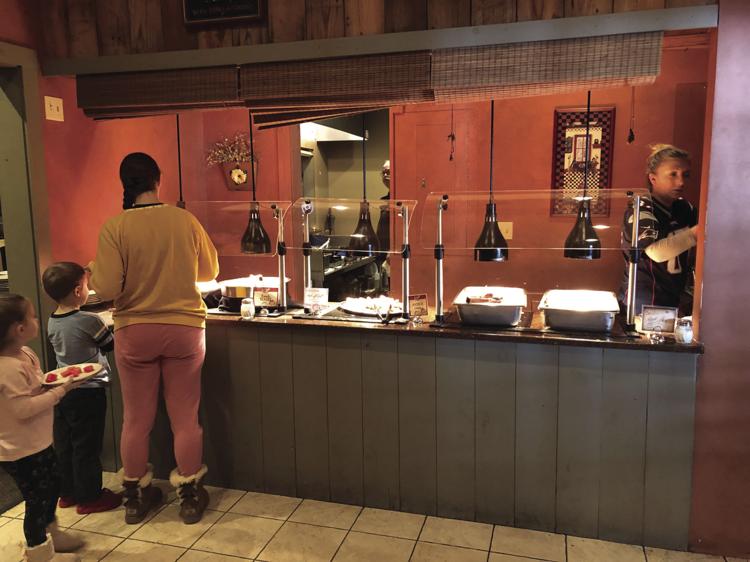 Red Fox Bar and Grille, 49 Route 16, Jackson. Sunday All-You-Can-Eat Breakfast Buffet Brunch, 7:30 a.m-1 p.m. 603) 383-4949; redfoxbarandgrille.com.
Set across from the picturesque Jackson Honeymoon Covered Bridge, the Red Fox is known for its affordable Sunday brunch. The sprawling buffet has stations all over the restaurant, with chef-prepared omelets, French toast, homemade corned beef hash, bacon, sausage, biscuits and sausage gravy, muffins, scrambled eggs, beans, baked ham, Belgian waffles and assorted pastries. Adding to the array from the bar are mimosas, Bailey's coffees and, of course, Bloody Mary's.
Eagle Mountain House, 179 Carter Notch Road, Jackson Village. Highfields Dining Room. Breakfast available daily 7 a.m.-10 a.m., or until 10:30 a.m. Sundays. (603) 383-9111; eaglemt.com.
With sweeping mountain views, Eagle Mountain House takes you back to a more gracious era. To fuel up for a morning of cross-country skiing (Jackson XC has trails right outside), try a hearty breakfast bowl of home fries layered with Cabot cheddar, wilted spinach, Spring Hill Angus breakfast sausage, caramelized onions, avocado, shiitake mushrooms and two poached eggs. There are the usual suspects: pancakes, cereal, classic Benedicts, omelets, oatmeal and even avocado toast.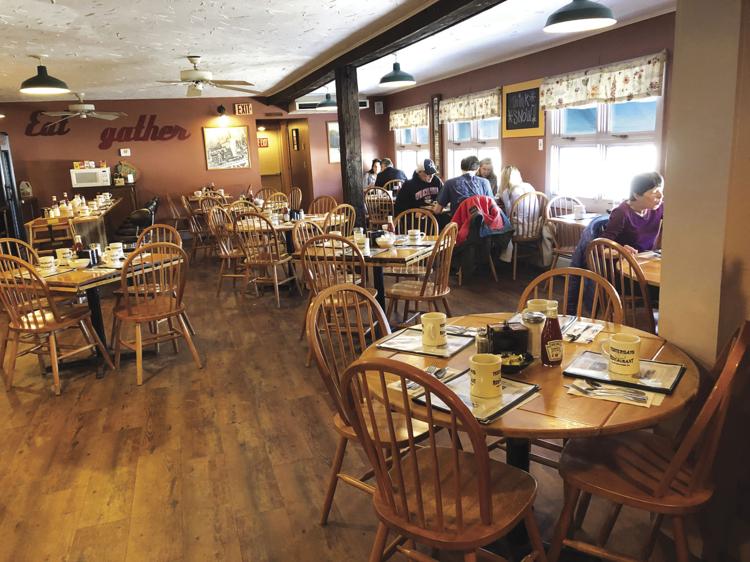 Yesterday's Restaurant, ; 100 Main St., Jackson; Closed Tuesdays and Wednesdays. (603) 383-4457; sarahsyesterdays.com.
Located near Jackson Ski Touring Center, their specialties include huevos rancheros, corned beef hash and Yesterday's Wrap (scrambled eggs, basil, feta and roasted tomatoes on a sun dried tomato tortilla with home fries). Available with your waffles, pancakes and French toast: 100 percent pure New Hampshire maple syrup.
OSSIPEE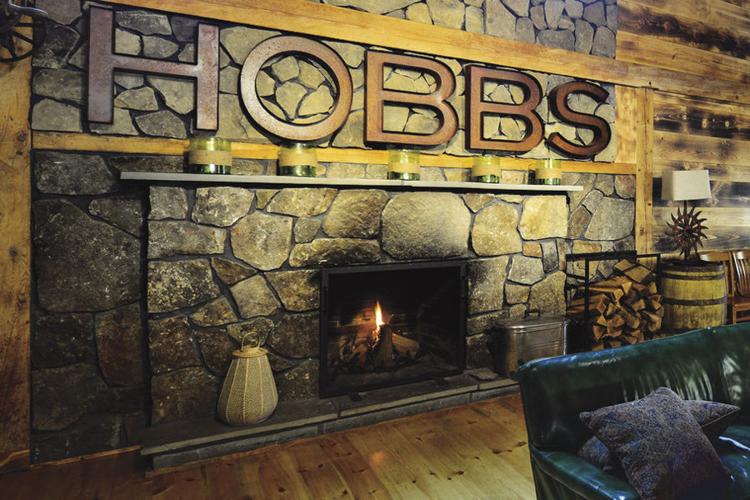 Hobbs Tavern and Brewing Co., 415 White Mountain Highway, West Ossipee. Sunday brunch, 10 a.m.-1 p.m. (603) 539-2000; hobbstavern.com.
Hobbs has developed a loyal following for its Sunday brunch menu, which includes a kids' pancake plate, chicken and waffles, sausage gravy and biscuits and even a Hobbs breakfast salad. A standout brunch offering is the steak and egg scramble, featuring prime rib, onions, peppers and pepper jack cheese served with home fries and toast. Brunch cocktails include Hobbs Irish Coffee, Bloody Maria and a Pineapple Upside-down Mimosa.
River's Edge Grille and Tavern at Indian Mound Golf Course, Route 16-B, Ossipee. Breakfast available 7 a.m.-11 a.m. (603) 539-7733; indianmoundgc.com/tavern.
Open year-round, River's Edge Grille and Tavern has built up a year-round following among golfers and non-golfers alike. For breakfast, try the Masters (two eggs any style, two pancakes, choice of bacon, ham or sausage patties, home fries, toast) or the P.G.A. Championship (two eggs, ham, baked beans, home fries, toast). Three-egg omelets, Irish Eggs Benedict and breakfast sandwiches round out the fairway of offerings.
BERLIN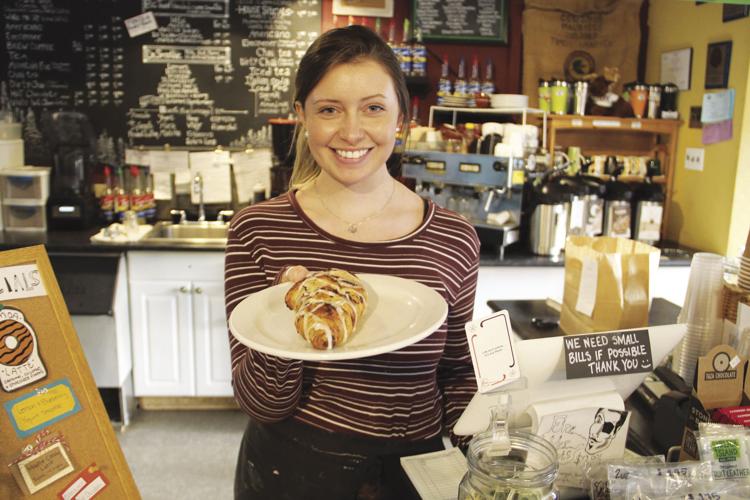 White Mountain Cafe and Bookstore, 212 Main St., Gorham. Open daily 7 a.m.-4 p.m. (603) 466-2511; whitemountaincafe.com.
The cafe serves hearty breakfast sandwiches like the popular Wildcat with bacon, eggs, cheese, red onion, and hot sauce served on either a bagel or English muffin. Also, paninis, quiches, croissants, scones and muffins. Small-batch roasted beans are used to brew their assortment of coffee, espresso, cappuccinos, lattes, and iced coffee. If you really need a boost, there is the Wake-up special featuring six shots of espresso. Finally there is the "Good Karma Board" allowing the customer to treat a friend to a cup of coffee or bakery item.
— Barbara Tetreault, The Berlin Sun