Jeffrey Joseph Wenger passed away peacefully on the morning of Sept. 18, 2019. Surrounded by the love of his family and the melodies of Bach, he slipped out of this life in the quiet, humble manner that he had walked on the earth.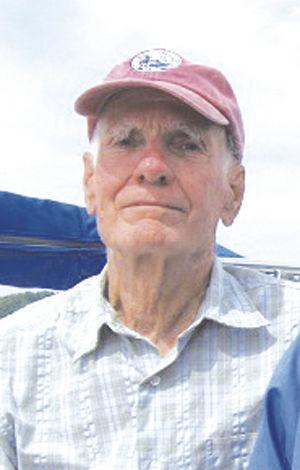 Jeff had a dreamy and playful demeanor, a wildly inquisitive mind, and a creative and adventurous spirit that were indicative of his leap year age.
Jeff was born in Washington, D.C., on Feb. 29, 1936, to the late Joseph Numa Wenger and Mary deBolt Crippen Wenger. With a twinkle in his eye, he would have pointed out that, in leap years, he was just shy of his 21st birthday.
From a young age Jeff was passionate about classical music, contemporary art, and all things of the natural world. His earliest recountings were of an adventurous vagabond life with his mother, while they followed his father's naval fleet along coastal shores.
As an only child, his companions included a pet alligator and a rescued barred owl, Oswald, who flew out into the evenings and returned to his playmate each morning.
Jeff attended primary school in Washington, D.C., and high school at Le Rosey in Switzerland while his father was stationed in Europe. As a student, Jeff skied Kitzbühel, Davos, Garmisch and Ylläs.
He bicycled Zermatt and hiked to Matterhorn huts with friends. He visited all countries west of the Iron Curtain along with Vienna and Berlin learning French, Italian and German languages. His single-gear biking and hitchhiking escapades about Europe became fodder for many later humorous tales.
On one fateful return visit to D.C., Jeff found himself seated on a sofa at the edge of a dance floor and struck up a conversation with an engaging and lovely young woman next to him. He sank into the sofa (his signature posture seated anywhere) as the conversations that continued through the evening kindled a smitten love that continued for 64 years.
On Nov. 13, 1964, he married his lifetime adventure partner Alice (Dee Dee) Gray Huettig in Cambridge, Mass. Jeff graduated from Dartmouth College with a BA in Geography. He completed his military service in Stuttgart, Germany.
Before finishing his MA in architecture at MIT he was hired by firms in Cambridge and Boston, completing major projects at Brown University, Middlebury College, and Harvard University.
In 1970 he launched an architecture firm in Concord, Mass., where he designed residential houses, home additions, and condominiums. Jeff's architectural creations were a playful echo and juxtaposition of the environment they were thoughtfully placed in. His minimal separation of outdoor and in were created through open concepts and expanses of glass.
Jeff and Dee Dee raised their children in Concord, Mass.; Jackson, N.H.; and summered on Cape Cod. They created a life for their children steeped in music, color, history, architecture, and grand tales told out of Jeff's vivid imagination.
He designed homes for his family that were like living in Cubist tree houses. Beds swung from rafters and ziplines carried them across the river out their back door. His family tagged behind him slipping over seaweed along coastal shorelines and up rocky mountainsides. Road trips took them throughout Europe with three toddlers rolling around the back of a 1968 VW Westfalia camper.
In later years they traveled throughout the United States, piled in The Blue Bomb Suburban with canoes atop stuffed with camping gear. They skied as a family for over 50 years at Wildcat Mountain in New Hampshire.
And though their wooden 36' Controversy yawl Eolande was in constant need of leak patching, it provided room enough for seven Wengers to explore the vast New England coast.
In later years Jeff sailed Eolande single handed to Annapolis, Md., where he gathered materials for a manuscript he committed over forty years of research and writing to honor his father and the history of electronic communications.
Jeff and Dee Dee built their retirement home in the woods of East Waterboro, Maine, to be closer to young grandchildren as "Nana and Poppy." Their adventures continued off Freeport on their 27 feet sloop Flibbertigibbet and in their truck camper to national parks and forests.
Jeff was especially fond of connecting with international students as a ski instructor. Bright eyed and rosy cheeked, he'd recall daily adventures of breaking trail through woods with students in tow. Jeff skied his last run at 81 years old when his favorite ski boots literally fell apart.
When Jeff proposed to Dee Dee he had her promise they'd fill their lives with 10 children. Jeff found his dream of life bubbling over with family by their fifth child, through marriages and grandchildren it eventually became overflowing.
He is survived by his wife Dee Dee of 55 years and their five children and spouses: Gwendolyn Wenger and Eric Goodenough of Brookfield, Vt.; Meghan Wenger and Celio de Costa of Hyannis, Mass.; Timothy and Susan Pelchat Wenger of Conway, N.H.; Cynthia Wenger Hoyt and Charles Lindsay Hoyt of Jackson, N.H.; Jeremy Wenger of Dennis Port, Mass.; eight grandchildren, Adam Tomasian, Amy Tomasian, Lucy Tomasian, Hunter Goodenough, Leland Goodenough, Galen Goodenough, Ishaan Wenger and Eben Wenger Raymond; and two great-grandsons.
His family will greatly miss his gentle and joyful playfulness, his mischievous humor, his boundless wisdom and knowledge, and his ability to fix anything or at least rig it to function.
Throughout his life Jeff had the youthful ability of his leap year age to continue to find wonder, from the vast starry night on down to the tiniest marine phosphorescence lighting a path toward the promise of enchanting adventures through the endless seas.
A celebration of his life will be held in the spring at the Wenger family land overlooking one of his favorite views to Mount Washington.
In lieu of flowers, donations may be made to cancer research: The Snell Foundation, P.O. Box 6304, Scarborough, ME 04070.
To share an online condolence, go to autumngreenfuneralhome.com/obituaries. The Autumn Green Funeral Home respectfully handled arrangements.