Allan "Bud" Hamlin MacDougall, 98, passed away peacefully on Oct. 4, 2019, surrounded by his loving family.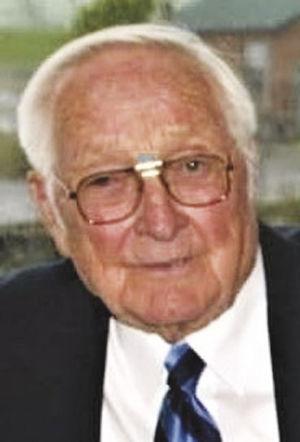 He was born on March 5, 1921 in Rumford, Maine, to Spurgeon and Azerlea (Hamlin) MacDougall. He spent his childhood on the family farm in Byron, Maine, with his three sisters, Ruth, Harriet and Betty.
Bud graduated from Stephens High School in Rumford in 1940 and entered the Army in 1942. He was with the 30th Infantry Regiment during World War II and served all the way from North Africa to Germany.
He took part in the Sicily Campaign in the summer of 1943, the Salerno landing in September 1943 and the Anzio landing in January 1944, which was later referred to in the history books as "Four Months of the Worst Hell on Earth."
Later, his unit took part in the southern France invasion and the campaign north toward Germany. He was wounded in action in northern France and received the Purple Heart. When asked how he got all the way from North Africa to Germany he replied with that slight upturning of his lip that started a smile, "I walked."
His unit was one of the most combat-active units of the war, a service of which he remained extremely proud. Like many World War II vets, Bud seldom talked of his experiences and never in any detail, but he certainly earned his place as one of the Greatest Generation.
After returning from abroad, he married Clara (Holland) and had two sons, Allan Jr. and John. He later married Norma (Lapointe) and had two daughters, Bonnie and Joyce. He raised his four children in Milan, N.H., and imparted in them his great love of the outdoors.
After a career in sales, Bud served as the postmaster of Milan, where he was well-known by all. His hands were never idle. He was heavily involved in community activities and was the town handyman.
He served his community 22 years as a N.H. Forest Fire Warden, 25 years as Milan Fire Chief, commander of the American Legion Post No. 36 and various committee positions with the Milan Methodist Church.
He was a pilot and owned his own Cessna airplane, which he enjoyed flying throughout the area. He displayed his passion for aviation by assisting with the organization of the North Country Air Shows.
Bud retired from the U.S. Postal Service after 29 years and continued to be active hunting, fishing, snowmobiling and enjoying time at his camp in Magalloway, Maine. He and Norma enjoyed traveling the country in their RV and made new friends everywhere they stopped.
One of his favorite things was "riding the roads" with his lifelong friend Bill Taylor. He was an avid golfer and was a member of the River Greens Golf Course in Avon Park, Fla., where he lived for 23 years.
When his wife Norma passed away in 1989, he continued to live at River Greens where he met and married Louise (Peffer), who was his companion until she passed away in 2009.
Bud resided at the Veteran's Home in Tilton, N.H., for the last few years of his life where he was well taken care of by the staff. He participated in most all the activities the home offered, mirroring his penchant for keeping active. He was well-known for his gracious nature, his infectious laugh and his late night search for cookies.
He is survived by his four children, Allan Jr. and wife, Lisa Denningham; John and wife, Vicki; Bonnie and husband, Jim Rothermel; and Joyce and husband, David Carlisle. He is survived by many grandchildren, great-grandchildren, great-great-grandchildren, nieces and nephews, all of whom he loved dearly.
In lieu of flowers, please consider a donation to the N.H. Veteran's Home Benefit Fund, 139 Winter St., Tilton, NH 03276.
At the convenience of the family, a graveside service will be held at the Hillcrest Cemetery in Milan.