Below is a sampling of the winners from the 2019 edition of The Best of Mount Washington Valley Readers Choice Awards.
Now in its fourth year, the yearly ritual of locals voting for their favorite "everything Mount Washington Valley" is as much fun as it is a serious recognition from peers.
This year, more than 133,000 votes were cast by 13,000 patrons of local restaurants, ski areas, accountants, car repair guys and everything in between.
The annual Best of MWV party was held at Tuckerman Brewing Co., and, fittingly, it was the best. The Riley Parkhurst Project played to a packed house, food was consumed, and conversation flowed like the beer.
It is a celebration of the best and most popular in the valley, and we say congratulations and hooray to all those who placed first, second and third (and runners-up).
The full list can be seen from a link on The Conway Daily Sun's website or directly at conwaydailysun.com/bestof2019.
— Mark Guerringue, Publisher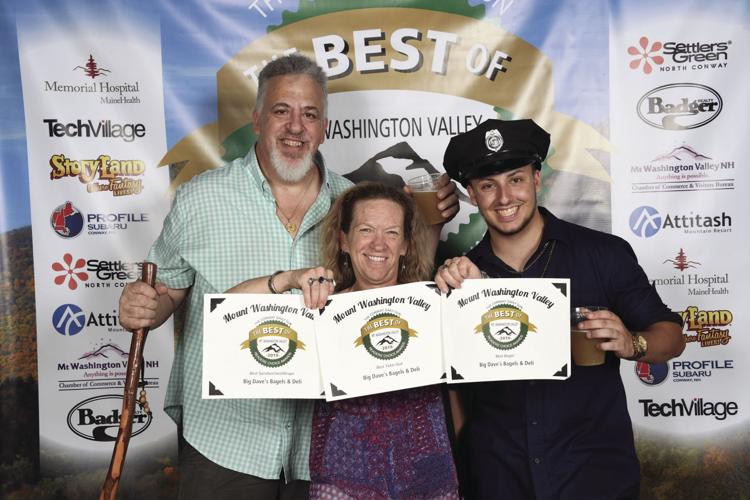 FOOD AND DRINK
BAGELS, SANDWICHES, TAKEOUT
BIG DAVE'S BAGELS
1130 Eastman Road, North Conway, (603) 356-3283
Winning best bagel, best sandwiches, best take-out is becoming a yearly event for Dave. Here are a few words from Dave himself: "Big Dave's mission is to provide the most consistently excellent breakfast, lunch and catering experiences in the Mount Washington Valley. Period. We opened in 2010 after owning Monroe Bagels & Deli in New York for 20 years. And as we approach their 10th anniversary, we are thrilled to say it appears to have worked. We are so happy to be serving our loyal customers in this valley, now our beautiful home."
BAKERY
LEAVITT'S BAKERY
564 White Mountain Hwy, Conway, (603) 447-2218
Owners Ray and Beth Leavitt get up at 2 a.m. to make the fresh-every-morning doughnuts that bring people in and keep them coming back. They also have other pastries, pies and cakes, cookies, muffins and bread. There are tables and chairs where you can enjoy them over a cup and a chat with a friend — or pick out a book from the tiny library installed there.
BAKERY/ BREAD
OLD VILLAGE BAKERY
50 Seavey St., North Conway, (603) 356-8989
For denizens of North Conway Village, a Saturday morning (or any morning, for that matter) isn't complete without a trip to this bakery shop tucked along Seavey Street. Owners Mark and Susan Ross-Parent have been on a 3 a.m. schedule since 2002, and the bread, scones, croissants and a host of other delights are as yummy as the day they opened. Ten employees now ply the dough and the bakery has also become a major wholesaler to local restaurants. Oh, lest we forget, you'll also find cookies, granola, coffee cake, spinach pie and pizza by the slice.
BAKERY/NEW BUSINESS
BATTER UP BAKERY
Chocorua Village, Route 16, (603) 986-3326
Batter Up, owned by Julie Tavares of Tamworth can be found in Chocorua at the New Hampshire Country Store (look for the entrance just off the parking lot). Though open only for about a year and a half, the business has really taken off, offering pies, cookies, pastries and custom cakes. "We are booked for weddings and other events through the next two months," says Julie, who says, "Baking is my passion." The bakery also has a dining room that seats 27. Hours are 7 a.m.-4 p.m. Wednesday-Sunday). Questions? Email batterupnh@gmail.com.
FARMSTAND
SHERMAN FARM
East Conway Road, East Conway, (603) 939-2412
Three generations of the family are actively involved in running Sherman Farm. You feel the down-home, friendly authenticity as soon as you arrive and see the pick-your-own flower gardens and the rolling fields of crops. In the market, you'll savor fresh produce in season, as well as jams, jellies and sauces, locally raised meats, baked goods, milk in reusable glass bottles, scratch-made gourmet meals, soups and stews and, new this season, an ice cream stand serving Bobby Sue's.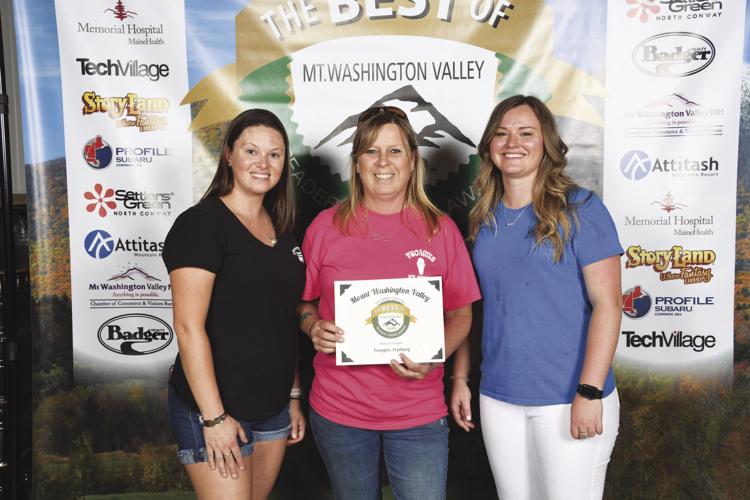 ICE CREAM
FROAGIE'S ICE CREAM
183 Bridgton Road, Fryeburg, Maine, (207) 935-2669
Froagie's has become a summer institution and has something for everyone: dairy free, gluten free, sugar free, sorbets and yogurts. In owner Susan Graves' own words: "I was so grateful for 18 successful years of growing business in the place I call home. Being recognized two years in a row in the Mount Washington Valley, where I grew up and raised children, has been the greatest honor. Special thanks to all my employees who have been there along the way. Thank you to all of my loyal customers, family, and friends I really appreciate the support."
LOBSTER ROLL/SEAFOOD
THE LOBSTER TRAP
2840 West Side Road, North Conway, (603) 356-5578
Located on the scenic West Side Road in North Conway, The Lobster Trap is open daily for lunch and dinner featuring early bird and daily specials. Known for their fresh Maine lobster, Maine seafood, fresh-cut sirloin steaks and mouth-watering Italian specialties, the Cuccio family brings you a combined 50 years of chef experience. Whether you are in the mood for a 3-pound lobster, tasty lobster roll, succulent steak or an old-recipe Italian masterpiece, the Lobster Trap is the place to go for seafood when you're landlocked in Mount Washington Valley.
PIZZA/RESTAURANT — VEGETARIAN
FLATBREAD CO.
2760 White Mountain Hwy, North Conway, (603) 356-4470
The Flatbread Co. has been introducing folks to the magic of earth and fire and combination of producing incredible-tasting pizza since 1998, beginning in Amesbury, Mass. They offer organic food and locally produced food. Stop in and experience their warm North Conway hospitality at the restaurant located inside the Eastern Slope Inn in the quaint village that is North Conway.
CULTURE & COMMUNITY
ART GALLERY
LEAGUE OF N.H. CRAFTSMEN
2526 White Mountain Hwy, North Conway, (603) 356-2441
Established in 1932, the gallery features fine crafts by over 250 of New Hampshire's most renowned artists and craftsmen. Browse the wide selection of handcrafted jewelry, pottery, furniture, prints, sculpture, blown glass, fiber arts, and much more. Pottery and craft classes are also offered on site for adults and children. Repeatedly voted "Best Art Gallery" by MWV Reader's Choice, The League of NH Craftsmen is the valley's go-to place for beautiful one-of-a-kind gifts and adornments you will treasure for a lifetime. Bring an authentic piece of New Hampshire home with you.
COMMUNITY EVENT OR FESTIVAL
FRYEBURG FAIR
Fryeburg, Maine, (207) 935-3268
Fryeburg Fair, established in 1851, will host its 169th annual eight-day fair from Sunday, Sept. 29-Sunday, Oct. 6. The mission is agricultural and farming education, and includes competitions, exhibits, a full midway, rides, vast food options and entertainment. Traditional events include the Firemen's Muster, Woodsmen's Field Day, fireworks, truck pulls, draft horse and oxen pulling, pig and calf scrambles and many agricultural and livestock events. Gates open daily at 7 a.m. and buildings are open 9 a.m.-9 p.m. The full program and details are available at fryeburgfair.org.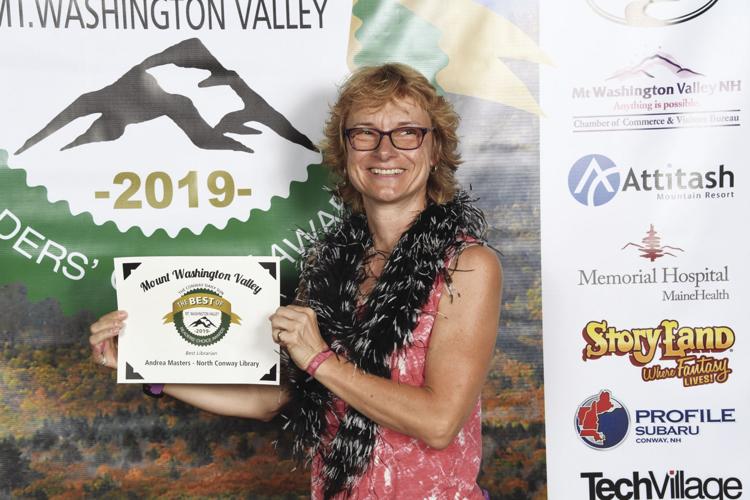 LIBRARIAN
NORTH CONWAY PUBLIC LIBRARY/ANDREA MASTERS
2719 S Main St., North Conway Village, 603-356-2961
A former physician from Germany, Andrea settled in the Mount Washington Valley nearly two decades ago and began at the North Conway Library in 2001. With an able staff of assistants and volunteers Andrea has led the library to a point where it is now embarking on a major expansion that will nearly double the size of the original 1911 building. The addition will mirror the look of the original and include a large meeting space, expanded children's room, an elevator and staff offices. The library is privately funded and free to the public.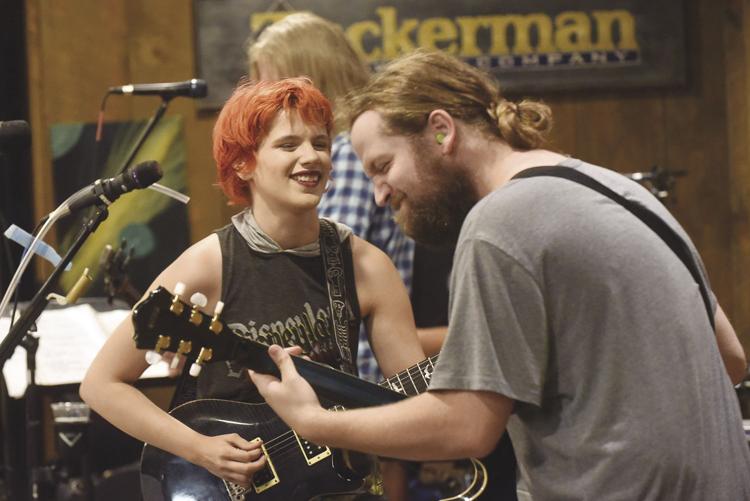 LIVE MUSIC BAND/SOLO
RILEY PARKHURST
North Conway, (603) 986-5193
Music lovers in Mount Washington Valley have watched Riley grow up in front of their eyes, as she has evolved from a young Mountaintop Music Center student to a full-fledged local rock 'n' roll phenom now attending the Berklee College of Music in Boston. Winner of local radio station WMWV 93.5-FM's "Song of the Year" contest in 2018 for her song, "Nowhere," Riley performs as part of the Riley Parkhurst Project with her dad, Dan Parkhurst, and an assortment of other musicians. She sings with heart, and her sets are grounded in classic rock.
LIVE MUSIC SERIES/LIVE MUSIC VENUE/WEDDING VENUE
STONE MOUNTAIN ARTS CENTER
695 Dugway Road, Brownfield, Maine, (207) 935-7292
Carol Noonan and Jeff Flagg's Stone Mountain Arts Center for the Performing Arts — or SMAC — is tucked away in the foothills of Western Maine in a timber frame renovated barn. It has built a following for being a cozy venue for nationally renowned musical artists. From Judi Collins and David Bromberg to Roseanne Cash, Robert Cray and Mary Chapin-Carpenter, to name a few, this is a place where great music and fantastic food served by a friendly, caring staff converge to celebrate the arts in rural splendor.
THEATER COMPANY
M&D THEATER COMPANY
Eastern Slope Playhouse, North Conway Village, (603) 733-5275
The award-winning year-round community theater company recently moved into the historic Eastern Slope Inn Playhouse and has big plans to renovate the space, including the already completed bar area at the back of the theater. The company offers shows ranging from light comedies to challenging drama. In addition to their current production of "Little Shop of Horrors," the company provides the opportunity to encounter lesser-known plays and musicals. The space also is available for other events, including children's theater, concerts and one-person shows.
WEDDING VENUE/DATE SPOT/SPA/B&B
CHRISTMAS FARM INN
3 Blitzen Way, Jackson, (603) 383-4313
Owned and operated by Sandra and Gary Plourde, the Christmas Farm Inn and Spa is a place to rejuvenate and celebrate the joys and beauty of life in the White Mountains. With first-class hotel accommodations and wholesome country cuisine in a dining room that is open to the public, the resort is also home to a full-service Aveda spa with seven treatment rooms, indoor and seasonal outdoor pool, hot tub and fitness center. Stop by the cozy Country Pub any season to enjoy an award-winning cocktail.
WEDDING VENUE/GOLF COURSE HOLE
EAGLE MOUNTAIN HOUSE
179 Carter Notch Road, Jackson, (603) 383-9111
Built in 1879, the 96-room Eagle Mountain House is one of the few remaining grand hotels in New Hampshire. It features charm, great food at Highfields Restaurant and a grand veranda with sweeping views of its picturesque nine-hole golf course and landscaped grounds. The golf course serves as the setting for cross-country ski trails in winter as part of the renowned Jackson Ski Touring Foundation. Nearby are Jackson Falls and many hiking trails. Fall foliage is an especially great time to visit.
HEALTH & BEAUTY
CBD SHOP
FIELDS OF AMBROSIA (SECOND)
2724 White Mountain Hwy, North Conway Village, (603) 356-3532
Fields of Ambrosia: BATH-BODY-AROMA makes their natural, organic bath and body products made in their store, using locally sourced ingredients. You will find soaps, lotions, creams, bath bombs and Rural Remedy potions made with plant-based oils. The Men's Shave Emporium includes high-quality razors. They have CBD products for pain and inflammation, vegan COLOR Cosmetics and flame-free home fragrance products. A founding member of The White Mountain Independents.
CHIROPRACTER
TAYLOR CHIROPRACTIC
Route 16, Conway, (603) 447-1131
If going to the chiropractor is a new experience for you, don't worry: Dr. Shawn Taylor will get you back on your feet. Your first visit will be about getting to know and discuss your condition and your goals. Shawn will take a look at the overall results of imagining if needed, and together you will come up with a plan of action. Shawn will talk about the type of treatment you will be receiving, any preparation necessary before beginning treatment, and when you can expect to see results. As your partner in improving your health, your chiropractor will be with you every step of the way during your treatment.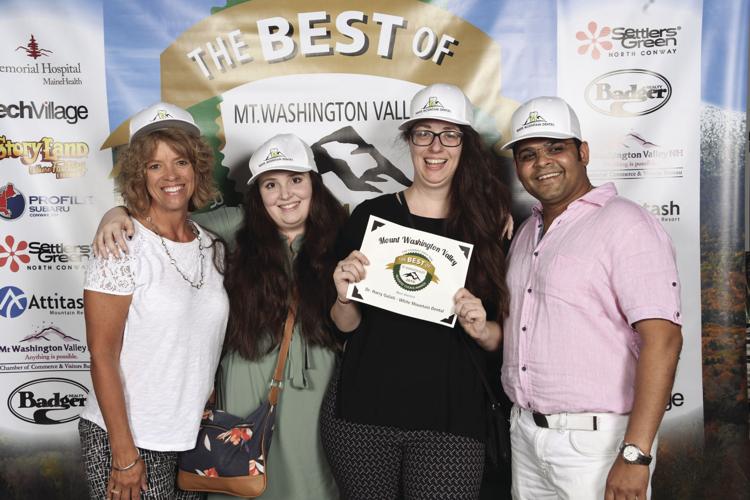 DENTIST
WHITE MOUNTAIN DENTAL/DR. HARRY GULATI
2759 White Mountain Hwy, (603) 356-6505
White Mountain Dental is more than just a dental practice. Dr. Harry Gulati (aka "Dr. G") is a dental practitioner with a focus on preventive and restorative dentistry. Dr. G lectures nationally and internationally to dentists around the world on the restoration of endodontically treated teeth. He has presented in Australia, India, Taiwan, Egypt and across the U.S., including Boston, New York and Los Angeles. Each year, he gives an all-day, hands-on course at Tufts University. His services include cosmetic dentistry, crowns, implants, dentures, emergency dentistry, Invisalign, general dentistry, sedation dentistry, sleep apnea, TMJ/TMD and veneers.
HEALTH CLUB/MASSAGE THERAPIST/PILATES INSTRUCTOR/ PERSONAL TRAINER
VALLEY PERSONAL TRAINING
3304 White Mountain Hwy., North Conway (603) 730-5600
Valley Personal Training is a boutique-sized facility focused on personal training, corrective exercise and specialized massage therapy, Their newly renovated facility includes state-of-the art-equipment. Ann Love and Carrie Hale (previously from 121 Fit in North Conway) along with Maureen Egan have over 65 years experience in certified personal training and massage therapy. Elaine Millen has focused most of her fitness career teaching group classes. Mark Russo is a certified personal trainer with over 10 years of experience in the Mount Washington Valley. He takes great pride in customizing each and every workout for his clients and in making sure all exercises are being performed as safely and effectively as possible.
HEALTH CARE PROVIDERS
MEMORIAL HOSPITAL
3073 White Mountain Hwy,, North Conway, (603) (356-5461
(Rachel Hamilton, doctor, winner; Angus Badget, doctor, second; Charisse Hirschfeld, nurse practitioner, first; Leona Cloutier, nurse practitioner, second; Valerie Lozier, nurse practitioner, third; Karen Estey, nurse, first; Alana Illsley, medical assistant, first; Michelle Grant, medical assistant, third; Stephanie Pavao, physical therapist, third.)
Memorial Hospital is a not-for-profit 25-bed critical access hospital and a member of the MaineHealth family. Services include a 24-hour emergency department, clinical laboratory, heart health and wellness programs, imaging services, birthing center, chemotherapy and infusion services. Practices include primary care and family medicine, diabetes care, behavioral health, women's health, podiatry, orthopedics and physical therapy.
HOME CARE PROVIDER/NURSE
VISITING NURSE HOME CARE & HOSPICE
1529 White Mountain Hwy. Conway, (603) 499-4171
The landscape for home health care changed dramatically in 2012 with the merger of Visiting Nurse & Hospice Care Services of Northern Carroll County and Carroll County Health and Home Care Services. By joining together it became possible to better coordinate the services of two agencies that had similar missions. Today, Visiting Nurses has a strong affiliation with Memorial Hospital and regional hospitals and health care practices that results in quality home care that is second to none. That Margaret Robertson was recognized both as a home care provider and a nurse is a testament to theirlevel of excellence.
MASSAGE THERAPIST/NAIL SALON/SPA/HAIR STYLIST
THE ROOT CELLAR — AN AVEDA SALON
87 Mechanic St., North Conway, (603) 356-6995
Rough day? Big date? Upcoming wedding? Discover a new you with a visit to The Root Cellar. Experience the finest products and services that beautify and balance hair, body and mind. The Root Cellar provides a high-quality, comfortable and natural salon experience from its team of professional, talented and continuously educated stylists. Pamper yourself with these services: extreme lashes, hair removal, eyebrows, professional makeup application, skin and nail treatment and everything for the bride and bridal party.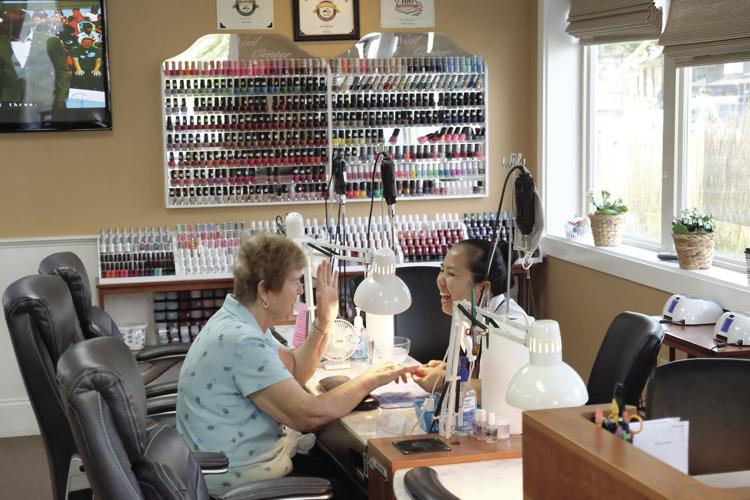 NAIL SALON
NAIL ENVY
2541 White Mountain Hwy., North Conway, (603) 356-4460
Ready for French pedicure? OK, how about a standard? Whichever, doesn't matter. Kai and his staff are second to none in the Mount Washington Valley. Just ask the hundreds of customers who voted Nail Envy the area's best nail salon. Gel nails, powder or liquid, solar nails (recommended for people who love French manicure), spa pedicure and manicure are services are performed by Kai's courteous and expert staff in a clean and professional environment. You'll feel comfortable and relaxed on your first visit or hundredth.
PERSONAL TRAINER
SMITTY'S GARAGE GYM/ASHLEY SMITH
Route 113, Madison, (603) 367-8100
Ashley has a bachelor's degree in exercise/health science and a CPT through NSCA. She opened the gym to help others with their goals, whether it is their health or fitness level, or their confidence and self-efficacy. Her goal is to show clients that being fit comes in all sizes and shapes. She offers personal training, small group training and fitness classes. Ashley loves making workouts fun and creating an atmosphere that people will look forward to coming to. "We all work together to lift each other up and support everyone's goals." says Ashley.
PHYSICAL THERAPIST
TRUE CARE PHYSICAL THERAPY
3304 White Mountain Hwy, North Conway, (603) 356-9350
Jane Obrero Scienzo is a North Conway-based physical therapist with 19 years of experience. Scienzo evaluates and treats people with health problems resulting from injury or disease. She assesses joint motion, muscle strength and endurance, function of heart and lungs and performance of activities required in daily living. Treatment includes therapeutic exercises, manual therapy and training in activities of daily living. Scienzo cooperates with other doctors and physicians in medical groups, including Valley Personal Training.
PILATES INSTRUCTOR
SAKASH HEALTH & WELLNESS/Shellie Sakash
50 Seavey St., North Conway, (603) 662-3166
Sakash Health and Wellness is a fully equipped Pilates studio offering both wellness and physical therapy services. Their instructors all must have a medical license, complete a comprehensive Pilates training and become recognized as certified ustructors through the Pilates Method Alliance. Pilates, when taught correctly, is an education in movement. Their clients ultimately say they wish they had discovered Pilates sooner. They understand the value of this work and the way that it will affect their lives moving forward. Go to sakashhw.com for more.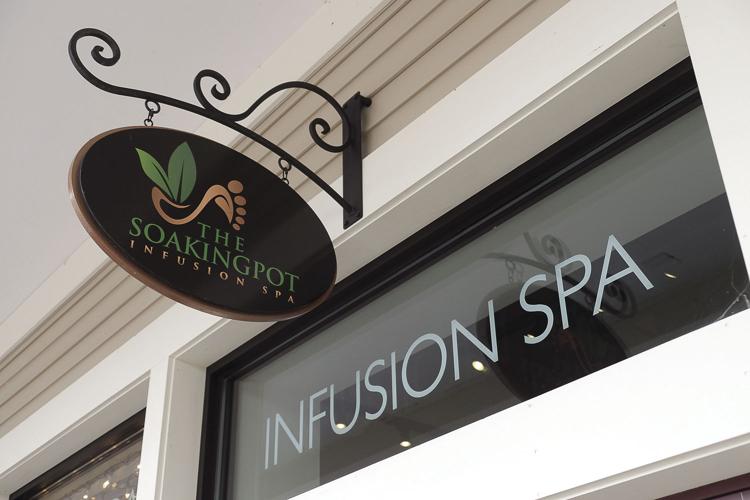 SPA
THE SOAKING POT INFUSION SPA (FIRST)
2 Common Court, H45, North Conway, (603) 356-2400
"It's hard to believe The SoakingPot Infusion Spa has only been in business for a year and half," says owner Laurie Banks. "We are honored to be voted Best Spa! A huge THANK YOU to all of our supporters, we're so grateful to get to know some of the nicest people from all walks of life. We've shared a lot of memories with our awesome guests and employees, some funny, emotional, inspiring and even a few embarrassing ones; like the time we forgot to add water to someone's tea pot! We look forward to seeing you again or meeting you for the first time."
RESTAURANTS
BREAKFAST
27 NORTH
27 Seavey St., North Conway Village, (603) 730-5318
27 North opened in December 2018 and has built a reputation for great breakfasts and lunches. Chef Doug Gibson has been creating quality dishes in the North Conway area for 30-plus years. He is joined by Andrea Carbone, who has worked in the restaurant industry for more than 15 years. Be sure to try the skillet dishes with eggs over homemade corned beef hash with some fun toppings, such as vegetarian benedicts and lobster benedicts. Looking for splendiferous Bloody Marys and Mimosas? They got 'em.
RESTAURANT — ASIAN
CHINA CHEF
2025 White Mountain Hwy, North Conway, (603) 356-3788
China Chef made the jump from 2017 and '18 runner-up to top spot in 2019. All the joys of the restaurant's menu are available for takeout with the same quality, fresh ingredients. Orders are prepared quickly with seating available in the pick-up area. The restaurant also provides fully functioning bar, complete with tropical drinks, and Huu Trinh, owner and manager, is sure to brighten your day with a story. No one follows the weather better than he does. Whether you're up for crispy sesame chicken or hot and sour soup, the China Chef has it, along with pretty accurate fortune cookies.
FAMILY RESTAURANT/BRUNCH/STEAK
RED FOX BAR & GRILLE
49 Route 16, Jackson, (603) 383-4949
What does it say about their breakfast when it is voted Best Brunch every year? It means the Red Fox breakfast buffet is legendary. And like everything at this landmark restaurant, it exudes style and quality. From the beautiful Douglas fir pergola that defines the new patio, to the ingredients used in everything from the pancakes to the fish and chips, which one patron was overheard saying, "They are the most amazing fish and chips I've ever had." And with multiple dining rooms, Red Fox also hosts private parties and rehearsal dinners. And for the kids, there is a movie room and playroom.
RESTAURANT — ITALIAN
VITO MARCELLO'S ITALIAN BISTRO
45 Seavey St., North Conway Village, (603) 356-7000
Vito Marcello's Italian Bistro completes Vito's vision of what a fine Italian dining experience should be. And anyone who knows Vito, knows he serves only the best. The restaurant's success is based on serving authentic Italian food and wines derived from traditional family recipes handed down from his father and grandfather. Vito's passion for creating Italian regional favorites begins with using the finest ingredients available, including importing direct from Italy. Vito's newest addition is the charming Tuscan patio, where you'll sit under a grapevine-covered trellis.
RESTAURANT/MEET-UP BAR/WAIT STAFF/BARTENDER
MCGRATH'S TAVERN
3465 White Mountain Hwy, North Conway, (603) 733-5955
Chef-Owner Seammus McGrath opened McGrath's in 2011. On any given day you'll find several McGraths on site, including sister Caitlin and parents Jim and Maryellen. McGrath's Tavern is the culmination of everything the McGraths value about life in ski country: great food (burgers and chowders especially, and such other chef's signatures as pistachio crusted salmon, port penne pasta and Seammus' legendary pot roast), fun times and warm hospitality. Live music Thursdays.
RECREATION
CROSS-COUNTRY SKI AREA
JACKSON SKI TOURING
153 Main St., Jackson, NH; (603) 383-9355.
For more than 40 years, Jackson Ski Touring Foundationhas worked to provide the best cross-country skiing and snowshoeing experience anywhere. As a non-profit, this is their passion. The center offers guests a family-friendly base lodge, top-quality groomed cross-country trails, purpose-built snowshoe trails, a superb ski school, fast and friendly service.
DOWNHILL SKI TRAIL
KING PINE SKI AREA-PURITY SPRING RESORT (PINE BRULE SKI TRAIL)
1251 Eaton Road, Madison, (603) 367-8896
First-timers and families love family-owned King Pine Ski Area for its friendly, knowledgeable ski school and easy, gentle learning terrain, while more advanced skiers and snowboarders can enjoy steeper trails like Pine Brule, voted this year's Best Downhill Ski Trail. King Pine offers slopeside lodging, night skiing, lift-serviced snowtubing, cross-country skiing, snowshoeing, ice-skating, fun events, a great local race league and a friendly après scene. With views of Purity Lake, King Pine features high-efficiency, low-energy modern snowmaking and a reputation of being consistently 100 percent all trails open early and staying that way in to the spring season.
GOLF COURSE HOLE
NORTH CONWAY COUNTRY CLUB
76 Norcross Circle, North Conway Village, (603) 356-5244
Stand at the first tee, and you're standing on top of the world, one that is visually spectacular. Without a doubt, the first hole is the most beautiful 395-yarder in the universe. Established in 1895, the North Conway Country Club continues to provide the premier golfing experience in the Mount Washington Valley. The first hole is a par four with a highly elevated tee. The dreaded cornfield lies on the left and numerous trees run down the right side. Accuracy is a must here to get a quality second shot at the dual-bunkered first green.
PLACE TO TAKE KIDS ON RAINY AFTERNOON
MWV CHILDREN'S MUSEUM
2936 White Mountain Hwy, North Conway Village, (603) 356-2992
Play is celebrated at the MWV Children's Museum, and there's no better time to visit than on a rainy day. The enchanting museum is targeted for ages birth to 7 years old (but older children are always welcome). The museum has several creative play-based centers and exhibits that are meant to encourage and foster exploration and creative play among children and their parents or caregivers. It's recommended that you walk the space and allow plenty of time before settling into a center and playing. Let the fun begin!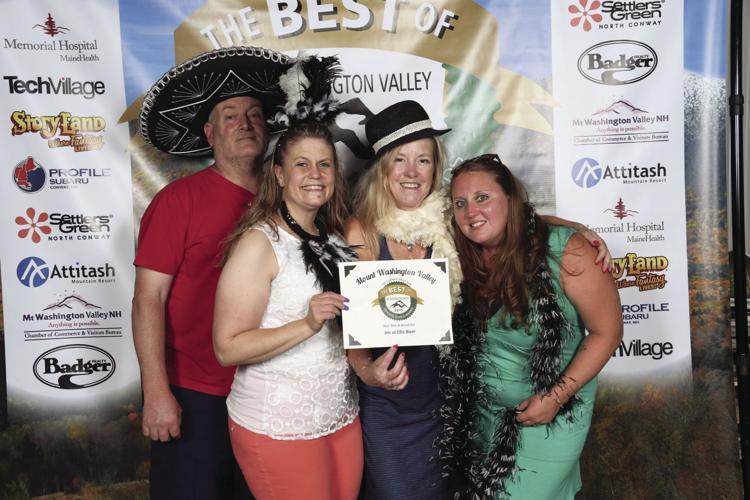 BUSINESS & RETAIL
BED AND BREAKFAST
INN AT ELLIS RIVER
17 Harriman Road, Jackson, (603) 383-9339
Nestled alongside a mountain stream at the edge of Jackson, the Inn at Ellis River is made to order for a weekend getaway, for a skiing or hiking vacation, to rekindle romance, or to celebrate any special occasion. Choose from the Inn's 21 rooms or the rustic cottage, many with a two-person Jacuzzi and/or balcony with varying spectacular views and most with a fireplace. Awaken to clear mountain air and a hearty country breakfast in your sunny dining room. Relax in the cozy game room and pub, sitting room, six-person hot tub overlooking the Ellis River, sauna or, in summer, the gazebo and outdoor heated swimming pool.
BOOKSTORE
WHITE BIRCH BOOKS
2568 White Mountain Hwy, North Conway, (603) 356-3200
White Birch Books may look quaint from the street with its cute little tower and porch, but inside you will find a large, full-service, 21st century bookstore, complete with booksellers who love to read and recommend and will help you find the book you didn't even know you were looking for. The store's collection includes best sellers, the hot reads and literary stars, as well as a children's department and the best greeting cards in town. The personality of the store shines through in their specially curated gifts, toys and games. There truly is something for everyone at White Birch Books!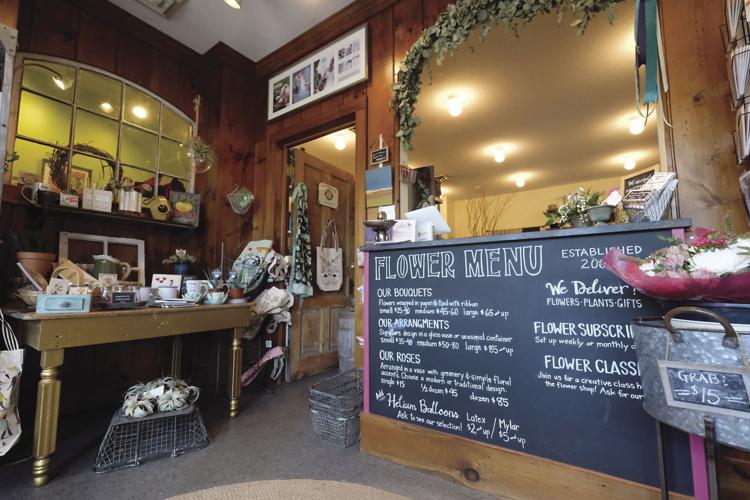 FLOWER SHOP
DUTCH BLOEMEN WINKEL
18 Black Mountain Road, Jackson, (603 )383-9696
Carrie Scribner, owner of Dutch Bloemen Winkel, welcomes you to come visit her shop if you are looking to brighten someone's day. The shop creates and delivers floral designs for all occasions. It has been featured in NH Wedding Magazine, Seacoast Bride, WellWed, Style Me Pretty and, most recently, in Boston Wedding Magazine. Her staff is passionate about flowers, and their enthusiasm and love show in their designs. The shop is located in Jackson. It not only boasts beautiful flowers, with weekly selections imported from Holland, but has a fine selection of gifts, offering a wonderful shopping experience for over 15 years.
JEWELRY STORE
NORTH COUNTRY FAIR JEWELERS
2503 S. Maine St. North Conway, (603)356-5819
Three major things happened in summer 1969: The first man walked on the moon, the Woodstock Music Festival happened and North Country Fair Jewelers opened! For 50 years, the shop has built a reputation for quality, personalized service. In addition to their selection of handmade jewelry, Brian Smith and his staff/family provide the largest selection of diamonds in the area. They buy silver and gold. All creations, custom work, repairs, engraving and appraisals are done in house. Charter member of the National Association of Jewelry Appraisers.
MEN'S CLOTHING STORE
THE RUGGED MILL
2633 White Mountain Hwy, North Conway Village, (603) 356-0490
Established in June 2010 by locals Matt & Carissa Fusco, The Rugged Mill was founded on the premise of providing top quality outdoor products with the belief of providing the best customer service possible. They offer some of the most recognizable outdoor apparel brands including Woolrich, Pendleton, Patagonia, Kuhl, Arborwear, Outback Trading Co., and Royal Robbins. The Rugged Mill also carries an extensive selection of New Hampshire novelties and souvenirs, Boston Sports Apparel, funny t-shirts, fashion accessories, blankets and throws. Can't argue with a sale, and Rugged Mill offers them daily on a rotating basis.
MOTEL
COMFORT INN and SUITES
2001 White Mountain Hwy, North Conway, (603) 356-8811
The renovated and refreshed Comfort Inn located near Settlers Green retail outlets offers spacious suites where a family can spread out and relax. It is just minutes area family attractions, mountains and rivers. Amenities include free WiFi, free hot breakfast, free parking, heated indoor pool and fitness center. Guest rooms feature microwave and refrigerator, coffee maker and oversized, flat panel TV.
NEW BUSINESS
VENO'S SPECIALTY FOODS & MEATS
715 White Mountain Highway, Conway, (603) 662-0615
Veno's has the meats, and we're talking not about fast food. In fact, Veno's offers the highest quality cuts in the valley. Veno's retail market offers high-quality beef, pork and chicken, including marinated steak tips, burgers, marinated chicken, stuffed chicken breasts and pork chops. Veno's also has a Gourmet to Go line of ready-made meals made from fresh ingredients … just heat them up at home. Imagine eating lasagna, stuffed shells, curry with rice, or Indian chicken for dinner without doing all of the prep. For more, go to venosnh.com.
OUTDOOR EQUIPMENT STORE
RAGGED MOUNTAIN
279 Route 16, Intervale, (603) 356-3042
For 40 years Ragged Mountain Equipment has readied campers, hikers and every outdoorsman in between all ages for a safe and comfortable White Mountains experience. From their in-house factory to their knowledgable sales staff, Ragged takes pride in their quality products tailor-made for even the most experienced adventurer.
SKI SHOP/BIKE SHOP
STAN & DAN SPORTS
2936 White Mountain Hwy, North Conway, (603) 356-6997
Yes, there really is a Stan and Dan, and as recipients as best ski shop and bike shop, their partnership has established a reputation second to none. If it's winter you'll find the would-be Olympians in their shop as well as Joeys. Service is their trademark, expertise is their game. In the summer ditto reputation with bikes. It is the preferred LBS among locals. Whether you are looking to build your dream bike from the frame up or just need a flat repaired, they will get you on the road or trails in no time.
WOMEN'S CLOTHING BOUTIQUE
SPRUCE HURRICANE (FIRST)
2655 S Main St., North Conway Village, (603) 356-3854
Where the wilderness blends with city sophistication to bring you unique, quality merchandise Spruce Hurricane has been the Mt. Washington Valley's premier specialty boutique since 1992. Family owned and operated, their goal is to provide the best in personal service and fabulous merchandise in our distinct mountain chic style. Their inventory includes world renowned designers, as well as your favorite manufacturers of clothing and accessories. Join them for a shopping experience that delights the senses with color, texture and artistry.
IT'S MY GIRLFRIEND'S (SECOND)
2760 White Mountain Hwy, North Conway Village, (603) 733-5144
It's My Girlfriend's is a proud member of The White Mountain Independents, a group of locally owned and operated businesses in the valley. Owned by Lisa Spadaccini, It's My Girlfriend's is a consignment shop but also carries new items in the boutique, such as Inis body products, Myra bags, scarves and jewelry. Come visit the shop, located in the lobby of the Eastern Slope Inn and Resort. Open 10 a.m.-5 p.m. daily.
ADULT BEVERAGE
BEER/MUSIC SERIES/TRIVIA/MUSIC VENUE
TUCKERMAN BREWING CO.
66 Hobbs St., Conway Village, (603)447-5400
Tuckerman Brewing Co. is the only place where they make their great lineup of locally crafted beer. However, the brewery also has evolved into a down-home place to enjoy live music or play a game of corn hole or trivia while sampling a Tuckerman Pale Ale, Headwall Alt or Rockpile IPA in the spacious tasting room. Founded by Kirsten Neves and Nik Stanciu in 1998, the company moved to Hobbs Street in 2004 and into its current larger facility in 2014, then started its Tuckerman Brewing Music Series in 2015. Tours available.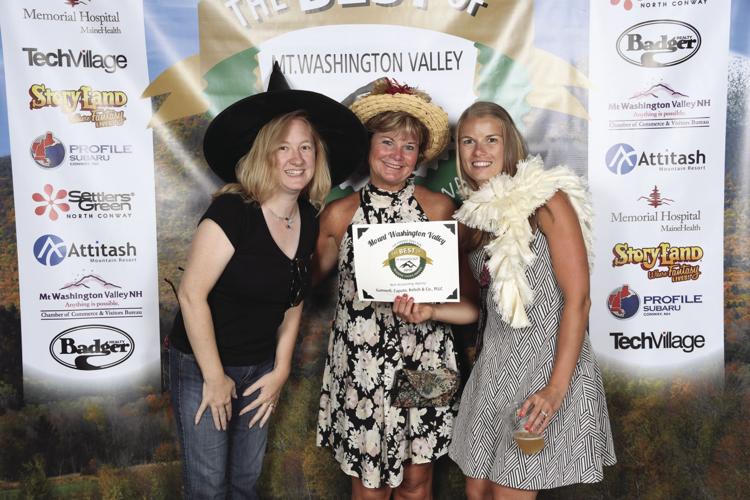 PROFESSIONAL SERVICES
ACCOUNTING AGENCY
GAMWELL, CAPUTO, KELSCH & CO. PLLC
481 White Mountain Hwy, Conway, (603) 447-3356
Gamwell, Caputo, Kelsch & Co. PLLC is a full-service accounting firm located in the heart of Mount Washington Valley. The company has been providing professional and quality services to its clients since 1970. As the rules of accounting and technology have changed in the past 49 years, so have they, while providing personalized service in tax preparation, bookkeeping, payroll and general accounting services.
APPLIANCE REPAIR
HOMER'S APPLIANCE SERVICE
P.O. Box 19, Jackson (603) 383-8033
Comedian Red Green often said, "If the women don't find you handsomem they should at least find you handy." Well, turns out, with appliances not many people are handy these days. Fortunately, there's Homer's. Here's what one satisfied customer said: " Homer's repaired our LG Fridge that was leaking underneath and the ice maker that wasn't working. Kevin diagnosed the problems and then took the necessary steps to fix both issues. Kevin also took the time to explain everything that he was doing and how the system worked. Great job. I would definitely recommend."
AUTO BODY SHOP
PALMER'S CUSTOM PAINT & COLLISION (SECOND)
11 Bald Hill Road, Conway, (603) 986-4256
Palmer's Custom Paint and Collision is the name to know when it comes to auto body experts. The shop does quality work on both foreign and domestic vehicles. As customer John Tavenner noted, "O.P. did an outstanding job replacing/painting the front bumper on my 2012 Outback. Initially, I had an issue with with the tint not seeming quite right, but realized that my observation was misplaced. When you live in the Rockies," the customer says, "the tint of the whole car will fade such that even using the exact match later on ended up matching the original color when the car was new. I would definitely use Palmer's in the future for any collision/painting needs."
J&T AUTOBODY (RUNNER-UP)
1650 East Main St., Conway, (603) 686-5800
Jason has been doing body work for 25 years but officially opened his own business in 2018. For the quality detailing, Jason credits his wife, Tracy who is a perfectionist, getting in all the nooks and crannies with small, soft brushes. Jason is a master at rust repair and is always happy to greet new customers, but he notes that prevention is key. The No. 1 rust prevention method, he says, is regular washings, particularly the undercarriage of your vehicle. J&T offer a complete line of rust and collision repair and works with all insurance companies.
AUTO REPAIR/MECHANIC
FRECHETTE TIRE CO, INC. (FIRST)
164 Passaconaway Road, Conway, (603) 447-5538
Frechette Tire, now a four-time recipient of this honor, is a full-service garage, owned and operated by the same family for three generations. You can get new tires, tire rotations, balancing, car inspections, oil changes and a full range of repairs. You also can talk a little hockey or sports with Justin Frechette (voted best mechanic by readers) and Evan Howland while you get your vehicle back up and running. Chances are you'll see someone you know in the newly remodeled waiting room, complete with a fireplace. Since 1976 Frechette Tire has had the mantra, "Roll tire!"
REDSTONE AUTO SALES & SERVICE (RUNNER-UP)
159 East Conway Road, Conway, (603)356-5930
When it comes to slogans, they don't get any better than "There's a good reason why customers keep coming back." And this year, they'll be coming back to the new owner of Redstone Auto: May 1 marked the transition for Austin Woodward from service manager to owner. Woodward was onboard from the beginning when Fred Sarro started the business on June 1, 2011. The business has grown over the past eight years, building on a strong ethic of providing customers with honest, loyal service based on integrity.
CUSTOM SIGNS AND BANNERS
SNOW SIGNS, LLC
Stow, Maine, (603) 662-8669
Whether you're hunting for a Mad Max look on your 18-wheeler or an ice cream cone for a summer delights shop, Snow Signs offers a wide range of design styles and the technical skills to make them pop. They specialize in vehicle lettering, signs, banners, decals and logo design. You can see their work literally driving around town, as their work graces many local vehicles with commercial lettering and art.
ENGINEER/SURVEYOR
HEB ENGINEERS, INC.
2605 White Mountain Hwy, North Conway Village, (603) 356-6936
HEB is a headquartered in North Conway with offices in Bridgton, Maine. The company was founded in 1974 with a dedication to excellence and client service in the fields of engineering and land surveying. Throughout the years, it has built a reputation for high-quality services and a commitment to its clients, staff, and community. This dedication flourishes today as it continues to provide clients with efficient and effective solutions. Congratulations to Josh McAllister for winning best engineer and Seth Burnell for winning best surveyor!
LAWYER
BACKYARD CONCEPT/FRONTYARD LAW
Tech Village, Route 16, Conway, (603) 728-7739
Backyard Concept LLC is a law, consulting, and advocacy business supporting clients connected to the emerging outdoor recreation sector of the economy. Tyler T. Ray, founder and principal, draws on 15 years of business law experience to help you be dynamic, strategic, and efficient in all aspects of your enterprise. From business formations and transactions, trademark law and general corporate matters, Ray also performs strategic consulting services as well as issue-based advocacy leadership and management. For more, go to backyardconcept.org.
HEATING/COOLING SYSTEMS/PLUMBER
JON HURTEAU HEATING SERVICES
141 Hobbs St., Conway, NH; (603) 447-6224.
Jon Hurteau has won this category four years in a row. With over 10 years of experience with installation and repairs of heating systems, HVAC and oil tanks, he's there when you need him, with prompt, professional service.
PRE-OWNED DEALERSHIP/PRE-OWNED SALES PERSON
MWV KUSTOMZ/MIKE CORBRIDGE
545 Eastman Road, Redstone, (603) 356-9500
It's a three-peat for MWV Kustomz, having been voted best pre-owned auto dealership since 2017. You won't find a new 2020 Corvette on the lot, but for reliable, affordable transportation, then go to MWV Kustomz. MWV Kustomz also offers a full range of services including general repairs, inspections, tires and after market accessories.
PROPERTY MANAGEMENT, CLEANING SERVICE, HANDYMAN, LANDSCAPER
UP COUNTRY PROPERTY SERVICES
50 White Mountain Hwy, Conway, (603) 662-0645
Up Country's story begins 15 years ago, when Stephanie began cleaning for a few local families while raising young children. In 2010 after moving her family to the Mount Washington Valley, the business began growing rapidly. Along comes Jeff, and in 2014 they began working as team. That team became a family when they married in 2016. To better reflect their diversified business, they changed its name name to Up Country Services and now offer a wide variety of services including, handyman, property maintenance, carpet and cleaning services as well as household and commercial cleaning.
REAL ESTATE AGENT
ELIZABETH SCULLY, KELLER WILLIAMS LAKES & MOUNTAINS
3641 White Mountain Hwy, North Conway, (603) 986-9581
Ask Elizabeth about her career and her first response is, "I love my job." And as everyone knows, loving your job is a prerequisite to being good at it. Elizabeth is ranked the No. 1 Realtor in North Conway and fifth of over 500 Keller Williams Realtors in 2018. She handles it all, from mountain condos to lakefront property. She considers herself a lifelong real estate partner to her clients, helping them buy and sell along the way.