Michael Leathem, 43, of Fryeburg, Maine, left the Mount Washington Valley he loved so much for the final time on July 12, 2020.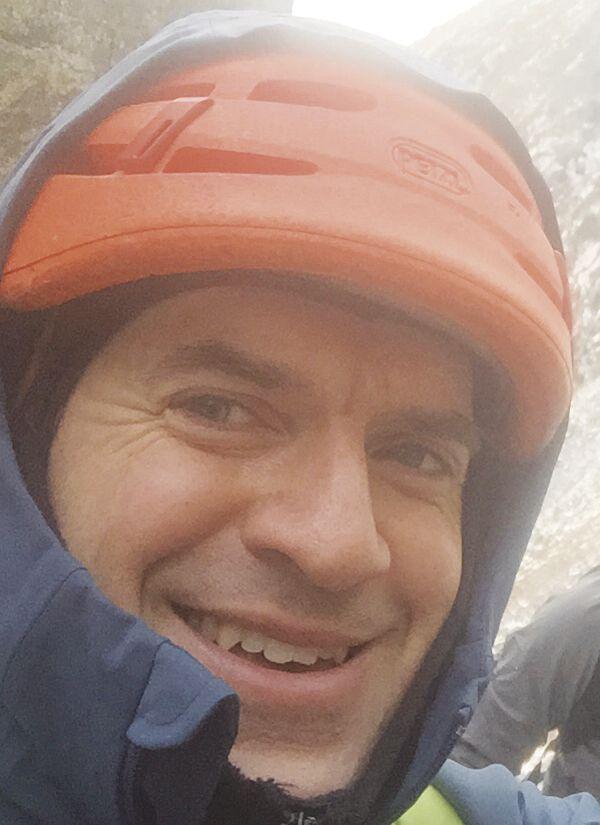 He departed from his home, surrounded by love. Those who knew and loved him suspect the inability to access Mount Washington this spring contributed to his rapid decline and led him to seek more eternal snowfields.
As Messner said, "I have climbed myself to a standstill, now I am experiencing regeneration, a return flow of energy."
He battled cancer courageously, with both grace and humor. The depth of his determination was evident from the beginning as he trained for an Olympic length triathlon during his first time through chemo. He completed it after his 11th treatment, his finishing time in both this, and subsequent climbs and skis, astounded his doctors, not to mention those with two healthy lungs gasping to keep his pace and those of us just lucky enough to be part of his world.
This determination is how he moved through the world. A goal set, plan made, problems solved and goals accomplished. From the time he was a teenager establishing a successful landscaping business, he was able to sell to help fund his college experience, to a later startup with a childhood friend, to every trip into the backcountry.
His love of the outdoors was nurtured from an early age with countless trips to Acadia or skiing at Sugarloaf with his parents and brother.
Mike was a lifelong athlete, a gymnast through his years at Syracuse, where he also joined the outing club. He expanded on his adventures there becoming an avid white water kayaker, cyclist — even doing a cross country ride — and an accomplished rock and ice climber. The friends he made during these and subsequent years at Rochester Institute of Technology, where he obtained his Masters Degree in Engineering, have been lifelong and cherished.
Mike then set off on another adventure/challenge, with his brother Sean, to thru-hike the Appalachian Trail, a time he truly treasured.
In 2003, Mike thought he was passing through this beautiful valley on his way to another mountain town. Fortunately for him, he stopped by Ragged Mountain Equipment on the right day where he met a new climbing partner and his future wife. How could she not fall for the guy living out of his truck, "showering" in the Saco to impress her on date nights?
For the next 17 years he and Heather shared many adventures, the highlight being their son Kaelan, the most fulfilling of them all. It was not expected that this small human could make things like running from lightning strikes atop Mount Katahdin, needing to cut a rope hundreds of feet up on a climb or the constant wrangling of 11 legs worth of lovably unruly dogs look comparatively tame. His intense love for Kaelan was undeniable and the time spent teaching him and sharing adventures will forever be with us, like reaching the top of Whitehorse Ledge and skiing Hillman's Highway as a family.
In recent years his parents, Carla and Bill Leathem, and brother Sean Leathem moved to the area. Although he knew the real reason was to be closer to Kaelan he was nonetheless grateful for their proximity and the time together it allowed.
He is also survived by many aunts, uncles, cousins, even two great-aunts and an uncle, his mother-in-law Pat Mullen and all of Heather's family. They along with the friends who Mike loved as family will keep him forever in their hearts.
In addition to giving 100 percent at his "real job" as an engineer he also worked as a guide for Mooney Mountain Guides and was pursuing his AMGA certification, an endeavor for which he had great pride. Guiding was definitely more about spending time climbing and being on Mount Washington than working. It also gave him a way to teach and help others which he enjoyed immensely. He always made time to help strangers or friends, his passion for the outdoors and teaching shared freely.
His incredible love of life and positivity will be greatly missed. There are many wondering whom to call with their questions. Yet, ever practical, Mike always knew how to get each pitch to go, climbing through with steadfast energy, compassion and words of wisdom if not wit. That spirit will be missed but not forgotten nor wasted by those whom he helped find the best within themselves.
"As we travel on behind we can hear thru the notches ...
Wind in my hair I feel part of everywhere
Underneath my being is a road that disappeared
Late at night I hear the trees they're singing with the dead
Leave it to me as I find a way to be
Consider me a satellite forever orbiting
I knew all the rules but the rules did not know me
The family asks that you live each day as Mike would, accepting new challenges, never passing up an opportunity to learn something new or help someone else do the same and always moving forward with positivity and no regrets.
A memorial college fund has been set up for Kaelan Leathem. Donations can be sent in his name to J Grdinich, P.O. Box 46, Conway, NH 03818 or Venmo@Heather-Mullen-26.
A memorial service will be held atop Cathedral Ledge on Monday, Aug. 10, at 1 p.m. Masks and social distancing are requested.
To plant a tree

in memory of Michael Leathem

as a living tribute, please visit Tribute Store.