CONWAY — While hospitals throughout the MaineHealth system continue to see a rise in cases of COVID-19 among employees as well as patients, Memorial Hospital officials said this week that the hospital is continuing to meet the challenge of providing staff to care for its patients.
Memorial spokesperson Tim Kershner said Wednesday that while there have been staffing challenges, "so far it has not had a negative impact on patient care."
"The clinical staff at Memorial has really been pulling through," he said, with many people stepping up to cover hours for those who are out due to COVID protocols.
MaineHealth issued a press release last week announcing a sharp increase in the number of care team members out with COVID-19 throughout its system of hospitals and asked the public for help in slowing the rise in cases.
The MaineHealth system includes Memorial Hospital in North Conway, along with eight other hospitals, a medical laboratory and primary and specialty care providers in Maine.
Noting that the surge is likely caused by the arrival of the highly contagious Omicron variant in Maine and New Hampshire, MaineHealth issued a statement last week saying that about 850 members of its care team of about 22,000 were unable to come in to work due to COVID-19.
That is a jump from before the Christmas holiday, when about 200 people per day were absent across the health system because they had contracted or had been exposed to COVID-19.
While he said he could not give exact numbers Kershner said, "We do have folks out every day because of COVID symptoms and COVID protocols."
The spike comes at a time when the health system is already challenged by near-record numbers of hospitalizations for COVID-19, a high demand as a result of people putting off care earlier in the pandemic and an ongoing labor shortage across the health care industry.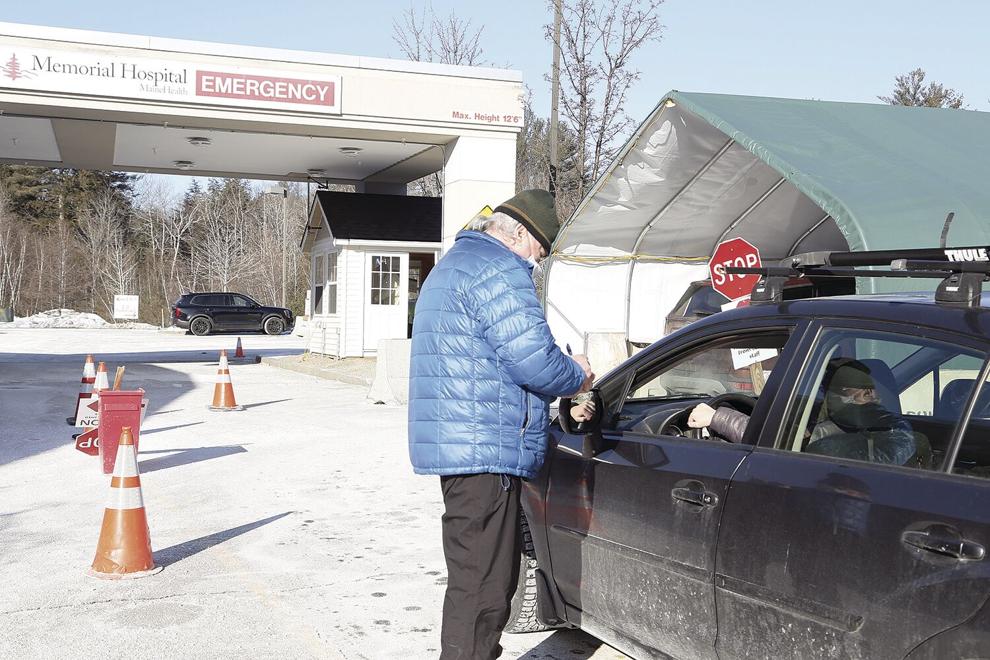 "Keeping our workforce healthy has been critical from the beginning," said Dr. Doug Sawyer, MD, interim chief medical officer at MaineHealth. "We have been applying the science as fast as we have it. First, with education around social distancing, masking and hand hygiene. Later, with mandatory vaccines and encouraging boosters. And most recently, we've updated our care team quarantine procedures based on the best-available science and CDC guidelines to get our people back safely as soon as possible."
Still, Sawyer said, health-care workers at MaineHealth and elsewhere are exhausted, and the overall health care system is under tremendous stress.
"We need help from our community," he said. "We strongly encourage everyone who is eligible to get vaccinated and boosted."
Kershner said Memorial has adopted the new CDC guidelines for who should be isolating and when they can return to work.
The hospital is screening employees daily using an app, which asks a series of questions about exposure to people who have COVID-19, travel and any COVID-like symptoms the employee may have.
As of October 2021, every employee in MaineHealth is vaccinated, and CDC guidelines for people who are up to date on vaccines and have been exposed to COVID-19 is that they do not need to quarantine unless they have symptoms.
Guidelines for people who are not up to date on vaccines recommend they stay home and quarantine for at least five days and then get tested for the virus.
Anyone who has symptoms is asked to schedule a test and isolate until they get the results of the test. Those who test positive, must stay home for five days, after which they are tested with an antigen test to determine whether they can return to work or must stay out for another five days.
The hospital runs a COVID vaccination clinic at the former Weather Discovery Center in North Conway Village. The clinic is open Tuesdays and Wednesdays, 8 a.m.-4 p.m. Appointments help with planning but are not required to get vaccinated. Call (603) 356-0673 to schedule a time or just walk in.
Vaccinations are also available at Hannaford, Walgreens, Osco, CVS and Walmart pharmacies, as well as at primary care practices in the valley.
Another concern with the surge is people showing up at emergency departments, urgent care centers and walk-in clinics who have tested positive with an at-home antigen test and want further confirmation. Something experts say is unnecessary and could further spread the virus.
"At-home antigen tests are reliable if they're positive and you have symptoms," said Dora Anne Mills, MD, MaineHealth's chief health improvement officer. "There is no need to have a confirmatory PCR test before you begin following CDC guidelines for isolation."
Mills noted that emergency departments, walk-in clinics and urgent care centers should be used for medically appropriate needs.
Kershner said the drive-through testing clinic, which does PCR testing, remains very busy, with most appointments being booked up on any given day.
The testing site, located outside the emergency department, is open 7 a.m.-3 p.m. for weekdays, and 8 a.m.-noon on weekends. Appointments are required and can be made by calling (603) 356-0673. Test results are typically available within 72 hours.
The site has been averaging about 150 tests per day with an average of 23 percent positive for COVID-19.
Kershner said he does not know how many of those tests are for people who have already tested positive on an at-home test. He said people who have tested positive with an at-home test should talk to their primary care provider before seeking out a PCR test.
Mills said the only time anyone who has tested positive should leave isolation is to seek necessary or emergency medical care.
Community members who have tested positive at home should contact their primary care providers to determine if follow-up care is necessary. Anyone showing any of these signs should seek emergency medical care immediately:
• Persistent pain or pressure in the chest.
• Inability to wake or stay awake.
The CDC also has published helpful guidance on how to treat mild COVID illness at home. Go to tinyurl.com/mssk37ks.