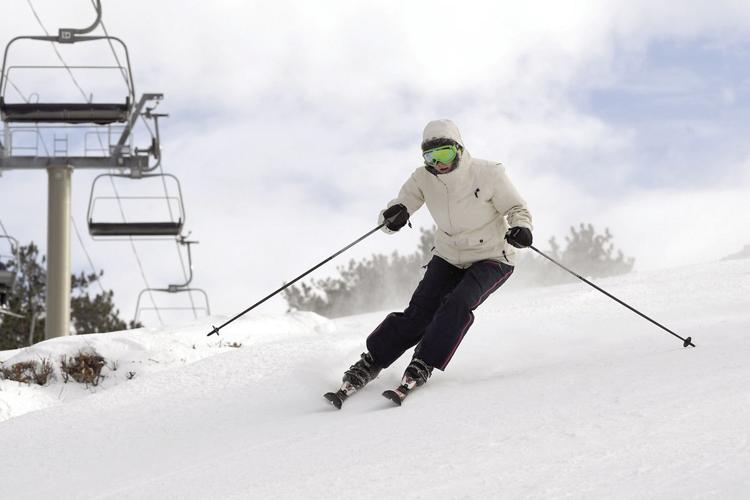 CONWAY — After last season's challenging conditions, the exciting news is many areas have upgraded their snowmaking arsenals, adding more energy-efficient guns that can operate in warmer temperatures and coat the slopes more quickly.
The season got off to a good start in late November and December, with good snowmaking temperatures and a few snow storms that helped to get things going in the right direction.
That came as good news to Ski NH's Executive Director Jessyca Keeler, who noted the phone was ringing off the hook following early December's snow. She and other marketing representatives say there was a lot of pent-up demand heading into the season.
She said total winter visits last season were about 1.77 million, down 31 percent from more than 2.57 million the previous year, which was also the fourth-best season on record. Now, with the snow, skiers and riders are hitting the slopes.
Here's an overview on what they will find in terms of capital improvements at local alpine and cross-country areas.
• Attitash Mountain (603-374-2368, www.attitash.com) has installed more than 1,000 feet of new high-pressure snowmaking pipe on Pinball Alley while widening and regrading the trail.
Attitash's Abenaki Park Crew also will introduce a beginner elements area, creating three tiers of progression through the Abenaki Parks: beginner at Bear Peak Base, progressions at Kachina Park and large features on Myth Maker. This means freestyle terrain will be available for all levels. This winter, guests at the Attitash Grand Summit Hotel will notice many upgrades.
• Guests at Attitash's sister Peak Resort of Wildcat Mountain (www.skiwildcat.com; 603-466-3326) will also notice new additions this season. Wildcat Mountain has spent the past two summers working to enhance its glades, clearing over 180 combined acres to enhance tree skiing and riding across the mountain. All glades noted on the Wildcat trail map are now maintained to U.S. Forest Service guidelines.
• Black Mountain (www.blackmt.com, 603-383-4490) will be offering "The Midstation" on weekends, a warming hut selling light refreshments and hot beverages. The venerable ski area is also partnering up with Moat Brewery to offer a "Last Tracks" event, Jan. 14, Feb. 11 and March 11, consisting of a ride up the chairlift at 4 p.m., appetizers and Moat beer tasting, and skiing down a freshly groomed trail under the stars.
On the mountain, 52 new next-generation low-energy snow guns have been added along with the installation of a state-of-the-art snowmaking control system. Additionally, a new snow groomer — a BR-500 Beast — and tractor have joined the grooming fleet. The snowmaking pond has been dredged to increase water storage capacity for enhanced snowmaking. Skiers will also enjoy the new mid-mountain cabin offering up hot food and beverages on weekends and holidays.
• At Bretton Woods Ski Resort and Bretton Woods Ski Touring Center (www.brettonwoods.com; 603-278-3320; 603-278-3322) close to a half-million dollars has been invested over the summer to increase snowmaking operation efficiency. Other investment in the alpine and Nordic grooming fleets will result in better snow management. A new Pisten Bully PB400 Alpine Groomer joined the Bretton Woods Snow Quality fleet. And this year, Fat Bikes will be available for rental, along with dedicated trails for winter biking.
• Cranmore Mountain Resort (603-356-5543; www.cranmore.com) broke ground in September on Phase One of its $50 million base redevelopment project, which will add 18 condominiums as part of the planned redevelopment of its base facilities. When the project is complete, six new buildings and a total of 106 condominiums will be added to Cranmore's base. The first two buildings will be residential, while the third and fourth will offer 45,000 square feet of new lodge space. Phase One of Kearsarge Brook Condominiums is at the base of the ski area's South Slope, and will offer up 18 two- and three-bedroom residences when completed next year.
Cranmore will also be one of the first ski resorts east of the Mississippi to add an electric/diesel driven snow cat to its grooming fleet. Built by Kassbohrer, Pisten Bully's "Green Machine" 600E+ is the world's first groomer with a diesel-electric drive. One of the most significant advancements in snowgrooming technology over the past two decades, the 600 E+ uses a diesel engine to drive two electric generators which power electric motors that turn the tracks and the snow tiller. On its trip downhill, the electric energy created from the breaking effect of the electric drive motors is used to power the snow tiller, while the engine idles.
Cranmore has also installed two Tesla and two Hybrid vehicle-charging stations to further support sustainability efforts.
• King Pine (603-367-8896; www.kingpine.com), a family-owned and operated resort in East Madison, has taken advantage of the off-season maintaining a fully functioning lift infrastructure comprised of three triple chairs, two surface lifts and a snowtubing tow, and has also renovated the "Milt's Place" base lodge near the base of the Black Bear triple.
CROSS COUNTRY
Cross country improvements include:
• Bear Notch Ski Touring and Snowshoe Center (www.bearnotchskitouring.com; 603-374-2277) in Bartlett has worked over the off-season to improve the grades of some of its trails to enable them to better hold onto snow.
"We had some of the best skiing in the East last year, even with the low snowfall. We upgraded some of our trails over the summer and fall to be able to once again offer great skiing," said Doug Garland, who operates the 65-kilometer family-owned ski touring complex with his brothers John Henry and Clifton Garland, with John Henry overseeing grooming.
• Great Glen Trails (603-466-2333, www.greatglentrails.com) in Pinkham Notch has improved its snowmaking machine to maximize efficiency. Two trails have been reconstructed, allowing them to be opened earlier in the season. A second snowmobile has been added for early season and low-snow grooming.
• Jackson Ski Touring Foundation (www.jacksonski.org; 603-383-9355) has added 4 miles of new trails and eight new bridges as part of a $500,000 capital campaign. This is the largest trail expansion/improvement project in the organization's history.
Breanne Torrey, the JSTF's executive director, said Mount Washington Valley — including the other five ski touring centers — offers an unmatched variety of ski touring experiences.
"The variety of terrain and the close proximity really puts the Mount Washington Valley on the national ski map, especially in the Nordic community," said Torrey. "Among the six cross-country centers combined, located right here in the valley, there are over 450 km of cross country ski trails to be explored, all with different terrain and experiences to offer. You really can't find this experience anywhere else in the country."
• Mount Washington Valley Ski Touring and Snowshoe Association (www.mwvskitouring.com; 603-356-9920): Cort Hansen says the big news at the MWVSTA is trail work in Conway-owned Whitaker Woods, especially on both sides of the bottom of the Powerline Trail near its trail head off Kearsarge Road.
"We were able to do the work with the help of volunteers. It's one of the most significant projects we have undertaken in a while," said Hansen. "We basically relocated the lower part of the Powerline Trail on the Kearsarge side, which previously encompassed a steep hill and water bars, which made that part of the trail difficult for novice skiers to utilize. It was also exposed to the sun, so we moved the trail into the woods on both sides of the power line, to reduce the grade and make it navigable for skiers of all ability levels."
The Reserve at Purity Spring Resort offers 15 kilometers of ski touring and snowshoeing. The area also offers alpine skiing, a covered skating rink, tubing and sleigh rides.
See you out on the tracks and trails!
A member of the North American Snowsports Journalists Association, Tom Eastman is a reporter for the Conway Daily Sun and an award-winning ski journalist and ski historian who is the author of the book, "The History of Cranmore Mountain," published by the History Press in December 2012 and available through local book stores.