CONWAY — Businesses are reporting that most, but not all, customers are complying with requests for them to wear masks, though there have been a few confrontations with people who say the requirement is violating their civil rights.
"I would say that 99.9 percent of our customers are cooperative, and have no problem wearing masks. It's about protecting everyone," said Stu Dunlop, owner of the Kearsarge Inn of North Conway and the Wildcat Tavern in Jackson, expressing a sentiment that was echoed by many local retailers and shopkeepers.
"We had one couple — let's call them virus deny-ers — who said we were denying their right to do what they want. We agreed, saying we respected their position immensely, but we just maintained our right to deny them service out of respect for our staff and fellow customers and said we were sorry they would not be dining with us that evening. When they asked if we could recommend another restaurant I said no, that all of our local restaurants are requesting that customers wear masks," added Dunlop.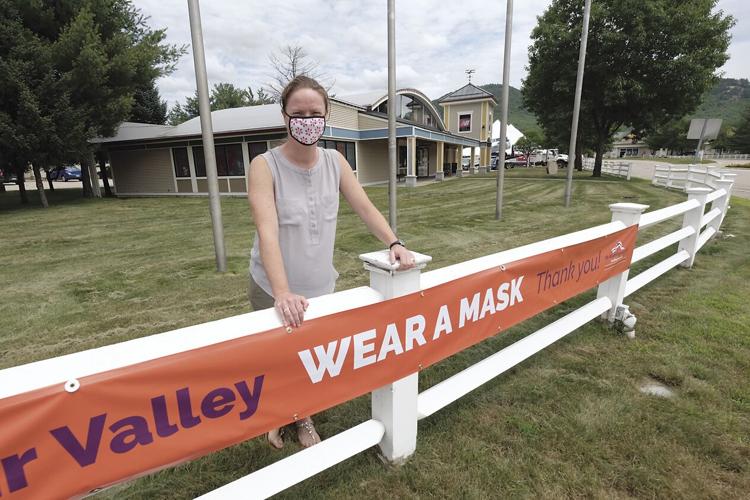 Mount Washington Valley Chamber of Commerce Executive Director Janice Crawford is leading a public relations and public education effort to encourage the public to wear masks and social distance by putting up signs at highly visible spots in Conway and North Conway, including at the Conway Village Information Booth, Settlers Green and Settlers Crossing and in North Conway's Schouler Park.
Also, about 20 signs are to be placed at businesses, urging compliance and respect of the safety of locals.
Depending on the location, they bear such messages as: "Please protect our Valley: WEAR A MASK; Thank you;" "If you love our locals, please protect them by wearing a mask. Thank you;" and "If you love the valley … please wear a mask. Thank you."
The larger signs all show a symbol of the coronavirus with a depiction of a masked man above the chamber's logo, "Mt. Washington Valley Chamber of Commerce and Visitor's Bureau: Anything is Possible."
Interviewed Wednesday, Crawford said that the chamber ifs walking a delicate balance between keeping the valley safe for residents and visitors alike while promoting tourism.
She agreed with a comment made by the Wildcat Inn and Tavern's Dunlop that the upcoming fall and winter season will depend on how well summer businesses do in maintaining those safe protocols.
"That is absolutely true," said Crawford.
A good place to see how the new normal is working is to look at Story Land, the popular family attraction which opened July 17 to passholders and to the public on Friday.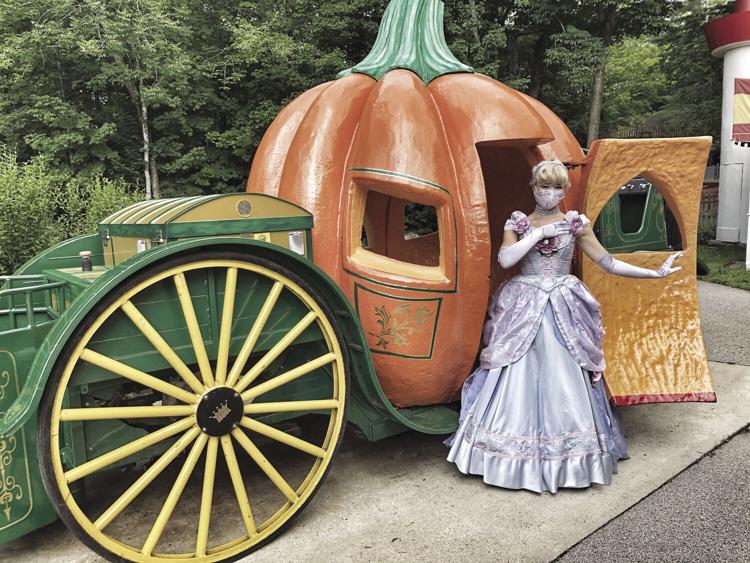 In addition to the mask requirement and other protocols, the biggest change is that the storybook-themed amusement park that has been in business since 1954 now includes limited capacities and requires all guests to have online reservations and advance ticket purchases.
"The first weekend went surprisingly well, much better than expected," said Story Land's general manager Eric Dziedzic. "Not everybody is happy about having to wear a mask, especially in the heat like we had last weekend. Most people are telling us they are happy to be here, happy to be outside and happy to be able to do something with their families."
He said the adjacent Living Shores Aquarium, meanwhile, remains closed until further notice. "Seventy-five percent of that attraction is interactive and we cannot do interactive with current guidelines — you can't put your hands into a touch tank or have the birds in the aviary land on you," said Dziedzic.
Because Mount Washington Valley is an outdoor activity mecca, surrounded by the White Mountain National Forest, use has been in great demand this spring and summer due to the constraints of the pandemic on indoor activity.
Fish and Game Col. Kevin Jordan reports that rescues and use are up, and popular WMNF spots such as Lower Falls on the Kancamagus Highway (U.S. Route 112) and Diana's Baths on West Side Road have been swamped.
The issue of public rudeness during this pandemic summer of daytrippers flocking to local recreational hotspots such as Davis Park, Diana's Baths, First Bridge and the Smith-Eastman Canoe Launch was also discussed by Conway selectmen at their meeting last Tuesday, with Town Manager Tom Holmes noting that local recreation spots are being "overrun" by day-trippers with resultant increases in trash, drunkenness and even nudity.
Despite those complaints, business owners note, things are improving since the reopening under the state's 2.0 stay-at-home orders.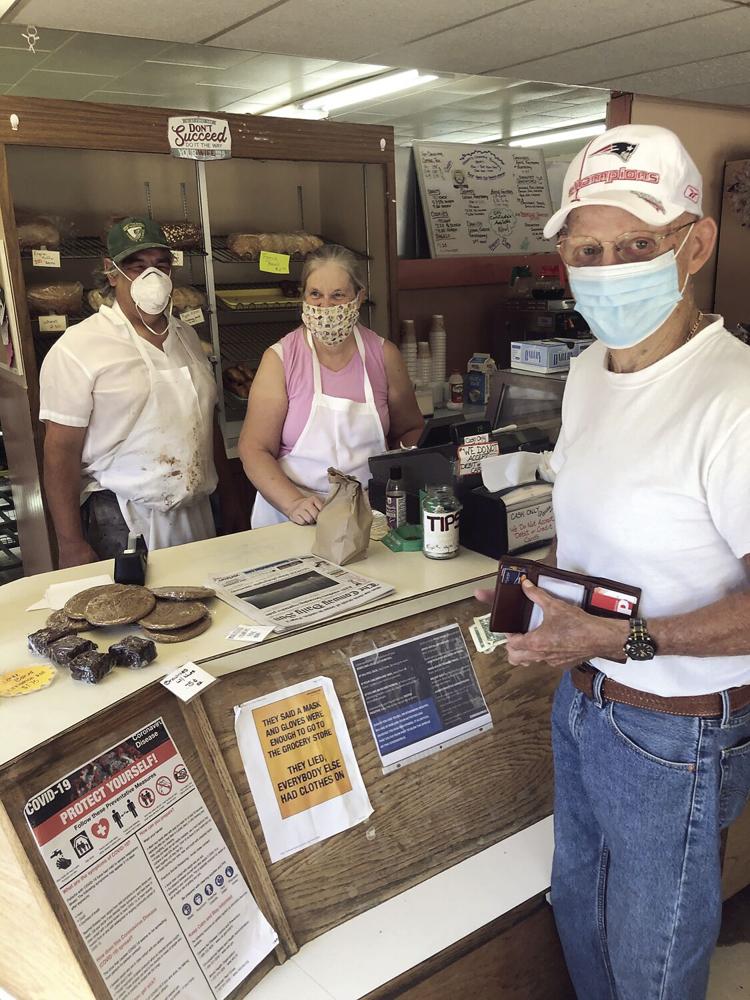 "I think for the most part, people are being pretty considerate," said former Selectman Ray Leavitt of Leavitt's, "but we have had a few incidents, mostly concerning our social distancing. We have signs on the outside of the bakery, limiting capacity to four persons at a time and to maintain a distance of at least 6 feet apart. We also allow only one person per group and recommend face covering."
One customer in particular at the start of the pandemic guidelines wanted to shake another customer's hand there in the tight confines of the small bakery.
"The other customer didn't want to do it, and kept saying 'no,' as he backed up. So, it got tense for a moment or two," said Leavitt, who said as time has gone by, he and his wife Beth have noticed a trend where fellow customers are educating one another on the need to wear a mask to protect everyone involved.
"There really has been more compliance over the past three to four weeks," said Leavitt.
More disturbing, however, was the feedback from Rachael Brown of Valley Auto Brokers, a car sales, rental and truck rental company located at the Glen Warehouse in Glen.
Brown reported an incident last week involving a pair of two young men in their 20s, one from New Jersey and another from Illinois. Neither were wearing masks when they came into her office. Brown offered both a mask. The man renting the car accepted, his friend who had driven him onto the site refused.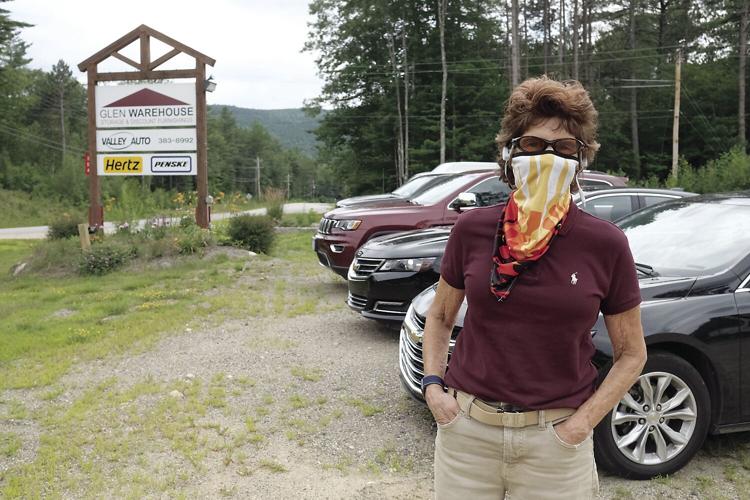 Brown said another customer, a local woman, was told by the man without the mask "your state doesn't require masks, so I don't have to wear one." A heated discussion followed, and then the woman felt uncomfortable receiving some "menacing looks.
That proved to be the last straw for Brown after a series of rude interactions that she says has been on the increase during the pandemic. "I have been cursed at, had keys thrown at me," she said.
Come August 17, she will no longer be renting Hertz cars, but she will continue her auto detailing, consignment auto sales and Penske truck rentals. After a few months' respite, she and Hertz have agreed to revisit the issue, but for now, she's taking a breather from the car rental business.
But with President Donald Trump this week finally embracing the practice of wearing masks, it appears that times are changing to a more cooperative attitude.
"When we first reopened in early May, when we made recommendations about people wearing masks, there was not a lot of cooperation," said Dot Seybold, general manager of Settlers Green. "But over the last week, I have received reports from a majority of stores that most people are wearing masks. We also give them out at the stores if they don't have them. Some people grumble, but people are cooperating."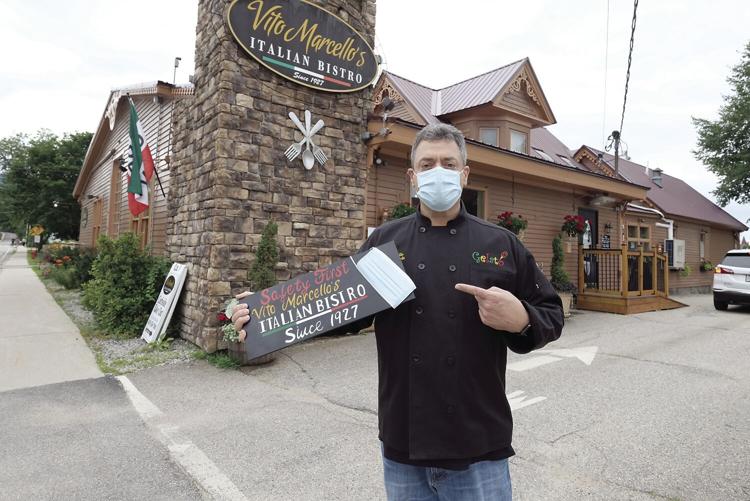 Restaurateurs Terry O'Brien of the Red Parka, Nora Mulkern Bean of the Shannon Door and Vito Marcello of Vito Marcello's Italian Bistro say that customers for the most part are understanding about the CDC and state guidelines. "I think people have been good. There were a few incidents of people grumbling off but not many," said O'Brien. Bean said one message she'd like to get out there is that staff have added responsibilities while performing their tasks, while wearing masks, and that it is extra work for everyone so "please be patient." Marcello said, "Wearing masks is common sense and a little common sense goes a long way."
Ray Boutin of Zeb's, Laura Cummings of White Birch Books, and Deb Jasien of Fields of Ambrosia said their customers have been respectful.
"People are just happy to be able to be out and doing stuff. We have masks for people who need them at the front of the store but most people are wearing them. There may have been one or two incidents of a masked customer feeling it was their job to point out to another the need to wear one but for the most part our guidelines have worked out very well," said Boutin of North Conway Village's popular tourist-oriented store.
Added Cummings, "Number one, we have amazing customers. We've had only one customer since we reopened n May who had a problem wearing a mask, threatening to sue us under ADA compliance — we just told him that we would be very happy to provide him with curbside service, thank you."
Fields of Ambrosia's Jasien said, like Cummings, the nature of their respective stores — one being a book store and the other being a creator of natural health products and oils — may help to draw a more socially enlightened customer base, leading to virtually no issues with masks and other protocols.
"Most of our customers I think show up with a strong eco-consciousness to begin with," said Jasien.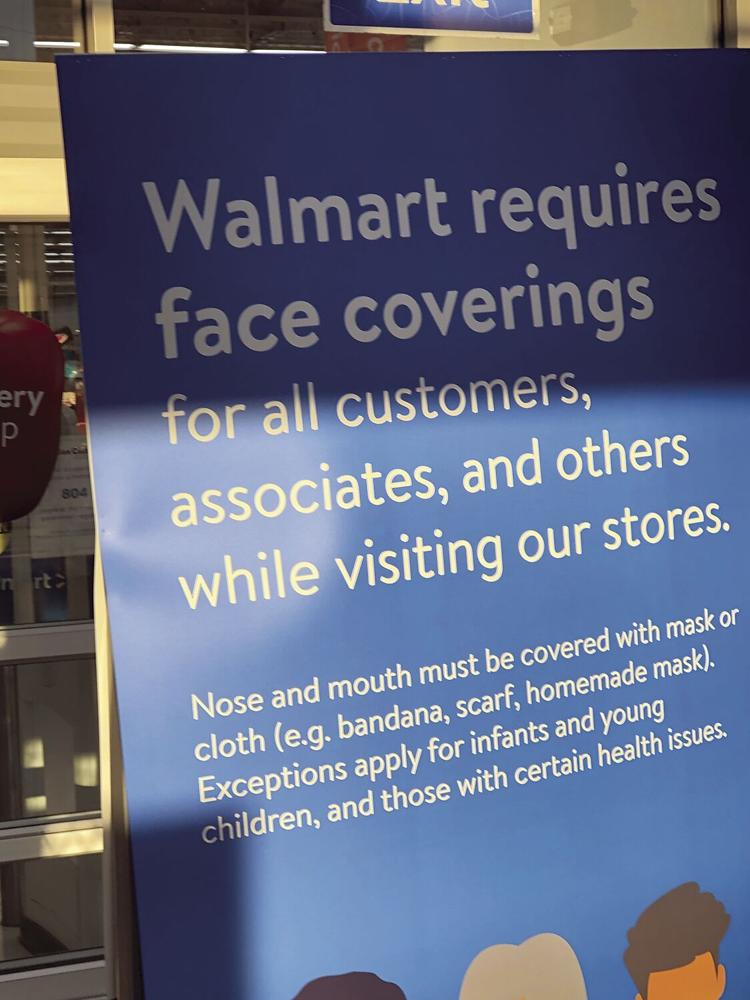 A positive sign of the times for growing acceptance of masks was the announcement by Walmart's corporate offices last week that beginning this past Monday, all store associates and customers would be required to wear face masks when in their stores.
That includes North Conway's Walmart Super Store, where customers were greeted outside this week by an associate who provided masks to those few customers who did not have one on when they arrived to shop.
"It's gone pretty well. Most people have masks but we have them," said one store associate this week.
Tuesday morning, interviews in the parking lot with a few shoppers did not illustrate any of that resistance, however.
The vacationing mother-and-daughter shopping duo of Jill Wood and daughter Cassie Wood, for example, said as a retired and active health care worker, respectively, they were pleased to see the store embrace the mandatory policy.
"Everyone should wear a mask," said Cassie, who is like her mother from Florida but who works at Brigham and Women's Hospital in Boston and now lives in Duxbury, Mass. as a traveling nurse. They were vacationing at Cassie's cabin in Madison. "It's important to wear a mask to protect everyone," added her mother, who is a retired nurse."
In the Granite State, where cases have been relatively stable, Gov. Chris Sununu on Tuesday said that in an effort to keep transmission rates in New Hampshire low, the state is launching a campaign to promote mask use. The public service announcements are targeted at people age 15-40 and will mostly appear on social media.
Sununu said the state is also working to make sure that people have access to masks. He said New Hampshire has hundreds of thousands of reusable cloth face coverings that it will be distributing through community action agencies, Health and Human Services district offices and school districts.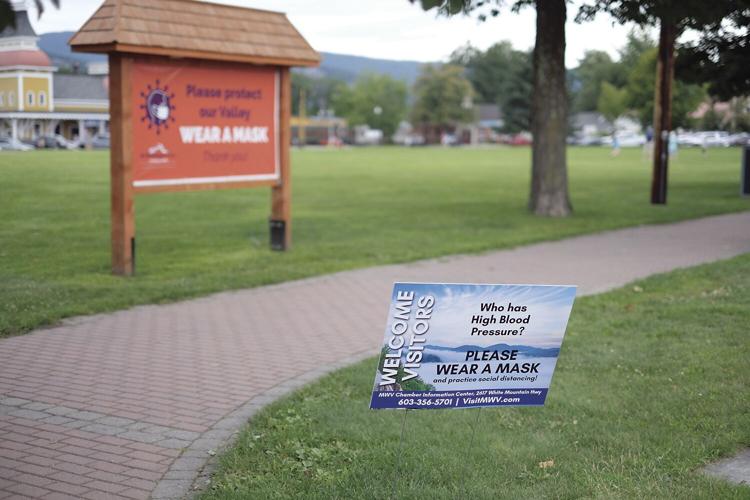 The governor said the program will help ensure that all residents and students have access to masks. As school districts develop plans for reopening in the fall, some are requiring that masks be worn, at least in some circumstances.
The Chamber of Commerce's Crawford says the chamber has had to adapt to its new roles, as have local organizations and businesses.
"Some people have felt it is not the chamber's role to educate. It is important to realize yes, the chamber's traditional role is to market — and if this was pre-COVID-19 I would absolutely would not have signs saying my wife's pregnant so please wear a mask — but we are nimble, Jack be quick, Jack jump over the COVID stick.
"The biggest message," she continued, "is we welcome you, we want you to come and enjoy our beautiful area — but you have to understand if we don't do this right and without your help, we may need to close down due to safety issues and nobody wants that and this does take everyone's cooperation."