CONWAY — The Kiwanis Club of Mount Washington Valley to release its 2021–22 Passport to Entertainment Coupon Book.
This Coupon Book provides an easy way for community members to help support Kiwanis and the local charities that MWV Kiwanis supports. Over one hundred local businesses have contributed coupons to support this effort.
On Wednesday, May 12, the new passbook will be introduced to the public with a rollout at the newly opened Ledge Brewing Company, located at 15 Town Hall Road in Intervale and then again at the "Wildquack Duck Race & Music Festival" in Jackson on Sunday, May 30.
Passbooks will be available at Ledge Brewing Co. 5 to 7 p.m. on May 12 and at the Jackson Duck Race from 10 a.m. to 4 p.m. at the lower fields across from Thorn Hill Road. Coupons are generally valid from June 1 to May 31, 2022.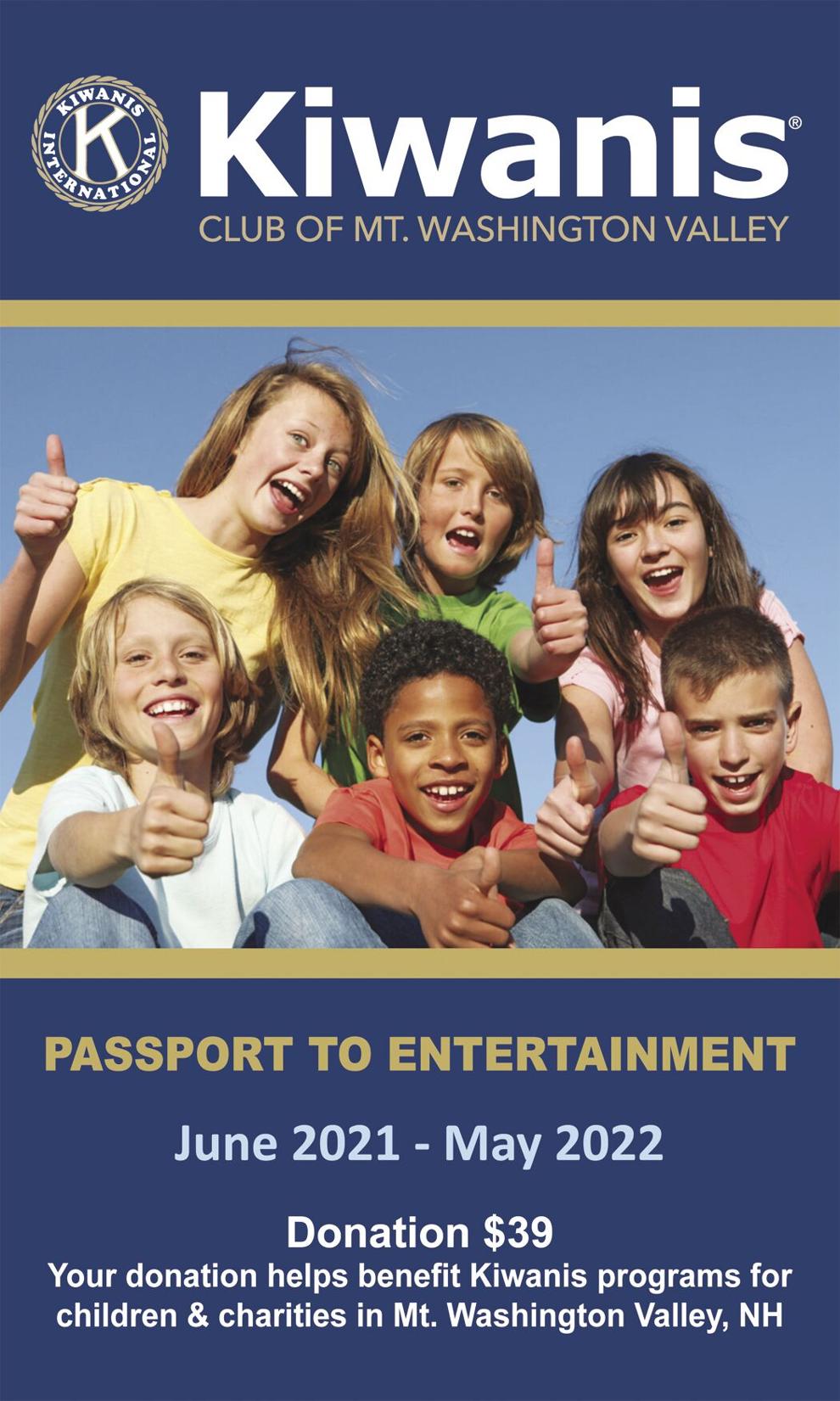 The Passport to Entertainment Coupon Book has been a mainstay of MWV Kiwanis fundraising for nearly three decades. This book has been published annually since 1992, except for last year's interruption due to COVID-19. In the early years, the coupons were mostly for local restaurants. The selection has grown to include golf courses, retail businesses, ski resorts, and other local attractions and activities in addition to restaurants.
Over the years, the passbook has grown to where the newest edition has 128 coupons. The price has been the same for the last several years. A $39 contribution provides up to $1,800 in coupon savings. More importantly, passbook sales enable the Kiwanis Club of Mt. Washington Valley to provide funding for nearly 50 child-related programs in the valley in support of the organization's mission.
The proceeds from the sales of these passbooks help MWV Kiwanis support their sponsored youth programs (Kiwanis K-Kids, Kiwanis Builders Clubs, and Kennett High School Key Club), provide local scholarships and camperships, and support other community non-profits such as Jen's Friends, MWV Kiwanis Children's Dental Program, Starting Point, Shooting Star Fund, Children Unlimited, Youth Sports Leagues, Literacy Programs, North Conway Community Center, Kids Bike Safety Day, End 68 Hours of Hunger, Read Today Lead Tomorrow, and others.
If you can't make it to one of the rollouts, Passport to Entertainment Coupon books can be obtained from any MWV Kiwanis member. Additionally, passbooks can be obtained at TD Bank North Conway, TD Bank Mountain Valley Mall, J-Town Deli in Jackson, Bart's Deli in Bartlett, and Glen Beverage in Glen. They will be available for sale beginning May 8, 2021 until they are sold out.
For more information about the Kiwanis Club of Mt. Washington Valley and the charities it supports, go to mwvkiwanis.org or to the Kiwanis Club of Mt. Washington Valley Facebook page.