Mary Elizabeth (Valeri) Simpson, 92, of Saugus, Mass., wife and soul mate of the late Cary F. Simpson, passed away peacefully on Saturday, Jan. 8, 2022, at Melrose Wakefield Hospital after a brief, unexpected illness. She was surrounded by her loving family.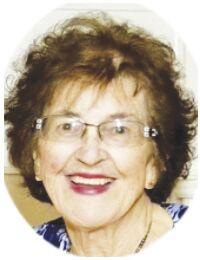 Mary was born in Revere on Sept. 19, 1929, one of seven children of the late Arcangelo and Assunta Valeri. She was raised in North Revere, Mass., and graduated from Revere High School in 1947 and Boston School of Dental Nursing in 1948.
She married Cary F. Simpson of Lynnfield, Mass., on June 6, 1954. Together, they made their home in Saugus and raised six children for nearly 67 years. She was a force of life who radiated good cheer and happiness.
She was an amazing mom who taught by her example solid family values. She was devoted to her family, her Italian heritage, and faith in God. Her loving spirit touched and uplifted everyone she met. She was a wonderful cook, baker, cake decorator and gardener. She loved her home and kitchen, playing bingo and pokeno, word games and puzzles — "not those easy ones!" She always had a song to sing and music in her heart. She loved Elvis most of all and passed away coincidentally on the King's birthday.
Mary is survived by five of her six children, daughters Diane Hanley and her husband, Walter, of North Reading, Mass.; Patricia DeSantis and her husband, Gerry, of Ipswich, Mass.; Teresa Panopoulas and her longtime partner, Jay McLaughlin, of Fryeburg, Maine; and her sons, George Simpson and his fiancé, Kris Swible, of Saugus; Cary Simpson Jr. and his wife, Edie, of Madison, N.H.; grandchildren, Christopher, Kadie, Julianne, Justine, Sara, Joseph, Michael, Meagan and Cary III "Tre"; and great-grandchildren, Giovanni, CJ, Marshall, Cameron, Dustin and Sydney; a dear sister Dolly Valerio; and many nieces and nephews.
Besides her husband Mary is also predeceased by her daughter Valerie whom she cherished; three brothers, Alfred, Lorrie and Carmen Valeri; and two sisters, Sandy Shinay and Margaret Castinetti; and her sister-in-law and friend Barbara Valeri.
In lieu of flowers, donations may be made to Communitas (formerly EMARC) @ communitasma.org.
Relatives and friends are invited to attend visiting hours in the Bisbee-Porcella Funeral Home, 549 Lincoln Ave., Saugus on Thursday from 4 to 7 p.m.
A funeral will be held from the funeral home on Friday at 9 a.m. followed by a funeral Mass in St. Margaret Church, 431 Lincoln Ave., Saugus at 10 a.m. Interment at Riverside Cemetery in Saugus.
To send flowers to the family or plant a tree in memory of Mary E. (Valeri) Simpson, go to tinyurl.com/5efac8j9.