In an era in which the term "fake news" is regularly applied to real news stories, it is even more important to take a look at "Shattered Glass."
The film is the true story of Stephen Glass, a young journalist that fabricated dozens of stories while working at The New Republic and freelancing for publications like George, Rolling Stone and others.
"Based on a true story" is often a dubious tag, as films tend to exaggerate, change or omit details for dramatic effect. But "Shattered Glass," which deserves to stand alongside "All the President's Men" as a great journalism film, hews remarkably close to the bizarre series of events that led to Glass being found out.
Set in 1998, "Shattered Glass" chronicles the story that finally took Glass (Hayden Christensen) down: a complete work of fiction about a hacking convention. When Forbes.com attempted to run a followup, it was quickly discovered none of the people, places and events in the story existed.
Glass went to great lengths to cover his lies, including creating fake voicemails, business cards, a newsletter and a website. When dragged to the supposed location of the convention by his editor Chuck Lane (Peter Sarsgaard), he made up lies on the spot. In truth, it was his first time in the building.
Glass knew how to subvert the fact-checking system, and his stories published because they were colorful, vivid and entertaining. His stories were outrageous, but Glass presented them to his fellow editors in a way that seemed credible.
Beyond working the system, Glass also ingratiated himself with his co-workers. He was charming and would dynamically sell his stories in pitch meetings. But Glass was also self-deprecating and used passive aggressive language like, "Are you mad at me?" when questioned. He had many of his co-workers on his side, even crying on their shoulders as he continued to spin lie after lie.
There's a "60 Minutes" interview that appears on the DVD for "Shattered Glass" in which Glass explains exactly how he got away with it.
"I would tell a story and there would be fact A, which maybe was true, and then there would be fact B, which was sort of partially true, partially fabricated. Then there would be fact C, which was more fabricated and almost no truth, and then fact D would be a complete whopper and totally not true. So people would be with me in these stories through fact A and B, which would lead me to C, and then at D they were still believing me."
I regularly think of that quote. It is the perfect explanation of how we get duped by a lot of false stories, especially those shared on social media. If something starts with a kernel truth, you're willing to accept it, especially if it fits your personal worldviews. This is confirmation bias.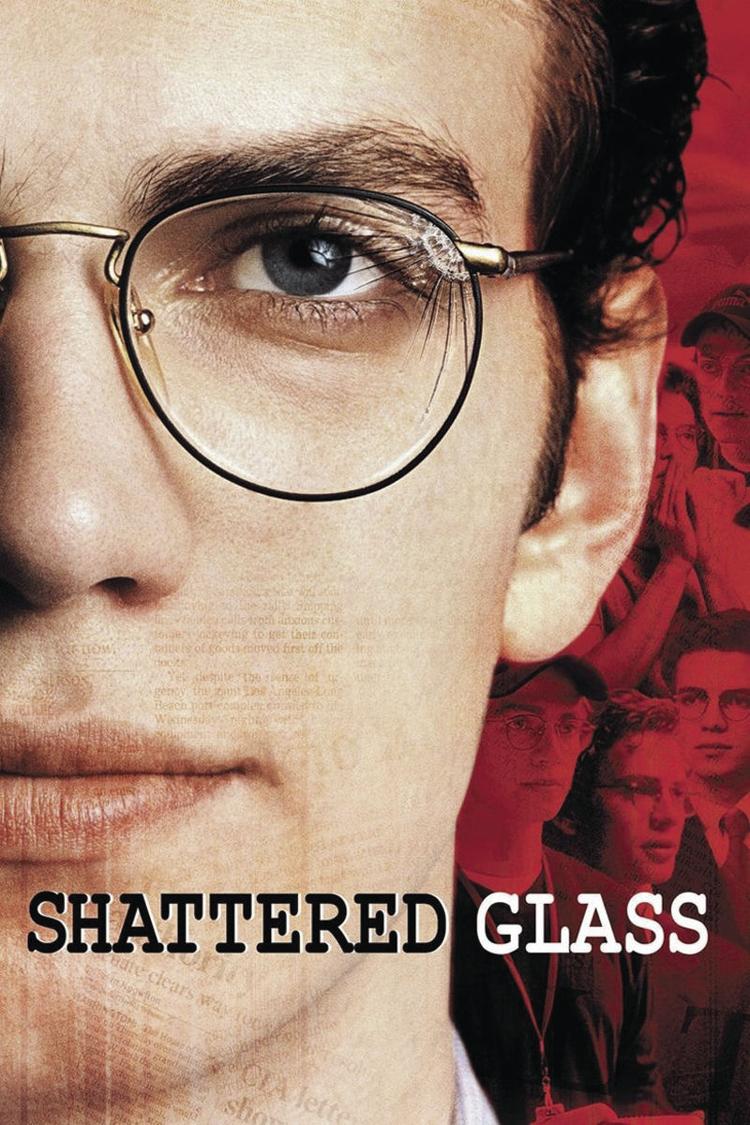 Today, with the 24-hour news cycle, it is even easier for inaccurate stories to be published. There's the constant need to be first, and so fact checking often falls to the wayside. Suddenly, something is out in the world that isn't 100 percent accurate, and it has gone viral. It is much harder to roll back an article that has a partial or complete falsehood in it than it was in 1998.
And this is why it is important to watch or rewatch "Shattered Glass." It is a reminder to be skeptical, to be curious and question what you read. If it seems too good to be true, it probably is.
Released in 2003, "Shattered Glass" received strong reviews and even some awards for Sarsgaard, but quickly fell into obscurity. Like a lot of smaller films, it received a limited release only opening at eight theaters and eventually expanding to 215. If a film does exceptionally well in a limited release, it has the potential to expand to a wide release.
It is hard to say why "Shattered Glass" didn't break out. It's star Hayden Christensen may have, unfortunately, been a factor. The film came out after "Star Wars: Episode II — Attack of the Clones," in which both critics and fans were not kind to Christensen.
Christensen is great though, especially after seeing footage of the real Glass. He makes Glass charismatic, but also pathetic. As the film goes on, Christensen's performance begins to feel more and more like that of a narcissistic sociopath. He makes Glass get under your skin.
Sarsgaard is equally terrific as the editor who finally calls him out. His final burn to Glass is perfection.
The cast is loaded with notable names, including Hank Azaria, Steve Zahn, Rosario Dawson and Chloë Sevigny. Zahn and Azaria in small roles do some of their best dramatic work.
Written and directed by Billy Ray, who would go on to write films like "Captain Phillips," the film creates a genuine sense of suspense and anxiety even after multiple viewings.
I saw "Shattered Glass" for the first time as part of a collegiate journalism convention. Seeing it as a young journalist in training, the film had a profound effect on me. Years later, it is fair to say it is the source of my strong journalistic moral code.
A newspaper, magazine, website or whatever platform should strive to publish the truth. That isn't always easy, but you keep fighting the good fight and hope people notice.
"Shattered Glass" is available for digital rental and purchase. It is currently on sale for digital purchase for $4.99 on Vudu and Amazon and the DVD is easy to find.