CONWAY — 1st District Congressman Chris Pappas (D-Manchester) got what he was hoping for on Thursday when learned he has been assigned to the House Committee on Transportation and Infrastructure as well as the House Committee on Veterans' Affairs.
Pappas, 38, who won the 1st congressional district seat in November, said by phone last week he requested to be on the transportation committee, the armed services committee or the veterans affairs committee.
Each rep is assigned to two committees.
"I wanted to be on committees relative to this district where I could put the spotlight on issues or proposals that would help the people of New Hampshire," he said by phone.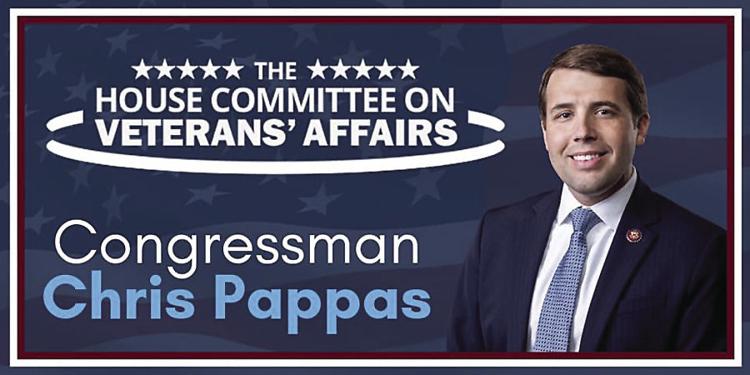 Pappas in a release Thursday said addressing New Hampshire's infrastructure needs and improving services to veterans will be his top priorities over the next two years.
"Our state deserves a seat at the table as Congress considers a surface transportation bill and making significant investments in our nation's roads, railways, airports, and water systems," Pappas said on the Transportation and Infrastructure Committee assignment. "I look forward to serving on this important committee and working across the aisle so we can move forward on our shared objectives."
"I am determined to speak up for New Hampshire veterans in Congress, and serving as a member of the House Veterans' Affairs Committee will provide an ability to deliver results," said Pappas on the Committee on Veterans' Affairs assignment. "Our veterans and military families deserve our unwavering support for their service and sacrifice. We must do more to ensure our government is living up to the sacred promises it has made. I'm eager to work with New Hampshire's veterans community to expand access to services and benefits, fight for additional resources for our state from the Department of Veterans Affairs, and hear from veterans across the district about how we can best meet their needs. I'm ready to work with members of Congress from both parties to get the job done."
The House Committee on Transportation and Infrastructure jurisdiction, according to the release, includes "legislation and oversight of the United States Coast Guard; federal emergency management; clean water and wastewater safety through the Environmental Protection Agency; flood control and improvement of rivers and harbors; inland waterways; pollution of navigable waters; merchant marine inspection; pilot navigation; boat licensing and registration; the Capitol Building and Congressional Office Buildings; construction, reconstruction, and maintenance of roads, buildings, bridges, railroads, and other transportation infrastructure; and the Department of Transportation (including Amtrak and the U.S. Army Corps of Engineers)."
The House Committee on Veterans' Affairs jurisdiction includes "legislation and oversight of general veterans measures; veterans medical care; compensation, vocational rehabilitation, and education of veterans; life insurance, pensions, and civil relief for service members, readjustment of service members to civilian life and cemeteries where any veteran of war or conflict is buried."
Also on Thursday, Pappas voted for House Joint Resolution 30, a measure to formally disapprove of the Trump administration's decision to lift sanctions against three Russian companies connected to Oleg Deripaska, a Russian oligarch and trusted agent of Vladimir Putin.
The resolution was adopted in the House with an overwhelming bipartisan majority of 362-53.
Pappas issued the following statement:
"The Trump Administration's perpetual interest in lifting Russian sanctions is incredibly concerning.
He continued: "As a violator of human rights and a hostile foreign power that tried to influence our presidential election, there is no good reason for us to ease up on Vladimir Putin or his closely-held oligarchs and agents. Today I voted to keep America safe from the oppositional interests of our foreign adversaries by joining with a broad, bipartisan majority to oppose lifting the sanctions. In the absence of the Administration's good judgement, Congress must continue to step in and act to protect American interests."