Robert Hodge, 91, of Freedom, N.H., passed away Thursday, July 4, 2019.
He was born May 13, 1928, in Center Ossipee, N.H., the son of Elwood Hodge and Rachel (Merrow) Vittum.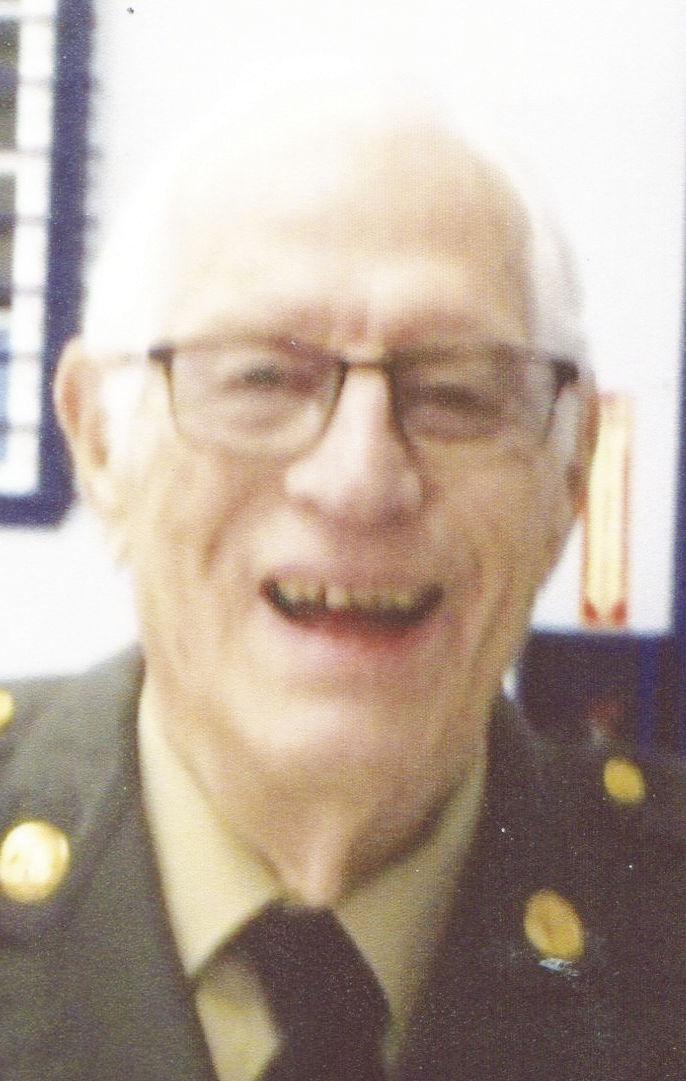 Robert was raised by Rachel and Merton C. Vittum in Center Ossipee, where he graduated from the Ossipee High School, Center Ossipee, NH and later became a Licensed Practical Nurse at the Walter Reed Army Hospital. He later attended Hesser College and New Hampshire College
Robert served in the Army retiring after 22 years of service earning the rank of Master Sargent. He was awarded the Bronze Medal for the rank of First Sergeant of the 93 Evac Hospital in Vietnam.
Following his service to his country, Bob worked in the Emergency Department at Huggins Hospital in Wolfeboro, N.H, for 22 years and later worked for Dr. George Costello of Wolfeboro for 10 years.
To this day, people would comment on how great he was as a nurse at Huggins Hospital and with Dr. Costello. He was always calm, kind and gentle.
He was active all his life. He enjoyed fishing and learned how to tie his own flies for fly fishing. He enjoyed hiking with his family. He was an amazing husband, father, grandfather and great grandfather.
He was a member of the Forget Me Not Masonic Lodge in Germany and the York Rite in Kentucky as well as the Bektash Shriners.
He is survived by his loving wife of 63 years, Patricia (Godfrey) Hodge; five daughters, Kimberly Jewell and her husband, Gary; Karole Knapton and her husband, Robert Graffam; Karrie Buttrick and her husband, Brandon; Kellie Skehan; and Karen Knapton and her husband, Greg, 16 grandchildren and their spouses; 16 great-grandchildren.
He also leaves behind his sisters, Natalie hall; Paula Hamel and her husband, William; Fern Ames; Laura Hodge; and Joanne White and her husband John; his brothers, Greg Hodge; and Elwood Hodge and his wife, Debbie; and a sister-in-law, Nancy Vittum; many cousins, nieces and nephews.
Bob is predeceased by his father, Elwood Hodge and his mother, Rachel (Merrow) Vittum and her husband, Merton "Hop" Vittum. His brothers, Norman Vittum and Warren Vittum; sisters, Marie Sterling, June Abbott and Edith Eldridge; by a grandson, Glenn Buttrick; a granddaughter, Laura Jewell; son-in-laws, Joseph G. Skehan, Jr. and William Lucy.
Calling hours will be Tuesday, July 9, from 6 to 8 p.m. at Lord Funeral Home at 50 Moultonville Road in Center Ossipee.
Graveside services will be held at 11 a.m. on Wednesday, July 10, in the Lakeview Cemetery in Freedom.
In lieu of flowers, make a donation in his memory to the Rodney A. White, VFW Auxiliary Post No. 8270, Center Ossipee, NH 03814.
If you wish to express a condolence or leave a fond memory, go to lordfuneralhome.com.