CONWAY — Sanctuary ATC held a ribbon-cutting ceremony in Conway Village on Monday to celebrate the opening of the dispensary, which provides therapeutic cannabis products to New Hampshire residents with medical marijuana cards.
About two dozen people attended the ceremony at 234 White Mountain Highway in Shur-Fine Plaza, including owners and staff at the Conway dispensary and Sanctuary's Rochester cultivation site, as well as some patients and caregivers using the facility, which started serving patients July 6.
A total of about 2,200 patients use both facilities.
Only staff and registered therapeutic card-holders are allowed inside medical marijuana dispensaries in New Hampshire, so the ceremony was held outside the facility, which is located in the former Citizens Bank.
Owners of Sanctuary, which also owns a dispensary in Plymouth, say the new facility will make life easier for patients in the northern half of the state who depend on cannabinoid products — which include THC and CBD — to treat pain and anxiety.
"We're helping a lot of people, and the program is continuing to expand," said said Sanctuary CEO Jason Sidman, who owns the company along with CFO Joshua Weaver and Dr. David Syrek, medical director.
"We want to continue to develop new products, new strains, and really, we're 100 percent patient focused and we'll do whatever we can to make the program better than it is today," Sidman said.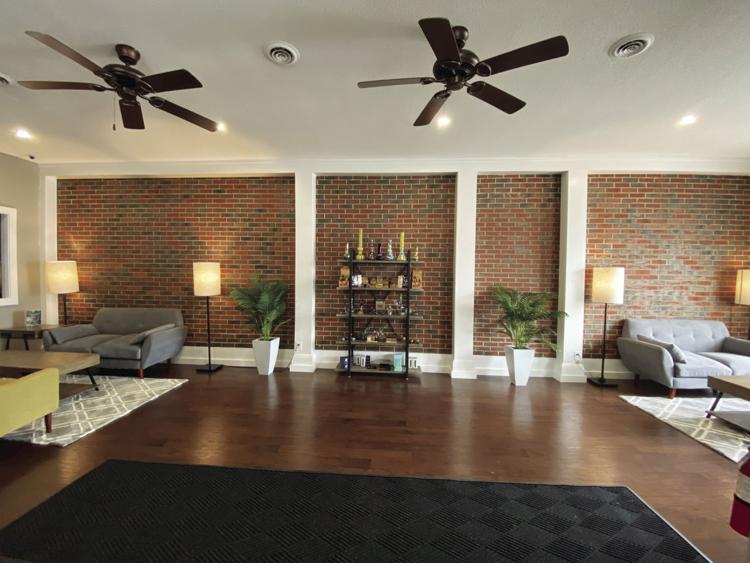 Sanctuary ATC is one of three companies allowed to run therapeutic cannabis dispensaries in the state. The others are Prime Alternative Treatment Centers in Merrimack and Temescal Wellness in Dover and Lebanon.
Since starting in New Hampshire, Sanctuary has expanded its operations with facilities in Massachusetts and Florida as well.
Sanctuary was the first business to open a dispensary in the state (in Plymouth) in 2016. It also was awarded the northernmost and largest zone in the state for dispensing medical marijuana.
The zone is basically "north of Portsmouth, across Winnipesaukee, over to Dartmouth Hitchcock and all the way north," said Sidman.
Several patients called the new dispensary a godsend.
Dennis Quinn of Tamworth, who uses therapeutic cannabis for his chronic pain from degenerative arthritis, said the new Conway facility saves him an hour and a half of driving each month.
Another person drove down from the Berlin area.
"For a lot of patients with chronic pain or sciatica, being in a car for three hours can be very painful," said Syrek. "You see them get out of their car and you just feel for them.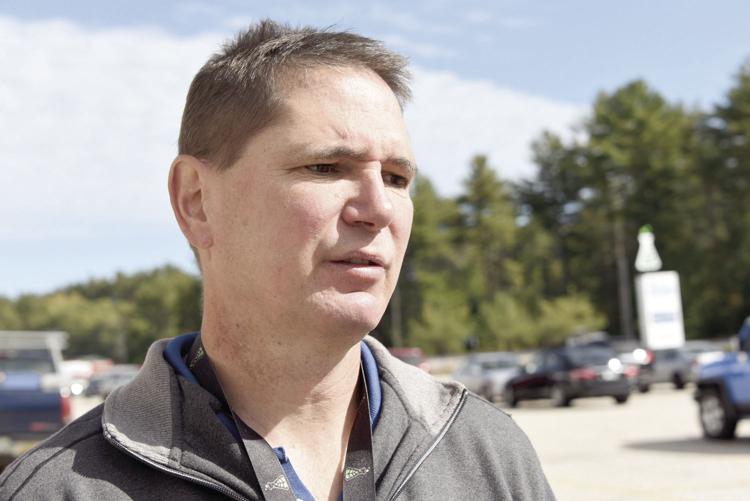 "So opening a location here really cuts back on that commute. They can get their medicine in as little as 10 or 15 minutes if they're local versus three hours (of driving).
"Even up north in Berlin, to get to Plymouth is a good hour and a half. This location really helps them as well," he said.
"We have to thank (New Hampshire Department of Health and Human Services) because they're the one that allowed us to have a satellite station here," Syrek said.
The state has a list of medical conditions that qualifies a person to get a medical marijuana card. It includes chronic pain from injuries, neurological disorders like multiple sclerosis, Parkinson's and Alzheimer's disease, cancer, HIV and post-traumatic stress disorder. The state is considering expanding the list to include such things as sleep disorders and opioid addiction treatment.
"I think probably the No. 1 is chronic pain," said Syrek.
Overseeing growing and processing of products for both Sanctuary dispensaries at the company's Rochester facility is Sean Gamsjager.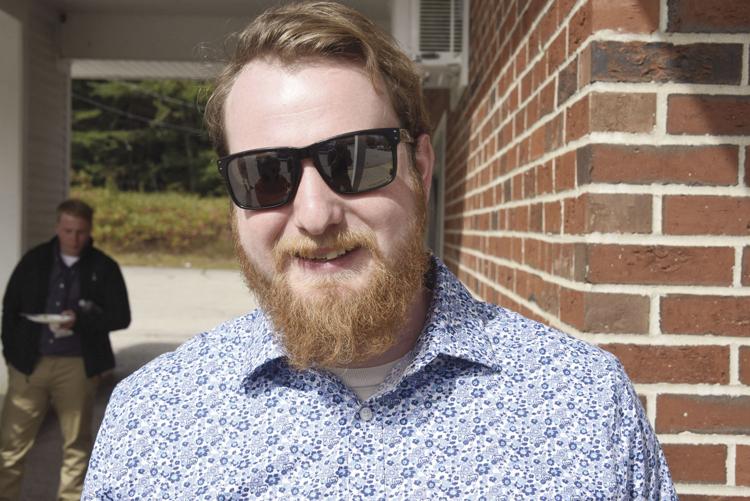 "At the cultivation site we grow, harvest, trim, all that — but we also package all of our products into their respective products with labeling, so when it gets transported here, its ready to go onto the shelves as soon as it arrives," he said.
Batches of harvested marijuana and processed products, which include everything from tinctures, oils and salves to baked goods and candies are sent to Nelson Analytical in Manchester, which tests cannabis for all cultivation companies in New Hampshire.
The dispensary's products can contain either CBD or THC, the psychoactive ingredient in marijuana, or both.
Syrek said THC products shouldn't be demonized. "THC is good for pain," he said, adding, "We have also non-psychoactive CBD, and the combination of THC and CBD, which a lot of our patients really like in low doses, is really anti-inflammatory, so that helps with what you see in chronic pain and neurologic disorders."
There are also vape products, and although problems related to vaping have been reported nationwide, including severe lung illnesses and some deaths, Syrek said those problems have to do with adulterants that have been added to cartridges, often to make the THC last longer.
"Ours is pure cannabis oil; there's no other constituents, it's very safe, no adulterants," he said.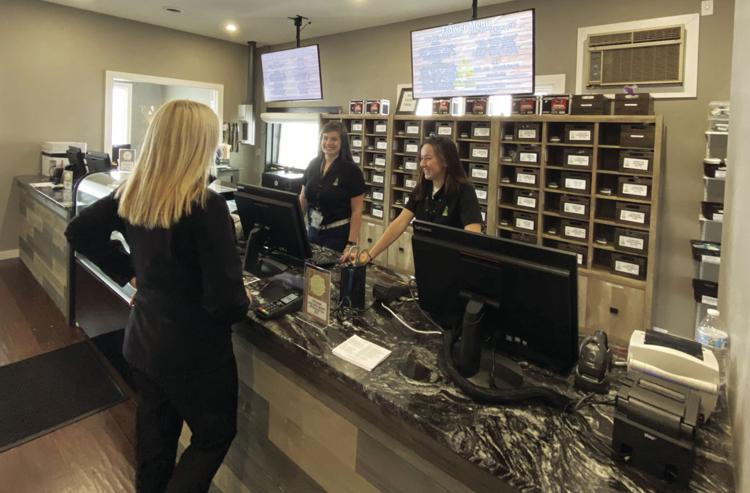 In New Hampshire, patients must be certified by a physician or other medical provider to be able to buy cannabis and must designate a dispensary at which they will pick up their medicine.
Karen Davenport, a patient from Bartlett, uses cannabis because of a traumatic brain injury. She plans to move from the Dover dispensary to the new one in Conway. At Sanctuary, she said, "they have more options, it's cheaper, it's convenient and it's less corporate."
"I think in this day and age, if anyone wants to use cannabis medically, it's a fantastic option to opiates, and even Aleve and things like that," she said.
"You can ingest THC and not even really feel it," she added, "and you can certainly have CBD and have no side effects whatsoever."
Davenport, who owns Davenport and Barr Inc. in Intervale, along with her husband Mike Davenport and son David Barr, said she plans to begin offering cannabis consulting for cardholders to help them know what different products are out there and pick one that is right for them.
"You get a medical card, you go to Sanctuary or some other place, you don't know what to buy," said Mike Davenport. "One of the best things you can do is have someone you can talk about the options."
According to Forest Steinberg, manager of the dispensary: "Our biggest issue right now is the lack of knowledge within the physician spectrum, whether that's APRNs (nurse practitioners), physician assistants or MDs — they just don't know enough.
"So we have a lot of patients who, on their own, for free, on Facebook, on support groups online, will just help people navigate the program, but at the same time, we need more of that," she said.
Steinberg said many doctors are still reluctant to certify individuals to get therapeutic cannabis and said Sanctuary works to educate them along with state legislators about its benefits.
Among legislative changes that Steinberg — who earned a master's degree in clinical mental health counseling with a certificate in addictions treatment — is excited about is that patients will no longer be required to wait three months to get medical marijuana cards.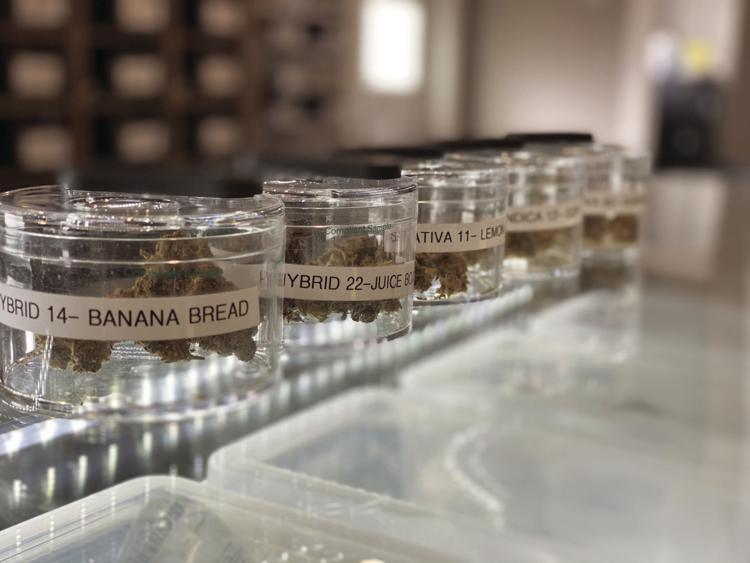 Being able to get certified within one visit, she said, "is drastically important, because that means, let's say you get injured, you've never taken opiates before, you now have an option — I have goosebumps — you have an option now to never touch opiates, which are the most addicting.
"You have the option to say, 'I'd prefer to use cannabis.' It is much safer and you have much more guidance along the way," Steinberg said.
Asked if Sanctuary was considering opening additional dispensaries, Sidman said, "That would be fantastic, but the state only legislatively approved four licenses."
Rather than allowing additional dispensaries, Sidman said the state should consider allowing dispensaries to deliver directly to patients, as is legal in Massachusetts.
"We would do it; we would deliver," Sidman said. "I think that makes logical sense."
To learn more about Sanctuary ATC, call (603) 662-0113 or go to sanctuaryatc.org.
To learn how to qualify for a therapeutic cannabis card, go to the state Department of Health and Human Services website at tinyurl.com/y2x48h6w or talk to your primary care provider.