Richard Lewis VanDyne, 92, of Madison, N.H., went home to be with his Lord and Savior Jesus Christ at 1:30 a.m. on June 6, 2021, after a sudden illness. Dick was born on Nov. 18, 1928, in Trenton, N.J., to the late Genevieve (Lewis) and Joseph Archibald VanDyne.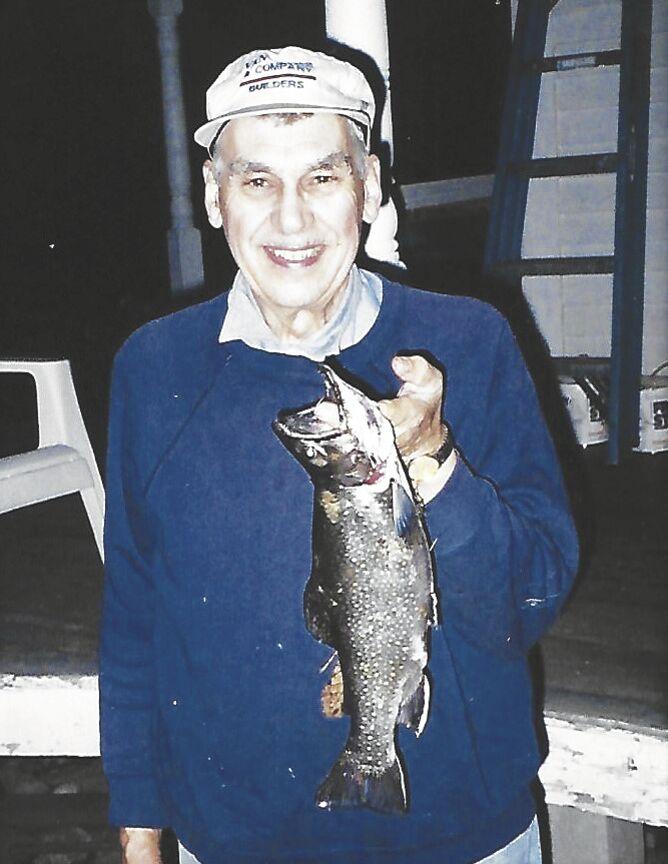 In 1934, at the age of 6, his family moved from Trenton to Chester, N.H. In 1942, an opportunity arose for his parents to purchase the former Robert Frost homestead in Derry. His mother renamed the farm "Frosty Acres." Dick attended Pinkerton Academy and graduated in 1947.
In his junior year there, he was selected as Future Farmer of America for the entire state of New Hampshire. Following graduation from Pinkerton Academy, he attended and graduated from the Thompson School at UNH in 1949 with a degree in agriculture.
After graduating from the Thompson School, he moved to Peterborough, New Hampshire and was employed by Nedlar Poultry Farms, specializing in genetic poultry production. It was during that time that he met his wife-to-be, Shirley Chamberlain. They were married in November 1949 after a short six-month courtship, and most recently celebrated their 71st wedding anniversary.
In November 1951, he entered the Navy as a Seaman trained in radio communications. He would send Shirley letters in Morse Code, which she would then have to decipher using the Boy Scout Handbook. While in the Navy, he was stationed on the USS Palau.
While on the USS Palau he was asked to make coffee one morning and inadvertently used the ship's ocean water input faucet instead of the freshwater faucet. He was never asked to make coffee again! He was honorably discharged from the Navy in November 1952 to take care of the farm back in Derry, due to his father's failing health.
After his father's death, he and Shirley moved back to Peterborough where he changed careers and took a job as a teller at First National Bank of Peterborough in 1953. Over the next 19 years, he rose from teller to Treasurer of First National Bank of Peterborough.
In 1972, he accepted an offer from North Conway Bank and the family moved from Peterborough to North Conway. He worked as Cashier and Trust/Investment Officer of North Conway Bank, before retiring in 1986.
After retirement, Dick worked at several part-time jobs in the Mount Washington Valley over the years, including Friendly's and Darby Field Inn. He loved to be outdoors his entire life, whether it was working in the woods, raking, chopping down trees, or puttering in the garden. He was an avid reader, specifically the Bible and books on history. He also enjoyed fishing.
In the early 1960s, he and his brother-in-law snowshoed to the summit of Mount Monadnock every Washington's Birthday, regardless of the weather. Those who knew him closely knew he was a great collector of granite slabs — some weighing hundreds of pounds — which he would move using only a crowbar and some slabs of wood. He and his brother, Bud, built a rustic camp on Iona Lake, using only hand tools, which the family enjoyed for over 50 years.
He loved to pick blueberries. He always rooted for all the New England sports teams. He supported his kids, whether in sports or in life. He was always engaged, fair, and ready to provide honest and heartfelt feedback. His adoration and respect for Shirley was evident in all that he did — he loved her more than life, and she felt the same for him.
Dick volunteered his time and services for many, many organizations over his lifetime including the Boy Scouts, Indian Guides, Red Cross, Tin Mountain Conservation, North Conway Community Center, including Mud Bowl and the Volvo International Tennis Tournament, the Town of Albany and the Albany Conservation Committee, as well as Bloodmobile (where he had donated over 20 gallons of blood over the years).
He and Shirley were active members of First Baptist Church for almost 30 years, they were active in SOWERS (Servants On Wheels Ever Ready) for 10 years. SOWERS is a Christian RV mission organization that organizes and schedules volunteers at churches and Christian schools across the country. Dick and Shirl both volunteered at the Memorial Hospital, served summers as HandiCamp counselors for handicapped children at the Ark in Jaffrey, N.H., among others too numerous to mention.
Dick is survived by Shirley, his wife of 71 years; his daughter Stephanie; his sons, Jonathan (Peg), Scott (Renee), Tracy (Cathy) and Jay (Julie). He is also survived by grandchildren, Amber, Jessica, Tyler, Chloe, Nadia and Vanessa; seven great-grandchildren; one great-great grandchild; and nieces and nephews. He is also survived by his sister Shirley Gill of Virginia. He was predeceased by his parents and his brother Bud.
As you can imagine, trying to keep Dick/Dad/Poppa's obituary to two or three paragraphs has been an impossible task. He was a very humble, quiet, loving man, and his shoes will be impossible to fill. He has left a huge void in our lives, but we are thankful to God that His Word promises that as Believers we will be reunited in Heaven one of these days. Death is not an ending, but a beginning to new life — without suffering, pain or tears. A new life with a new body, joyfully praising God in His holy presence for eternity.
The funeral will be held on Saturday, June 19, at 2 p.m. at the First Baptist Church in North Conway, N.H., across from Schouler Park. It will also be televised on the church's YouTube channel at FBCNorthConway for those who are not able to attend. Donations in Dick's memory may be made to the First Baptist Church, P.O. Box 600, North Conway, NH 03860.