Ralph Weymouth, a retired Vice Admiral who was the oldest living graduate of the United States Naval Academy, a much-decorated officer who served in World War II, the Korean War, and the Vietnam War, and a peace activist, died at age 102 in Rockport, Maine, on Jan. 22, 2020.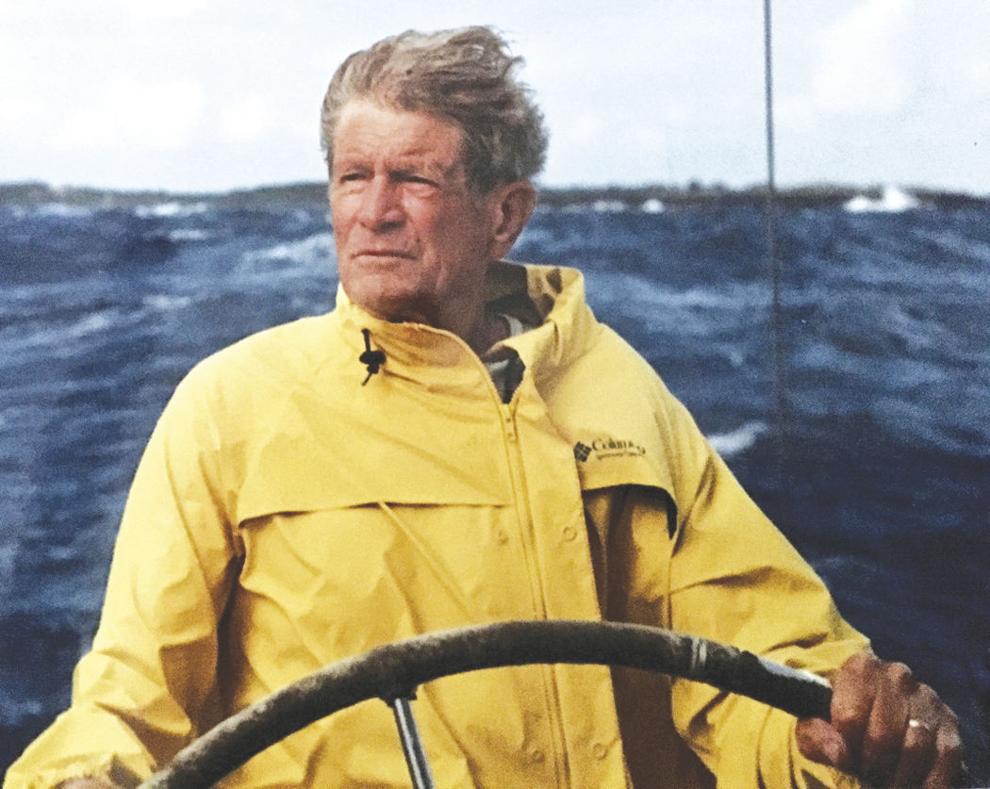 A resident of Wonalancet, N.H., since 1975, Weymouth had recently relocated to Owls Head, Maine, to spend his final days near the sea, on Penobscot Bay.
For his service, Admiral Weymouth was awarded the Navy Cross, Distinguished Flying Cross (four times), French Legion of Honor, Legion of Merit (twice), Bronze Star, Icelandic White Falcon, several air medals, and many other decorations during a distinguished military career.
Graduating from the United States Naval Academy in 1938, Weymouth served as a pilot and as Commanding Officer of VB-16, a squadron of 36 dive bombers in the Pacific Theater of World War II. He flew carrier missions from Pearl Harbor to the First Battle of the Philippine Sea, a major naval battle in 1944. That conflict included the "Mission Beyond Darkness," a daring aerial attack on the Japanese fleet that sank three carriers and several other ships. For his leadership during the battle, Weymouth was awarded the Navy Cross for extraordinary heroism.
During the Korean War, Weymouth commanded Carrier Air Group 11 and served as the naval representative to the Joint Operations Center of the Fifth Air Force and the Eighth Army. In the Vietnam War, he commanded Anti-Submarine Warfare Group 3 in support duties in the Tonkin Gulf.
Weymouth's other military duties included post-graduate studies in aeronautical engineering at the Massachusetts Institute of Technology and two years as commander of the Iceland Defense Force. His final Navy post was as Director of Research, Development, Test, and Evaluation for the Chief of Naval Operations.
After retiring from the Navy in 1973, Weymouth pursued interests in political, civic, and military affairs. He was a founding member of Veterans for Peace, an organization which promotes alternatives to war, and was a vocal anti-nuclear campaigner and environmental conservationist.
He spent much time sailing on Katrinka, his 48-foot sloop; preserving wilderness trails in and around his Wonalancet, N.H. home; and visiting his extended family, especially at a family home in Brittany, France. He was also known for working on numerous construction projects with his grandchildren and young neighbors, from building canoes to tree houses.
His many friends and family often said he left everything better than he found it, from hiking trails to a conversation. He was an inspiration to all who knew him with his example of thoughtful, gentle, and patient ways.
Ralph Weymouth was born on May 26, 1917, in Seattle, Wash. In 1940, he married Laure (Lo) Bouchage who preceded him in death in 2009. In 2012, he married Diana Beliard, who died in 2018.
He is survived by seven children, one stepdaughter, 18 grandchildren, and 10 great-grandchildren. A daughter, Reine-Anne, died in November 2019.
Donations in his honor may be made to the Natural Resources Defense Council or to the Lakes Region Conservation Trust.
A memorial service in his honor is planned for the communities of Wonalancet and Tamworth, N.H., in summer 2020.