Kimberley Elliott Tibbetts died peacefully surrounded by her loving husband, Rickie, and three children on Sunday evening.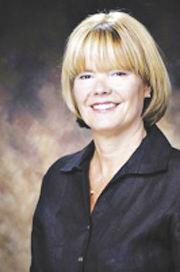 Kim courageously fought a battle with pancreatic cancer, and lived each day for her family. Kim was born in Haverhill, Mass., and spent her child and young adulthood in Topsfield, Mass., still considering that her hometown.
The Mount Washington Valley has been a place for Kim to raise her children, and the close knit community here has become family. Kim was known for her kind heart, big smile and bright light. She forever will live in our hearts.
Kim was an active member of many organizations in the valley, along with being the proud owner and operator of Debit One Bookkeeping. Her work kept her busy, but connected, and built many lifelong friendships. The family could not be more proud of the Debit One ladies over the last few months, and we thank you for everything.
Kim is survived by her loving husband of 18 years, Rickie L. Tibbetts. They were set up by mutual friends in the valley, and have been together ever since; and her parents, Mr. and Mrs. Clayton Elliott, of Altamonte Springs, Fla.
She is also survived by her children, Justin Bartlett, his wife, Caitlin, and their daughter, Breare, of Jupiter, Fla.; Christopher Bartlett, his wife, Christina and their children, Elliott and Everett, of Topsfield; and daughter, Kelsey Krzyzanowicz, her husband Jeremy and their daughter, Hudson of Dumfries, Va.; stepson, Michael, his partner, Jennifer, and their sons, Nolan and Hunter of Sag Harbor, N.Y.; and stepdaughter, Riley, her husband, Garrett and their son, Beau, of Center Conway, N.H.; Kim's sister, Lois Svetin of Altamonte Springs, Fla.; brother, William Elliott and his wife, Carol, of Tyler, Texas; many nieces, nephews, cousins and countless friends and colleagues with whom are now family.
Kim's forever companions, her beloved golden retrievers, Sage and Piper, will miss her dearly.
Services will be held at the First Congregational Church of North Conway, N.H., on Friday, Oct. 11, at 11 a.m.
In lieu of flowers, send donations to Jen's Friends Cancer Foundation, in memory of Kimberley Elliott Tibbetts.