On June 29, 2021, the Calvary whistle was sounded calling Deborah Minor Danaher home.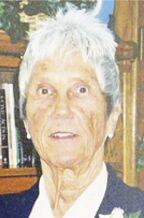 Deborah M. Danaher, 92, was born on March 18, 1929, to her parents Verton and Sarah Minor (Karmann) at St. Raphael Hospital in New Haven, Conn. She grew up in Southford, Conn., graduating from St. Mary's Hospital of Waterbury, Conn., School of Nursing in 1951.
Deborah was predeceased by her husband John J. Danaher Jr. (1994) and her brother Randell Karmann Minor.
She was married for 42 years and lived in Woodbury, Conn., where they raised their family. Deborah later moved to North Conway, N.H., to be closer to her daughter Margaret Kenney.
Deborah is survived by her children, Samantha Klampe of Overland Park, Kan.; Margaret and Dr. Leo Kenney of North Conway; Sarah and Will Tippins of Bentonville, Ark.; Katherine and Patrick Brennan of Corpus Christi, Texas; Deborah and Martin Srugis of Londonderry, N.H.; and John Danaher of Woodbury.
She loved visiting her children across the country.
Final arrangements are still pending.