CONCORD — Ken Martin, the co-founder and former artistic director of M&D Playhouse, was the recipient of the Francis Grover Cleveland Lifetime Achievement Award at the New Hampshire Theatre Alliance's 18th annual NH Theatre Awards held at the Capitol Center for the Arts in Concord on Sunday, Jan. 25.
"When I first heard I was going to receive this prestigious award, I thought there were dozens of people on this stage more deserving of this honor," Martin said in his acceptance speech. "People who have worked longer, people who have achieved more, people who weren't moving to Hawaii in September, but then the film crew showed up and I knew they were serious."
The film crew Martin referenced came to M&D's new home at the Eastern Slope Inn Playhouse to interview Martin and members of M&D's team for a tribute video that was shown before the award was presented.
"He's leaving some very big shoes to fill," M&D's new Artistic Director Mark Sickler said in the video. "He's leaving a bit of a legacy."
Part of that legacy has been offering the Mount Washington Valley theater that challenges the audience.
"That is what really drew me in was that he was not afraid to present these pieces to an audience who probably never would have experienced that in a theater."
Martin was first bitten by the theater bug when he was cast as the lead in "Godspell" while attending Kennett High School, a show he would revisit twice as a director at M&D.
He co-founded M&D in 2000. After a nomadic existence for it first nine years, M&D created a theater space at Willow Commons from 2009 to 2019 before moving to the Eastern Slope Inn Playhouse in March of 2019.
He has acted in and directed dozens of shows for M&D as well as performing in productions for other theater companies in New Hampshire, including the Winnipesaukee Playhouse in Meredith.
"It is always a pleasure to see his pieces work up on stage," M&D Board President Deb Jasien said.
In his acceptance speech, a modest Martin made sure to acknowledge everyone who helped his theatrical dreams come true.
"As I look back on the 40-plus years I've been involved in theater, I'm grateful for all the people I've been fortunate enough to trod the boards; for all the actors, directors, stage managers, the stage crew, the lighting and set designers and the props persons who all work together to make theater happen," Martin said.
As part of the interview for the tribute video, Martin was asked what was the most impactful role he ever played. His answer wasn't included in the final product, but it was for the best as Martin wished to change his answer.
"The most impactful role I ever played as an actor was Ken Martin — The M in M&D," Martin said in his speech. "That character is one I had to put on every day. The guy that helps actors through their personal blocks. The guy who would carry flats and platforms across the stage; cleans toilets; deals with angry patrons; accepts generous donations; hangs lights; designs posters; anything that is involved with theater, you name it, I've done it. But never alone. Always with the love and support of so many people who are as passionate about theater as I am."
Until Martin leaves for Hawaii, he will remain involved with the theater he helped create. He directed M&D's January production, "Constellations," and will be directing "Clue" in June. He is also involved in the planning of a 20th anniversary gala.
"I hope those that follow me at M&D, the people that come after me — Deb (Jasien), Karen (Gustafson), Mark (Sickler), Christopher (Bellis), Tracy (Orlando) — remember one thing: this business is brutal," Martin said in his speech. "Egos, passion and, yes, money, all make it seem insurmountable, but at the end of the day, it is never boring."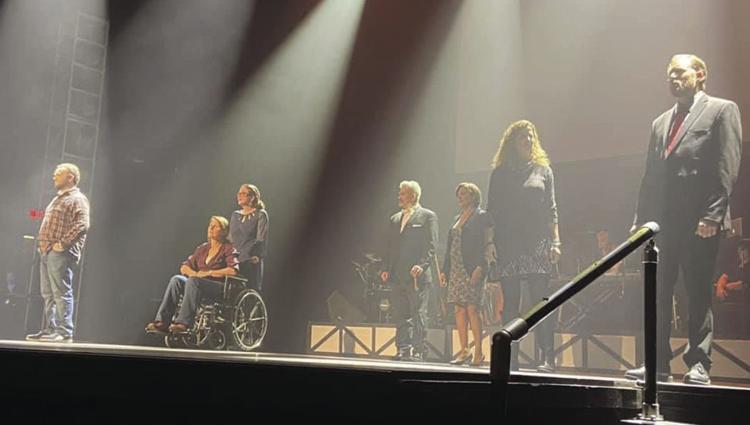 The award was preceded by a performance of a scene from M&D's production of "The Shadow Box" which featured Martin alongside Jason Stevens, Jane Duggan, Melissa O'Neil, Karen Gustafson, Christine Thompson and Eric Jordan.
In addition to Martin's award, the NHTA honored Martin's husband Mike Rouleau as a Theatre Hero, which recognizes those who do the essential work behind the scenes.
Although M&D didn't take home any other awards, its production of "'night, Mother" was nominated for Best Actress in a Community Production Drama/Comedy (June Desmond and Mary Bastoni), Best Community Production Drama/Comedy and Best Director of a Community Production (Melissa O'Neil).
For more information about the NH Theatre Awards go to nhtheatreawards.org. For more information on M&D, go to mdplayhouse.com.