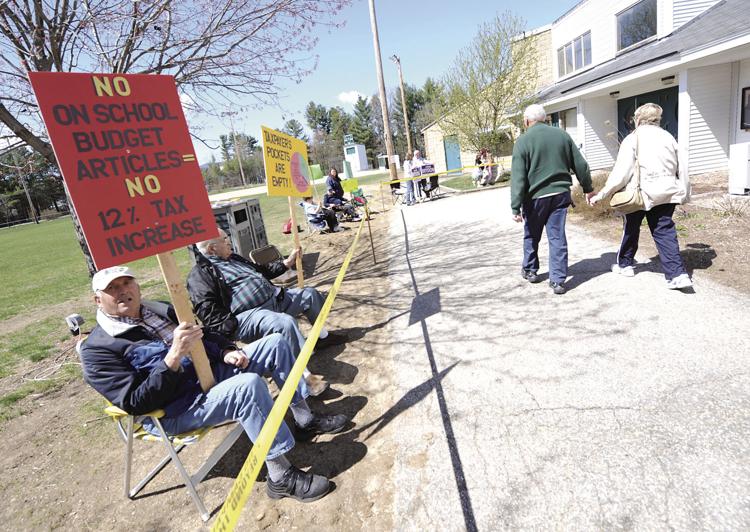 2010
1. TEACHER CONTRACT — A proposed new teachers contract fell five votes short of ratification in Conway town/school meeting voting on April 13. A recount on the contract took place the following week at town hall, but the results did not change. The proposed contract remained rejected by voters, 658 to 653. The recount left many perplexed in the meeting room at the Conway Town Hall in Center Conway, though, was the fact that there were 39 ballots with no votes cast either way on the teachers' contract article.
2. WEATHER — Warm weather brought an early end to the ski season for the local alpine and Nordic centers. For the 2009-10 season, North Conway received 50.2 inches of snow, roughly two and a half feet below the typical winter. North Conway had gone over the 100-inch mark for snow totals 21 times in the past 51 years. In 2007-08, the area received over 130 inches of snow and a little over 100 inches the following year.
3. OLYMPIAN — Leanne Smith took the valley with her to the Winter Olympics in Vancouver, Canada, in February. Smith, making her debut at the Olympics for the U.S. Ski Team, posted a pair of top 25 results. She also displayed her competitive side with one of the quotes of the year: "I didn't come here for the experience and to do interviews with MTV and get new clothes — I came here to get a medal." Conway selectmen even caught Olympic fever and declared Feb. 5 as Leanne Smith Day.
4. GO GREEN — North Conway Water Precinct's $2.4 million green energy project, which included 774 solar panels, came on line Aug. 12. The project was paid for in part by federal stimulus dollars. U.S. Sen. Jeanne Shaheen toured the facility and pulled the level to get the solar energy flowing.
5. ARRESTED — Bartlett selectman Jon Tanguay was arrested and charged with possessing child pornography. Tanguay, then 37, pleaded not guilty Feb. 19 in Northern Carroll County District Court. He was sentenced in the United States District Court for the District of New Hampshire to 84 months in prison on Feb. 24, 2014.
6. TEEN KILLED IN CRASH — Nick Hilliard, a popular Madison teen and senior-to-be at Kennett High, was killed in a single-vehicle crash on Route 41 on July 24. Hilliard, 17, an aspiring firefighter, apparently fell asleep at the wheel around 2 a.m. and struck a tree near Nichols Beach on a curving stretch of the road.
7. VOLVO — An era came to an end July 24 when Cranmore Family Fitness Center hosted "A Salute to the Outdoor Red Clay Courts" that hosted the Volvo International Tennis Tournament from 1975-84.
8. POLITICS — After falling three votes shy of getting his party's nomination for Speaker of the N.H. House, Gene Chandler (R-Bartlett) accepted the position of Speaker Pro Tempore.
9. INSURANCE — The Conway Education Support Personnel became the final union within the Conway School District to switch from a zero deductible to a district-covered $500 health-insurance deductible in February.
10. LIGHTS OUT — Conway, selectmen decided to turn off about 181 streetlights, saving $30,000.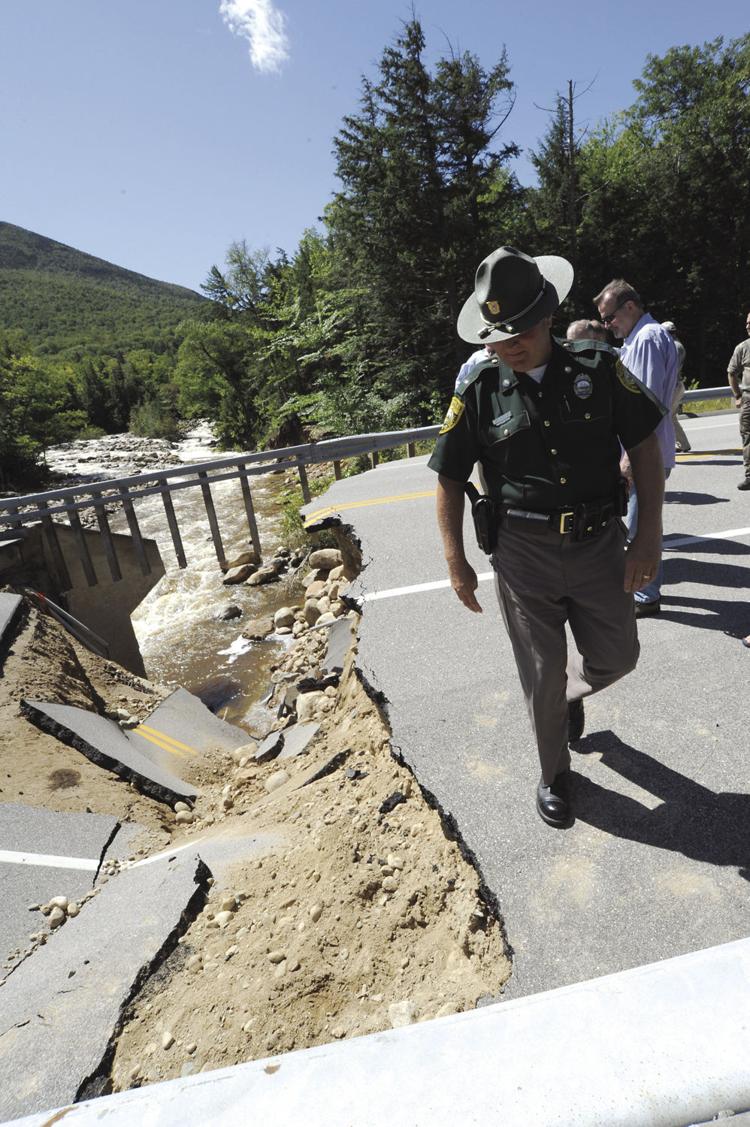 2011
1. TREACHEROUS IRENE — Tropical Storm Irene blew into Mount Washington Valley on Aug. 28and left flooding, power outages and road washouts and closings in her wake. In Bartlett, several people had to be rescued from rising waters, including a family staying at Glen Ellis Campground, and a house at the corner of Jericho Road and Route 302 was tipped over. In Conway, Artist Falls Road and West Side Road were among the roads that were closed. In Transvale Acres in Conway, 22 people were stranded in West Side Road neighborhood and got plucked from the flood waters by firefighters. There, too, water knocked homes off foundations and destroyed property. Dozens of people were instantly rendered homeless.
2. DITTMEYER MURDER — Krista Dittmeyer's Nissan Sentra was reported running with the door ajar and the hazard lights flashing in Cranmore's parking lot on April 25. Dittmeyer's 14-month-old daughter was alive but cold in the back of the car, but Dittmeyer, 22, was nowhere to be seen. What happened? The big break in the case came three days later, when a report went out over the radio that there was something strange in one of the ponds at the base of Cranmore Mountain. By the evening, it came as no surprise when Jane Young of the State Attorney General's office came forward to announce the news: "It is with great sorrow that I tell you we located the body of Krista Dittmeyer," she said into more than a dozen microphones and video cameras. Then in early May police arrested three men — Anthony Papile, 28, of Ossipee, Michael Petelis, 28, of Ossipee, and Trevor Ferguson, 23, of Tamworth — in connection with the murder.
3. NEW NURSING HOME — It was an active year in Carroll County government, one that was highlighted by the opening of a $23.5 million nursing home. Lawmakers approved the funding for the new home in an 11-3 vote in November of 2009. In September, after over a year of construction, the ribbon was finally cut on the county's new nursing home, being called Mountain View Community.
4. BUDGET SEASON — Members of the Conway School Board actually started working on the budget in April of 2010. The budget wasn't settled until August of 2011. It will be remembered as the budget season that went on and on due to a ruling from the New Hampshire Department of Revenue Administration.
5. IN THE SHOW — Jeff Locke saw his dream become a reality when he made his Major League Baseball debut for the Pittsburgh Pirates.
6. MR. Z. — In early October, after 26 years as principal of John Fuller School, Mark Zangari decided it was time to explore other opportunities, both in and out of the educational field. The Conway School Board formally accepted his resignation
7. ADVOCATES — An education advocate group was born in 2011. "We want to talk about education in a way that will be a positive force in the valley," Dr. Angus Badger of Jackson said at the first meeting of the newly formed MWV Coalition of Educational Excellence.
8. MILESTONE — Bob Burns reached the 500-career-victory milestone for Kennett High School's baseball program. Coach Burns' teams went 500-305 over a 41-year period of his guiding the Eagles.
9. SOARING — Henney Sullivan, student body president at Kennett High, became its first National Merit Scholarship winner in recent memory.
10. ESCAPE — A man awaiting trial on a burglary charge escaped from the Carroll County jail on Dec. 1. Authorities caught up with the escapee, David Glenn Hobson, 34, of York County, Maine, on Dec. 6 in Rochester.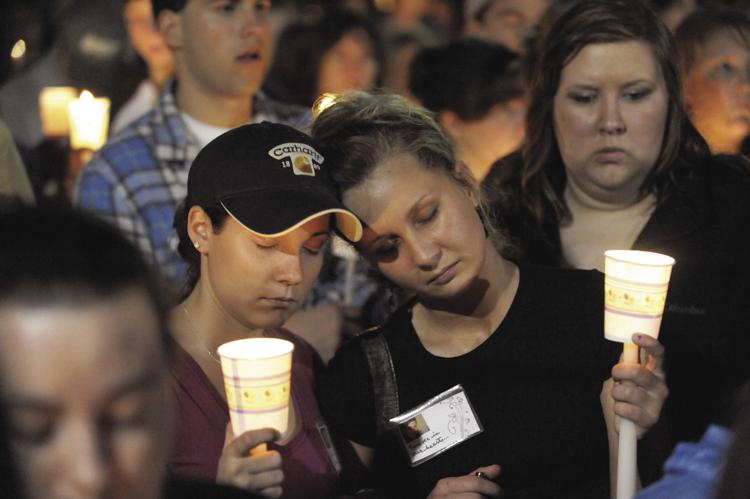 2012
1. POLITICS — Election fever began in New Hampshire well before 2012 even began, with Mitt Romney, Rick Santorum, Michele Bachmann, Ron Paul and others crisscrossing the state in the lead up to the Jan. 10 primary. Romney won that contest and eventually the nomination, but after a long campaign that included many stops in the Granite State he lost the race to Barack Obama.
2. MEDICINE — In the fall, Memorial Hospital officials announced a proposal to become a subsidiary of MaineHealth, the parent company of Maine Medical Center in Portland. The proposal caused one hospital trustee, George Epstein, to resign and speak out in opposition to the plan. He said the hospital had jumped into the arrangement without adequate due diligence. The hospital held a community meeting in November to answer questions about the relationship, and discussion continued into 2013.
3. SENTENCED — Anthony Papile, 29, of Ossipee, was sentenced to 40 years in prison after he pleaded guilty to second-degree murder for the robbery that ended in the Krista Dittmeyer murder in April 2011. A second man, Trevor Ferguson, 24, of Tamworth, was sentenced to seven years in prison in connection with the murder. A third man arrested in the incident, Michael Petelis, 29, of Ossipee, had yet to go before a judge.
4. MORE POLITICS — Carroll County flipped from supporting unanimous Republican representation (other than the president and governor) in 2010, going to a mixed ticket in 2012. The majority of voters were apparently unswayed by the homegrown "Save America, Vote Republican" slogan.
5. TROUBLE AT LIBRARY — The Conway Public Library trustees launched themselves into the limelight in September, when they announced a restructuring plan that would have forced four librarians to reapply for their jobs in a matter of weeks. The library ultimately parted ways with Director Tara Thomas, but only after agreeing to pay her six months' pay and benefits.
6. WALMART GROWTH — The proposed expansion of Walmart by 50,000 square fee, first came to light in February when the company submitted preliminary plans to the town. The expansion would turn the Walmart into a Super Walmart, adding a grocery store and more parking.
7. WATER WARS — In Fryeburg, Maine, a proposal for a 25-year contract between Nestle and the Fryeburg Water Co. has stirred up opposition to for-profit water extraction.
8. CRIME — 2012 had a rash of crimes, including an armed robbery at Davis Park in January, a bank robbery in May at the Conway branch of Bank of New Hampshire, a brazen robbery in March at the Upton & Hatfield law offices in North Conway and a shooting on Eastside Road in Conway in August.
9. EDUCATION — The new Robert Frost Charter School opened with 44 energetic youngsters in grades one through four in the former Timberland building on Route 16.
10. TEAMWORK — The town of Conway partnered with canoe-rental companies around the valley to build a kayak/canoe "turnaround" launch area at Hussey Field in North Conway to reduce congestion on the crowded Saco River.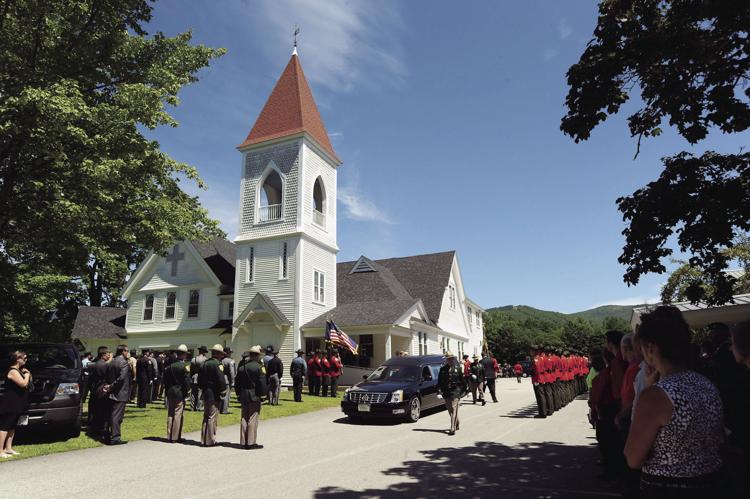 2013
1. TEEN GOES MISSING — Police asked for the public's help in locating a 15-year-old Kennett High student, Abigail Hernandez, who went missing after school on Oct. 9. As of Oct. 16, Hernandez topped the FBI's list of "kidnappings and missing persons," which contained about 70 names. Hernandez was listed as a missing person. Ten days after she disappeared, the search came up with more questions than answers. "We're doing everything we can to find this young lady," said Conway Police Chief Ed Wagner. On Oct. 29, an estimated 600 people turned out for a night vigil, carrying flashlights and candles as they strolled a path from Schouler Park to North Conway Country Club to symbolize lighting the way home for Abby. "I want Abby to know I will never stop looking for her," Zenya Hernandez said of her daughter.
2. TRAGEDY — "He was the best of the best." That's how friends and colleagues describe Brian Abrams, 49, local Fish and Game conservation officer who died from injuries suffered in an off-duty motorcycle accident on Aug. 8. The family of Abrams, along with Gov. Maggie Hassan and many friends gathered to celebrate Abrams' life and career in full honors at the First Church of Christ., Congregational in North Conway.
3. DEAL — Memorial Hospital's board of trustees voted unanimously on March 22 to join the MaineHealth system. The agreement still needed final approval from MaineHealth and the attorney general offices in Maine and New Hampshire. Memorial Hospital received approval in December.
4. BOMBING — Local runners participating in the Boston Marathon were safe after two bombs exploded near the finish line on April 15, killing at least two people and injuring more than 100. "We thought we were going to die," said Abby Ross, 12, recalling the horror of bomb explosions near the finish line at the Marathon. Abby, and her sister Molly, 10, were alongside their father, Kennett High history teacher Mark Ross to cheer on their mom, Shauna Ross, who had completed the 26.2-mile run before the explosions occurred.
5. POLICE — Fryeburg Police Department survived a June 13 vote of 513-393 on a petition to disband the department and contract with the Oxford County Sheriff's Department.
6. NEW ERA — Erin P. Mayo settled in as new head of school at Fryeburg Academy on Aug. 9. Mayo succeeds Dan Lee and is the first woman to head the school in its 222-year history.
7. IN COURT — A Carroll County Superior Court judge denied Hannaford's motion to reconsider his ruling against the grocer in its case involving Conway Planning Board. Hannaford was looking to reverse a planning board decision to approve plans for another grocery store, rumored to be Market Basket, behind T.J. Maxx.
8. LIBRARY — The Conway Public Library Trustees on June 4 hired David Smolen, 40, of Manchester as it new director after a year of turmoil caused by a botched plan to restructure the library staff.
9. PODIUM — U.S. Ski Team member Leanne Smith of North Conway has her second World Cup podium finish on Jan. 29 in Italy, where she finished third in the downhill.
10. RAY BURTON DIES — Ray Burton, who served more than three decades as executive councilor for the North Country, died of cancer in November at the age of 74.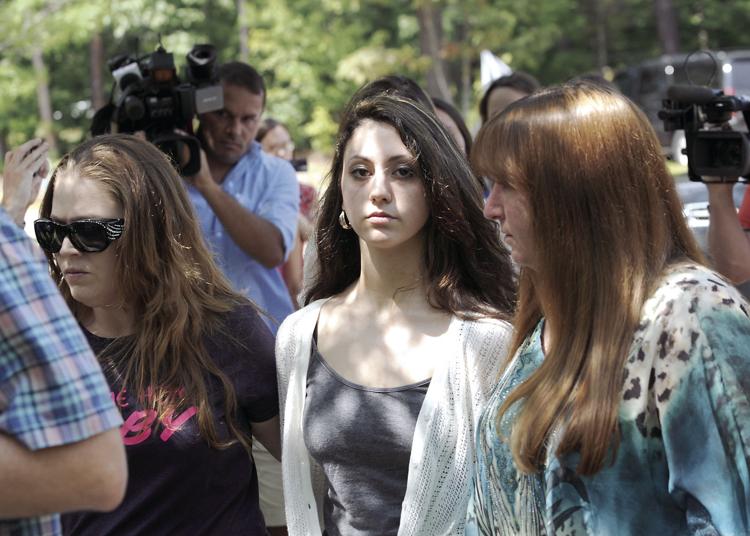 2014
1. MISSING TEEN RETURNS — The safe return of a North Conway teenager Abby Hernandez in July, who had been missing for nine months, and the subsequent arrest of a Gorham man accused of kidnapping her, was clearly the top local stories of 2014. Nathaniel Kibby, then 34, was indicted on 205 counts, including more than 150 charges of sexual assault. Other charges included falsification of physical evidence and witness tampering; criminal use of an electronic defense weapon; second-degree assault; criminal threatening, sale of marijuana; felonious use of a firearm; indecent exposure; and kidnapping. Kibby, through his attorney, maintained his innocence. Arraignments were scheduled for Jan. 8, 2015, in Coos County Superior Court and Jan. 9 in Carroll County Superior Court. The victim "continues to heal," according to the executive director of the N.H. Coalition Against Domestic and Sexual Violence.
2. OLYMPIANS — Biathlete Sean Doherty and downhill skier Leanne Smith, two Kennett High graduates, competed at the Winter Olympics in Russia. Doherty, a 2013 graduate of Kennett High, was named Jan. 12 to the U.S. Olympic team in biathlon, a sport that combines rifle shooting and cross-country skiing. Doherty is the youngest member ever of the U.S. Olympic Biathlon Team at age 18. Smith, who also competed at Vancouver Games in 2010, was named to the U.S. Olympic Team on Jan. 28.
3. SUPERSTORE — Walmart expanded, and, in conjunction with that project, a second roundabout was constructed on North-South Road. Walmart moved into the former Chick Home Center property. Chick relocated its lumber operations to Hobbs Street and also opened a retail showroom in North Conway. The new roundabout on North-South Road opened just prior to Fryeburg Fair.
4. DRUGS — Police and school officials expressed concern about the increased presence of hard drugs, including heroin, in the community. In November, over 200 people attended a substance-abuse prevention forum at Kennett High. Many of those attending were students.
5. SUPERINTENDENT STAYS — A nationwide search for a successor to SAU 9 Superintendent Carl Nelson in February yielded just two applicants, and neither meet the criteria set by a selection committee. Nelson agreed to stay on as superintendent for another year, but on a part-time basis.
6. NEW FRYEBURG CHIEF — On April 17, Fryeburg police chief Phil Weymouth was put on paid leave with no reasons given. Detective Sgt. Joshua Potvin was named chief.
7. EVICTED — On Sept. 23, The White Deer Motel was closed and 29 tenants evicted by the Conway Fire Department after chief Steve Solomon determined that the property manager had made no progress in complying with 49 state fire code violations.
8. LOCKE — A childhood friend of Pirates pitcher Jeff Locke falsely claimed that he could guarantee bets because he was working with Locke to fix games, according to a Sports Illustrated story. Locke was cleared of any wrongdoing.
9. ENCEPHALITIS — Health officials confirmed in August that the first human case of Eastern equine encephalitis (EEE) in New Hampshire since 2009 was a Conway adult
10. NEW NCCC — The North Conway Community Center formally launched a $1.2 million capital campaign for a 9,200-square-foot expansion.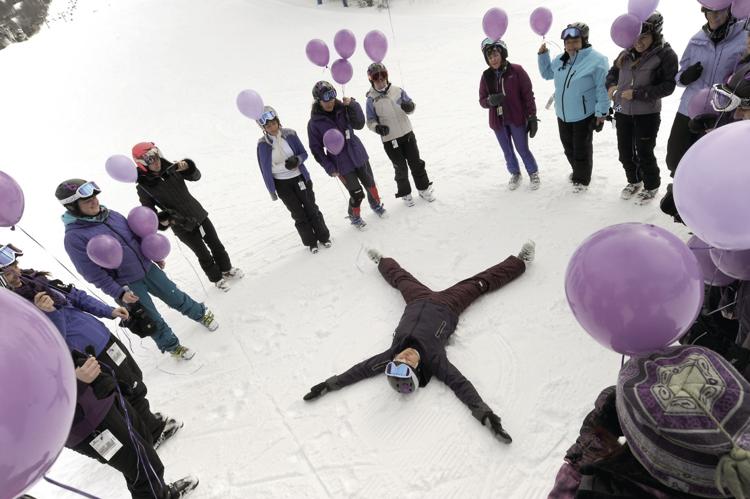 2015
1. BUZZELL DEATHS — The community was rocked in January with the murder of massage therapist Jody Buzzell, 52, by her husband, Mark Buzzell, also 52, who then shot himself. The incident took place Jan. 27 at their West Fryeburg, Maine, home.  Mark Buzzell, a local homebuilder, reportedly left a note. Fryeburg Police Chief Joshua Potvin said jealousy appeared to be a motive. The tragedy led to a greater awareness of domestic violence and abuse in the community. A vigil held Jan. 30 attracted some 300 people.
2. HEROIN EPIDEMIC — The Mount Washington Valley was not immune to the heroin crisis that has gripped the nation. There were about 300 opioid deaths that year. Among those lost was 23-year-old Ronni Marie Baker, who died in February at her parents' home in Stow, Maine. Community activists are sought to bring awareness to the problem. MWV Supports Recovery held its first "Take a Walk in our Shoes" event in September. It involved a series of marches in Carroll County and a rally in Schouler Park, which drew hundreds of people.
3. COLORFUL FALL, WARM WINTER — The fall was slow in coming, but when it did arrive, foliage enthusiasts enjoyed a brilliant fall to remember. That colorful season was followed by a late start to the winter.  December saw just a trace of snow compared with the 30-year average of 17 inches, and record high temperatures with an average temperature as of Dec. 30 of 35.3 degrees, a reading that was 11 degrees above the 30-year average. Record high readings were recorded on Christmas Day, when it was 66, breaking the old record of 60 set in 1974; and on Dec. 26 when it was 61, breaking the old record of 60, also recorded in 1974.
4. CONWAY MARKS 250TH — The yearlong "Conway Celebrates Legacy" 250th anniversary of the town's founding was a down-home, Conway-styled celebration, kicking off with fireworks to ring in 2015 and ending much the same way Dec. 31. Co-chairs were Brian P. Wiggin and Jill Reynolds.
5. MOTHER BEAR KILLED — Animal lovers were up in arms in October after the mother of a family of cubs who were affectionally dubbed the Jackson Five was shot and killed by a hunter. The four orphaned cubs were taken to Ben Kilham's bear rehabilitation center in Lyme.
6. KIBBY TRIAL DELAYED — Jury selection in the trial of Nathaniel Kibby, 35, of Gorham — the man indicted on 205 counts for allegedly kidnapping and sexually assaulting a Conway teenager in October 2013 — was delayed until 2016.
7. LAKEVIEW SHUTTERED — After operating for about two decades on Highwatch Road in Effingham, Lakeview NeuroRehabilitation Center Inc. shut down in September. The 88-bed residential facility that cared for individuals with physical, neurological, cognitive and behavioral impairments.
8. PRESIDENTIAL CANDIDATES — Former Secretary of State Hillary Clinton emerged as the Democratic front-runner right out of the gate. On the Republican side real-estate tycoon real-estate tycoon Donald Trump has held a double-digit lead in national polls for the past four months.
9. NCCC/SKI MUSEUM — The new North Conway Community Center was completed in November after a yearlong construction project just south of the 1950-built center. In November, it was announced the non-profit New England Ski Museum was looking at putting a local branch of the Franconia museum in the original center.
10. MOUNTAIN TOP BUYS MAJESTIC — On April 7, the Mountain Top Music Center purchased the Bolduc Block, including the Majestic Theatre, from Quirk Family Corp. for $199,000.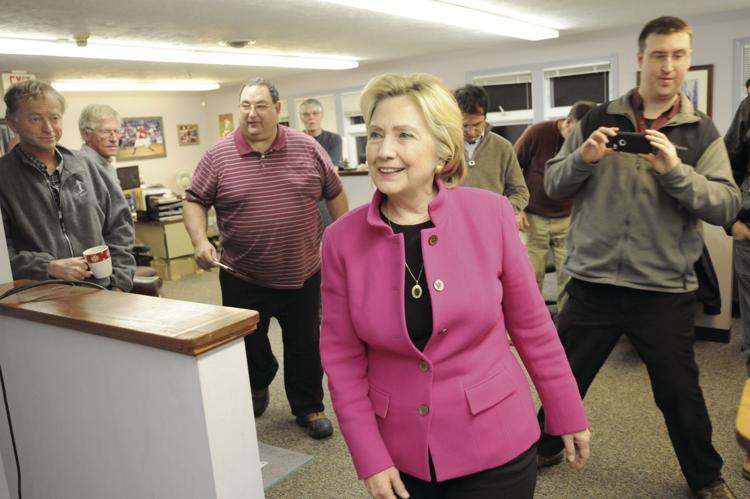 2016
1. POLITICS — Donald J. Trump was elected U.S. president on Nov. 8, 2016; but in New Hampshir, his Democratic rival Hillary Clinton edged him by a vote of 348,526-345,790. In Carroll County, Trump topped Clinton 14,418-13,204, but in Conway, more voters cast their ballots for Clinton, 2,717-2,204. In the Granite State as a record 728,734 people cast ballots. U.S. Sen. Kelly Ayotte (R-Nashua) lost her seat to Gov. Maggie Hassan (D-Exeter). In Carroll County, Ayotte topped Hassan but in Conway, more voters cast their ballots for Hassan. For. Congress, 1st District, Carol Shea-Porter (D-Rochester) took the seat of incumbent Frank Guinta (R-Manchester).
2. DRUG EPIDEMIC — Experts projected there would be about 500 deaths from drug overdoses in 2016. In September, Mount Washington Valley Supports Recovery announced it acquired the former Echo building at 1620 E. Main St. for a sober living house. Police cracked down on drug dealers. In November, The Sun published the first person story of "Nora," a young woman who had recently finished detoxing from a host of drugs, including opioids. "I know some really good people who are drug addicts who can't help themselves," said Nora.
3. WEATHER — On March 1, the National Weather Service made official what most already knew — it was the warmest winter in recorded history. Concord in December, January and February averaged a temperature of 30.9 degrees, It broke the all-time record of 30.4 degrees from 1879-80. North Conway, which typically averages 90 inches of snow each year, struggled to reach 50 inches for the season. The warm weather carried over into the summer. It was the driest summer in 144 years of records in Boston. Only 3.92 inches of rain fell in those three months combined.
4. BUSINESS/ECONOMY — Ground was broken on a 7,382-square foot AutoZone store; an 18-unit first phase of the Kearsarge Brook condominiums at Cranmore; and Settlers Streetside retail complex. Aroma Joe's opened on Shaw's Way, and work got underway on a Michael's craft store. Meanwhile, KFC closed in October.
5. RESOURCE PRESSURE — Maine's highest court upheld the Public Utility Commission's approval of a contract between Fryeburg Water Co. and Nestle Waters North America. In Conway, selectmen asked the state to ban parking on West Side Road near Diana's Baths.
6. FIRES — A blaze that consumed close to 330 acres started near the Albany Covered Bridge on Nov. 12. Structure fires included the old Kearsarge Peg Mill and the White Mountain Cider Co. Deli and Market, both in Bartlett.
7. PROJECTS — Efforts continued on Mountain Top Music's transformation of the Bolduc Block and the New England Ski Museum moving a branch into the old community center.
8. HISTORIC PRESERVATION The year saw greater appreciation for historical preservation following the loss of  the 1793-built former Homestead Restaurant and the Christ Episcopal Church's 19th-century rectory.
9. CRIME — Bruce David Goodwin, 64, of Conway was found beaten May 15 at Conway Valley Inn. He died of his injuries at Maine Medical Center in Portland, Maine. Also in May, Nathaniel Kibby of Gorham got 45-90 years in prison for the 2013 kidnap and sexual assault of a North Conway teen.
10. WILDLIFE — In April, Fish and Game withdrew its proposal for a bobcat hunting and trapping season. The number of moose hunt permits were reduced to 71 due to a declining populaion. Four bear cubs orphaned after a hunter killed their mother were released back into the wild.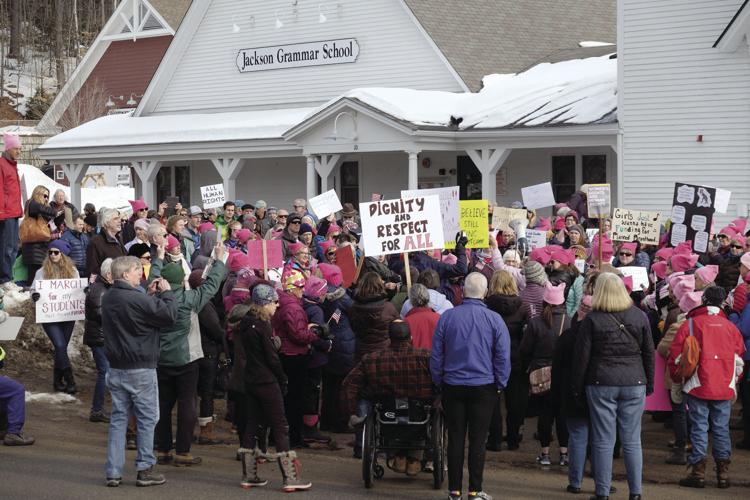 2017
1. "HALLOWEEN" STORM — It was no trick or treat for residents affected by a powerful Oct. 29-30 storm that caused flooding and power outages. Damage caused by floodwaters on a bridge near Dry River Campground forced Route 302 to temporarily close. Areas of Glen and West Side Road in Conway also flooded. Weather observer Ed Bergeron said the Saco River crested in Center Conway at 14 feet (flood stage is 9 feet). Gov. Chris Sununu requested that President Donald Trump issue a major disaster declaration for the storm.
2. GREAT DANES — In a story that garnered worldwide coverage, 84 Great Danes were seized June 16 from the Wolfeboro mansion of Christina Fay by police and members of The Humane Society of the United States. On Dec. 21, Fay, 59, who was convicted of 10 counts of animal cruelty for mistreatment of numerous dogs, was sentenced by Circuit Judge Charles Greenhalgh to a year in jail, though he suspended all 12 months. He also ordered Fay to pay over three-quarters-of-a-million dollars to the HSUS for caring for the dogs during trial.
3. POLAND SPRING/FRYEBURG TIF VOTE — Fryeburg, Maine, residents were asked to vote on two referendum questions. The first was to allow officials to sell "surplus" Eastern Slope Regional Airport acreage (for the implied purpose of a Poland Spring bottling plant); it failed 600-259. Voters also were asked to create a tax increment financing district of 746 acres, most of it following Porter Road south and including the airport. It failed by an even wider margin, 619-238. "A win for the water!" Fryeburg Water District Trustee Nickie Sekera crowed. "We are disappointed that Fryeburg voters rejected the potential sale of town-owned land along Route 5/113," said Poland Spring Natural Resources Manager Mark Dubois.
4. MEMORIAL/MAINEHEALTH UNIFICATION — Memorial Hospital's board of trustees voted in favor of "unification" with MaineHealth in November, changing the governance of the non-profit to bring all member hospitals and medical service providers under one board and one budget.
5. WOMEN'S MARCH — The day after President Donald Trump's inauguration, a worldwide Women's March was held. Many from the Mount Washington Valley took part in marches in Washington, D.C., and Boston, as well as around New Hampshire, including one in Jackson.
6. RETIREMENTS — Conway Town Manager Earl Sires retired July 31 after 17 years. Tax Collector/Town Clerk Rhoda Quint said she would not seek a sixth three-year term. White Mountain National Forest Supervisor Tom Wagner and Bartlett Elementary School Principal Joe Voci also retired.
7. DIANA'S BATHS PARKING MAYHEM — To stem overuse at the popular West Side Road recreation site, selectmen raised fines to $100. The town also assigned a police officer to direct traffic. A shuttle service was initiated in August.
8. COMMERCIAL DEVELOPMENT — It was a big year for commercial development, with Settlers Green Streetside, Michaels/PetSmart and the first phase of the Kearsarge Brook Condominiums at Cranmore projects all completed in the fall.
9. FRYEBURG OFFICER DIES IN LINE OF DUTY — Twenty-year-old Fryeburg Police Officer Nathan Desjardins died 10 days after sustaining injuries during a Saco River rescue attempt in May. It was his first day on the job.
10. FUTURE OF REC CENTER — A looming question is what to do with the Conway Parks and Recreation Department — renovate, rebuild or relocate? The department's present home, the Conway Community Building, lacks potable water and has heating, electrical and ventilation issues.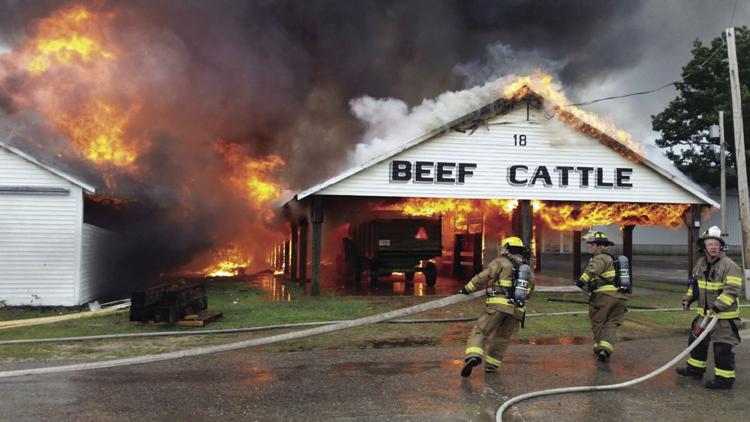 2018
1. BLUE WAVE — House Speaker Gene Chandler (R-Bartlett) lost in District 1 to Anita Burroughs (D-Bartlett). Reps. Karen Umberger and Frank McCarthy (R-Conway), fell to newcomers Stephen Woodcock, both Conway Democrats, in District 2. In District 3, Rep. Mark McConkey (R-Freedom) came up short. Jerry Knirk was re-elected and former Rep. Susan Ticehurst (D-Tamworth) voted back in. For Executive Council, Democrat Mike Cryans of Hanover ousted Joe Kenney (R-Wakefield).
2. WINTER CAME EARLY — A total of 27.7 inches of snow fell on Conway in October and November. Cold temperatures also broke records. On Thanksgiving, conditions atop Mount Washington shattered low-temperature marks for the day, with a reading of -26 degrees F. and officially made Mount Washington's summit the coldest place on Earth that day. It was cold in the valley as well, with a low for Thanksgiving in North Conway of 4 degrees. The previous low was 5 degrees, set in 1972.
3. COMMERCIAL DEVELOPMENT — The Market Basket project was approved by the planning board; David Swirk and partners bought the Conway Scenic Railroad from Dot and Russ Seybold. Story Land began work on a "Living Shores Aquarium" in Glen. The New England Ski Museum opened its Eastern Slope Branch; and the energy-efficient, 68-room Glen House hotel opened in September as the fifth hotel to bear that name at the base of the Mt. Washington Auto Road.
4. DUAL SCHOOL LOCKDOWNS — SAU 9 School Superintendent Kevin Richard said that two alarms that caused lockdowns Dec. 5 at Kennett High and Middle schools and forced elementary school students and staff to "shelter in place," were triggered by people inadvertently hitting alarm buttons.
5. JACKSON HONEYMOON COVERED BRIDGE HIT AGAIN, AGAIN AND AGAIN — The 142-year-old Jackson Honeymoon Bridge was damaged by vehicles three times during the year, the first two incidents being within 30 days of each other. Repairs were made by NH-DOT.
6. REC CENTER FINDS NEW HOME — Voters authorized selectmen to enter into a 50-year lease with the school board, and raise and appropriate $700,000 to move the recreation department from the community building to Kennett Middle School.
7. FRYEBURG FAIRGROUNDS FIRE — One of the biggest disasters in the fair's 168-year history occurred July 10, when an electrical failure sparked a fire that destroyed two animal barns and damaged six other buildings. No animals were there at the time, and nobody was injured. The fire didn't stop the show from going on less than three months later.
8. BIOMASS VETO OVERTURNED — The N.H. House and Senate agreed in September to override Gov. Chris Sununu's veto of a bill to save the state's six biomass plants. Senate Bill 365, which was championed by state Sen. Jeb Bradley (R-Wolfeboro), would provide a three-year subsidy to six biomass plants, including one in Tamworth.
9. ACCIDENTS CLAIM LIVES — Horrific traffic deaths include New Bedford, Mass., motorcyclists David and Cathy Oliveira, both 57, in Conway on Labor Day; and Ramsie Taylor, 17, of Wolfeboro, who was killed when a dump truck struck her car at an intersection in Ossipee.
10. CHANGE AT MEMORIAL HOSPITAL — The North Conway hospital hatched plans for "unification" under a single board of directors in the MaineHealth network but ended up postponing it. Meanwhile, Chief Executive Officer Scott McKinnon said he would retire at the end of October after 10 years at the helm.