CONWAY — Memorial Hospital is seeing a high number of positive COVID-19 patients coming through its drive-thru testing center. It said demand for testing is also high, with tests scheduled about two days out.
Andrea Murphy, infection prevention nurse coordinator, said the hospital tested 950 people over the past week, with the center closed Christmas and New Year's Day.
The testing site, located outside the emergency department, is open 7 a.m.-3 p.m. for weekdays, and 8 a.m.-noon on weekends. Appointments are required and can be made by calling (603) 356-0673.
Test results are typically available within 72 hours.
Over the past two weeks, about 19 percent of the people tested at the center turned out to be positive for the virus.
That number has been slightly higher than the state's seven-day average, but since the beginning of the year that average too, has been at 19 percent or above. As of Monday, the latest day reported on the state's COVID-19 dashboard, the state average is 20.4 percent.
Health-care officials talk about these numbers as "positivity," as in "a positivity rate of 19 percent." Unlike the common definition of positivity, which suggests an optimistic outlook, this sense of the word simply means positive test results.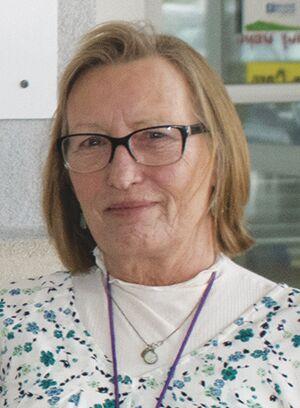 "This is one of the two highest positivities we've had at Memorial," said Murphy. The last time the percentage did not stay that high for long, she said.
"Almost one in every five persons is positive that comes to our testing center," Murphy said. "That means the amount of virus in our community is very, very high."
By comparison, at the beginning of 2021, when COVID cases spiked throughout New England, the positivity rate was about 6 percent.
At the peak of last year's surge, the state was averaging 800-900 new cases per day. The state today is averaging over 1,200 per day.
Also of concern, health officials note, is a high positivity rate combined with high numbers of people testing. If only a small number of people are tested and a large percentage positive, that could give a false picture of how widespread the virus is.
Memorial's testing clinic is open to people whether or not they have symptoms or known exposure to the virus.
With high numbers of cases both in the Mount Washington Valley and the region, hospital officials say it is critically important for people to take public health precautions like wearing masks and maintaining social distance, as well as to get vaccinated and get booster shots.
People who have been vaccinated can still get COVID. Vaccinated people are much more likely to have a milder illness and are less likely to get the infection and pass it on to others.
The hospital runs a COVID vaccination clinic at the former Weather Discovery Center in North Conway Village. The clinic is open Tuesdays and Wednesdays, 8 a.m.-4 p.m. Appointments help with planning but are not required to get vaccinated. Call (603) 356-0673 to schedule a time or just walk in.
Vaccinations are also available at Hannaford, Walgreens, Osco, CVS and Walmart pharmacies, as well as at primary care practices in the valley.
Murphy said high numbers of positive test results "also tells us a little about the contagiousness of the strain that is circulating," and the high rate could be an indicator of greater prevalence of the Omicron variant of COVID-19, which is known to spread more easily than previous variants.
Omicron was first identified in November and by the end of December, the CDC estimated it made up 58 percent of the new COVID cases in the United States.
"There's probably still Delta out there, and Omicron is starting to become the major strain," Murphy said. "Delta is contagious and causes real illness. Omicron is more contagious but for those who are vaccinated and boosted, they don't seem to get horribly sick."
However, she noted, people who have not been vaccinated are much more likely to experience severe illness and risk hospitalization and death from this variant. And while some studies show the virus makes people less sick, some do become very ill.
Hospitalizations for COVID and non-COVID medical cases remain high throughout New England, and Memorial officials note the hospital is as busy as it has ever been, both with inpatients and emergency cases and routine appointments for primary and specialty care.
While Memorial experienced some days last week at full capacity, with 25 in-patients, this week, the hospital has had some open beds. Most of the current inpatients have not been hospitalized due to COVID.
"With the numbers we're seeing in primary care and specialty care, without COVID this would be a very busy hospital," said hospital spokesperson Tim Kershner. "All of those services are still open."
Kershner noted that while the numbers of COVID cases are very high, this year's surge is different.
"This year is starting a lot like last year, except this year, we have vaccines," he said. "We have a way out of this. We just need to take that way."