Alex Wight is into creating experiences.
Owner of Great Diamond Island's newest establishment Crown Jewel, Wight spent several years organizing the highly lauded Flanagan's Table dinner series in Buxton, where ticketed guests seated at a single elongated table left their nights in the hands of a rotating cast of well-known area chefs. Dining in a rustic barn setting under the glow of warm, very purposeful lighting led to a transportive feeling not typical of even some of the best restaurants operating on a daily basis. The dinners felt raw, immediate and worthwhile — an opulent reminder of impermanence, if you will.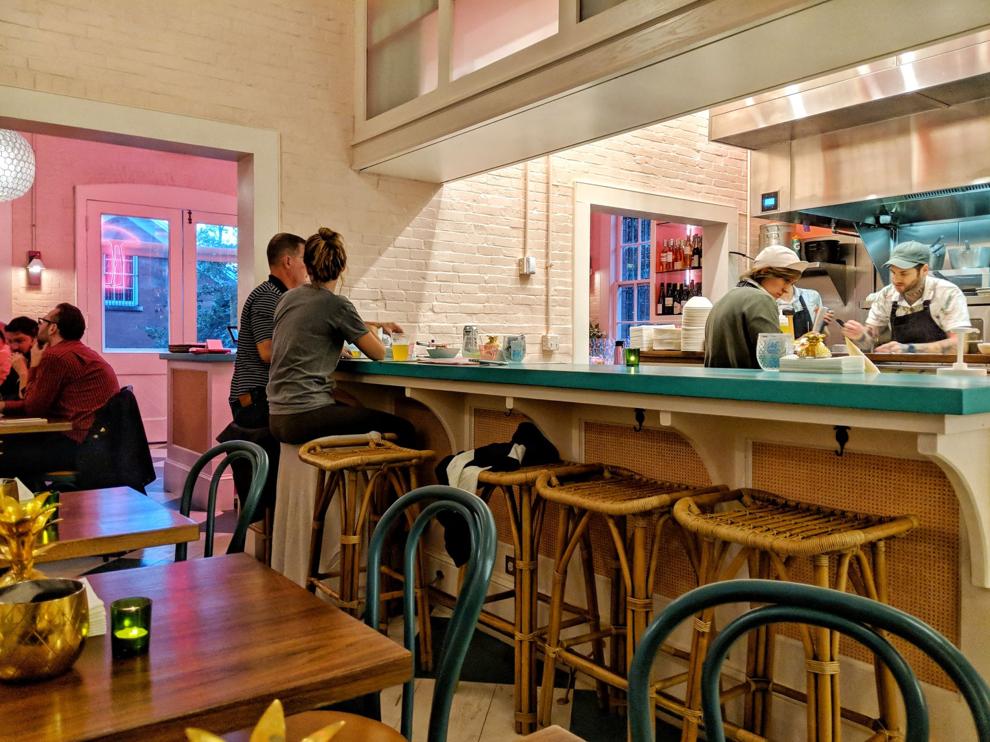 Fast-forward to July 2018, when Wight, leaving her Flanagan's days behind, opened the doors to the surprisingly effective experience that is Crown Jewel. Billed on their website as "An Island Escape," Crown Jewel is more than just a restaurant — it's a low-stakes adventure, and one you can take after work with minimal effort or planning required.
What sets Crown Jewel apart as wholly unique is that it eschews the tired theme of lighthouses and lobster traps for that of golden pineapples and radiant pink flamingos. This isn't so much the rugged coast of Vinalhaven as it is the white sands of Aruba, and for folks such as myself that don't get to places like that very often (or ever), the baked-in vacation value — even if simulated — adds to what makes a visit to Crown Jewel so enjoyable.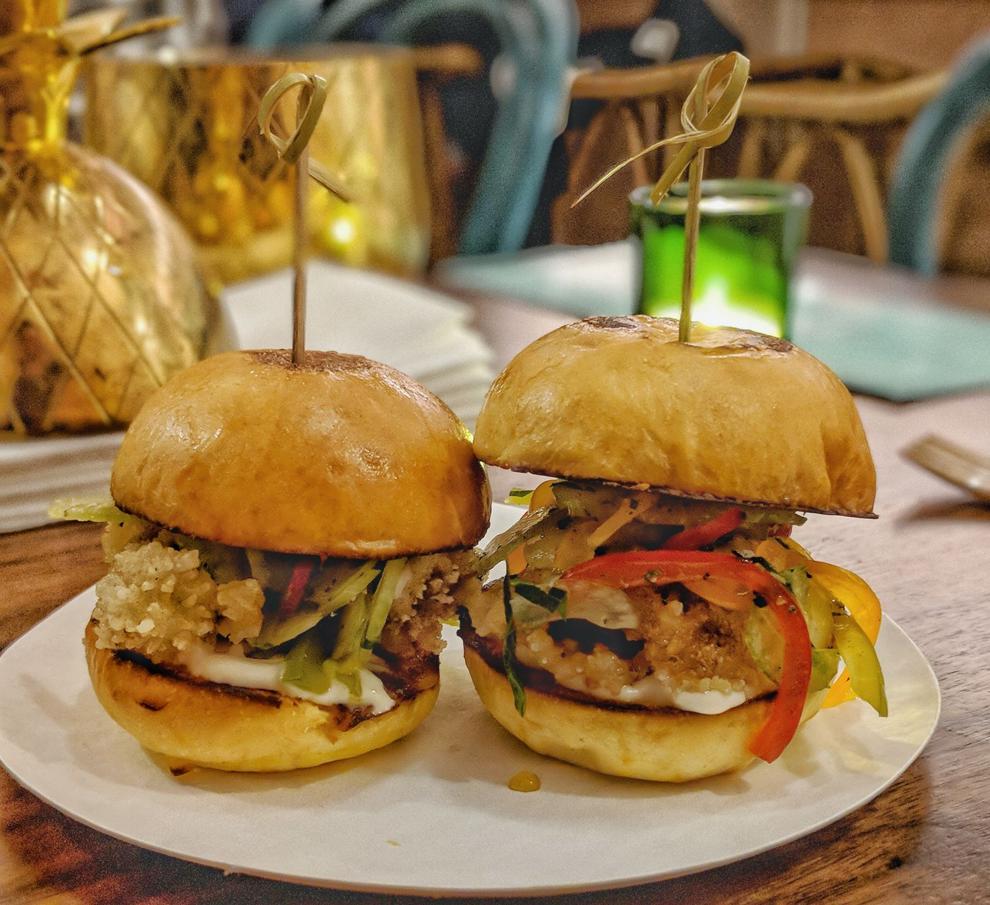 Savvy patrons will hop on the Aucocisco III and ride until the Great Diamond Island stop — not Diamond Cove, where the restaurant is located (you can catch that ferry on the way back). The lazy, 20-minute walk down the island's unpaved roads into Fort McKinley makes the restaurant feel even more removed than it is. Don't kid yourself — you're still in Portland.
None of this would matter if the food at Crown Jewel didn't live up to the restaurant's well-branded hype, which it most certainly does. The menu is seafood-heavy to an extent — think oysters, ceviche, butter-poached lobster — and comprised mainly of smallish plates, all served on paper vessels due to water restrictions and some of which would be difficult to share with more than one dining partner. What arrives, however, is invariably driven by rich, savory flavors rivaling some of the best bites found on the peninsula.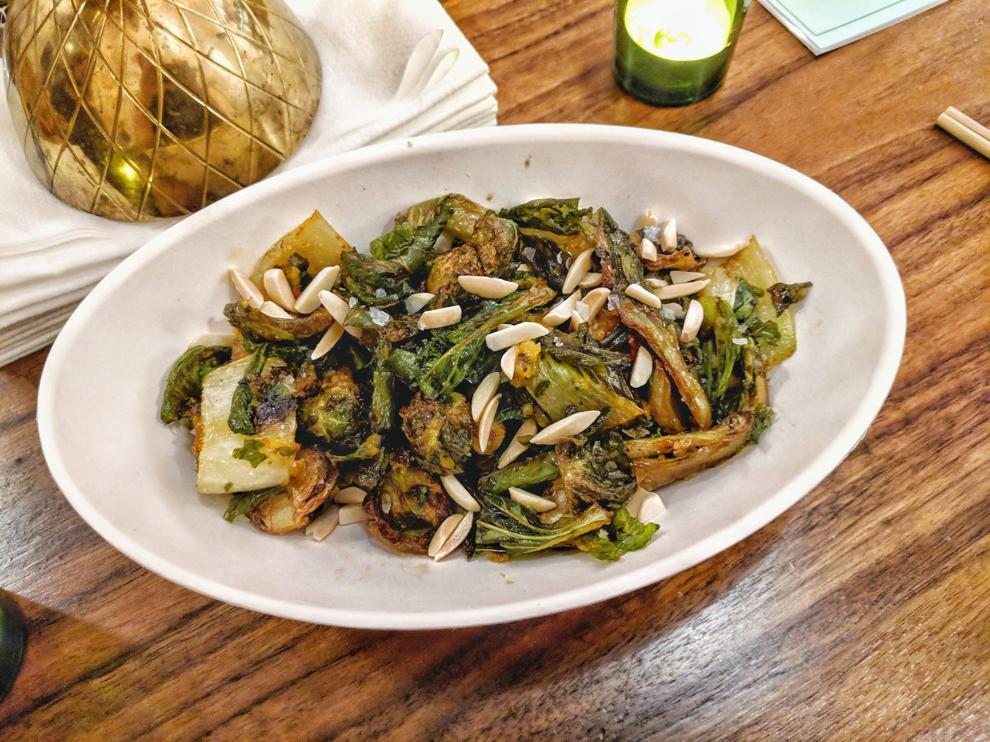 Consider a dish of "fried green things;" flash-fried seasonal green vegetables with apricot harissa and roasted almonds — pound for pound one of the tastiest things in recent memory. Vegetables also shine in chef Rocky Hunter's carrot lox, a fun take on faux-food substituting ribbons of cured heirloom carrots for smoked salmon, garnished liberally with rye crumbs and everything bagel seasoning. It's playful, imaginative and — most importantly — actually delicious, showing aptitude and purpose that speak to Hunter's personal vegan leanings.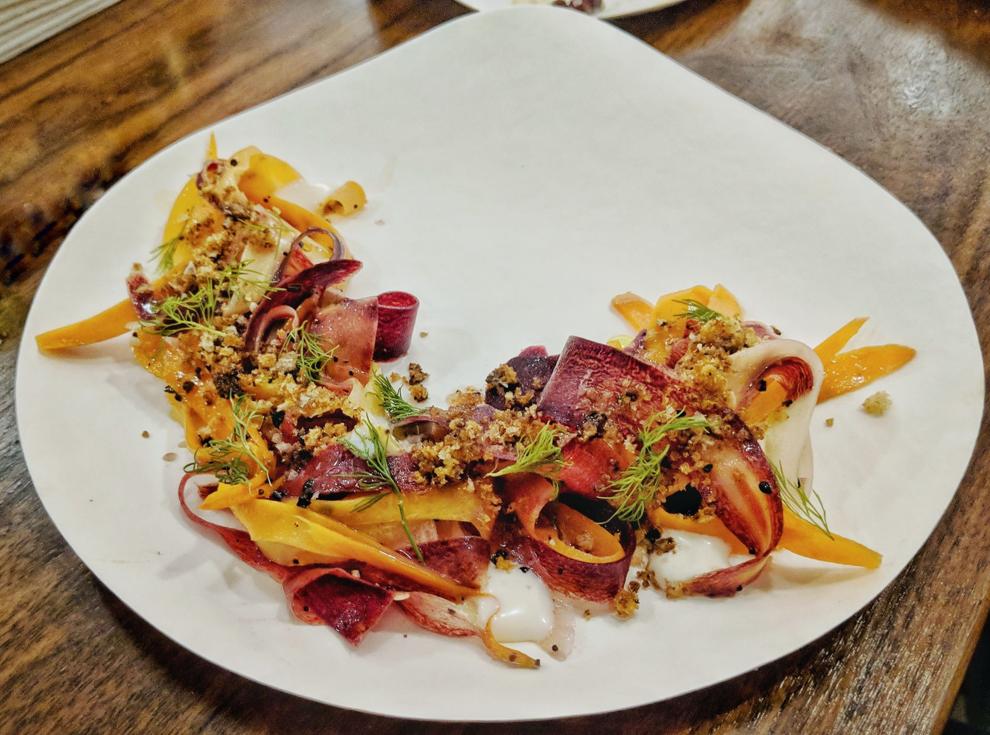 Though he may not partake, the animal protein-based dishes at Crown Jewel are stunningly pulled off in some cases (don't miss the chorizo and smoked olive oil deviled eggs as a starter). Hunter's New England Shrimp Toast with North Country slab bacon, asparagus and lemon aioli is explosively flavorful, as is a dish of fried oyster sliders that teeter into the territory of epiphany thanks to a deep, earthy burnt onion and tomato jam. An entree-sized plate of pan-seared hake — prepared in the fashion of a Portuguese fish stew — is rich, sultry and addictive, with a lasting finish not unlike that of a fine and perfectly aged red wine.
Room for improvement can be found in a $16 "simple burger," which would top out at $24 with the addition of bacon, lettuce/tomato/onion, pickles and a choice of sauce. Though decadent in its simplicity even without-add ons, there are better burgers to be found around town for half the price.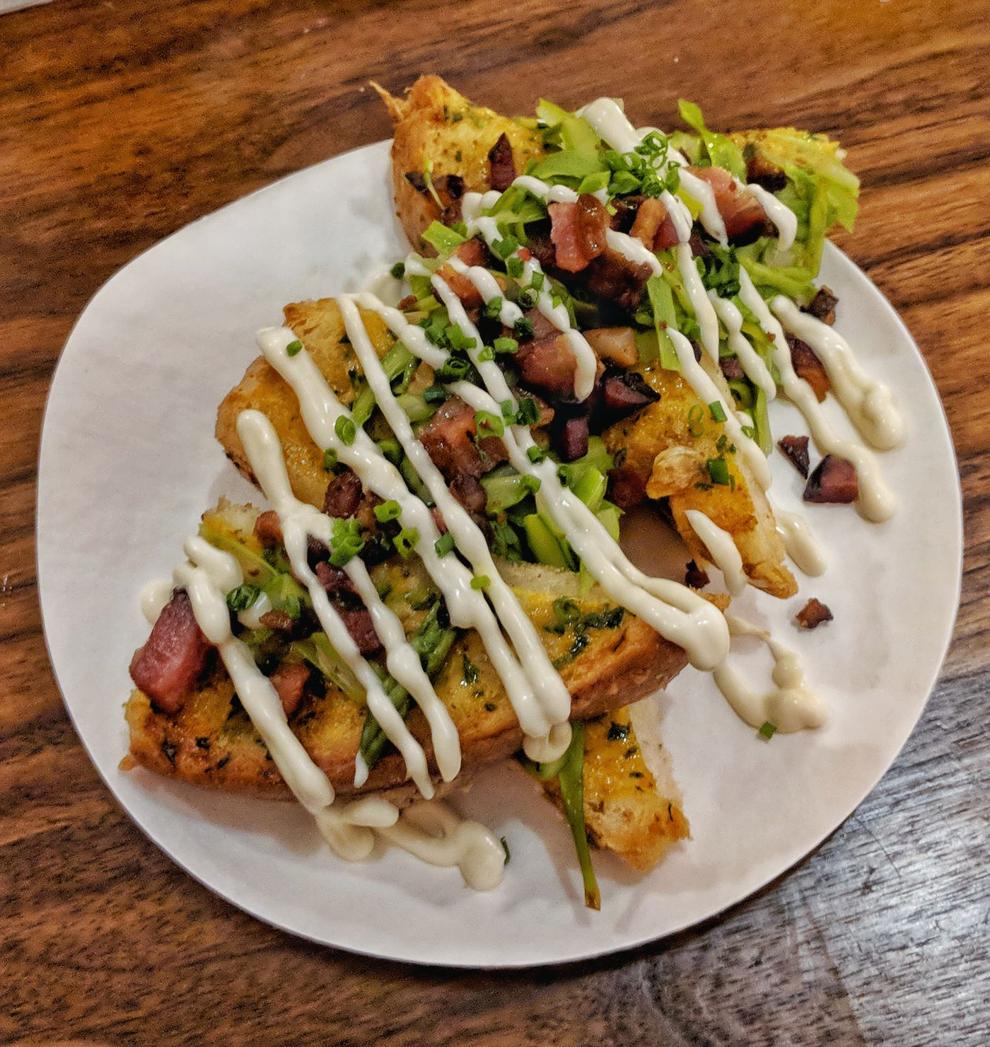 A meal at Crown Jewel is perfectly capped by a dessert of shaved ice, finished with a choice of house-made syrups and nostalgia-laden toppings like macerated strawberries and crushed Oreos. It brought me right back to the sweltering heat of 1996-era FunTown, waiting patiently to enter the Astrosphere while maintaining a normal body temperature with copious amounts of sugar-topped frozen water. It was astoundingly good.
Crown Jewel closes up shop for the season come Columbus Day, so the window for visits until next season is becoming more narrow with each passing day. For those looking to hang on to summer just a little bit longer, I can think of no better place in the area to have a meal.