Gil (Kip Davis) is a sorry-looking young Oklahoman, with scars and an eye-patch, a perennial sad slouch, and an ill-fitting red McDonald's work shirt. He still lives with his mom (Amy Roche), who infantilizes him; and his vicious manager (Allie Freed) gleefully emasculates him. Some would call Gil a loser. The only thing he has going for him is his cock, and you can be sure it's not that cock.
No, it's a rooster named Odysseus Rex (Erik Moody), which, with an abundance of love and steroids, Gil is training to hate like a winner, in Olivia Dufault's raw and darkly entertaining comedy Year of the Rooster. Not a show for the faint of heart, Year of the Rooster is smart and unsettlingly empathetic, and is cannily performed in a superb new Dramatic Repertory Company show, under the taut direction of Sally Wood.
To the men in this story, cockfighting — or "cocking," as they call it — has both personal and ur-historical significance. Gil's name for his rooster pays homage (perhaps inadvertently) to two giants of Western mythology, and Gil's nemesis Dickie (Christopher Holt), the bully who runs the cockfights with his own birds, also talks big and mythic. Leering down from a scaffold at the start of a fight, grinning maniacally, he calls cocking "the oldest game in the world."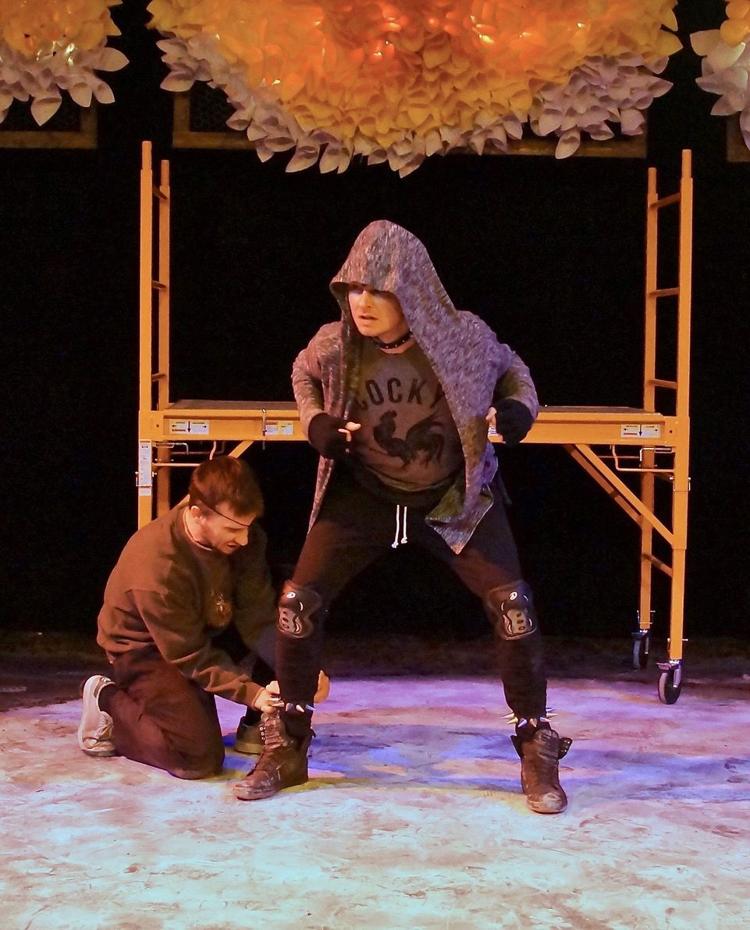 So do DRC's scenic elements (facilitated by Meg Anderson) conjure a kind of primal, elemental sublime: On the stage floor is the ring where the creatures fight, white and gray-dappled like the moon. On the back wall, curls of white paper bloom through framed chicken wire, like so many feathers, backlit with red and gold lights that seem to pulse. It's a hypnotic, epic vision. In his existential rage, Odysseus Rex — Odie — addresses it as the sun he is trying to kill.
Odie is trying to kill everything, and lanky, loose-jointed Moody, in a spiked collar and fingerless gloves, does fine physical work as a blood-lusting bird, bouncing like a boxer, his skinny elbow-wings twitching, his chin thrusting upward with taunts. This is the creature Gil loves most, but his love manifests itself in harrowingly staged acts — he riles Odie up in a pas de deux of shadow boxing and mutual rage; he injects the bewildered bird with multiple syringes, pumping him ever more full of inchoate wrath.
As one of several people who drive Gil to such methods, Holt's Dickie is diabolical, volatile: Swaggering in a pimp's leather jacket and a handlebar 'stache, his eyes gleam as they seek weakness to savage. Philipa the McDonald's manager (whom Freed plays like a blade), likewise takes obscene pleasure in mocking Gil's missing eye or penis size; and even Gil's mom — prim, whiny, and oblivious in Roche's hands — seems to maintain some self-esteem by treating Gil like an doltish child. That we sense others have treated these people similarly doesn't lessen their cruelty, but illuminates it.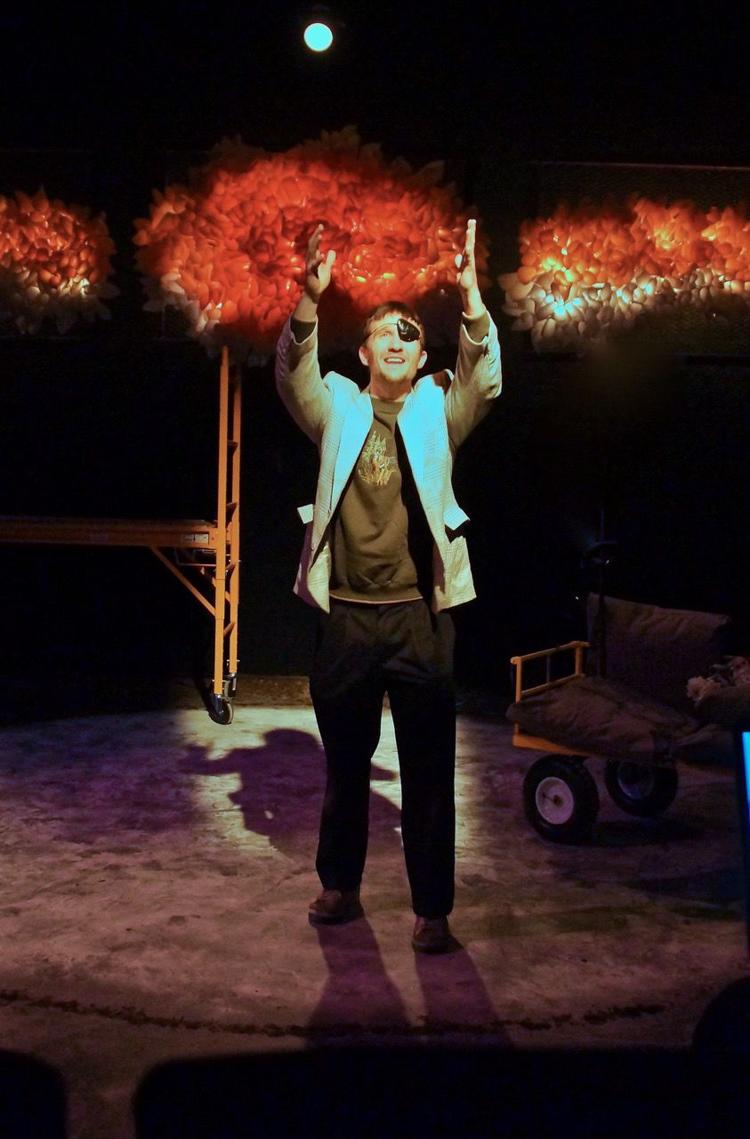 Amid the battles of cocks and humans, set pieces roll onstage and off with a vertiginous speed and even aggression, and the cockfights themselves are handled bracingly but wisely by fight director Wood. While Moody and Holt (in an excellent second role as Odie's rooster nemesis) rock some rooster-y tics of wing and leg, they're still fighting in fraught human idiom.
And as the loser trying so hard to win, Davis's masterful Gil — slumped, downtrodden, and sodden with pathos — is sometimes almost physically painful to watch. Davis makes tangible Gil's profound lack of belonging; he often looks like a small boy as accustomed to being hurt as he is bewildered by how the world keeps hurting him. In this, of course, he has a soul-mate of his own creation, and Gil is electrified in Odie's presence. As Gil strokes the sleeping, quivering bird, we see him at his most open, loving, hopeful, and human — smiling, snuggling, confiding. Just as heartbreaking, later, is that when Gil does finally win, he turns the bullying cruelty on others.
Year of the Rooster is a portrait then not just of guys with or without cocks, but of a certain culture — one steeped in what we now call toxic masculinity and limited in both economic and cultural options. It's a culture not limited to the Ozarks. And, as Gil likes to repeat, the people who gave us cockfighting — the Greeks — are the same people who gave us democracy. So, too, is the cycle Gil suffers and inflicts both a very old one, and one we know far too well right now.
Year of the Rooster | By Olivia Dufault; directed by Sally Wood | Through March 18 | Dramatic Repertory Company, at the Studio Theater at Portland Stage, 25A Forest Ave. | Wed-Sun 7:30 pm | $20-35 | www.dramaticrep.org