CONWAY — Naughtaveel Farm, owned by Julie and Justin Hussey on the West Side Road in Conway, was chosen recently as the recipient of New Hampshire Green Pastures Dairy Farmer of the Year award.
It's a significant prize for the last remaining dairy farm in Carroll County, a farm that is facing new economic challenges due to the COVID-19 pandemic.
A committee comprised of the previous four-year winners toured the 600-acre farm last Friday (July 24) and made the announcement over the weekend.
The third-generation Hussey farm milks 185 cows with 175 head of heifers.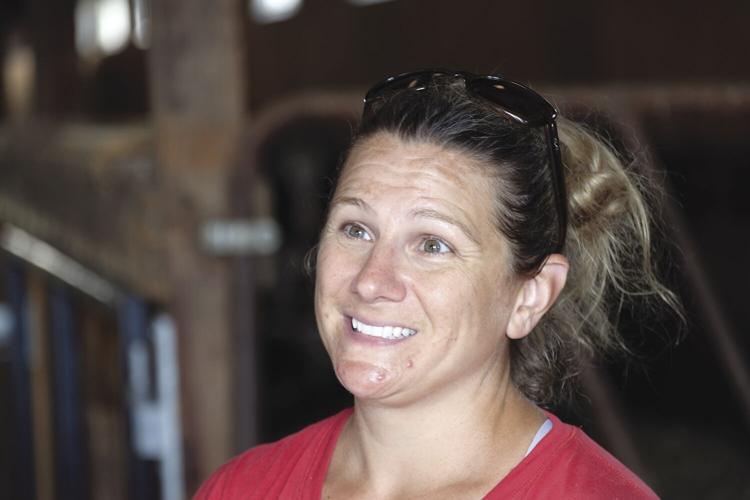 The farm maintains a rolling herd average of 24,000 pounds of milk, 1,000 pounds of butterfat and 715 pounds of protein, according to Julie Hussey.
The farm ships its milk every two days to Cabot Creamery in Vermont.
According the University of New Hampshire Cooperative Extension, the Green Pastures award dates back to "1947 with the following, 'I challenge the other New England States to produce better pasture than New Hampshire's and I bet a hat that they can't do it.'
"That was the beginning of what turned out to be one of the most successful regional programs in New England when Gov. Charles Dale, then governor of New Hampshire, challenged the other New England States to produce better pastures."
"In the 1960s or early '70s, the award changed because not many people were pasturing anymore," said Justin. "So they turned it into more of a dairy farm award."
The Husseys, and children, Allie, 14, and Sawyer, 13, are scheduled to be recognized later this year, along with all of the other New England state recipients at the Eastern States Exposition in West Springfield, Mass. The ceremony will take part remotely due to the COVID-19 pandemic.
Justin, 42, and Julie, 41, have been farming for 17 years, including the past six on the site that Justin's grandfather, Dr. Eugene Hussey then had started in 1960 and run until 2006, known as the Eastern Slope Farm. Both say they're "doing what they love to do."
The couple met while attending the University of New Hampshire and enrolled in the dairy program. They dreamed of one day owning their own farm. Julie was studying marine biology and Justin was in the engineering program, but their hearts were more into agriculture and farming. They soon switched majors and set their sights on one day owning a farm.
The Eastern Slope Farm, which was run by Justin's Uncle Brian, was not available for sale at that time. Upon graduation in 2001, Julie went to work with her brother, Mike Tanguay, in Vermont, while Justin began working for Northeast Agricultural Sales in Lyndonville, Vt., and became a certified pesticide spray applicator.
They still had the farm dream.
In 2003, the dream started to take shape when they took over the Cross Farm, located south of the Eastern Slope Farm next to what is now the Marshall Conversation Area. Julie said they began with 13 calves and 20 acres of land and raised heifers for Julie's brother Mike.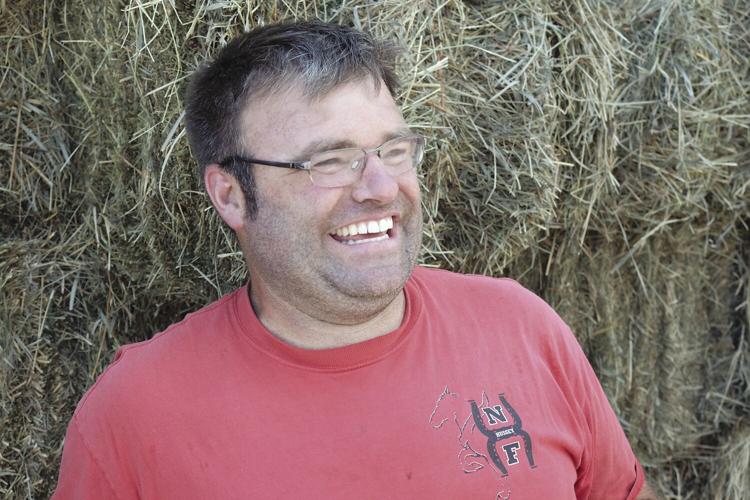 "In 2007, Al Sherman (of Sherman's Farm in East Conway) came and saw us, and his family had made the decision they wanted to sell their milk cows," Justin said.
"Julie had the bright idea of buying the cows and renting the facilities, which we all agreed to. We milked the cows there and sold the milk back to them (for their retail milk business). We did that until 2013," he said.
"In 2013, we bought this place and moved here in 2014," Julie added.
Julie and Justin bought the farm from Brian Hussey.
Justin remembers his grandfather told him that farming was "too hard a way to make a living," but "all my free time, I always wanted to be at the farm."
He added: "This was my family's farm. Keeping that part of the family in this community is important to us. It's a feeling of doing something important: producing food, providing jobs, buying supplies in the community and keeping the land open."
Farming is a tough life, and when you throw in a global pandemic, it becomes that much harder.
"We actually thought we were going to have a good year until March," Justin said.
"Then the COVID," Julie added and explained the impact. "You sell milk by the 100 pounds. They come in and pick up a gallon, but they pay you per 100 pounds, and it's broken down into components like protein, fat other solids. And we were getting paid about $19-plus, almost $20 per 100 pounds in March or February. Now it's $12. And it cost us $18."
"Just to give you an idea, I think my grandfather sold his (300) cows in 1986," Justin said. "($12 per 100 pounds of milk) is what he was getting paid then. There was a time when he was the second-largest dairy farm in the state. The margins in dairy farming, they're so tight. Like with a lot of businesses as time evolves, things get tighter and tighter and we've just, you know, we become more efficient."
Cows, according to Justin, go through 100 pounds of feed and 30 gallons of water a day.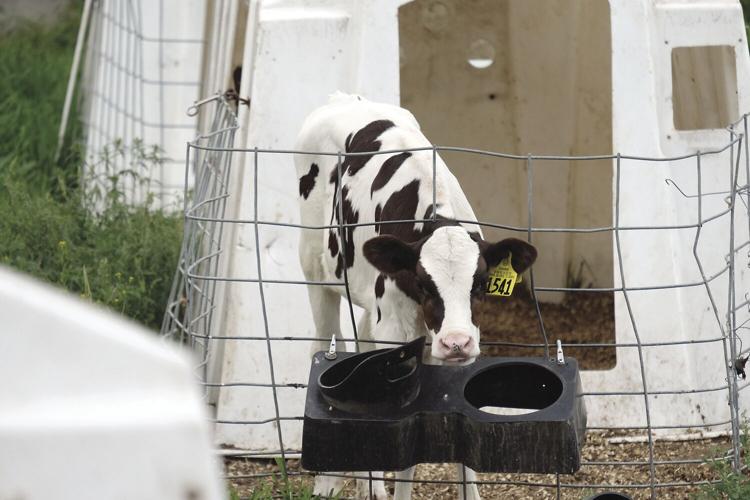 Allie and Sawyer also enjoy farm life. "We're never bored," said a smiling Allie.
"I like how we have so much stuff to do," added Sawyer.
Aside from the cows, the Hussey name is also associated with draft horses. The family has 19 Percheron draft show horses, competing from Maine to Colorado. The family also has a goat named Carson.
"The fortunate thing about the draft horses is it's allowed us to travel," Justin said. "I mean (Allie and Sawyer) have got friends all over the country. We've been to the Iowa State Fair, we went to Denver Stock Show."
Justin is scheduled to head to Indiana on Sunday to judge two days of draft horse competition.
"Julie jokes that this is my vacation," he said, laughing. "What a vacation, I get to drive to Indiana, judge and then drive right back."
In 2016 the Husseys were six-horse hitch national champions at the Indiana State Fair.
"We do what the Budweiser horses do," Justin explained, "but we do it on a competitive level."
The Percherons were used to give the Green Pasture Committee a tour of the property. Allie and Sawyer hitched a team to a wagon, and Julie and Justin took the committee members throughout the property, negotiating through the barns and the fields.
"We wanted to give them something a little different, a unique spin on a tour of a working farm," Justin said.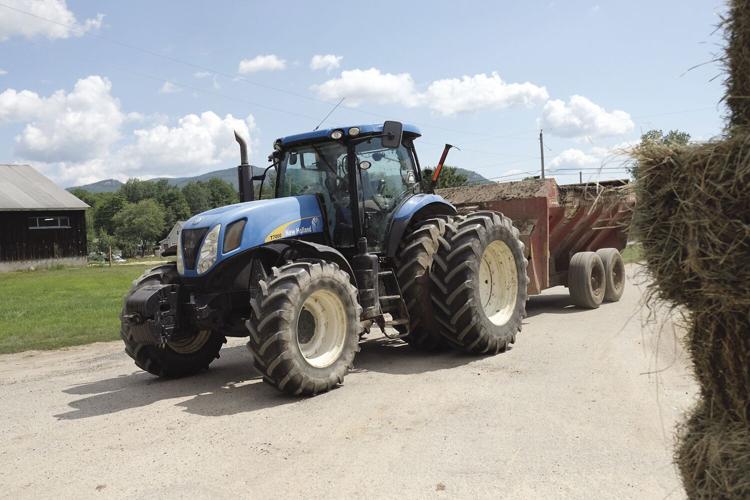 Aside from the family working on the farm, the Husseys also have three full-time employees. They also raise 250 acres of corn and 250 acres of hay crop. They're gearing up for their third haying of the summer.
Also on the property, the family runs Hussey's White Mountain Farm Stand, selling raw milk (by the gallon or half-gallon), beef and pork.
As this year's winners, the Husseys will get a sign to put out on the farm that will read: "Green Pasture winner, dairy of distinction."
Naughtaveel. Where did that name come from?
"It's actually a funny story," Julie said, sharing that when they first raised calves at the Cross Farm, a local animal activist protested across the street claiming they were raising veal calves.
"On our invoices, when he used to handwrite invoices, it said not a veal farm. I just played with the letters and made it work. So that's how we got Naughtaveel. People are like, 'Is it Swedish?' No, it's not a veal farm."
Julie and Justin love what they do and feel it's important to have an active farm in the community.
"I feel like for me," Justin said, we're contributing to the community, keeping land open, keeping food on the table, keeping people with some jobs and helping the local economy. And then the other thing was we thought it was a good way to raise our kids."
"We don't know if they agree," Julie said, smiling, adding, "I think were kinda hooked on farming."