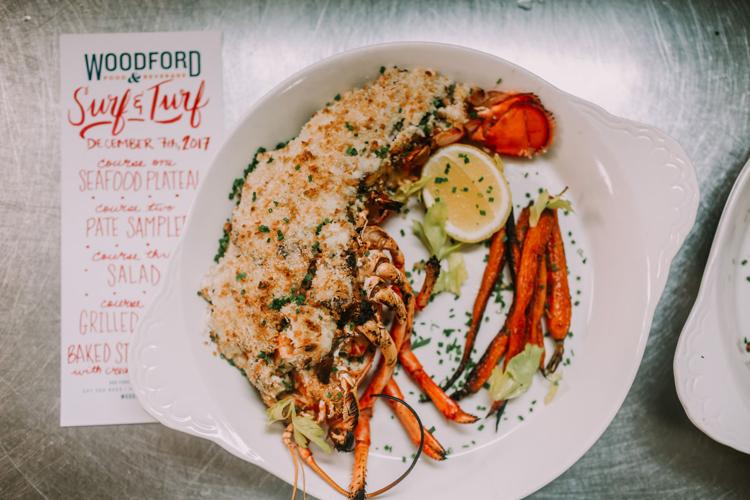 It's difficult to talk about what's currently happening at 660 Forest Ave. without bringing up the building's most well-known former tenant, Valle's Steakhouse. A Maine-born chain of restaurants stretching up and down the eastern seaboard over an incredible run of 67 years from 1933 to 2000, Valle's delivered luxurious evenings of prime steaks and fresh Maine seafood, at one point serving over 40,000 lobsters per week.
After decades of rapid expansion, owner Donald Valle died in 1977, and everything went to hell. The energy crisis of the 1970s, plus rising labor costs and an emphasis on reasonably priced food over high liquor markups (an adamant facet of the brand) led to major decline for Valle's and its business model. The company shuttered all of its 32 restaurants by August, 2000.
Built in 1964, the modernist building at 660 Forest Ave. that once served as both a Valle's location and, subsequently, the company's corporate headquarters, now houses Woodford Food and Beverage ("F&B," for short) — a return to form that Donald Valle himself would be proud of.
Proprietors Birch Shambaugh and Fayth Preyer — along with chef Courtney Loreg — have created an intimate venue for well-executed bistro food on perhaps the most hectic corner in the greater Portland area, and it's amazing how well it works. Despite the unfortunate, near-24/7 presence of construction and traffic buzzing outside as part of the major Woodfords Corner redesign, the room itself remains warm, lively and romantic. F&B's interior showcases both classic and modern elements of design, evoking feelings of sitting in a Blade Runner-esque diner with slightly Parisian leanings.
As innovative and adventurous as many of the menus gracing tables in restaurants throughout Portland happen to be, there are few — if any — establishments doing what Loreg and her team are at Woodford F&B. That is, avoiding temptation to reinvent the wheel and dialing-in classic preparations that dance effortlessly across French and American borders.
F&B serves "bistro food" to an extent, but the sum of its parts is much more than that — the experience is transportive without trying to take you somewhere wholly unfamiliar. Across two recent visits — one of them a press dinner — I enjoyed some of the best food I've eaten in Maine this year.
First, drinks. The cocktail program at F&B is strong, and so are the drinks themselves. The "Falling Star" is sweet, spicy and seductive, a combination of infused gin and lavender with honey simple syrup and lemon juice that gets the pleasure neurons firing en masse. More than one "El Fin Palabra" — strong and assertive with a nice citrus backbone — may indeed be the end of the world if you're not careful. 
Winnegance oysters are a beautiful start to the show — nutty and briny, West Bath oceanic goodness with a classic cocktail sauce on the side. Deviled eggs follow suit, with a generous portion of whipped, mustard-laden filling towering above each segment of hollowed-out boiled egg white — like tiny castles covered in flurries of smoked bacon, chives and paprika. Steak tartare is the real deal and could feasibly satisfy an entire table in its unctuousness, topped with a raw egg yolk and flanked by grilled sourdough for the kind of textural contrast worth dreaming about.
F&B's vegetable game doesn't disappoint, either. Deep-fried Brussels sprouts are chock-full of umami, topped with aged balsamic and a velvety lemon sauce. A plate of ancho chile-spiced delicata squash and autumn greens shines as one of the most unique dishes on the menu, with cloumage, quinoa and a caramelized honey-fennel seed vinaigrette that has some serious legs to it. Astoundingly good, and something I want to eat every day.
Loreg's work truly shines in the menu's larger plates. Her grilled maple-brined pork chop with colcannon, roasted baby carrots, pickled green apple and Alsatian Riesling mustard sauce may be the most comforting dish in the city right now, perfectly cooked and framed by a persistent level of acidity. The house burger — a blend of 70 percent brisket and 30 percent chuck topped with smoked bacon, grilled onions and dijonaisse — is deeply satisfying with every bite and surrounded by a pile of fennel powder-coated crispy fries. Perfect.
For dessert, ask for the chocolate pudding — no, seriously. Toothsome, velvety and sturdy while maintaining a delicateness I don't think I've seen before in a pudding preparation, it is a remarkable achievement in its simplicity and ethereal texture.
F&B has also unveiled a new, fixed-price "large format" menu as of late, available for parties of six or more with 48 hours of advance notice. A variation on "surf and turf," Loreg's skills take center-stage in highly shareable portions of smoked and raw seafood, house-made charcuterie, grilled ribeye with marrow butter and oyster mushrooms, baked stuffed lobster and more. It's an experience unlike anything you'll find elsewhere in Portland (or possibly anywhere in this era), and one worth seeking out if you have a large party to impress.
What left is there to say about Woodford F&B? Nothing negative, to be honest, and I've wracked my brain. The restaurant is a welcomed return to a dining format that still borders upon extinction, and one I personally hope sticks around for decades to come.