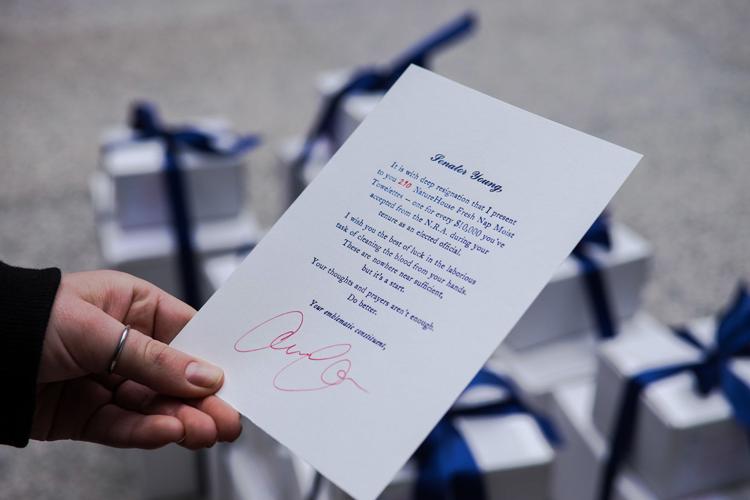 Last week, a national artist undertook a piece of performance art in response to the shootings in Parkland, Florida, and the subsequent reports of the campaign donations from the National Rifle Association to members of Congress. 
Annie Leue, a graduate student in Visual Communication Design at the School of the Art Institute of Chicago (SAIC), has mailed thousands of moist towelettes to 20 members of Congress — including Maine 2nd District Representative Bruce Poliquin (R), whom the N.R.A. has given him an "A" rating.
Leue says she sent the towelettes, which come inside a pack with an American flag with the phrase "United We Stand,"  so that the lawmakers can "clean the blood from their hands as their complicity in mass violence continues unhindered by pleas from their constituents to pass meaningful gun reform."
According to a statement from Leue, each letter read:
Senator/Representative [Last name],

It is with deep resignation that I present to you [number] NatureHouse Fresh Nap Moist Towelettes — one for every $10,000 you've accepted from the N.R.A. during your tenure as an elected official.

I wish you the best of luck in the laborious task of cleaning the blood from your hands. These are nowhere near sufficient, but it's a start.

Your thoughts and prayers aren't enough. Do better.

Your emblematic constituent,

Annie Leue
Leue said she sent the towelettes on February 21, and is allowing a solid two weeks for them to pass government postal clearances. It is not clear if the towelettes have reached Poliquin yet. He didn't return multiple attempts for contact last week, when we reported on an actually devastating story of national importance. We can't help but think he'll be hiding in the proverbial women's bathroom again on this one.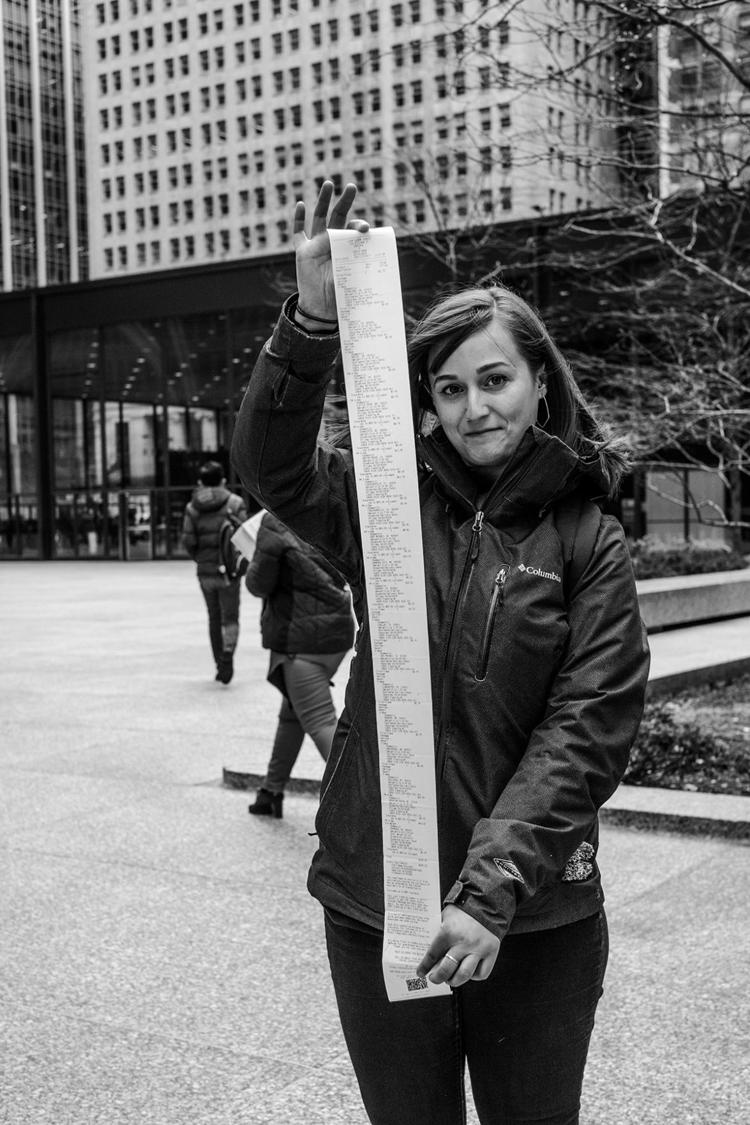 In a press release, Leue writes that she hopes the project will serve to further highlight the disparity and growing alarm with lawmakers' inability to pass legislation toward gun restriction, which she calls a humanitarian crisis. "With 1,624 mass shootings in just 1,870 days, the United States is the only developed country to experience firearm-related violence at such a scale and with this much regularity.
"I am infuriated that our lawmakers, the very people who have the power to help curb this problem, only have thoughts and prayers to offer their constituents in the wake of tragedies such as Parkland, Florida. Thoughts and prayers are about as effective as laws that require people to shovel their sidewalks," Leue said in reference to her motivation behind the work.
On how the idea for this project came about, Leue said, "After the tragedy in Las Vegas in October, I was sitting in my kitchen and suddenly remembered that I had a moist towelette in my backpack. I decided to send that to Paul Ryan with the note: 'Speaker Ryan, I figured you could use this, what with all the blood on your hands. Do better. xoxo The American People.'" The project took off once she found a stash of wholesale moist towelettes with the American flag with its patriotic phrasing.
Whatever you think of Leue's art prank, she's spot-on in her targeting. Poliquin has received more than $200,000 from the N.R.A. toward his political career. He was elected to his seat in 2014, and is up for re-election in November. According to the Federal Elections Commission website, Poliquin raised $2.2 million in re-election funds by the close of 2017. He is being opposed by Jared Golden of Lewiston and Lucas St  Clair of Hampden, both Democrats. 
On March 2, Bruce Poliquin was quoted as saying that "schools need to be protected," but he prefers the idea of "someone who's trained in law enforcement techniques, not teachers," referring to President Trump's offhanded, likely diversionary proposal to give bonuses to teachers who complete trainings in elite firing programs and wear guns on their person in schools. Poliquin added that decisions about protection of schools should be left to local districts, not the federal government.