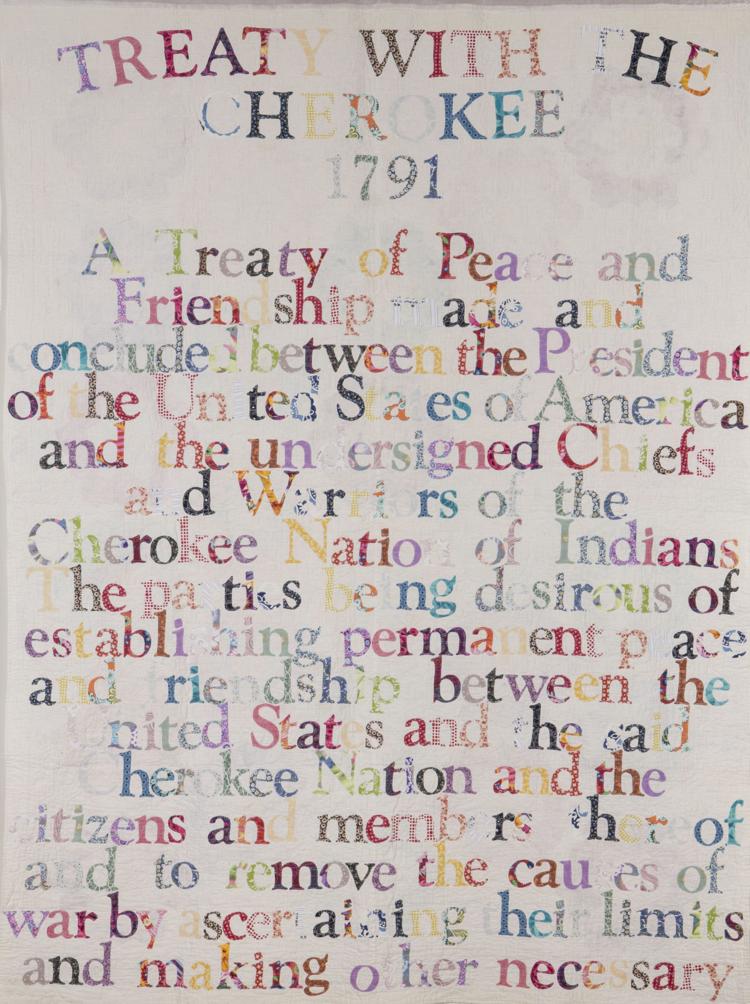 There's no going back to the way the world was before November, 2016. No matter how wistfully middle-class liberals yearn for that time, when daily life seemed a lot gentler and comfier at its surface levels, it's unlikely to be magically restored at the end of the current regime. "If we survive," wrote nonfiction writer, journalist, activist and AIDS historian Sarah Schulman in a recent social media post, "we'll come out the other end into a new and unknown future."
This realization is becoming increasingly familiar to the numerous actors grappling for American power a year after Inauguration Day. But it's seeping into cultural life too. At the 2018 Portland Museum of Art Biennial, the populist exhibition within one of the foremost institutions of culture in one of New England's most progressive cities, the way of doing things has been given a necessary correction.
While other institutions have seemed stubbornly resistant to structural change (the Democratic National Committee's interest in grooming empty-calorie brand-name candidate Joe Kennedy III for an upcoming campaign comes to mind), this Biennial process and execution can be seen as a model for responding to the times. Gone are the objective, identity-blind assessments of art work submitted by the public; the thematic focus on personal studio practices like repetition and exhaustive individual labors (as in 2013's Biennial exhibition "Piece Work"); the ruminations about the limits of national exposure among those working in Maine's art community (as in 2015's "You Can't Get There From Here").
This year's show (which has no subtitle) has different concerns. For one, it's the first of its kind to be at all concerned with decolonization. Curated by Nat May, the executive director and co-founder of Hewnoaks Artist Colony (and former ED of SPACE Gallery from 2004 to 2016), the exhibition demonstrates that a critical, well-planned curatorial process can be as compelling a subject as the art itself. May has an intimate knowledge of the state's art spheres, is a guest curator similar to those appointed for previous Biennials. But here, he's expanded his capacities to a committee, inviting select others working in art communities he doesn't have as much access to. One of those is Theresa Secord, an indigenous artist (who showed in 2015) and founder of the Maine Indian Basketmakers Alliance. Another is Sarah Workneh, eight-year director of the Skowhegan School of Painting and Sculpture. (Though not a curator but a self-described "institution guy," PMA director Mark Bessire was also involved on the committee.)
May's decision to fold others into the power structure is crucial. It models a progressive aesthetic praxis that prioritizes "plurality" and makes for a better, smoother show. That Secord and Workneh are both women of color is also worth recognizing here (May and Bessire are both cisgender white men). Their intimate familiarity with their own working communities adds context and support for the inclusion of vital Maine artists, often marginalized by so-called "objective" curatorial and juried processes (like identity-blind selections). It also helps prevent the show from seeming exploitative or tokenizing.
It will be difficult to see the PMA moving away from this in future Biennials. For the first time, the exhibition seems not merely concerned with representation among its artists, but among its organizational and decision-making ranks as well. It's not that previous shows have excluded women or artists of color (the very good 2015 exhibition, with Ferris at the helm, did commendable work integrating Native artists for the first time in the Biennial's history). But representation alone does little to change the structure of such institutions themselves, which tend, historically, to serve a certain set of artists and members of the public. If we're gonna truly move forward, the show suggests, this structure has to change.
ALSO IT'S EXTREMELY GOOD
None of this would have worked as well if the art itself weren't awesome. Not everything has obvious politically dimensions, but it's a safe bet (and fun game) to tease them out. Most works can be traced to a practice of art-making as a political or social act. Very little might register to visitors as marketably beautiful (in the hang-above-the-mantle, or the more expressive art-for-art's-sake style), and nothing plays with conventional or tourist-minded images of Maine life, even ironically. Instead, they're concerned with new ways life should be.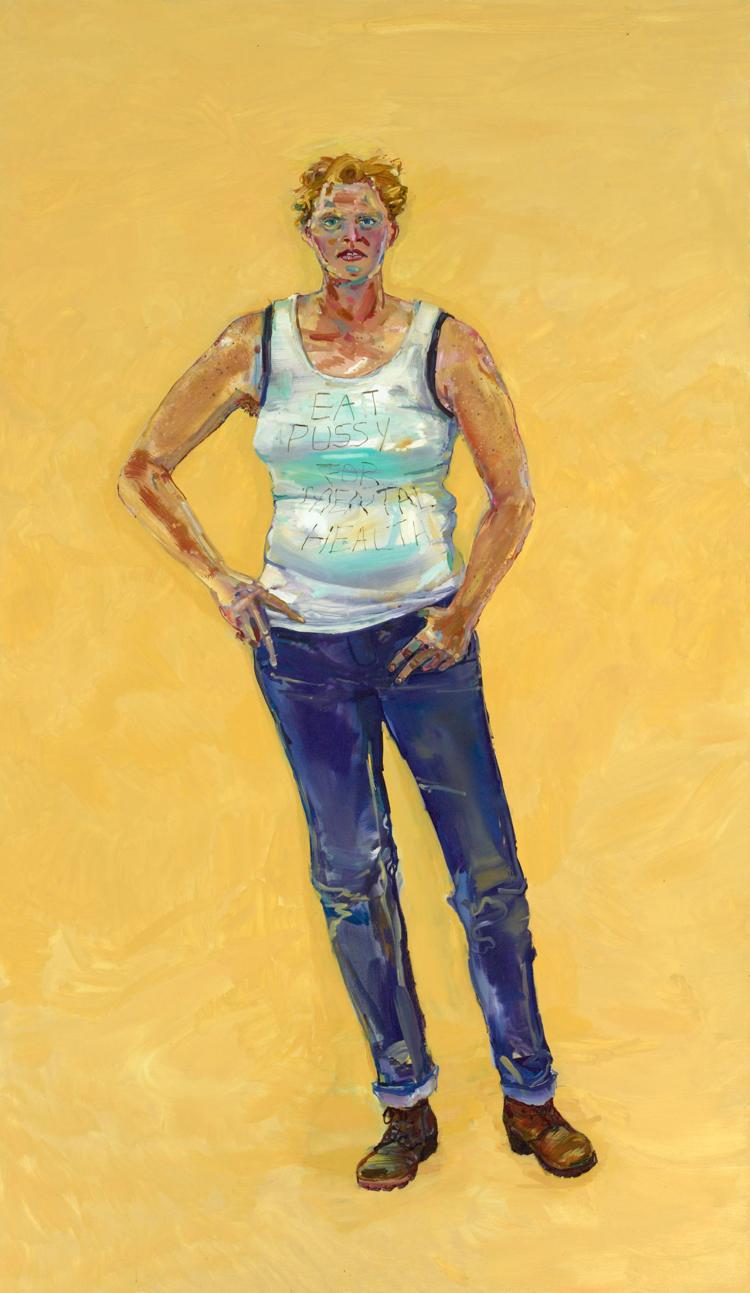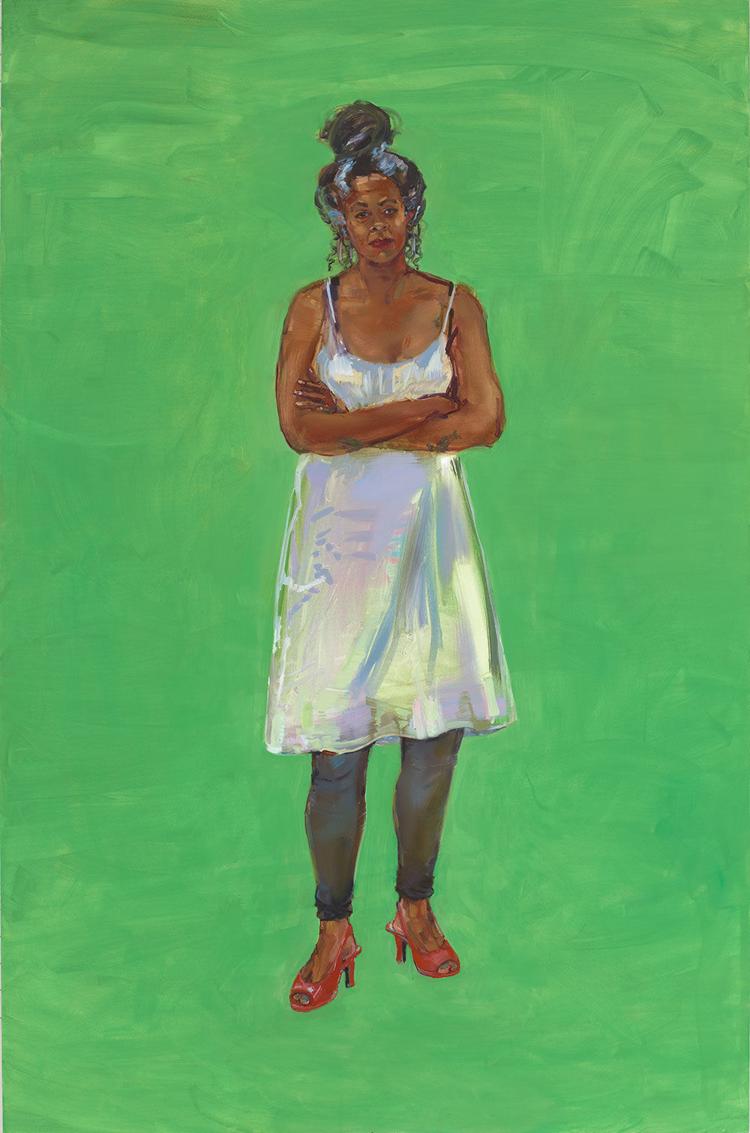 Immediately upon entry, visitors are greeted by the large oil-paint portraits by Angela Dufresne. A visiting faculty member of the Skowhegan School, Dufresne's canvases depict characters of her community captured in an intimate, imperfect tone. The paintings are indeed a little rough (they were described as "duds" by Portland Press Herald art critic Daniel Kany, who wondered why the accomplished painter didn't show her better work), but that's besides the point. Dufresne's portraits — these ones, anyway — are made in one extended sit (the smallest, Dean Moss at 59 1/2 x 78 inches, surely took several hours). The portraits are folksy by design, painted during a time over which she and her subjects go through several waves of awkwardness and vulnerability, in conversation and in silence. In practical terms, it's the kind of shared space typically reserved for neighbors, not artists and their subjects. "It's uncharted space," as she describes, "an incredibly vulnerable shared performance filled with long silences. Suddenly, you're just actually being bored together. The portraits are more the record of that vulnerability than images."
Adjacent Dufresne are the energetic photographs of Séan Alonzo Harris, his Kennedy Park Series, taken of adolescent black boys playing basketball in a public court in Bayside (near some of the city's most coveted development plots). Harris took the photographs on National Night Out, a day in August dedicated to improving relations between police and their constituencies. He describes having his camera on him and finding the game accidentally; the decision to photograph the boys in the August light came as a matter of intuition. "What happened on the basketball court," Harris describes, "it was like I was a horse on the field, responding to sound, noise. Just exploring. That's what happened with the taking of those photographs. It just felt good. It felt right. If they were still out there right now, I might still be shooting."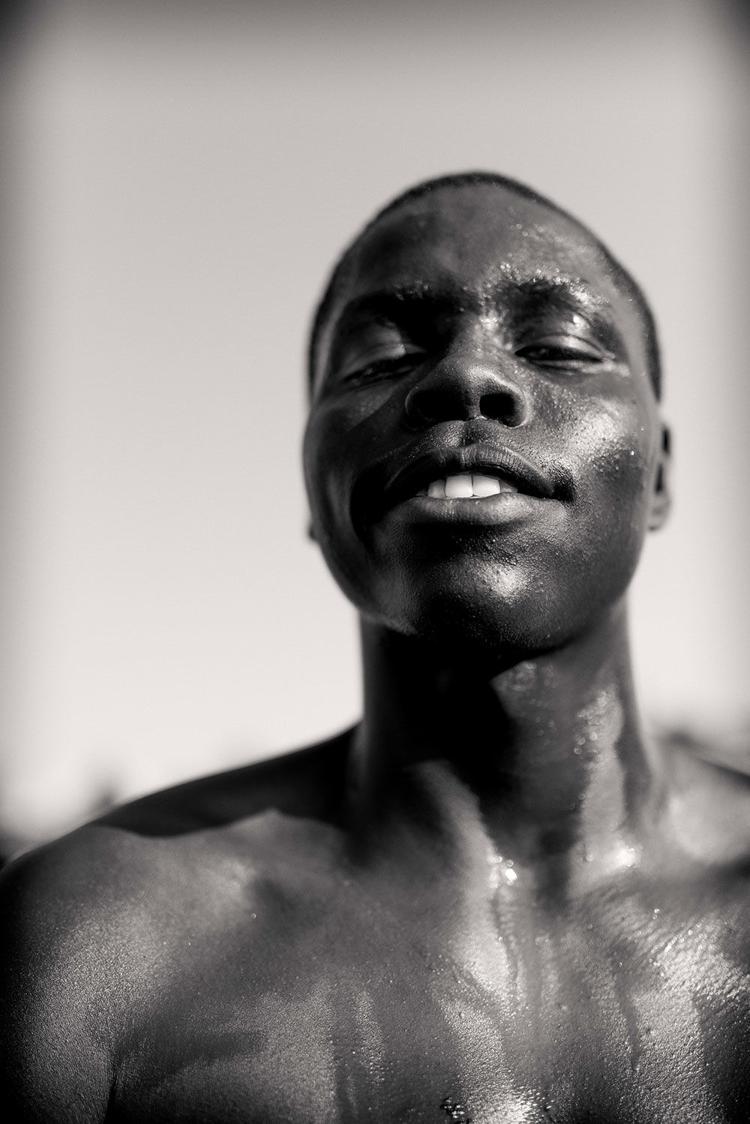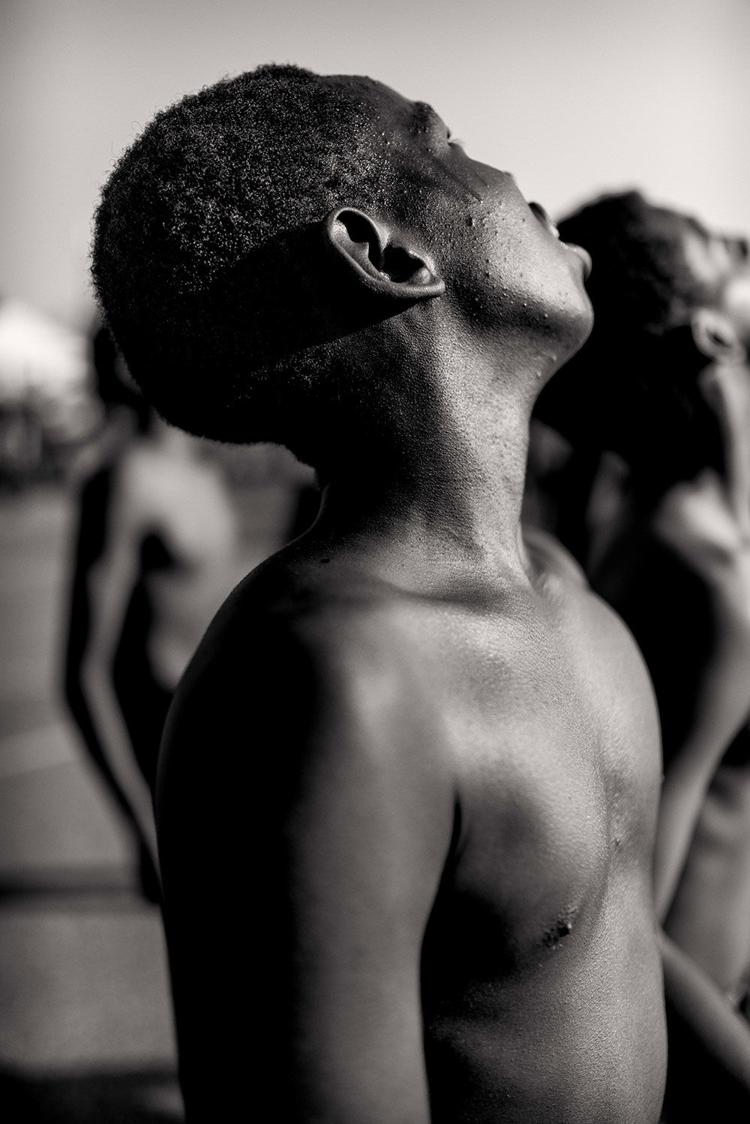 One of the few sculpture artists in the show, Jonathan Mess describes his colorful ceramic works of reclaimed and reused waste materials with humility, tracing the impetus to graduate school. "At the end of the semester, people were just throwing stuff out. It broke my heart. I realized I had access to low-fire clay, high-fire clay, slip, glaze, greenware, all this material. So I started reusing all the scrap material I could find in the studio. I became known as the guy who took all the leftovers." Somewhat buried in the exhbition (and perhaps lacking in size), Mess's works are a kind of alchemy, brilliantly handsome and complex, almost completely obscuring their make-up as waste products. They recall efforts to turn green crabs, the parasitic invaders wiping out the mussel and clam populations along the waterfront, into haute cuisine.
The show's crown jewel is Daniel Minter's A Distant Holla, a mixed-media assemblage of carved wood, small and large paintings, and found objects depicting images and actions traceable to moments in black American life, both contemporary and historical. It's a masterwork, both a career retrospective and remarkable single piece to see in 2018, and it receives apt treatment mounted on the gallery's most prominent wall. Sascha Braunig's paintings are stunning and singular, their abstracted female forms in twisted and faintly technological iterations. DM Witman's photo series of geological terrain subverts the gallery fetish for the Maine landscape by depicting undeniable evidence of climate change. Becca Albee's RADICAL FEMINIST THERAPY: Working in the Context of Violence (B.B. 1992) is a series of 15 letterpress pages lifted from chapters of a book, the text removed only to show Albee's annotations in the margins.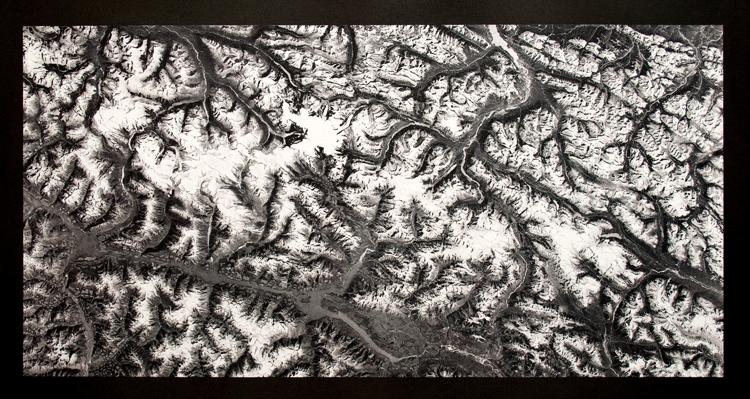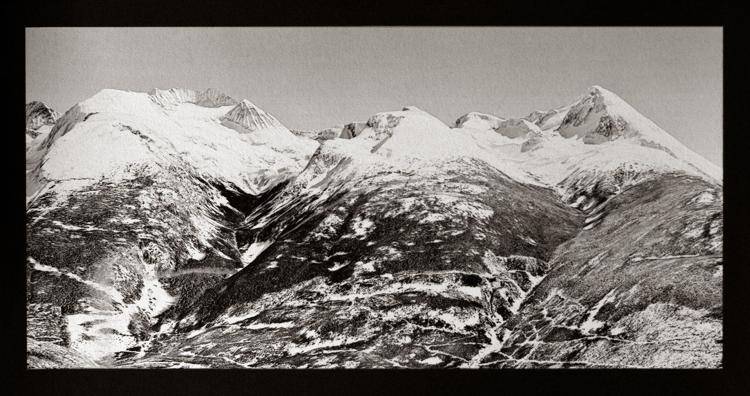 Visitors should factor time for three amply-lengthed video pieces. Nancy Andrews's On a Phantom Limb (2009) combs through the confusion and cyclical self-assessments experienced after intensive care unit after a "devastating, but lifesaving, hospitalization." It's a lovely and vulnerable meditation on the act of healing that justifies its 35 minutes, but the length is a bit imbalanced with the exhibition. In the same loop, Erin Johnson's fascinating short film The Way Things Can Happen collects interviews she conducted with some of the Lawrence, Kansas, residents who made up the 5,000 extras who performed their own deaths in the 1983 movie The Day After, which depicts a nuclear bombing.
Fred Tomah's colorful Wabanaki baskets are woven freehand on the top and with the use of a mold along the bottom, a design he traces "to a time before the coming of the white man," adding his original quatrefoil weave as a unique flourish. The show also wisely extends beyond works that may be considered commercial or utilitarian products, including the Passamaquoddy birchbark canoe by David Moses Bridges and Steve Cayard, and Gina Adams's excellently confrontational Broken Treaty Quilts, a reference to the numerous times early white colonists broke peace accords with the native populations. Adams' quilts (made from calico, the first industrialized commodity made in the U.S. that was exported to Europe, which "made many white men very wealthy") are hung in four corners of the main gallery. Shown this way, they seem to cast the room as a harrowing sort of sacred space, reminding the visitor that even the most innocent appreciations of American life require one to forget (and therefore be complicit in) the fact of living on stolen land.
Some have complained that the show is about identity politics, or "entitled liberal cis male white guilt" (as Kany cites an anonymous visitor having stated in his Press Herald review). It's not. Guilt is inert and motionless; a useless, individual-centric feeling that paralyzes people. This is a collection of strategies by a diverse set of people who've been working on the frontlines. We should listen to them. They might help us get through.
The 2018 PMA Biennial, mixed media group exhibition | Through June 3 | Portland Museum of Art, 7 Congress Sq | Wed 10 am-6 pm; Thu-Fri 10 am-8 pm; Sat-Sun 10 am-6 pm | www.portlandmuseum.org