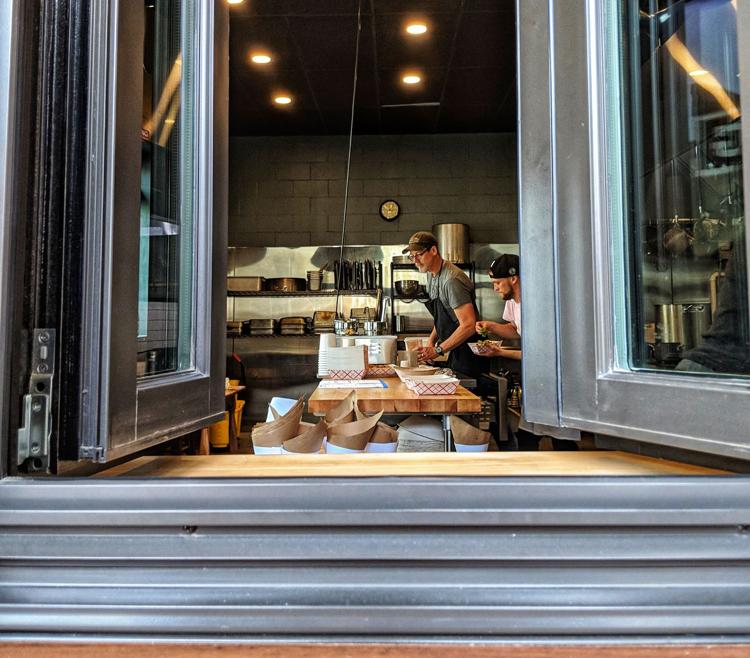 Localfolk with a taste for the best sandwiches and fries in Portland have long had to begrudgingly cross Duckfat off their lists throughout the summer months. The small shop at 43 Middle St. is typically untouchable without suffering through a protracted wait. Thanks to plenty of (well-deserved) national press, it's become one of the city's most sought-after dining destinations for Bostonian Sunday drivers and cruise-ship passengers. To eat at Duckfat means planning to eat at Duckfat, and even then, nothing is for certain.
Chef Rob Evans and team have seemingly answered the prayer of the masses by opening a window service Duckfat annex/extension a few blocks away from tourist country. The early results point to what should be an even more fruitful summer than previously expected for growth-explosive Washington Avenue.
Sharing a physical locale with Oxbow Blending & Bottling's quaint and comfortable beer garden, the brand new Duckfat Frites Shack began serving up fries, salads, milkshakes and more from its takeout window on May 24th. NOT present are the giant waits and relatively on-rails menu the brand has become known for, which gives this particular iteration a decidedly different feel from the Middle St. bastion of Belgian delights.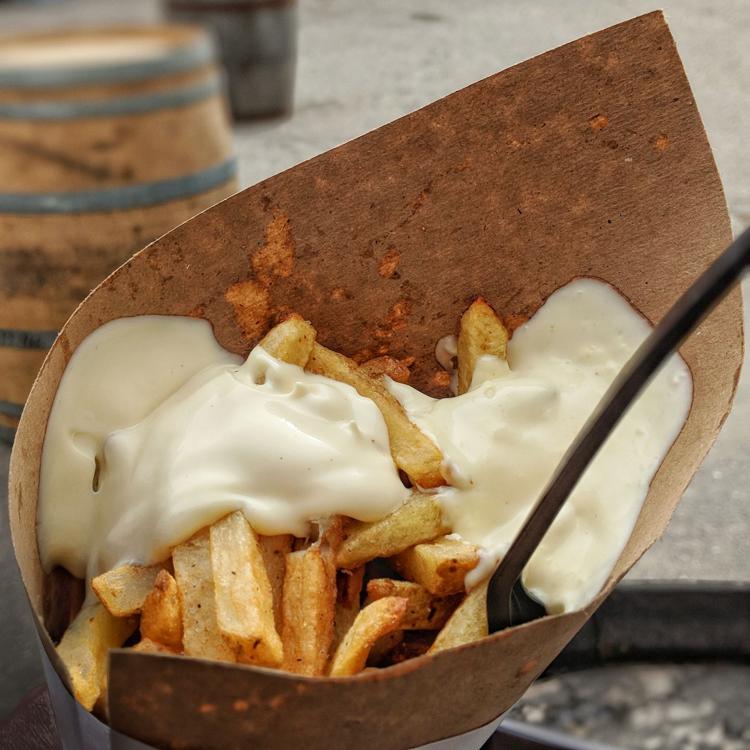 Frites are as expected (read: perfect), served alongside a chosen assortment of house-made sauces/aiolis and perfectly suited for pairing with Oxbow's always impressive lineup of draft and bottled farmhouse ales. The real standouts thus far, however, have come in the form of dishes not exactly in line with Dutch and Flemish fare. Salmon belly poke—served with avocado, cilantro, sambal and crispy rice crackers—is the most delicate, viceral-grunt-inspiring dish you've ever eaten out of a paper tray. As battered birds go, chicken-fried quail is the "cleanest" imaginable in both taste and texture, destined for dipping in a lemon-sage mayo that lives up to its name and flanked by a piquant pile of fermented coleslaw.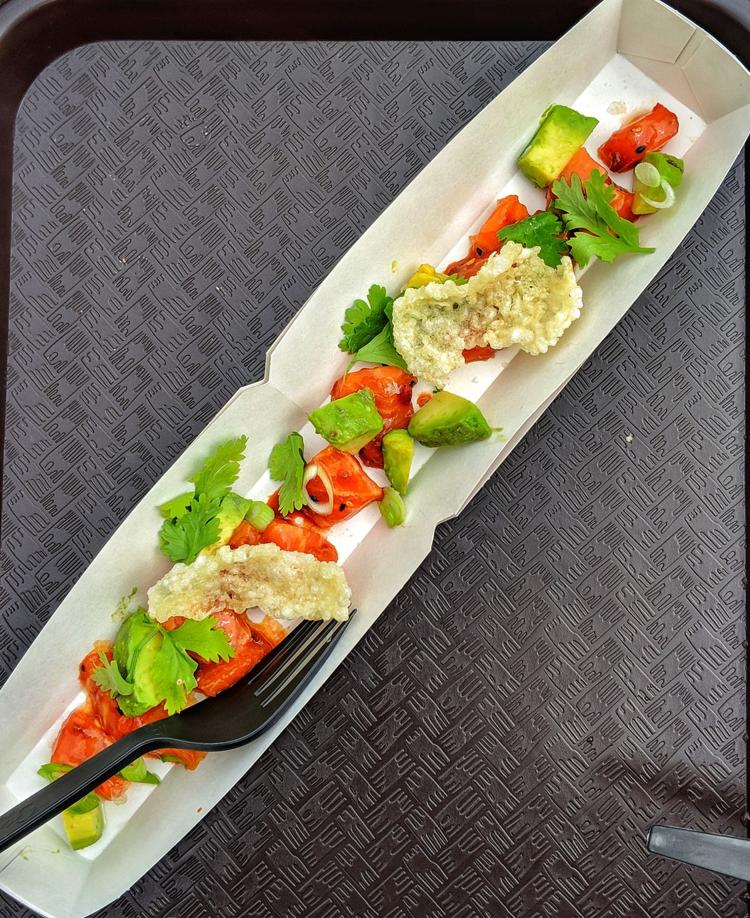 With warm weather finally becoming the norm around town, there are few openings planned that scream "summer" quite as much as Duckfat's new venture. Chef de Cuisine Scott Nicoll's résumé also happens to be impressive, including stints at The French Laundry in Yountville, CA and Australia's Momofuku Seiōbo—two notable culinary powerhouses by anyone's measure. Plans for beer dinners, "grill nights" and other exploratory proceedings are in the works, too, which should help solidify inner-Washington as the most stimulating stretch of road in the city.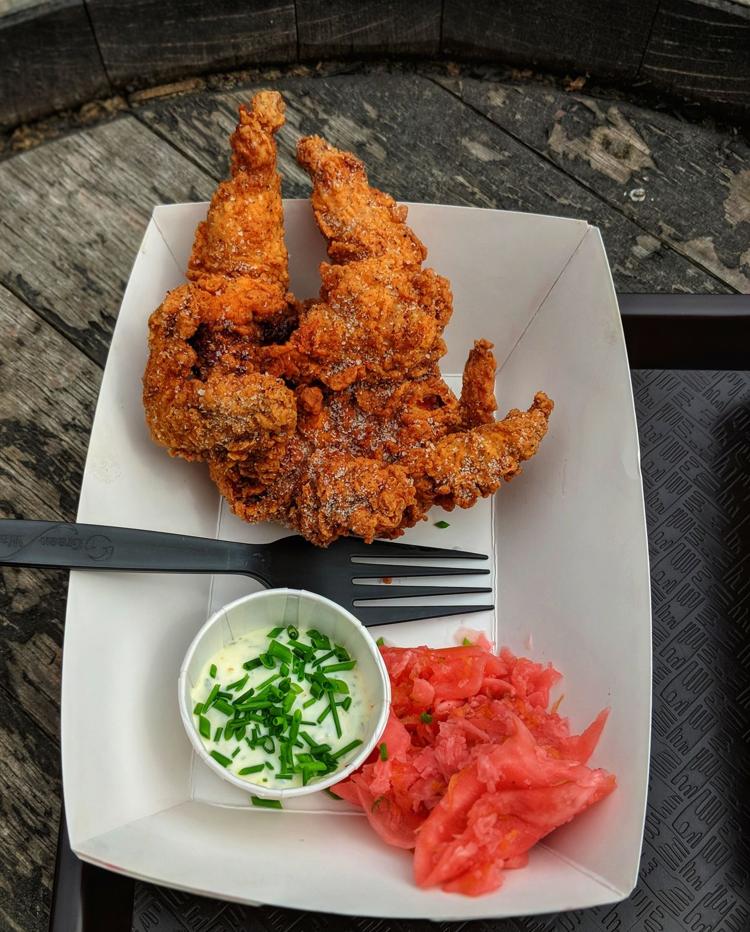 This is fertile ground for innovative cooking thanks to a lack of multiple constraints faced by most brick and mortar restaurants—it's also one of the only window-service options in town outside of Figgy's Takeout & Catering, located a mile-and-a-half away in the West End. For those seeking a quick bite that isn't served below the phosphorescent glow of golden arches, Duckfat's new Frites Shack is damn near an epiphany.