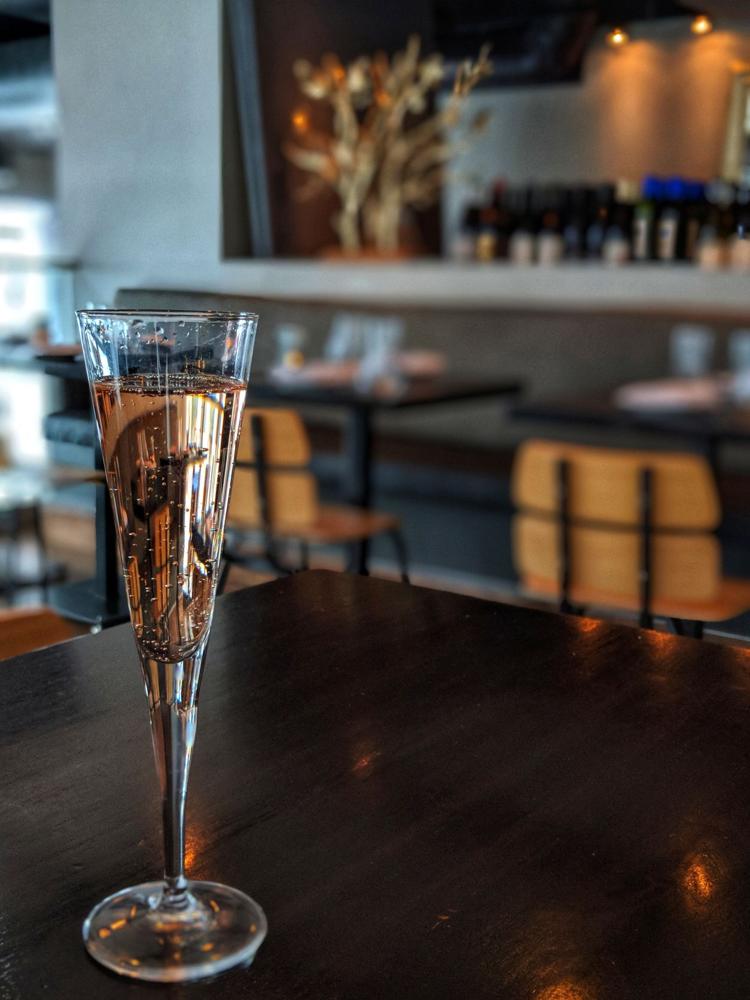 "Mediterranean cuisine" is one of the most misused phrases in the hospitality industry today. A buzz-worthy, catch-all term often manifesting as mediocre pita sandwiches and overcooked meat skewers, it does little justice to a geographic region as rich and diverse in food cultures as that which borders the Mediterranean Sea. Just as the ubiquitously uttered "Chinese food" serves more to confuse than to honor the subtle and not so subtle differences between the provincial cuisines of Shandong and Jiangsu, "Mediterranean cuisine" as a term muddles the unique characteristics that both divide and bind Greek and Syrian fare. 
It's quite nice, then, to encounter a restaurant such as Evo, with an informed focus that comes across on the plate as unique and inspired. 
While the food at Evo encompasses a wide range of flavors hailing from every point between Gibraltar and Morocco, the spotlight has been placed on Eastern Mediterranean cooking—that is, the cuisines of Cyprus, Jordan, Turkey, Lebanon and Syria, among others. Bold, assertive ingredients like sumac, cilantro and Aleppo chili peppers bring vibrancy to foods many people may recognize on paper—think hummus and stuffed grape leaves—yet are distinct in how they're prepared.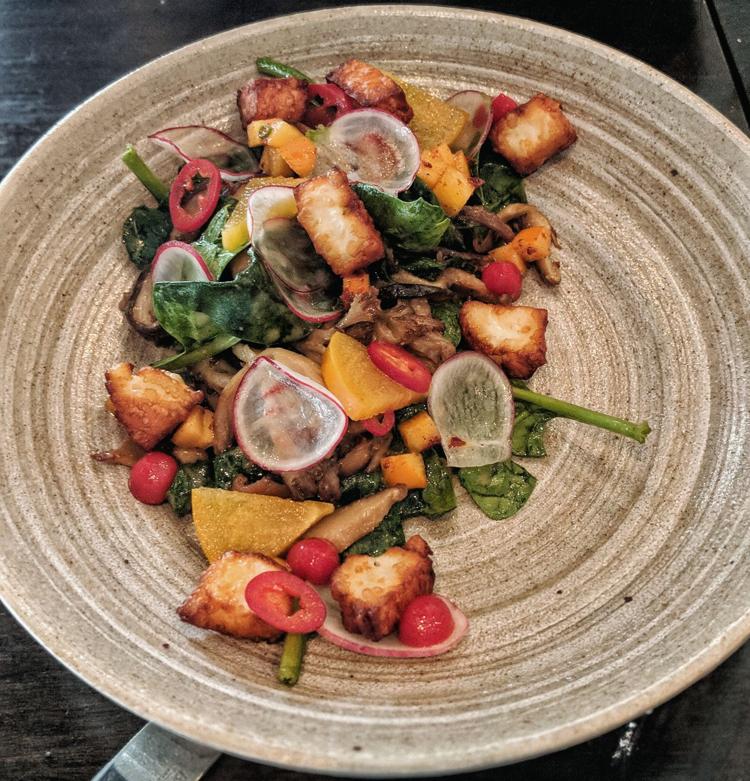 It's clear right off the bat that Executive Chef Matt Ginn and his team (Chef de Cuisine Hagai Bernstein, Sous Chef Jessica Werthern) know this food and know it well. This is as evident in an analysis of the menu itself as in Ginn's genuine excitement for the types of dishes he's cooking. From a quick history lesson on how Israel was the world's third-largest producer of foie gras up until 2003 to how he leads his team in the kitchen, Ginn comes off as remarkably assured for a young chef in his early thirties. 
While the space that houses Evo is technically in the Hyatt building on Fore St., the restaurant is not affiliated with the hotel, nor does it feel at all like a "hotel restaurant." With suspended mezzanine seating and angular floor-to-ceiling windows essentially serving as walls to the Old Port, the room seems quite a bit larger than it actually is. Decidedly metropolitan in feel, it remains intimate at maybe 50 seats, many of which face directly into one the tiniest and—out of necessity—most efficient open kitchens in the city.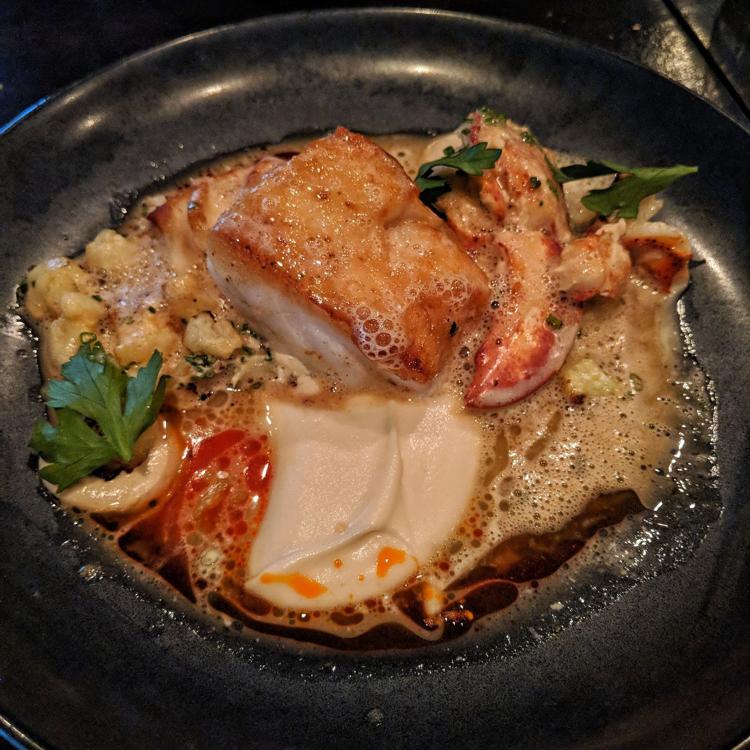 Labneh—a spreadable strained yogurt with the consistency of soft cheese, hailing from Lebanon—is the perfect start to a meal at Evo, bright in its tanginess and served alongside housemade pita. Garnished with olives, za'atar, cucumber and mint, it's a strong introduction to flavor profiles that inevitably pop up elsewhere many times throughout the menu.
Vegetables are treated with creative flair, such as a dish of roasted mushrooms, spinach, persimmon, warm halloumi and miso that works far too well for its own good. Chickpeas shine both in soup-form—where cilantro, garlic and chili oil bring a pleasant back-of-tongue heat to the party—and as fries, paired with a spice-laden yogurt sauce. Though slightly less stable than polenta fries, the chickpea panisse lends a sort of intangible quality that makes it distinct, not to mention the perfect snack.
Evo's menu separates proteins as "Fish" and "Meat" respectively, and this is where the bulk of the fun is to be had. A shallow monkfish stew with mussels, chickpeas and green garlic is as rich and satisfying in taste as it is beautiful to look at. Seared tuna with ginger, cilantro and avocado toum (an eggless Lebanese garlic emulsion) remains wholly faithful to the rest of the menu while clearly taking inspiration from Asian cooking. A dish of buttery cod, lobster and cauliflower—framed by tahini and celery root—steals the show in its barrage of opulent textures and flavors. 
Carnivores will find plenty to love at Evo, such as duck served with squash, citrus, swiss chard and sage. Beef ribeye is cooked to perfection, ruby-red from edge to edge and flanked by turnip and celery root. Nothing on the menu is quite as luxurious or recommendable, however, as the seared foie gras. Served atop a tower of challah toast, pineapple, fig and pomegranate, it is an exercise in precision-balancing of salt, fat and acid not to be missed—ethical dilemma aside.
For dessert, the tahini parfait is a must. Supported by chocolate, hazelnut, banana and mint, it's just sweet enough to close things off without sending the palate into overdrive. 
Though Ginn and his team are coming up on three years of operation this summer, the recent surge of new openings in the area means the restaurant doesn't get talked about quite as much lately as it perhaps should. With excellent service and an on-point kitchen, the dining experience at Evo is on par with the best in town right now.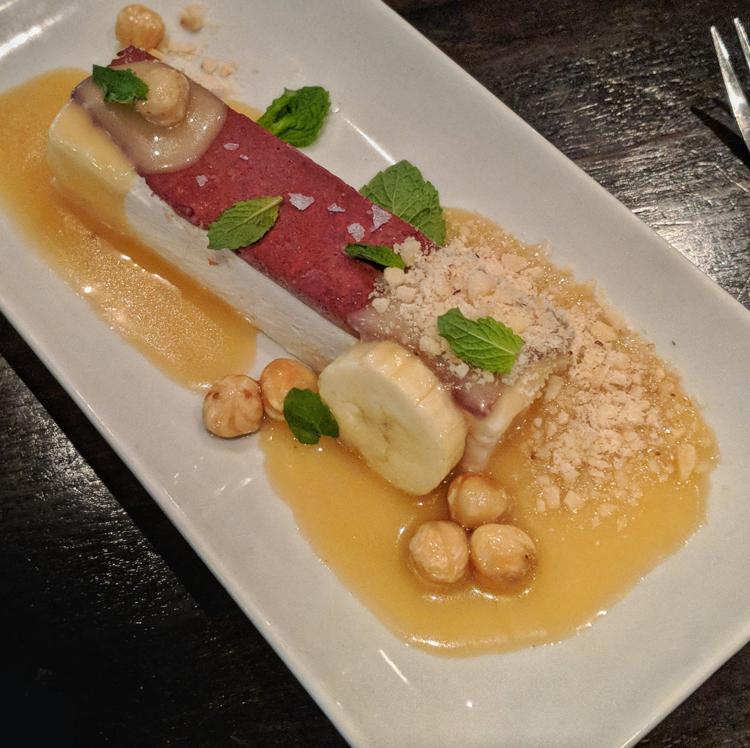 Evo Kitchen & Bar | 443 Fore St, Portland | Tues-Sat 11:30 am-2 pm & 5 pm to close | http://evoportland.com