The Portland beer scene is crowded. We've got a brewing culture regarded highly enough to attract tourism from around the world. But unlike other beer meccas, this isn't a "big city." Everybody knows each other. So when a dude with a CV like Dylan Webber steps out on his own, heads are bound to turn.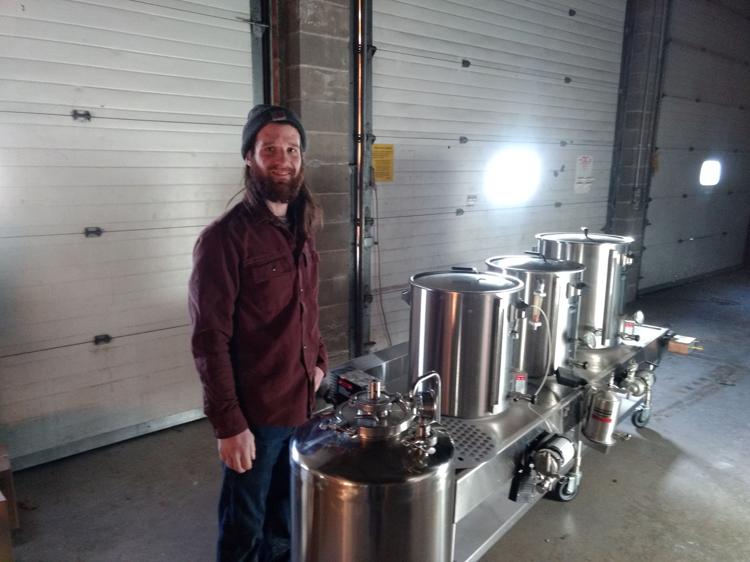 Webber's pedigree speaks for itself. He started at Maine Beer Company, followed that with his current gig as head brewer at Mast Landing, and in late spring he's set to open up his own show, Definitive Brewing Company.
While Webber's time has come, Definitive enters a market that isn't exactly crying for new breweries. The space is at 35 Industrial Way, right next door to 1 Industrial Way (which currently houses Austin Street, Foundation, and Battery Steele), and right across the street from Allagash. The location is both beneficial from a proximity standpoint and demanding of quality — the clientele is certain to be both thirsty and discerning. We asked him what we can expect from Definitive.
Phoenix: Tell me a bit about your history in the scene, and how you ended up here.
Dylan Webber: My interest in making beer started in my friend's kitchen on his stove top. This was around the time that some of the newer breweries had really started taking off in Portland. I'd find myself buying bottles of Peeper or Daymark from the homebrew store. I wanted to be able to make something that tasted that good and knew that wasn't going to happen with a kitchen stove and a Gatorade cooler.All of this made me want to work in a brewery.
My first job in the industry was at Lion's Pride in Brunswick, bartending. I met the head brewer from Maine Beer Company there. He told me that they were getting ready to move to Freeport. I kept my eye out, got hired as a packaging assistant, and then pretty quickly moved from packaging to cellar work to brewing. So I got to work in all facets of the production side. I don't think I could have asked for a better place to cut my teeth in the industry. I moved from there to Mast Landing and I've been there about two years.
Phoenix: Has your experience brewing other places led you to home in on certain styles you'll focus on for Definitive?
Webber: I've spent a lot of time making hoppy beers during my time in the industry. At my current gig with Mast Landing, we certainly have a hop-forward portfolio, but we've had a lot of fun and success experimenting with other styles as well. My plan now for opening day at Definitive is that we'll have at least three beers. One will be an IPA, which will be called Definitive Ale, our flagship. Then we'll have a Kölsch-style beer called Contee. I love Kölsch, it's one of my favorite styles, and there's not a lot of people making them locally right now.
Phoenix: Basically an ale fermented at lager temperatures, yeah?
Webber: Exactly. It's a nice style and I really love drinking them. So that'll kind of be our non-hoppy option, and it'd be nice to do more of those sorts of traditional styles as well. I would also like to get into kettle-souring and eventually barrel-aging. The third beer will likely be a pale ale. We'll do darker beers as well, but we're planning to open in May, and given limited fermentor space at the start, and the time of year, we'll have to focus on certain styles short term.
Phoenix: What will be the brewhouse size and fermentation capacity? And can we expect cans or bottles for sale once you open?
Webber: We'll have a 15-barrel brewhouse with four 30-barrel fermenters and two 30-barrel brite tanks. Ideally, I'll be brewing one to two batches per week to start. We also have a half-barrel pilot system that I'm excited to get fired up so I can finish dialing in the recipes during the coming months. The pilot system will also give us the flexibility to make small batch experimental beers that will only be available in the tasting room. We'll use Iron Heart for the canning and will be doing four packs of 16-ounce cans.
Phoenix: Will you have a tasting room setup as well?
Webber: For sure, there'll be a tasting room in the same unit as the production area, so people will be able to check out the whole process. We'll offer draft beer for on-site consumption as well as beer in cans to go. There will also be a small beer garden out front and a larger one out back!