Gordon Kenneth Mann passed away peacefully on July 1, 2021, at the Goldenview Health Care Center in Meredith, N.H.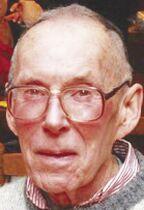 Gordon was born on Dec. 3, 1926, in Newton, Mass., to Ruth Thomas Mann and Kenneth Elmer Mann.
He was predeceased by his parents and his sister Shirley Nelson.
He has a nephew, Eric Nelson of Cheshire, Conn.; and a niece, Amy Saunier of St. Peter, Minn.
Gordon graduated from Milton High School, received a bachelor's from Dartmouth College and an M.Ed. from Boston University. He also studied mathematics at the University of New Hampshire, University of Vermont and Louisiana State University. He served in the Army in 1945 and 1946.
Gordon came to Conway in April 1950 and taught mathematics and was Department Head at Kennett High School for almost 30 years. He also coached baseball, football, basketball and softball.
Gordon was inducted into the New Hampshire Coaching Hall of Fame, as well as the Kennett High Sports Hall of Fame. He always felt that he was very fortunate to have the privilege of working with so many fine students, athletes and staff during that time. Gordon enjoyed sharing his love of western mountain climbing with students and friends from the valley.
Hiking, travel and photography became his hobbies. In addition to the White Mountains, these activities led him to many places in the world on hiking and/or cultural trips. His favorite places included the Colorado Rockies, Glacier National Park, Arizona in the winter, Switzerland, New Zealand and mountains of India, Nepal, and Pakistan. Over his lifetime he traveled to 73 countries. He was thrilled to reach the top of two of Colorado's 14,000 footers at the age of 85.
The many close friends he made in education and travel meant a great deal to him. They were wonderful to share his experiences with over the years. He was always willing to share the pictures and memories of all his many travels when invited by community groups.
In Gordon's last years he lived at Meredith Bay Colony Club and enjoyed the staff and other residents. He encouraged all to go hiking with him, especially on the Castle in The Clouds trails and the conservation lands in the Lakes Region, which he enjoyed well into his nineties.
There will be no services at Gordon's request. Donations in lieu of flowers may be made to the Gary Millen Foundation (P.O. Box 627, Conway NH 03818), or the Bartlett Historical Society (P.O. Box 514, Bartlett, NH. 03812).