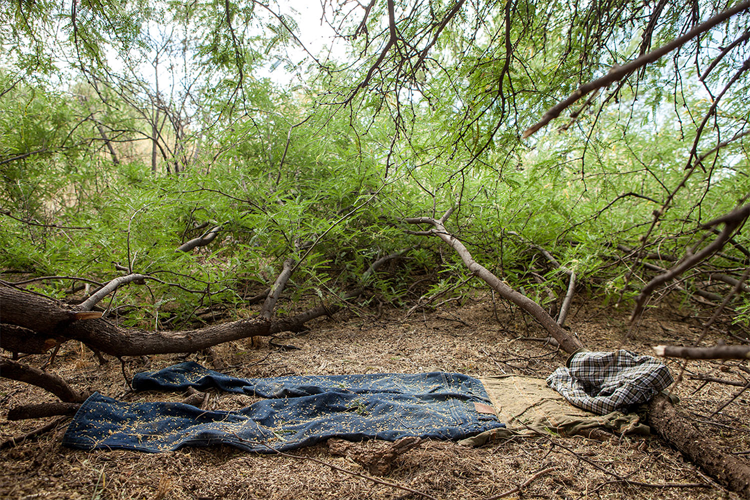 For over a decade, California-based artist Michael Wells has been photographing and archiving objects left behind by migrants crossing remote areas of the Sonoran Desert while on their way to the U.S./Mexico border.
Wells is part of the Undocumented Migrant Project, a long-term scientific study spearheaded by University of Michigan anthropology professor Jason De León, which seeks to use ethnography, archaeology and forensic science to transcend political talking points and better understand this clandestine social process. This project has been ongoing since 2009, and involves the work of dozens of students and researchers from the Institute of Field Research, an academic organization that connects students from around the world with archaeological projects. The project lives online in various forms — videos and photos on its main website, as well as at least seven academic papers in journals like American Anthropologist and International Migration, and one book titled the Land of Open Graves, all of which De León served as the head writer. 
Together, the UMP's collection of interviews, videos, writing, and physical artifacts partly seeks to show how the U.S. immigration enforcement strategy known as Prevention Through Deterrence has failed to deter migration but succeeded in shifting migration patterns to more geographically hostile areas, often with deadly consequences. Starting in 1990, the U.S. government massively increased security at popular border crossings and urban points of entry, a move which UMP and advocacy groups say altered migration patterns and contributed to the deaths of thousands of migrants in the desert due to dehydration and exposure. 
Although only a small part of the UMP's exhaustive catalog of media on this topic, Wells's photos can tell us quite a bit about the intense conditions migrants and asylum seekers face while attempting to reach the U.S. 
Some of these photos are on display at the ICA at MECA as part of "Making Migration Visible" exhibition at the ICA at MECA through December 14. The exhibition is part of a larger effort of the same title, a consortium of many Maine-based artists, organizations, and community groups to put on 70 events on the subject of migration throughout the state.
Besides De León and Wells (with whom Lucy Cahill collaborates in the ICA exhibition), "Making Migration Visible" features the works of a number of diverse artists, many of whom have personal migration experiences. Those include Mohamad Hafez, whose Desperate Cargo, a floating sculpture of an inflatable capsized dinghy replicates the vessel that his brother-in-law had taken to leave Damascus. María Patricia Tinajero transforms paper pulp into objects of displacement like suitcases and blankets and Edwige Charlot (MECA '10), a Portland artist of Haitian heritage raised in France, fuses textile work with birch ply as an exploration of the challenge of connecting to personal heritage after diaspora. With Portland virtual reality firm, artist Daniel Quintanilla makes an interactive film about immigrant life in Maine. Ahmed Alsoudani's paintings sublimate his memories of Iraq war into vividly colorful paintings. Yu-Wen Yu's Leavings/Belongings collects a colorful bundle of cloth-wrapped items in a cluster in the center of the room, a reminder of migrants' pared-down travel necessities that, absent their owners, conjures a stark sense of separation. Caroline Bergvall, Eric Gottesman, Romuald Hazoumè, and Ranu Mukherjee's works each bring unique scenes, materials, and perspectives.
After seeing "Making Migration Visible" in person, the Phoenix spoke on the phone with Wells about his photography, the Undocumented Migrant Project, and the current political discourse of migration.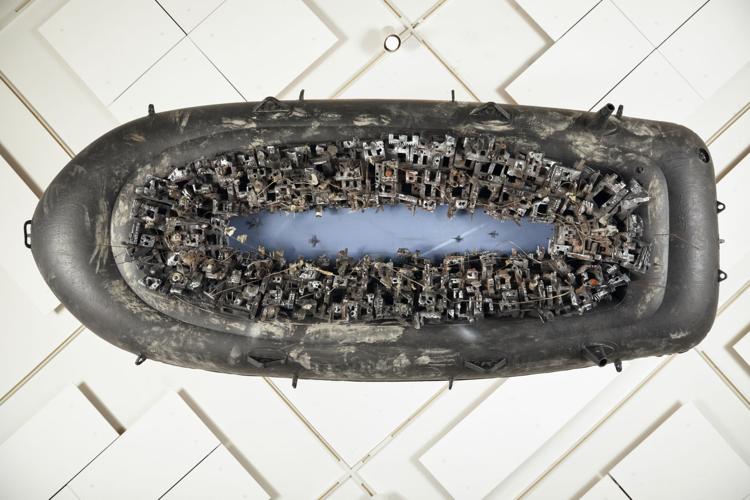 What drew you to to work on the Undocumented Migration Project?
I was always interested in land use and how people use space. I was very fascinated with the landscape, and this section of [the Sonoran] desert, that has been popular for migration, and how it wasn't quite being seen.
No picture you can take is neutral, but I try to make mine as neutral as possible. This project is about creating neutral data that people can look at and make informed decisions about what is happening in this space. It's important to document mass migrations of any kind and we felt that wasn't being done on the U.S./Mexico border. Why wouldn't you document this one?
What kinds of things have you been photographing?
Initially, the artifacts found in the Arizona desert. All sorts of personal items — clothing, lots of shoes and toothbrushes, things anybody would carry with them on a long journey. The project looks at them through archaeological means to investigate how these migrations are happening over time.
And then there's the bodies and the human remains.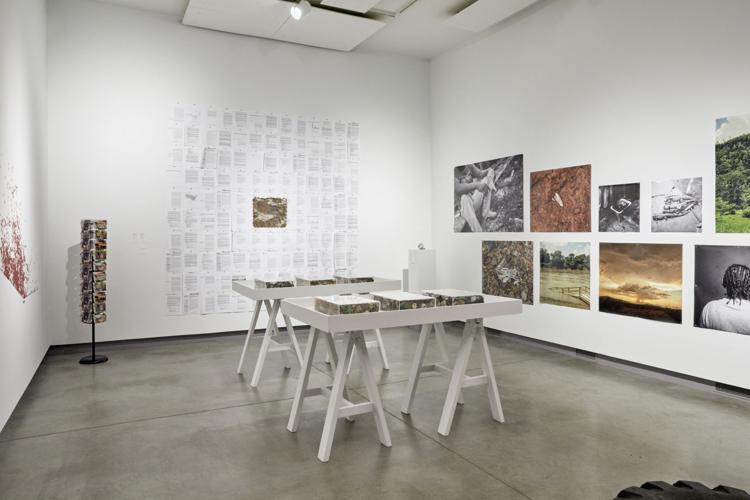 You personally found human remains?
Yeah, we found some remains of a person who was unidentifiable. They were part of the 1,000 unidentified people found in the desert overall since 2000 [according to U.S. Border Patrol data], many of them in Arizona on U.S. soil. Our field school also found a woman in 2010 and extradited her remains to Ecuador.
Are you able to tell who is making these kinds of journeys based on the objects?
There's all sorts of things you find, but it's hard to say. If you find a small backpack, you can assume it's a child's backpack, but can you really say that? How long has it been there? If you find women's stuff, or children's stuff, or other gendered materials, we can make some kind of judgement about who these people are. Archaeological techniques can start to give you some information, but it's tough to be completely concrete about it.
But we do know from other sources of information that families are indeed making these crossings, right?
Definitely. We found women's underwear, baby bottles, sanitary napkins, children's toys. On a journey like this you wouldn't carry things like this unless you needed them.
What do your photos show about the conditions these migrants face?
The pictures are showing the artifacts on the ground, but also the climates and the geography that people are moving through. They show what the desert is like and how harsh it can be.
Undocumented migration has happened for decades, but every once in a while the issue flares up as a political hot topic. What do you think about that?
As far as the political climate, I can't keep up. I don't hear it. There was a caravan last year. All I know is what's happening on the ground. There are so many aspects to it; it's such a complex issue — I've been observing it for 10 years and don't even consider myself an expert so when people talk about it like they're experts, I'm suspicious.
The topic comes up when politicians need a group to scapegoat. It's easy to paint people who can't defend themselves as the enemy. They are easy targets. People will always say that the reason you don't have your job is because of this other group.
Trump recently responded to the latest migrant caravan, urging those in it to turn around and go back where they came from. Is that even feasible for these migrants?
Well, they can go back and die. I've talked to several people coming from Honduras and Central America. One woman I'll always remember, she had been shot in the face and survived. She was trying to get to the border and request asylum because this gang in her town was after her. Her family was dead. I don't understand what more she needs to happen to her for her to be considered an asylum seeker. Not all of these migrants are simply economic migrants. In a lot of cases, it's a lot worse.
Trump also said he's sending some 5,000 troops to the border to counter the migrant caravan. Do you think that's an appropriate response to this issue?
No. I don't really understand it. I mean, I get it — it's a political statement. But it's not like migrants weren't let in before. Are the troops going to come in and help with their asylum paperwork? Trump is trying to prove some kind of point, some kind of dog whistle to whoever is energized by these kind of statements.
What have you learned over these past 10 years on this project?
I live in California and I've realized that I live in a bubble. I've learned how angry people can be on this topic. I witnessed the rise of people using it as a political point. People are so angry about these people trying to find a better life. I've learned that migrants are coming from so many different places. They are not just coming from Mexico. It's so much more complicated than that and there are so many reasons why people are leaving.
---
"Making Migration Visible," mixed media group exhibition | Through December 14 | ICA at MECA, 522 Congress St, Portland | www.meca.edu