Record stores come and go, but Soulfolks' first summer as the only music shop in Biddeford has already left a mark.
Having opened the store in April — nestled between a Vietnamese restaurant and an empty storefront — Rory Ferreira is in a unique spot. The shop's proprietor, Ferreira is also known as Milo, an independent rap artist whose albums get lauded with more frequency and name-checked on more national Best Of lists with each subsequent year (see last year's who told you to think??!!?!?!?! for the latest example).
For that reason alone, Ferreira's decision to open a record store in the small city of Biddeford may seem curious. (It's not often you see Biddeford shop owners in the pages of Rolling Stone.) But the ambitious 26-year-old artist sees it as a perfect fit. Walk in, and you'll find that Soulfolks is a dynamic, deceptively large room with shelves of tapes and records alongside shirts, neon lights, arcade games, and a performance space. And the location is perfect. The former mill town is a sort of homecoming for Ferreira — his parents divorcing when he was young, he spent summers, vacations, and various weekends here while he lived with his mother (Phoenix contributor Shay Stewart-Bouley, publisher of Black Girl in Maine, who ran a faith-based after-school neighborhood center called Joyful Harvest in Biddeford that closed in 2013).
Moving back to the region after stints in Milwaukee, Chicago, and Los Angeles, Ferreira's idea to open Soulfolks was a fusion of ingenuity and necessity. He and his wife (a performing artist who plays under the name Achene) are new parents — his 21-month-old son often hangs with him at the shop. For Milo, the family's new addition made finding a remote place to make music a necessity. Add to that the growing success of his albums and record label Ruby Yacht — and their mounting stock of catalog titles — and it made financial sense to open a record store that doubles as a storage space and production room, especially for an artist who quite literally feeds his family by making music.
Even as the wave of "revitalization" washes over Biddeford, this sort of hybrid studio/record shop model is more often tried in major metropolises. But after five months, it's hard not to see Soulfolks as one of the biggest sparks in the cultural engine, joining restaurants like Palace Diner and Elda, breweries like Banded Horn and Barreled Souls, and the cluster of shops in the refurbished mill across the street from the Ferreira's shop. (With a grin, Ferreira says Soulfolks, the only black-owned record store in Maine, is an example of "reverse gentrification" — it promotes the idea of people of color staying in a community, even flocking to it, instead of being driven out.)
For this writer as well, witnessing the rise of a shop like Soulfolks has personal resonance. I grew in the area in the late '90s, and an arts incubator and independent record shop like Soulfolks, to say nothing of the politically engaged philosopher-poet at the helm, would have made those high school years exponentially better.
The Phoenix caught up with Ferreira at his shop on a Monday afternoon in late August.
This conversation has been lightly edited for space.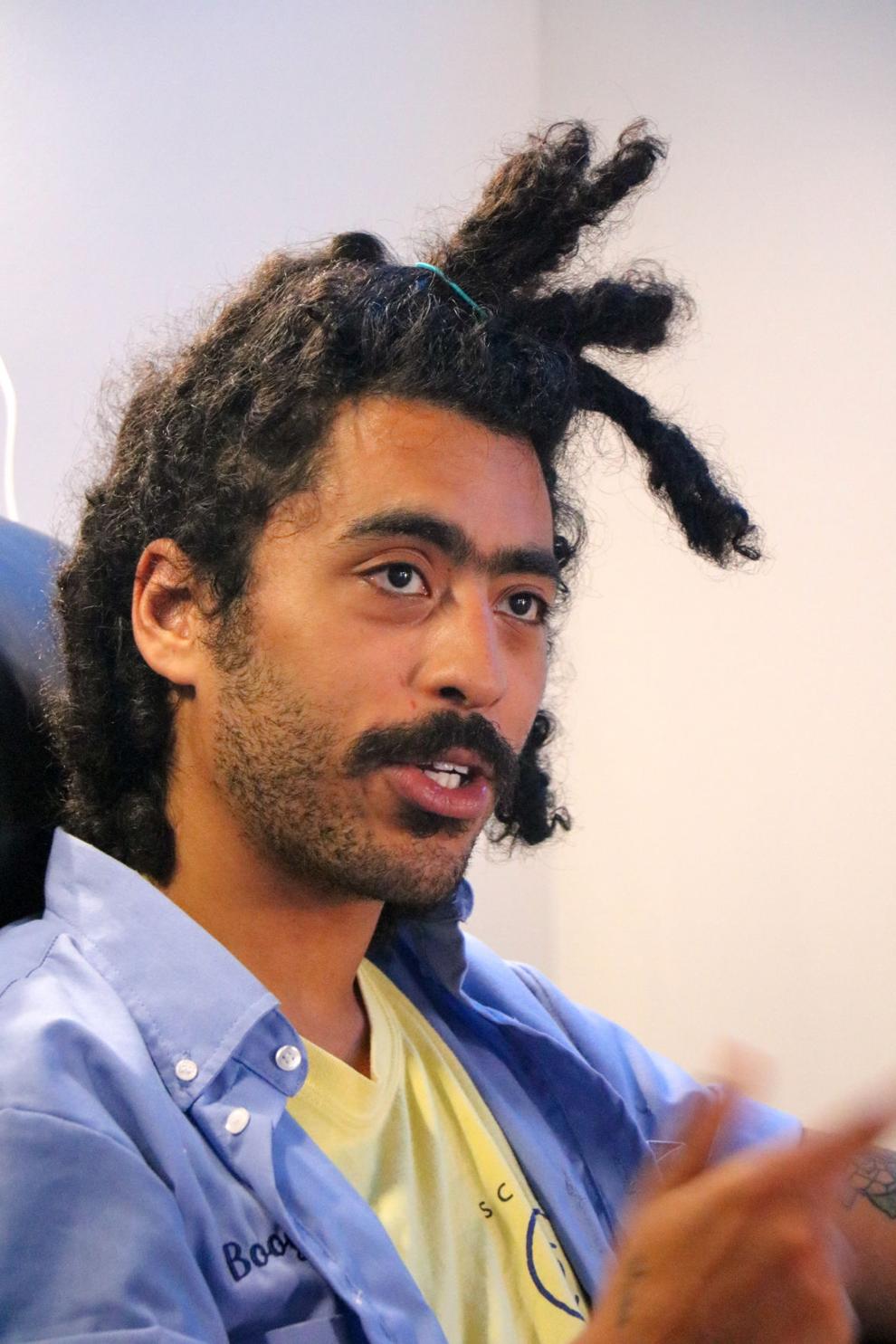 Do you ever have performances here?
Yes, we do often, actually. We had a "Beat Invitational" here in July, and like maybe 30 people came to sign up to play beats. There were seven from L.A.
Nah, I mean Los Angeles. People came all the way from Los Angeles to play beats here.
Were they friends of yours from when you were out there?
No! They were people who were like, this guy has a store and they're doing a Beat Invitational, so I'm gonna go from L.A. or from North Carolina. People are coming from hella distances. But yeah, y'know, we try to get people who live here onto us as well.
Yeah, how has that been? I grew up right down the street from here, so I'm interested in this area.
It's been surprising both ways. We might get 20 people in here any day we're open. But maybe three of them will really know everything, and they're like, [excitedly] what the fuck? The other 17 will be like, Hmm, weird little record store, okay, and walk back out. It's cool.
Do folks who come in know you and the work you do?
Yeah, definitely. A couple fans I didn't even know I had that came in and were like, I live just down the street, and I follow you, I saw that you were opening a record store but had no idea that it'd be in Biddeford, Maine!
What were the years you were here growing up?
I been here forever, man. My mom has been here consistently since I was 11 or 12. [I was here] every summer, all through college, everything. My first job was in Biddeford working at [after-school program] Joyful Harvest for my mom. Giving the kids of Biddeford lunch, taking them to the garden. So that's why I wanted to open it here.
Where'd you hang out when you were living here? Where there shops like this?
Nah, there was nowhere. Briefly when I was in eighth grade, there was a hip hop shop in Biddeford for a second. I wanna say it was owned by a black woman, maybe. I remember going in there and getting like a Wu-Tang album on CD, and perhaps like a knitted cap or something that was hip for the era. But that place wasn't open for more than like eight months. Which even that is pretty remarkable.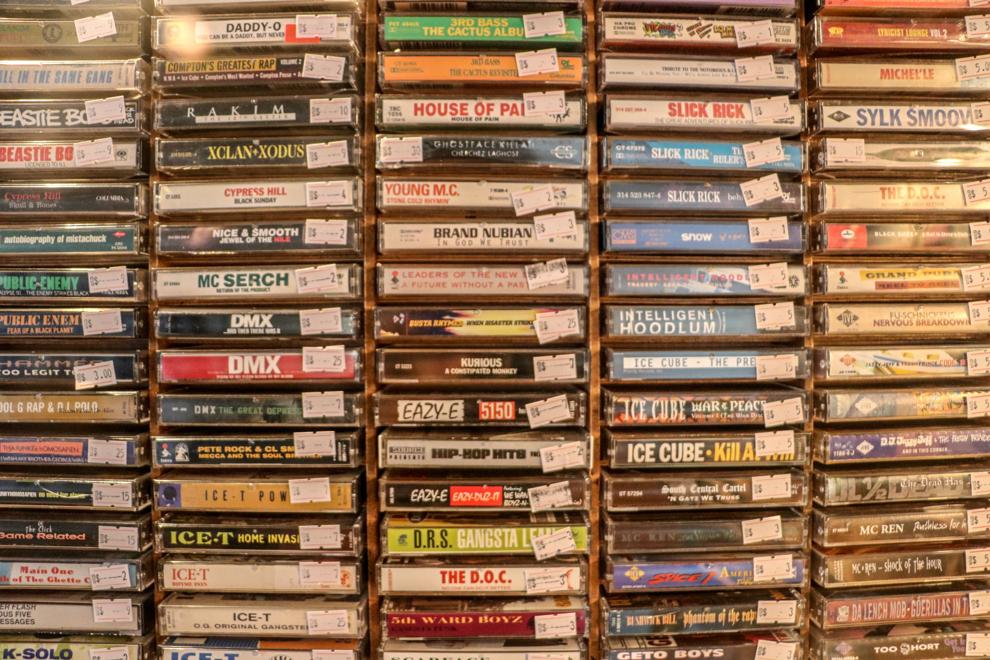 Where'd you buy music when you were a kid?
I didn't buy music, really. For the most part, I just downloaded my stuff. But if my mom was like, splurging, probably Bull Moose. Even now, when I see my records on the wall of Bull Moose I'm like, Hmm, okay cool. We out here. Proper, proper, I'm a real rapper. I see my shit on the wall right there, that's good.
Your uncle is a rapper [NIZM] too, right?
Yeah, he is. He's in Miami now. But we're all from Chicago. He's more like my big brother than my uncle. He's 11 years older than me. When I was a kid, he's like my main babysitter. Like I'm 5, 6, 7, in Chicago; he's 16, 17, 18. Just taking me everywhere, I'm watching him rap, his first studio time, all of it. It really molded me and who I wanted to be and what I wanted to do when it comes to rap.
Is there a model for this place? Something you took a cue from for what you wanted to build?
Not really. I read this story a while ago about this artist who runs Graveface Records out of Savannah, Georgia. He had moved back to his home city and just opened up a little record store and ran a label that put out his music. I remember reading a story about him when I was still in college, and it struck me as a good idea. Like, at this point, I might have 5,000 — no exaggeration — pieces of vinyl of my own catalog. So it's like, where do I keep that? I had storage locked before but that's a waste of money. Here I can store all of that stuff and be making money. (Here) I can be making rap and making money. 
Had you had a studio before here?
Never had a studio. Always worked out of my home. Bedroom, living room, wherever wasn't super preoccupied, but I have a kid now so I had take it out my house.
You live right near here then?
Yeah, we're out here. I walk a lot. I been in cities for most of my life. I miss walking. That's something i don't like about living out here. I mean, there's so much nature and you can drive to a nice trail and go on a walk but I just like to walk out my door and go on a walk. That's not as possible out here. But I can walk to my house from here, and I do.
Does Biddeford feel different to you than it did as a kid?
Yes and no. I came up with my rap name in those mills, one night just wandering around. This has always been the place where I've gone to hide out. I didn't go to school here, but I had to do all my vacations here, so I never really had a lot of friends here, just me and my family a lot. Isolated, thinking thinking, working on my craft. And I associate [Biddeford] with that now — isolated, with my family, thinking, working on my craft. That's what I want to be doing. The tone might be a little different just as I've aged, going from being maybe like, a cute kid to maybe more off-putting to some people. My presence is off-putting. That's something that I've had to reconcile. My presence is off-putting to certain people. That's a trip.
Do you find that there's a distinction between just being a dude in town vs. a business owner now?
Just from being a funny looking black guy in America, walking up and down these streets a lot, doin' my thing. Standing out in front of my shop a lot. It's so interesting how many people walk by me and be like, What is that guy doing? I'm in front of my store! There's been a number of people I've got into arguments with for dumb shit, shit that I find unacceptable in 2018. You're not gonna park in front of the only black-owned music store in the state with a Confederate flag on your car. I don't care if Donald Trump does it. You're not doing that.
Oh, that happened. Some cats had to get ran off. Any kind of that stuff don't fly with me. Twice, people have called the police on me because they don't like how I talk. That's whatever. Obviously, I be chilling.
That's when being a business owner helps, because that's all police respect is private property. As a business owner, I represent revenue to the city, and usually when somebody calls the police and the police come, they can say, Okay, you're a business owner and you're a crazy person on the street so you need to move along, or ...you need to remove this sticker. I think the last time it happened the cat called the police on me and the cops gave him a box cutter to cut the Confederate sticker off his car. It was hilarious. If I see something like the Confederate flag, or any of that anti-people stuff, any death-mongering stuff, you can't have that around here. I make music, I like life.
I try not to have any relationship to the police, just as a protocol. After the Shaw's stuff happened, I know someone who runs a business organization in Biddeford gave a cop my phone number and he called me one time, and it was sorta funny. That's about it.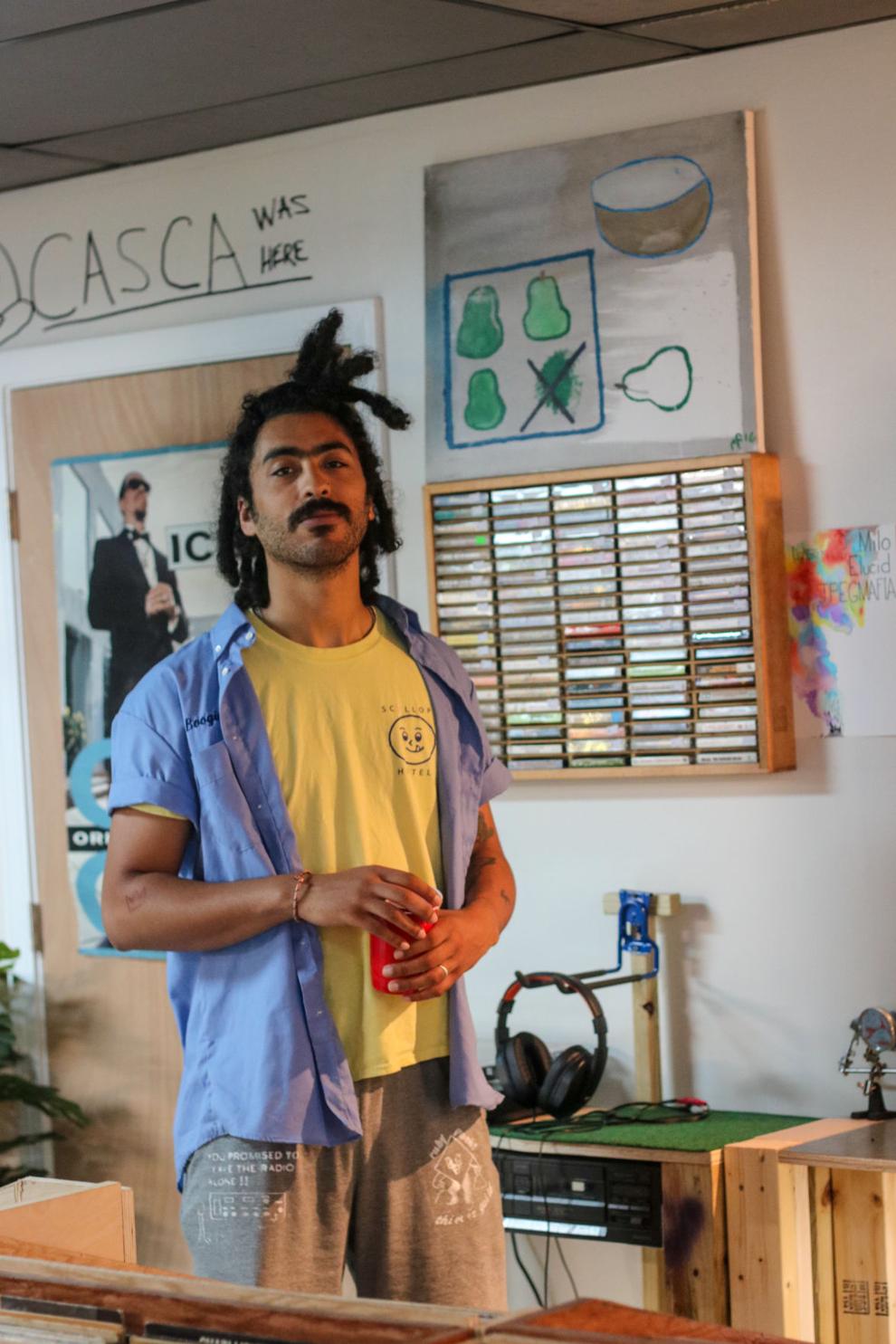 No (laughs). And if they did come in, I don't know, I'm not selling anything to a cop, so. I guess they can look around.
How fully realized is this place?
I wonder that myself. And I wonder if I wanna switch it up. Like, you walk in here one day and it's an art gallery or something. Maybe 60 percent?
Do folks pitch you ideas about using the space?
I wish, but there's not a lot of that stock around here. I feel like the cats who are out here are just timid, 'cuz there's not a rap community. So no, nobody's really come in here and suggested that. But a few people have hit me up for a stop here on tour, and I'm super down. Any rap acts who need a place to throw a show, Soulfolks is it. We can get super loud, my landlord is the coolest. They're so cool, the family. Half the building is owned by them. We did a show here and some people called my landlord and were like "Yo, they're doing the music late," whatever, and my landlord's like "That means they're enjoying life! Don't call back!" It's cool, we get to be loud.
I'm curious what the community is like here now.
I'm rockin' with the community here. The more and more we're here the more people we get to know, the more regulars we have, all the business owners around here are A-1, man. [Vietnamese restaurant] Que Huong obviously are our folks, they're the best. If you come and you have ten dollars to spend in Biddeford, nine of it should be next door [at Que Huong]. They're great. Obviously Palace [Diner]. I really rock with Super Subs [S & S Super Sub Shop] across the street from 7-11. Those are my folks, and that's a very cheap egg and cheese sandwich — might be two dollars. Everything here is good. Jewel of India. I can tell they're giving y'all about half the spices, 'cuz we're in Maine, but that's some good food too (laughs).
Yeah, they've done it right. They've been here a couple decades.
Man, I have no complaints with Biddeford. I love Biddeford. And if anything I feel more comfortable when I'm up here than even Portland. I see way more black people in Biddeford. It's funny, 'cuz everyone will swear we're not out here, but you spend some time right out front this shop, you'll see a lot of black people. And obviously we got the barber shop, but y'know, we out here. Someone tagged that bridge over there, this big-ass tag that took up the whole bridge. It said Kill Police Officers. I was like, that's crazy. I'll put my record store right there, see what happens. I took a picture of that. I never seen that anywhere else. That's Biddeford.
It's interesting you say folks flew in from L.A. for the Beat Invitational — it's like you have a national presence you can tap into, but the local one is the trickier one.
It is! I'd say at that Beat Invitational, we had at least 60 people come, and 30 people threw their name in the hat to jam. And I would say maybe 30 percent of people in the room were from here. Most people were from Boston. I'd say on any given day, 8 to 10 people in here are from Boston. It's wild! That to me, I was sleeping on. I didn't think people would be willing to do 90 minutes or whatever to come up here. But yeah, the local is definitely more difficult. Maine is in the past, which is so cool, but everyone is just late, y'know? They hear rap and they immediately think what rap hasn't been for like 15 years. Like, a guy came up to me and was like, I'm the white Tupac. And I was like, Tupac? I can barely remember Tupac being alive. So we just try to catch 'em up on what rap looks like today.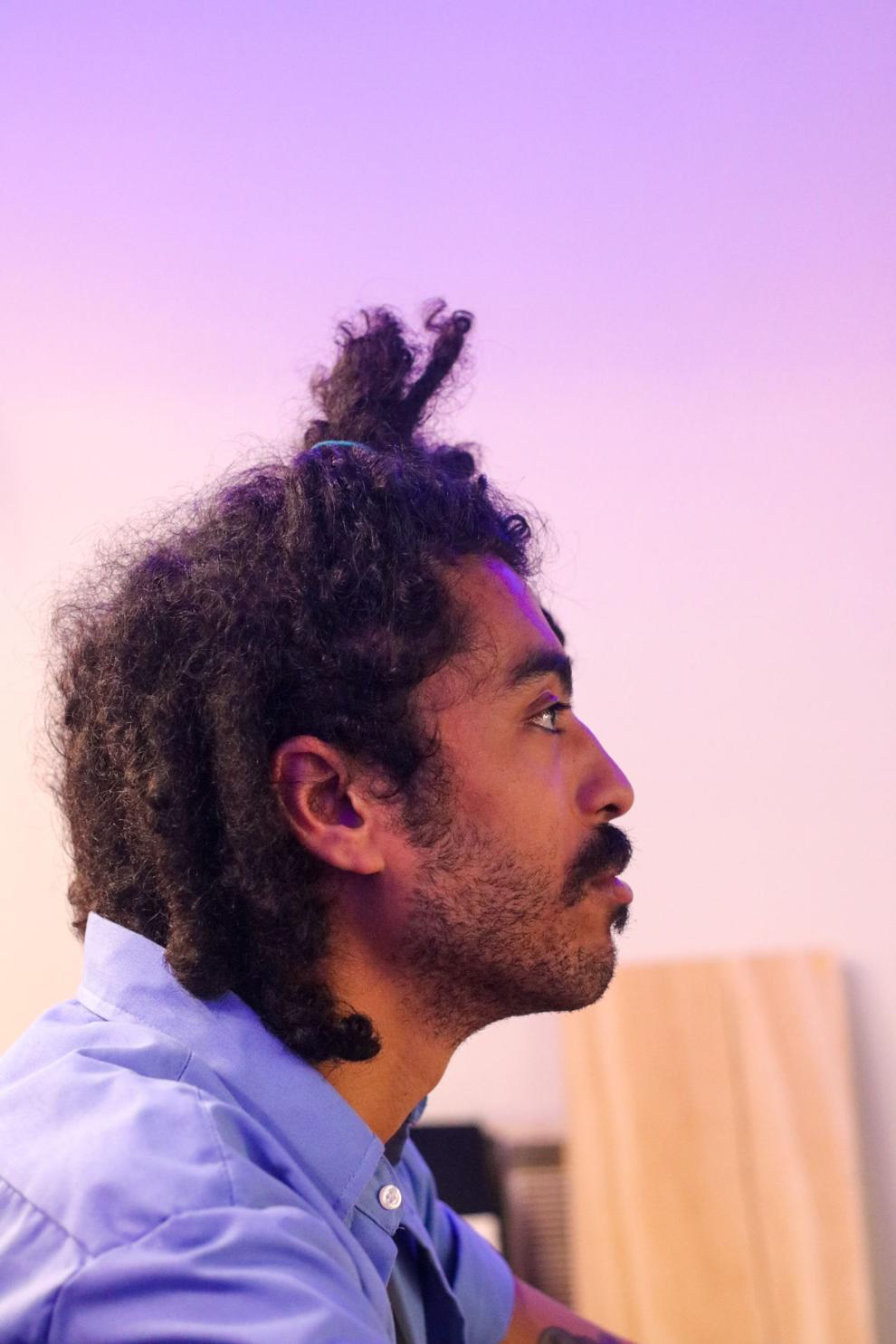 I know that what you're building as an artist is unique and kinda special, does this place assist you in that?
Absolutely, 1000 percent. What I've been calling it is a "temporary autonomous zone." I feel like my brain behaves differently in these walls. It's like, Oh yeah, this is the room that rap got us. When I'm in here writing I feel like I'm inside of rap. I just look at shit on the records, put a tape in, whatever. I feel like I'm in rap. And that means a lot to me. I wanna do a bigger store, more finesse, more prim and proper, in a few years, and I'd take this to a [bigger] city to do it. But it was important to me for my first public business, my first brick and mortar, I really wanted it to be in Maine. I love Maine. I've kept my Maine ID my whole life. In fact, it's got me out of so many tricky scenarios with police, you have no idea. On tour, a Maine license is like gold. For whatever reason, cops are profiling motherfuckers, they just see that Maine ID and they're like [*cop voice, mimes handing over ID*] You are a square, here you go. Good day.
I'm trying to get some like legends in here, man. For the opening, we had Armand Hammer [Billy Woods and Elucid, the latter of whom raps with Ferreira in Nostrum Grocers] in here. They're arguably the best New York rap duo right now, they're like super grimy, crazy, and they came on the opening and rapped here. And that was a feat! Armand Hammer was just in Biddeford, Maine, just chillin'.
One of the dudes in Armand Hammer had some history up here, like he built summer homes up here when he was younger, and he told a really ill story. He said Biddeford, Maine, is the first place that I met a white person that couldn't read. This is a black dude from New York City. I was like wow, that's so interesting to me. I love that shit, that fringe periphery shit that only exists in Maine.
Do people ever come in here and wanna talk politics?
(Laughs) No. I wish that they did. I would love it, but nobody does. I think it's just assumed. They come in and they're like, Okay, I don't think we'll see eye to eye, so… I would love to debate or talk or give someone a mic, host a rally, any of that. 
Had you considered opening the store in Portland?
Yeah, I did, when I first came out here I was like, obviously Portland. 'Cuz I play at SPACE, I know all the cool musicians, I was like, it's in the bag. Then I started looking at rent. I was like, this is absurd. These are prices that I would pay in Los Angeles. If I'm going to pay a Los Angeles price, I should have all those resources of L.A., but I don't. So I'm hustlin' backwards.
I threw this idea out as a joke to my mom and she's like No. I was like, Aww, I'm loving it now. She was like, people don't wanna go down there, the public transit's sticky — which it is and that's a failure, like, why is it so hard to get from here to Portland on a bus? Have you tried to do that?
Not the bus, there's the train—
—right, but the train is stacks. The train is $22 to go to Portland, Maine [Amtrak tickets roll Saco to Portland are currently $16 round trip] and the timetable's goofy on the train. The bus, you have to get all the way out to the park and ride lot by the highway. But if I'm takin' the bus, how the fuck do I get to the park and ride lot? It's a failure, and she's right. People definitely don't have cars and it sucks for them.
[Reached for comment, Shay Stewart-Bouley says, "As Rory's mom, I was concerned whether Biddeford was ready to house a shop such as Soulfolks and whether it would be sustainable outside of Portland. I would be lying if I didn't say there was a part of me concerned about things from a racial aspect. However Rory's business instincts are right on and occasionally, you should not listen to your mom."]
So Ruby Yacht is your label and this is the headquarters. Are there other labels you stock?
Yeah, so that tape case right there is all new independent releases from labels we are in deep alliance with. I try to carry people's whole discographies, 'cuz it feels good to put the money in their hands. We got some local stuff too, not really any local label love, but artists who we rock with.
Are there any other labels in New England? Or closer like New Hampshire?
I guess the closest one that we actually do work with — and not be a weirdo about terms but as an independent artist living off my craft, I mean real work, like not running a label for egos or vanity, but actually eating and making money off of it, there's maybe one: Fake Four. They're in Connecticut, that's my homie Ceschi, we're circulating hundreds of vinyl.
Anything feel more possible as an artist now that you have this spot?
Yeah, everything. Everything feels more possible to me. This was built with no second- or even third-party money. My boy Alex, my best friend from high school, he lives upstairs. He's a carpenter, he built my shelves. Ebay, estate sales, my own collection stocked the shelves, my dad came through for arcade machines, my boy Alex built this crazy table, it's all art to us. Everything feels more possible. I would love to do a restaurant. Especially on the music tip, most restaurants have horrible music. Imagine if the only way to hear my new [music] is to come in here and eat? Why would you not do that? You'd be like, I'm coming in for breakfast every day of the week, I need to hear the whole record.
And it keeps me in one spot. Touring is where I make all my money, but with a kid it sucks. [Nostrum Grocers] played in Brooklyn last Sunday but that's about all I can do. I used to do about a month and a half. But I'm also just getting older and kinda self-conscious about what I'm making. Like, who would listen to this music? Why do they listen to this music? What's the application for this music? Questions I would never ask when I first started, I was just happy to make shit.
Do you get answers for that?
Sometimes I do, but again, people's definitions and understanding of what rap is is like, Huh, this could be something else. And I dunno, maybe it just won't be something else. And that's something I've really this year, been dealing with that [question]. What if rap is not what I want it to be?
Do you have another album close?
I do. [Ed: Ferreira announced the new Milo album, budding ornithologists are weary of tired analogies, two days after publication.] And then I wanna really start veering after this next record. Just all left turns, all curveballs. Other entities, other genres, other scopes. I wanna execute more. I feel like, as Milo I'm just writing rap songs. I wanna execute like, art sabotage. I want it all to be weirder. [When I do] milo shit, more and more I'm like, this is not it. Rap does not need this entity in it. But I need rap, so I need to figure this out.  
This article has been edited to correct Ferreira's age. He is 26, not 25.