"All lesbians really want is to nest and partner."
"Women are more domestic, so two of them together are just... extra domestic."
"Dykes aren't as sexual as other people."
What do these phrases have in common? Well, other than being wildly inaccurate assumptions, they have all contributed to the death of the dyke bar. Artist Macon Reed wants to make sure that these spaces at least get the dignity of a proper send out.
It was from that desire that Eulogy for the Dyke Bar, the installation piece currently gracing USM's Area Gallery as part of the Querying the Past series, was born. The Portland campus installation runs through December 7, and will be "activated" on Thursday, November 15, with a night of storytelling, honoring LGBTQ bars and queer spaces from Portland to Singapore.
Eulogy, as described on Reed's website, "revisits the legacy and physical spaces of dyke and lesbian bars, an increasingly rare component of the gay and queer cultural landscape. Made of simple materials that unapologetically reveal the hand in their making, the installation offers a full bar, pool table, neon signs and hand-painted '70s-era wood paneling," she tells us over email. "I like my work to look like it was made by hand and not too polished or manufactured. I love working with cardboard and simple materials that shift easily. It's also important that my work isn't too clean or distilled because I think that work is alienating to audiences outside of the Art World."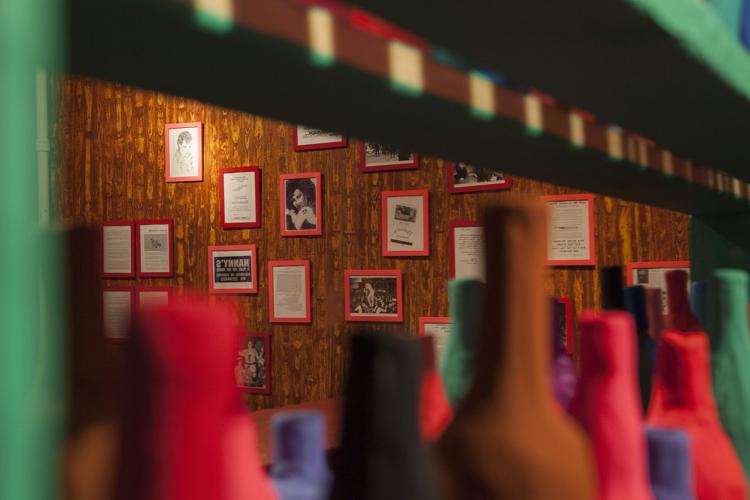 In addition, perhaps for some audience members this may serve as a symbolic gesture toward the work of the queer liberators past, a whisper to see the work of their hands. To that end, Reed adds, "It was important to have archival images from all eras of dyke bar history on the walls to contextualize today... to have paintings with slogans such as 'Expand the Feminine Spectrum' and 'Reclaim Femme on Femme on Femme...' in the space to let people know where the project was coming from immediately upon entering the room."
Reed, 37, was a student in Chicago when she heard about a rash of dyke and lesbian bars closing across the country — while, ironically, "gayborhoods" such as Chicago's Boystown were thriving. So she decided to investigate. 
"I began to consider things like how historically, women made less money, had less options than we do now, and that the jobs we got were often paid as a supplementary income to our assumed husbands... being single and living single, let alone having any extra income, was much more difficult and often limited to more privileged (white, upper class, cis) women, if at all. And of course, women have always had more conservative restrictions on our expressing our sexuality. Also historically, butch and masculine-of-center women often were unemployed or underemployed because of having non-conforming genders, so the femmes were often the main breadwinners, if and when, a butch-femme lesbian couple lived together. So forces like gentrification and pay inequity are big at work here too, as opposed to more essentialist notions around nightlife."
In addition to these socioeconomic concerns, Reed adds, "I think assimilation may be playing an interesting role as queer people gain more basic rights and mainstream acceptance in our particular moment in history. We don't have to only go to places that are safe for us anymore as much. There are options. I think there are many great things about this shift obviously, but we may lose some really special cultural spaces and ways of organizing community. The risk is assimilating into a heteronormative culture instead of continuing to build outside of it."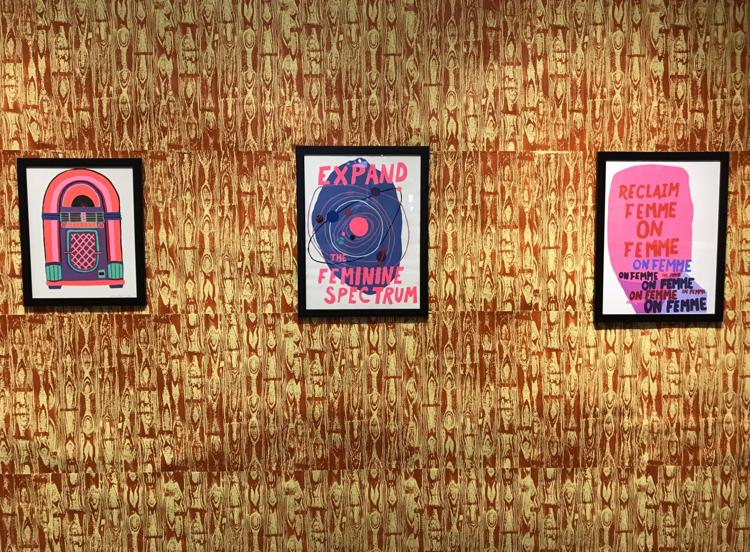 The word "dyke" is also used differently now than it used to be, which Reed says is worth noting. "A lot of folks might identify as dykes but date transmasculine people or people of a variety of gender identities, so it doesn't necessarily signify 'women who only date other women.' And transmasculine people may identify with dyke culture even if they don't identify as women. And there are more and more out dyke-identified transfeminine people, and it is imperative for them to be seen and fully welcomed into dyke spaces. So part of this conversation is holding the complexity and shifting definitions of who these spaces would exist for, if they were to stay open."
While the word "Eulogy" may call to mind a sense of finality, Reed says that ultimately she still has more questions than answers, and hopes that we will bring our own questions to the space as well. "I really want to honor and celebrate the history and culture of these spaces and call attention to what may or may not be getting lost right now and out assumptions of gender we bring to why places close. I also want to hold space for critique of these spaces and how they may or may not be truly safe and welcoming for everyone that they should be. I want people to notice it is happening, talk about it, and have some intention an dialogue around where and how we have spaces for our communities in the future."
Eulogy for the Dyke Bar by Macon Reed | Through December 7 | pop-up installation & storytelling night with Macon Reed + Derek Jackson + Audrey Luce & Sarah Holmes + Nancy Foss + Alex Marzano-Lesnevich + Meaghan LaSala + Christine McHale & Jennifer Harvey + Jo Moser + Penny Rich + Sebastiane Sacerdoti-Ravenscroft | November 15 | Thu 5-7 pm | University of Southern Maine Portland AREA Gallery, 35 Bedford St, Portland | www.usm.maine.edu