CONWAY — "Little Shop of Horrors," the musical based on the 1960 Roger Corman horror comedy about a man-eating plant, has been given an 1980s-infused facelift by director Eric Jordan.
The production, which opened Thursday, Aug. 15, at M&D at the Eastern Slope Inn Playhouse in North Conway, with performances Thursday through Sunday for the next three weeks, takes inspiration from the era in which the musical was first produced — it first opened in 1982, with a Rick Moranis-starring film adaptation following in 1986 — rather than the 1950s and '60s sci-fi horror it is lampooning.
Given that many of the references are from the earlier time period and the music is in the style of 1960s rock and roll, doo-wop and Motown, this may seem like a strange anachronistic choice, but the early 1980s were both rebelling against the 1950s values while also having a reverence for the 1950s rock style, particularly with the rise of rockabilly bands like The Stray Cats.
Cheesy low-budget sci-fi and horror B-movies also had a resurgence in the 1980s, which points to why the "Little Shop" musical was produced in the first place, so blending the two time periods into an offbeat amalgamation is oddly perfect.
And, visually, the production absolutely sells the concept. The lighting designed by Lori Jean Rowe utilizes vibrant reds, blues, yellows and greens to create a noir-meets-comic-book aesthetic not dissimilar to 1982's "Creepshow."
The costumes designed by Mary-Ellen Jordan with assistance from Mandy Vigneault (the director's mother and sister, respectively, making this a family affair), fully embraces the 1980s style with bright neon colors, big hair and torn rock T-shirts for the ladies, while utilizing a more conservative look for the males in the cast, including the older flower shop owner Mushnik (Mark Sickler) and his nebbish employee Seymour Krelbourn (Dylan Henry).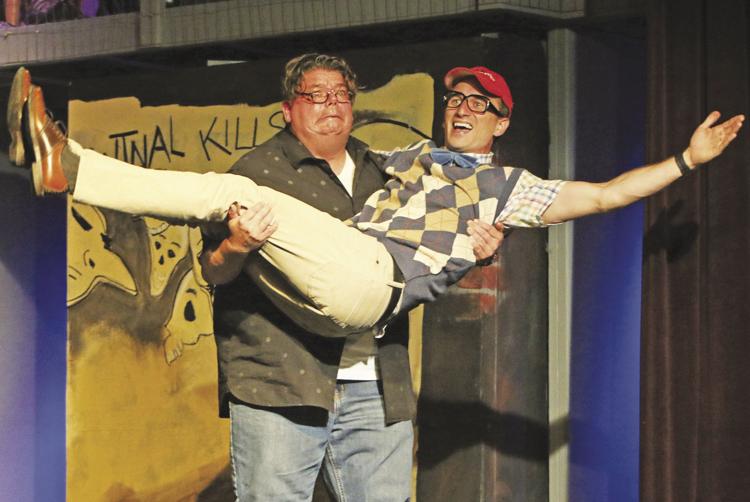 Even more impressive is the set designed by Deb Jasien, which has two rotating pieces. As the show starts, we are given a view of the interior of Mushnik's shop and a graffitied Skid Row wall. These elements can be rotated to reveal the exterior of Mushnik's shop, a back alley or the dental office of the sadistic dentist Orin Scrivello, D.D.S. (Jason Stevens).
The musical, written by Howard Ashman with music by Alan Menken (who went on to do Academy Award-winning work on Disney's "Little Mermaid," "Aladdin" and "Beauty and the Beast"), centers on Seymour, a klutzy nerd whose life turns around when he purchases a "strange and interesting" plant he names Audrey II. When he displays Audrey II at Mushnik's failing flower shop, people begin flocking to the store to look at the plant.
The problem is Audrey II — named after the co-worker (D.J. Kramer) Seymour is sweet on — exclusively eats human blood and Seymour has run out of fingers to prick.
While Seymour is dealing with an increasingly hungry and manipulative Audrey II (voiced by June Desmond and puppeted by Sam Kilbride), Audrey I is contending with Orin, her emotionally and physically abusive boyfriend. A better candidate for plant food never existed.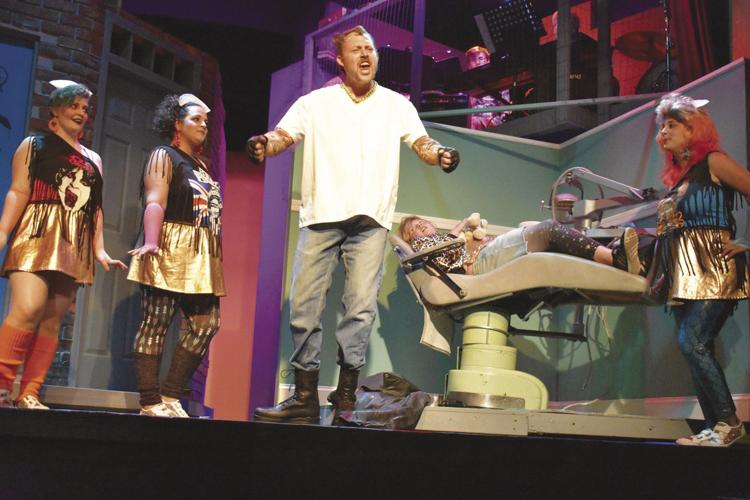 The whole cast is spot-on. Jordan has gotten broad performances from his cast but also keeps everyone grounded in some real emotions. Music director Ashley Kerr (full disclosure: my wife) has done good work getting the cast to a high level of vocal proficiency.
Henry makes Seymour endearingly nerdy while also exploring his inner turmoil as Audrey II pushes him to do deplorable things. He has a strong voice that is well-showcased on songs like "Suddenly, Seymour," "Grow for Me" and "Feed Me (Git It)."
Kramer emulates the helium voice Ellen Greene gave Audrey both on stage and in the film, but adds her own flair, including a hilariously stiff walk that makes her look like a living Barbie doll. She soars on her big solo ballad "Somewhere That is Green" and dueting with Henry on "Suddenly, Seymour."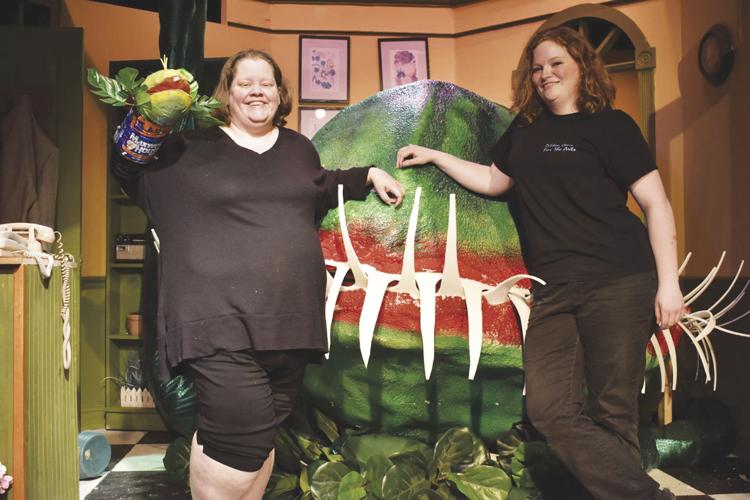 Desmond gives the foul-mouthed R&B singing Audrey II a boisterous attitude and belts out her songs with gusto. Kilbride impressively makes the terrific-looking puppets of varying sizes match Desmond's vocal performance.
Stevens pulls off the neat trick of being both genuinely detestable and funny. His cruelty feels disturbingly real at times, but this is balanced out by his cartoonish antics on the songs "Dentist!" and "Now (It's Just the Gas)." Stevens isn't the strongest singer, but his bravado completely sells the character.
Sickler leans into New York Jewish stereotype by giving Mushnik a gloriously over-the-top accent. As things become darker in the second act he gives the production some gravitas.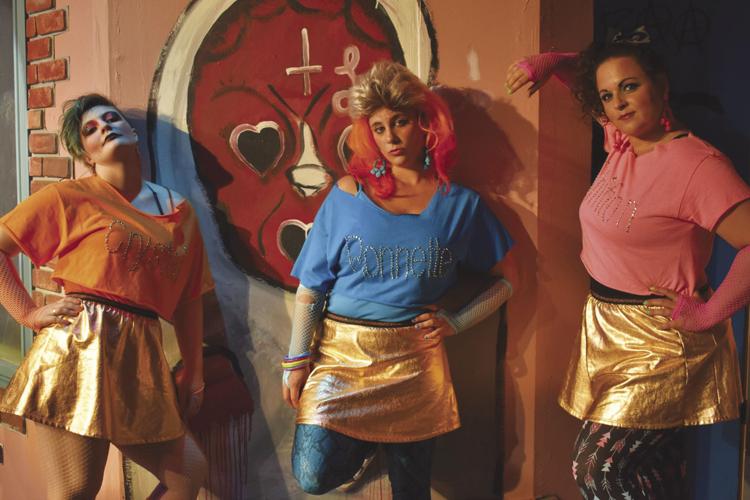 Also essential to the production are Ciara Neidlinger, Kristen Bolduc and Kayla Charles as a trio of street urchins who act as a girl group Greek chorus who provide background vocals, commentary and narration throughout the show. They also add sassy guidance to both Seymour and Audrey.
Neidlinger, Bolduc and Charles have strong harmonies and are the glue of the show. They shine brightest on "Skid Row (Downtown)," the show's big ensemble number. It is a tricky number with lots of extras. It builds perfectly, and the choreography by John Pina never feels busy or crowded.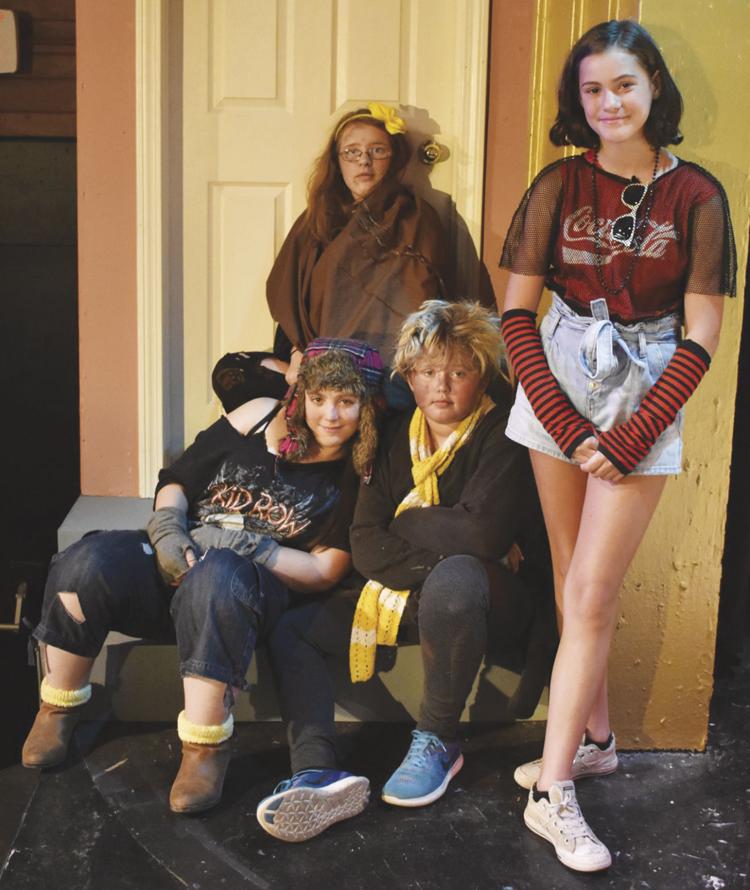 Throughout the production there are several actors (Kaitlyn Marshall, Cheyenne Lyons, Zoe Daigle and Seddaly Stevens) playing homeless people. Each actor is doing some sort of background business that adds to the overall mood of the production. Grayson Smith is funny as the first customer, and Eddie Bennett is clearly having fun in multiple roles.
If there's a flaw with the production, it is that the excellent live band (Tracy Gardner, Jessie Lanham, Finn Van Rossum and Ethan Giles) at times overpowers the actors. This is most notable on "Closed for Renovation," "Mushnik and Son," "Call Back in the Morning," "Feed Me (Git It)" and "Suppertime." This is a technical issue that will likely be worked out, especially as the actors become more comfortable and confident with the songs.
This is an immensely entertaining production that will grow on you from the first note.
For more information or tickets, call (603) 733-5275 or go to mdplayhouse.com.