CONWAY — "The 39 Steps," a parody of Alfred Hitchcock's 1935 film based on John Buchan's spy novel, is a striking example of how performance and tone can shift drama into comedy.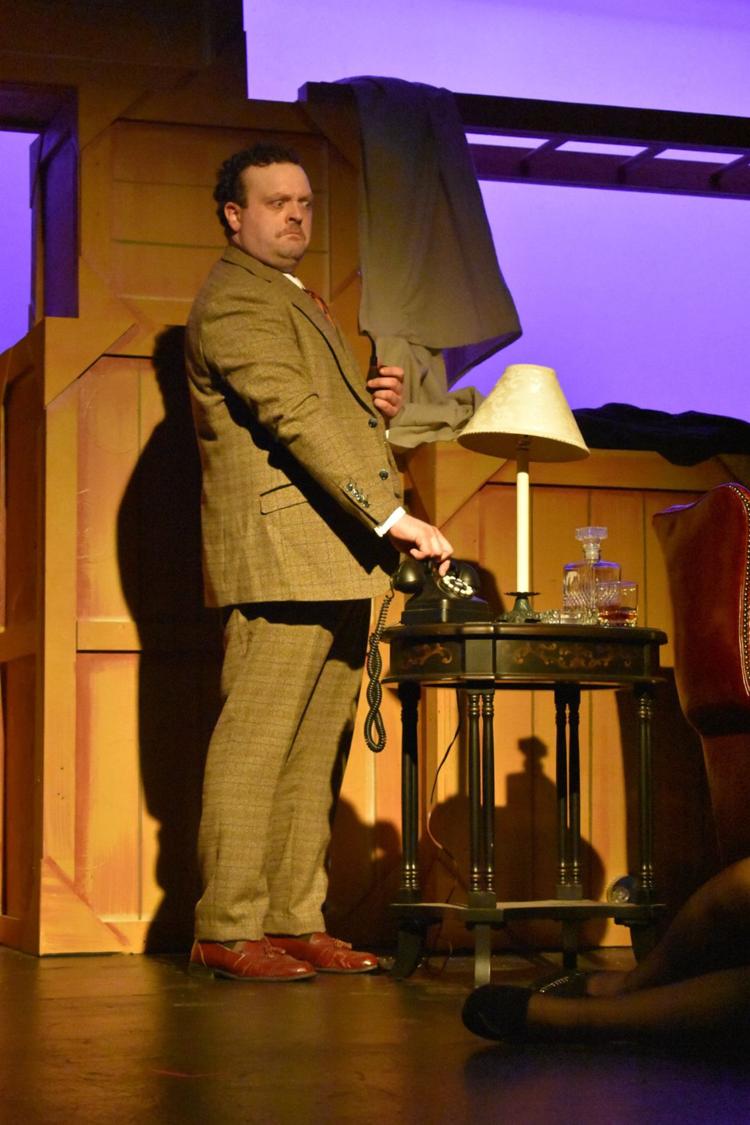 Though some details have been changed and lines tweaked to add comedic effect, Patrick Barlow's adaptation follows the screenplay written by Charles Bennett and Ian Hay nearly word for word. Even material that seems like it was added to punch up the humor, including interactions with lingerie salesman, was already present in the film.
Hitchcock's film always had a sly wit, and Barlow's approach to the material is to lean into that and push it to the fore. Through exaggerated performances and impeccable timing, scenes that previously played seriously suddenly become comedic with little change to the material.
In this respect, "The 39 Steps," which opened Thursday, July 4, at M&D at the Eastern Slope Inn Playhouse in North Conway and will be performing through July 21, recalls Jim Abrahams, David Zucker and Jerry Zucker's 1980 film "Airplane!" which similarly pulled dialogue verbatim from 1957's "Zero Hour" but pushed it to its full comedic potential.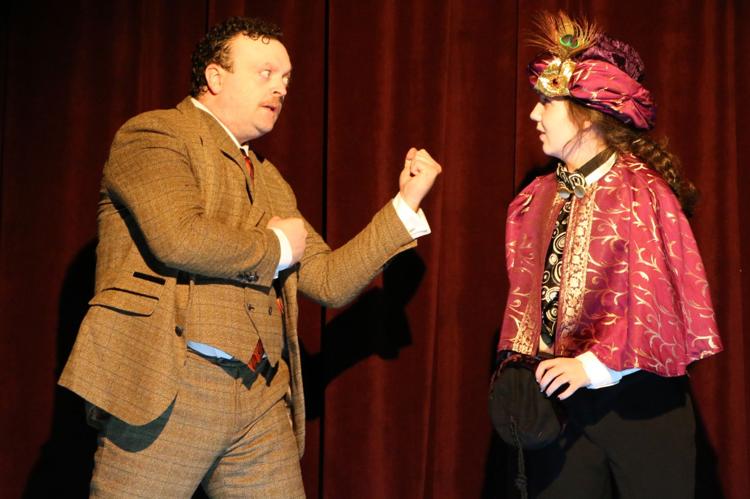 "The 39 Steps" also recalls Monty Python in that the small cast of four play all the roles. Eric Jordan as the falsely accused murder suspect Richard Hannay is the only cast member who doesn't play multiple roles. Sam Kilbride plays the three main female characters: a German spy, the wife of a Scottish farmer and, the largest part, an English woman who is forced to go on the lam with Hannay.
All of the other parts are played by Grayson Smith and Fiona Brosnan, which creates all sorts of comedic mayhem with the two actors doing quick changes and, in several cases, jumping between multiple characters in the same scene. There's also a good deal of gender-reversal with Smith playing female parts and Brosnan playing male parts, which adds to the comedic anarchy and absurdity.
Jordan, utilizing a haughty upper-crust English accent, is in the mold of Leslie Nielson in the "Naked Gun" films. He's charming and intelligent but is also often completely oblivious to the things happening to and around him. At one point, Kilbride fires a gun while sitting next to him and he inquires where the gunshot came from. Later, he stumbles into being the keynote speaker at a political rally.
Instead of being over-the-top and hammy — that's Smith's and Brosnan's job — Jordan plays it relatively straight and reacts to the chaos around him through facial expressions and body language.
Director Ken Martin has cultivated the right tone for the material with Jordan and Kilbride developing a precise rhythm to their dialogue that gives otherwise straight dialogue a comedic flavor.
Kilbride's character work is a bit broader than that of Jordan. She's the bridge to Smith's and Brosnan's more cartoonish performances. Kilbride milks a long death gurgle for a big laugh as one character, and later is hilariously whiny as she's dragged through the Scottish's moors. There's a terrific bit of physical comedy with Kilbride removing her stockings while handcuffed to Jordan.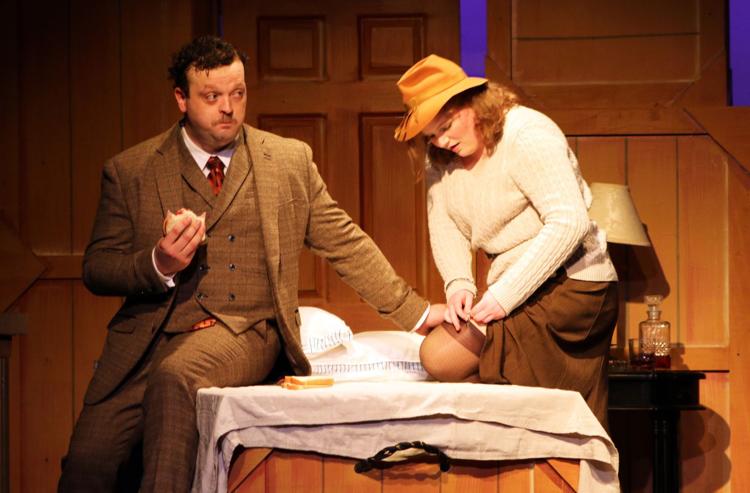 Smith showcases a diverse collection of ridiculous accents and isn't afraid to look incredibly silly. He's particularly amusing as the wife of the villain, as well as the proprietor of an inn who is fond of rolling her Rs.
Brosnan's comedic style is more low-key, but she is equally funny, especially as she frantically bounces between multiple characters. Her best moment is as a barely audible speaker at a political rally.
In terms of the staging, the lighting design by Mark Sickler cleverly uses shadow to create a plane crash and to show dancers at a party. As always, Deb Jasien has designed an impressive set.
"39 Steps" is consistently funny, often boisterously so, and is the perfect light, breezy show for a summer night.
For more information or tickets, call (603) 733-5275 or go to mdplayhouse.com.