CONWAY — It may be Valentine's Day, but M&D at the Eastern Slope Inn Playhouse isn't showcasing a tale of love, but rather the infamously mismatched divorcees Oscar Madison (Dan Tetreault) and Felix Ungar (Tom O'Reilly), in an ideally cast production of Neil Simon's perennial comedy "The Odd Couple."
The play, which opened Thursday and is running Thursday through Sunday for the next three weeks, opens at a poker game in the eight-roomed apartment of the slovenly Oscar (a typically impressive set designed by Deb Jasien). The not-so-gracious host serves warm beer and sandwiches made with "either very new cheese or very old meat."
The poker buddies, including Murray the Cop (Jonathan Dubey), loudmouth Speed (Scott Hayman), mousy Vinnie (Craig Holden) and Oscar's accountant Roy (Rob Clark), are concerned that Felix, the sixth member of their game, is late.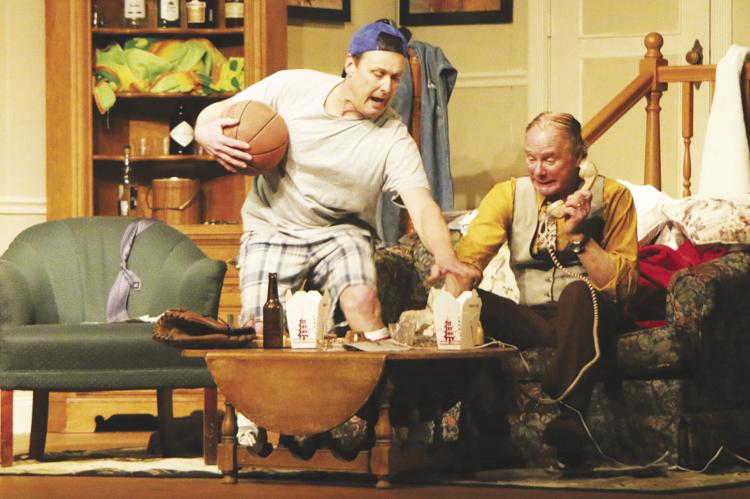 Felix's wife has left him. When he eventually arrives, he's in a borderline suicidal state. His friends over-compensate in trying to help him, with hilarious results. Taking sympathy on the fastidious and neurotic Felix, Oscar allows him to move in. It isn't long before Felix's incessant cooking, cleaning and crying drives Oscar to the brink of a nervous breakdown.
"The Odd Couple," first debuting on stage in 1965, has become a cross-medium classic from the 1968 film adaptation starring Walter Matthau and Jack Lemmon to the 1970s sitcom starring Jack Klugman and Tony Randall. There was even a cartoon version with a dog and cat in 1975, a 1980s TV series with a black cast and, most recently, another sitcom adaptation starring Matthew Perry and Thomas Lennon in 2015.
For better and often for worse, the late Simon kept revisiting the material, including a pleasant but unimaginative female version in 1985, a flat 1998 film sequel with Matthau and Lemmon, and a modern update in 2002. But there's a reason "The Odd Couple" keeps sticking around beyond the classic formula of feuding opposites.
In addition to being full of classic one-liners, Simon's script has a sense of pathos in its portrait of two divorcees trying to move on. Director Dennis O'Neil keeps the laughs center stage but also pulls out the underlining themes of heartache. In a funny but poignant moment, Felix fondly speaks of his wife and kids while on a double date with the Pigeon sisters (Julianne Brosnan and Lauren O'Reilly), a pair of Brits who live in the building.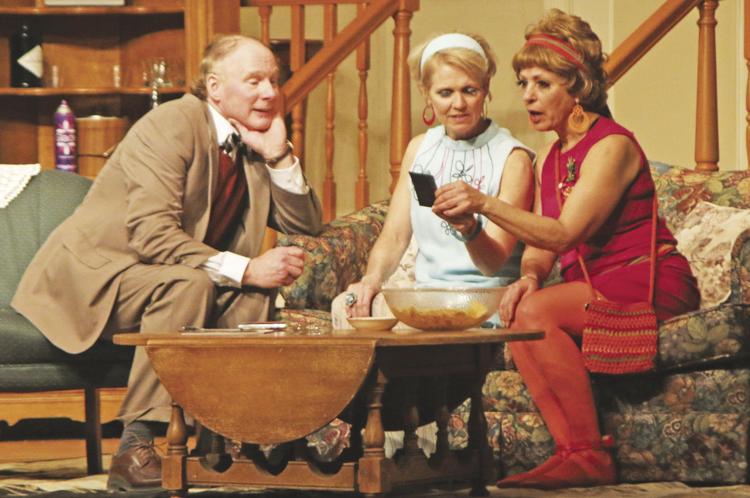 Tetreault and O'Reilly are faultlessly cast and make the iconic roles their own, while also acknowledging past performances.
O'Reilly's performance, at times, recalls the hysterical antics of Gene Wilder's Leo Bloom in "The Producers" rather than the low-key melancholy that Lemmon brought to Felix. His uptight, high-strung performance yields many huge laughs, particularly as he quietly, passive-aggressively seethes with anger about a meal he had cooked being ruined by Oscar coming home late.
Tetreault makes the perfect foil to O'Reilly. He captures Oscar's likable, laid-back slob attitude, but also gives him a sense of humanity, as he, at first, shows compassion and understanding for Felix's plight. Tetreault's increasingly exasperated performance builds in hilarity. O'Reilly and Tetreault have a hilarious dance of sorts set to Latin music, as Felix cleans up as Oscar simultaneously dirts up the apartment.
Every scene focused solely on Tetreault and O'Reilly works wonderfully. The script is full of memorable lines and moments that they make sing. When other characters are in the scenes, the production falters a bit.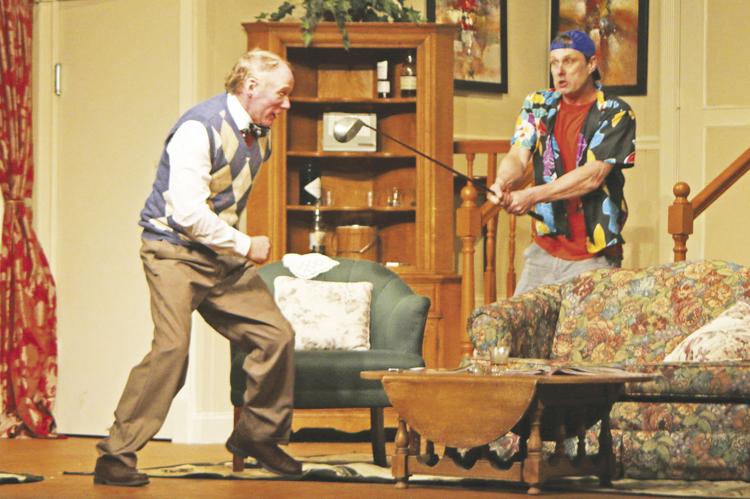 While the poker buddies are all well-cast and performed, the pacing of the opening poker game needs to be tightened. The chemistry just isn't quite there yet. The production doesn't truly spark until Felix arrives. No one is giving a bad performance, so it is likely that as the run continues and there's the energy of an audience to feed off of, the ensemble will begin to click together more.
Similarly, the Pigeon sisters' scenes feel ever so slightly off. Lauren O'Reilly looks uncomfortable in the role, whereas Brosnan seems to be enjoying playing a giggly, innuendo-loving English bird. Their combined efforts could use more zest.
But it all comes back to Oscar and Felix, and Tetreault and O'Reilly really nail these characters. For fans of the material or for the uninitiated, watching them play off of each other is a treat that should be savored.
For more information or for tickets call (603) 733-5275 or go to mdplayhouse.com.