CONWAY — Produced by M&D Playhouse's youth division Theatre Arts Studio, "Roald Dahl's Willy Wonka Jr." brings the eccentric candy man and his moralizing Oompa Loompas to life at 1857 White Mountain Highway in North Conway, Thursday through Sunday for the next two weeks.
Director Mary Bastoni, stage manager Cindy Sauerwein and choreographer Aimee Frechette, the same creative team behind the TAS presentations of "Lion King Jr.," "Beauty and the Beast Jr." and "The Little Mermaid Jr.," have once again mounted a bright and lively youth production.
Wonka (Job Fox), a reclusive chocolatier, sends out five golden tickets hidden in chocolate bars that will allow five lucky children to tour his factory and receive a lifetime supply of chocolate.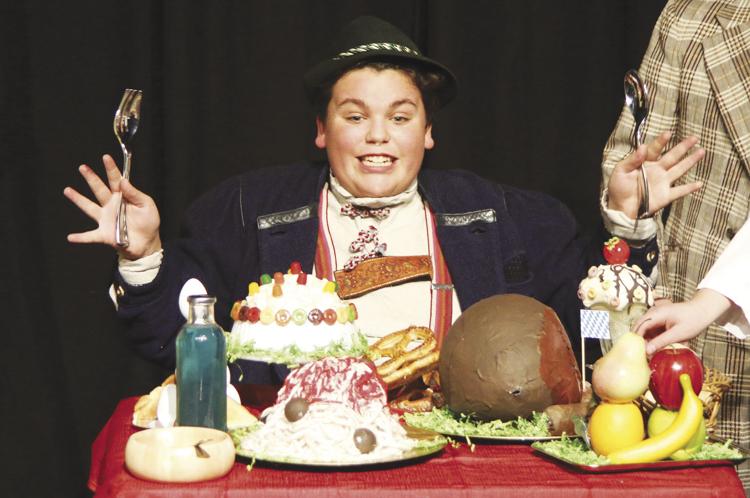 Four of the kids, the food-fixated Augustus Gloop (Andrew Fournier), the spoiled Veruca Salt (Nola Bradeen), the non-stop gum chewer Violet Beauregarde (Isabelle Frechette) and the TV-obsessed Mike TeeVee (Liam Thompson), are varying degrees of awful, but Charlie Bucket (Quinn Hagerty) is a good kid, despite his meager existence.
This 2004 stage version, adapted by Tim McDonald and Leslie Bricusse, incorporates elements from Dahl's "Charlie and the Chocolate Factory" as well as the songs from the 1971 film "Willy Wonka and the Chocolate Factory." Bricusse, who cowrote the film's iconic songs, including "Pure Imagination," "The Candy Man" and "Cheer Up, Charlie," with Anthony Newley, wrote several new songs for the stage.
Of the new songs, "Think Positive," which the optimistic Charlie sings to his father (Sam Vallee) after losing his job, is the strongest. It is a fun, upbeat song that is well-performed by Hagerty and Vallee. The theme of positivity becomes central to the story.
It is a largely faithful adaptation, but the script can't seem to make up its mind what time period it is set in with references to candy bars costing a nickel and Charlie listening to "Little Orphan Annie" on the radio sitting next to references to cellphones and video games.
The five central kids are all ideally cast. Hagerty brings a sincerity to Charlie, particularly in his warm interactions with his family, including his father, mother (Rosa Tepe) and his four bed-ridden grandparents (Sarah Priestman, Aine Muzerall, Arkie Baptista and Will Davis).
Baptista gets some well-earned laughs as the hard-of-hearing Grandpa George. Davis, as Grandpa Joe, joins Charlie on his adventure. Hagerty and Davis have a nice dynamic, especially during the song "Flying."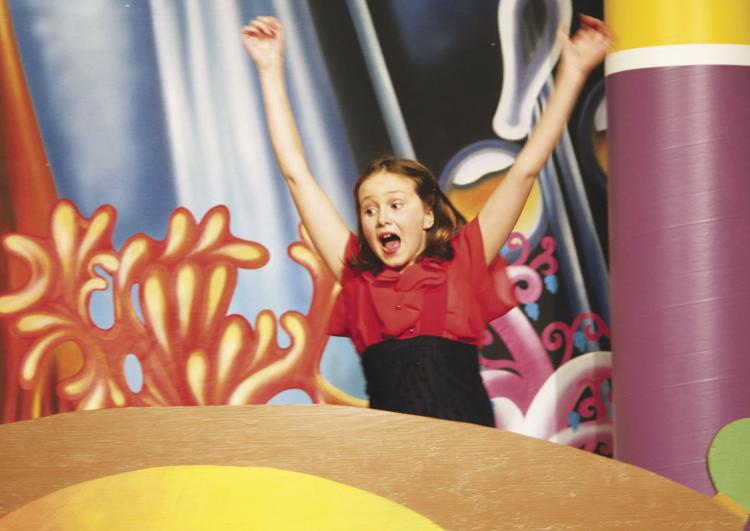 Each of the four bratty kids couldn't be more perfect. On the song, "I Eat More," Fournier brings an infectious jolliness to the German glutton Augustus. Frechette (who is sharing the role with Seretta Spaulding) utilizes a hilarious southern accent and delivers her dialogue with a good deal of sass. Bradeen has Veruca's spoiled brat act down cold and shines on the song "I Want It Now." Thompson does nice work selling Mike's ADD-energy.
The show wouldn't work without a strong Wonka, and Fox succeeds in the role. He provides just enough of an off-kilter energy to the role. When the kids inevitably start dropping off due to their bad behavior, he brings the right amount of detachment and wit to Wonka's dry responses. He also ably sings the show's two most famous songs: "The Candy Man" and "Pure Imagination."
Other noteworthy performances include the parents of the bad kids (Isis Coombs, Michael Lawrence, Ayanna Ward and Cosette Brochu) and reporter Phineous Trout (Charlie Nourse). Brochu, Norse and Thompson amuse on the song "I See It All On TV." Several younger actors play the Oompa Loompas, and they are appropriately adorable.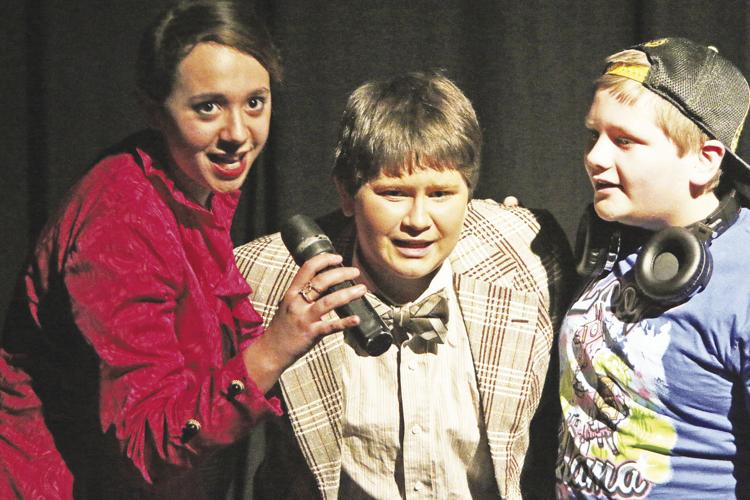 A psychedelic backdrop paired with colorful moveable pillars help to bring Wonka's factory to life and costume designer Patty Hibbert has put together some wonderful costumes.
"Willy Wonka" is a sweet, funny nostalgic trip and is another fine showcase for the valley's young talent.
For more information or tickets, call (603) 733-5275 or go to mdplayhouse.com.