CONWAY — M&D at the Eastern Slope Inn Playhouse is returning to Armadillo Acres, North Florida's premier mobile-living community, in "The Great American Trailer Park Christmas Musical," which opened Thursday, Dec. 5, with performances Thursday through Sunday for the next two weeks.
David Behls and Betsy Kelso's "The Great American Trailer Park Christmas Musical" was first performed by M&D in 2015, but with a new venue (the Eastern Slope Inn Playhouse), director (Christopher Bellis), music director (my wife, Ashley Kerr), set designer (Tom O'Reilly), choreographer (Dale Amanda O'Reilly), costume designer (Mary-Ellen Jordan), lighting designer (Dan Tetreault) and a largely new cast, it almost feels like a completely different show. Even returning cast members Kerr and June Desmond are in different roles, which helps makes this new production feel fresh.
It's holiday time down in Armadillo Acres, and this year the residents are contenders in the Mobile Homes and Gardens' Christmas decor contest. The winning display will receive a $10,000 prize. Only Darlene Seward (Ciara Neidlinger), the trailer park's resident "baby-hating, Christmas-hating, sometimes Asian-hating" Scrooge stands in the way.
As luck would have it, Darlene gets a bout of amnesia by means of electrocution that fills her with Christmas cheer. Now, the residents of Armadillo Acres, including Betty (Desmond), Linoleum (Kayla Charles), Pickles (Kerr) and Rufus (Bowen Greenleaf), must insure she stays happy Darlene Seward rather than nasty Darlene C-Word.
Throwing a wrench into their plan is Jackson Boudreaux (Ken Martin), the owner of the pancake "breastaurant" Stacks where Darlene works. Not only does he represent a part of Darlene's old life, but he complicates the unexpected budding romance between Darlene and Rufus.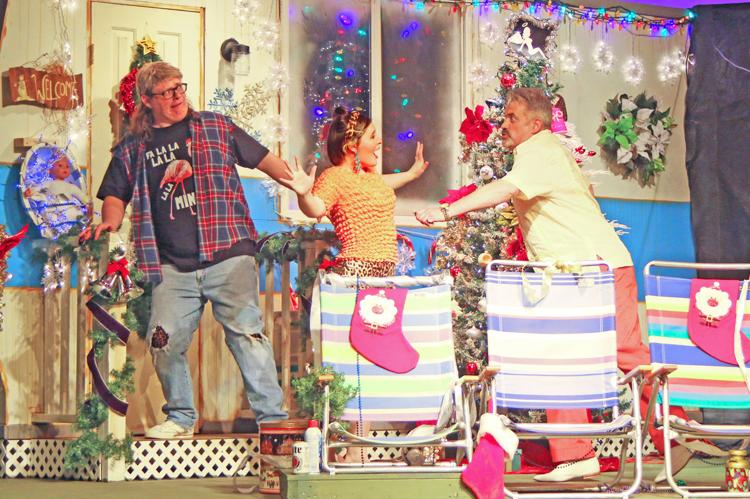 Due to scheduling conflicts, the production is unable to have a live band. Instead, there are pre-recorded backing tracks recorded by Al Hospers with Christine Chiasson on piano, Mila Dorji on guitar, James Holzrichter on bass, and Cameron Mitchell on drums.
The band sounds great on the recordings, but the lack of a live band does rob the production of some of its spontaneity and vitality. Having to sing to pre-recorded music does require the cast to be all the more precise with their timing and singing, which is impressive in its own right, especially since many of the songs — including the 15-minute opening medley — feature a mixture of dialogue and singing.
The cast, admirably, rarely misses a beat. Music director Kerr has cultivated some nice harmonies — particularly for the trio of Betty, Linoleum and Pickles who sing lead or backup on nearly every song.
Neidlinger is a vocal standout with a powerful and versatile voice that is able to capture the various dimensions of Darlene's character.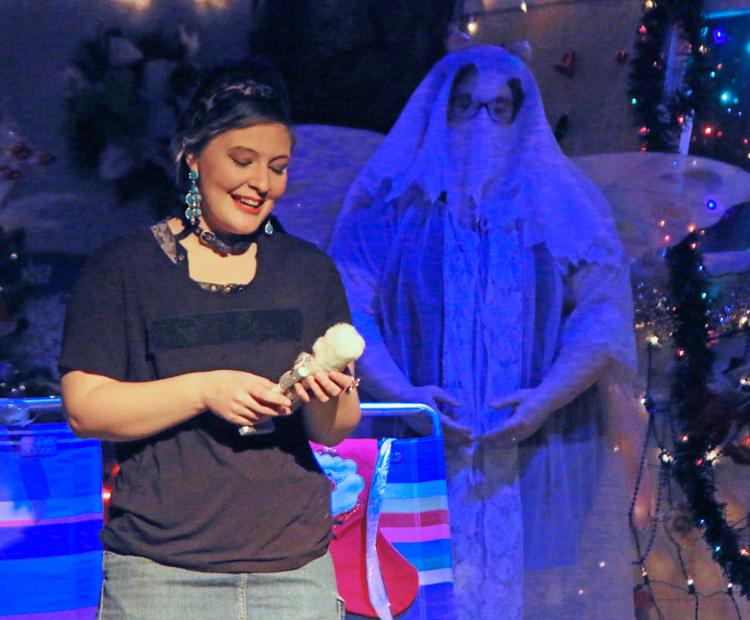 She belts out sassy lyrics like "Christmas is for dummies/this green and red looks crummy" with a snarky, rock flare, but dials back to be sweet and melodic on the duet "Christmas Memories" with Greenleaf, and the wistful ballad "My Christmas Tin Toy Boy." She perfectly lands the unexpectedly emotional climax of the otherwise upbeat "Christmas Leather Love."
Neidlinger's physicality is also effective. When switching from the nasty Darlene to the sweeter version, not only does her vocal inflection change, but her body language and facial features do, as well. She almost looks like a different person altogether. Neidlinger's comic timing sells the character, but her sincerity helps ground the whole production.
The rest of the cast is also clearly having fun. Martin is appropriately sleazy as Jackson. He's a hoot on the Elvis-flavored "Baby, I'll Be Your Santa Claus," and he gets some of the biggest laughs of the show during a climactic confrontation over the potential destruction of Armadillo Acres.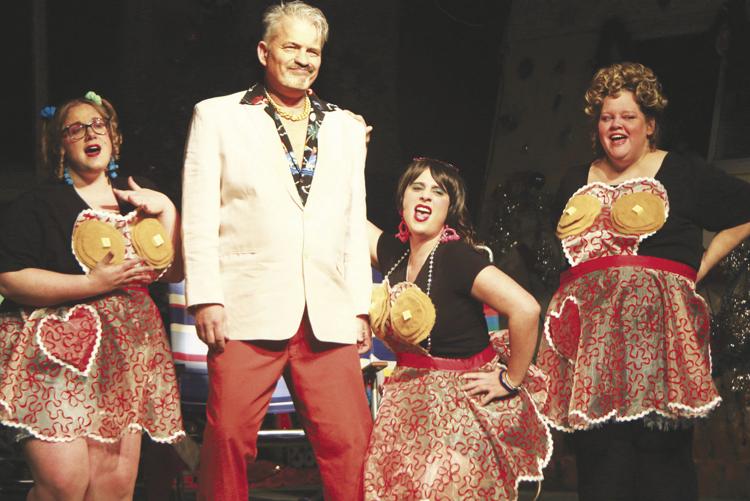 Desmond, Kerr and Charles have an easygoing rapport and their playful, sometimes antagonistic banter is some of the funniest material in the production. Kerr and Charles are particularly funny as a pair of Ghosts of Christmas Past during Darlene's "Christmas ballet dream sequence." Desmond scores laughs during flashbacks as a character named Hank.
Greenleaf has an unforced, sweet, goofball chemistry with Neidlinger and shows assured comic timing, especially as a drunken 99-cent store Santa. He also shines during his solo number "Black and Blue on Christmas Eve."
O'Reilly's set features a pair of trailers on stage that appear like they've been struck by Hurricane Kris Kringle. The Christmas decor is both tacky and cheery. There's a great visual gag involving inflatable reindeer.
For those looking for an alternative to the typical holiday fare, it is hard to beat "The Great American Trailer Park Christmas Musical." It perfectly balances embracing holiday cheer with a bawdy, subversive attitude that is both hilarious and heartwarming.
For more information or tickets, call (603) 733-5275 or go to mdplayhouse.com.